Everyone loves the pool, but if you're looking to mix things up a little, these unique water toys for kids are sure to do the trick. From crazy squirt guns to the coolest slip 'n slides, your kids can use these fun water toys whether you have access to a pool or not. I'd be willing to bet you'll even want to get in on the action!
Disclosure: As an Amazon Associate I earn from qualifying purchases.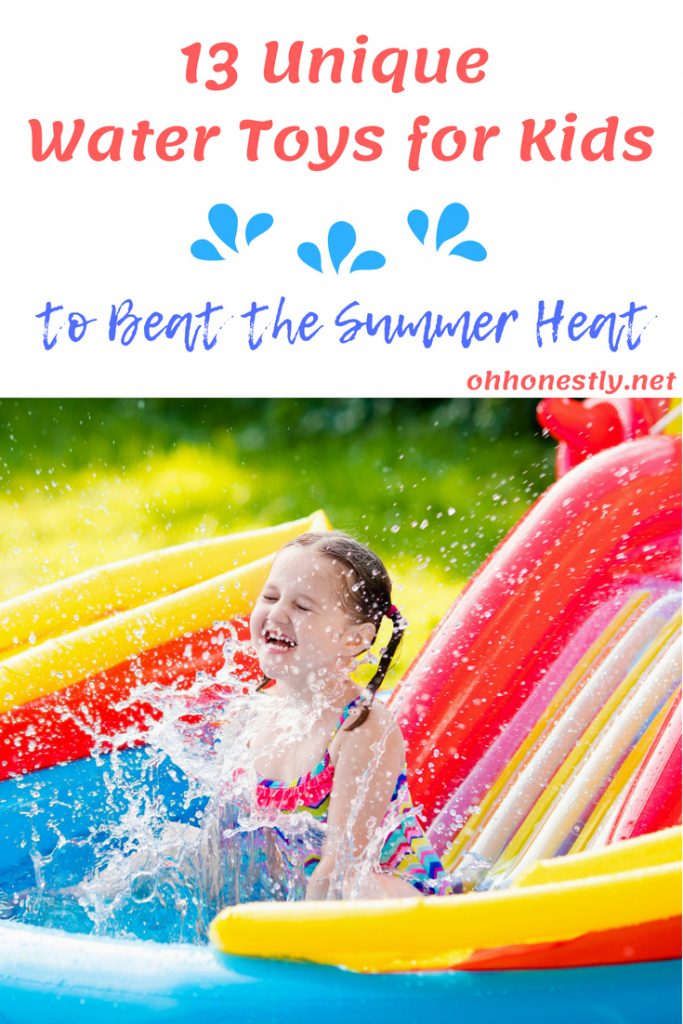 13 Unique Water Toys for Kids to Beat the Summer Heat
The fact that these water guns come in a six pack and are low priced make them the PERFECT water toys for when you're planning a big get together.
 Anmei Mini Super Soaker Foam Pocket Water Guns (6 Pack) Toys For Kids Summer Swimming Pool Game Beach Sand Water Blaster Toy
If your child dreams of being a fire fighter, she'll love this fire hydrant sprinkler.
 Kids Sprinkler Fire Hydrant, Attach Water Sprinkler for Kids to Garden Hose for Backyard Fun, Splash All Summer Long, Sprays Up to 8 Ft.(Red)
These may not be cheap, but if you like playing with water balloons, they're worth every penny. We've used them several times and they are so incredibly easy to fill.
 Bunch O Balloons WATER BALLOONS – BUNCH OF BALLOONS RAPID REFILL 8 PACK
Forget the local splash pad! Create one in your own backyard with this fun water toy.
For the kids who love a good competition, this racer slip 'n slide should do the trick.
 Banzai Triple Racer Water 16 Feet Long, Slide
I gotta be honest, this looks a little dangerous to me, but maybe your kids would love it.
 Trampoline Waterpark Fun Summer Outdoor Water Game Toys Accessories – Best For Boys & Girls And Adults – Made to Attach On Safety Net Enclosure – Tool Free
This splash park is perfect for the baby and toddler set.
 Banzai Splish Splash Water Park, Multicolor
And this slip 'n slide baseball field is perfect for the older set.
 Grand Slam Baseball Water Slide
All the fun of a beach ball without all that pesky sand.
 Yeslike Splash and Spray Ball, 30in-Diameter Inflatable Sprinkler Water Ball Outdoor Fun Toy for Hot Summer Swimming Party Beach Pool Play (colorful)
These water guns are perfect for a battle.
 Prextex 4 Pack Water Shooter with Easy Grip Handles Fun Summer Toy for Kids Water Blaster
Technically this science kit won't beat the summer heat, but it'll make learning fun and you can keep the mess to a minimum by doing the experiments outside.
 ETA hand2mind SPLASH! Water Science Kit with 23 Experiments
This is a fun twist on the classic sprinkler.
 Tidal Storm Hydro Swirl Spinning Sprinkler Outdoor Toy
If your kids are like mine and lose things easily, this might be a good toy for you. The canister can be replaced with a standard soda bottle.
 Super Water Cannons Summer Toys – Happytime TOP18010 2018 New Design 800CC Water Gun With Green Bottle for Kids Children Adults