Below: Enjoy some quality time with your daughter by watching one of these good mother daughter movies on Netflix together.
I have two boys and a girl, which means it's pretty rare to get one-on-one time with each of them. We have to be pretty intentional about setting up a time and plan for it to happen, and usually it means going out someplace together.
Every once in a while though, my husband takes our boys out and our daughter and I get the house to ourselves. On those days, she and I love to turn on a movie and enjoy some mother daughter bonding.
75 Good Mother Daughter Movies on Netflix for Your Next Movie Night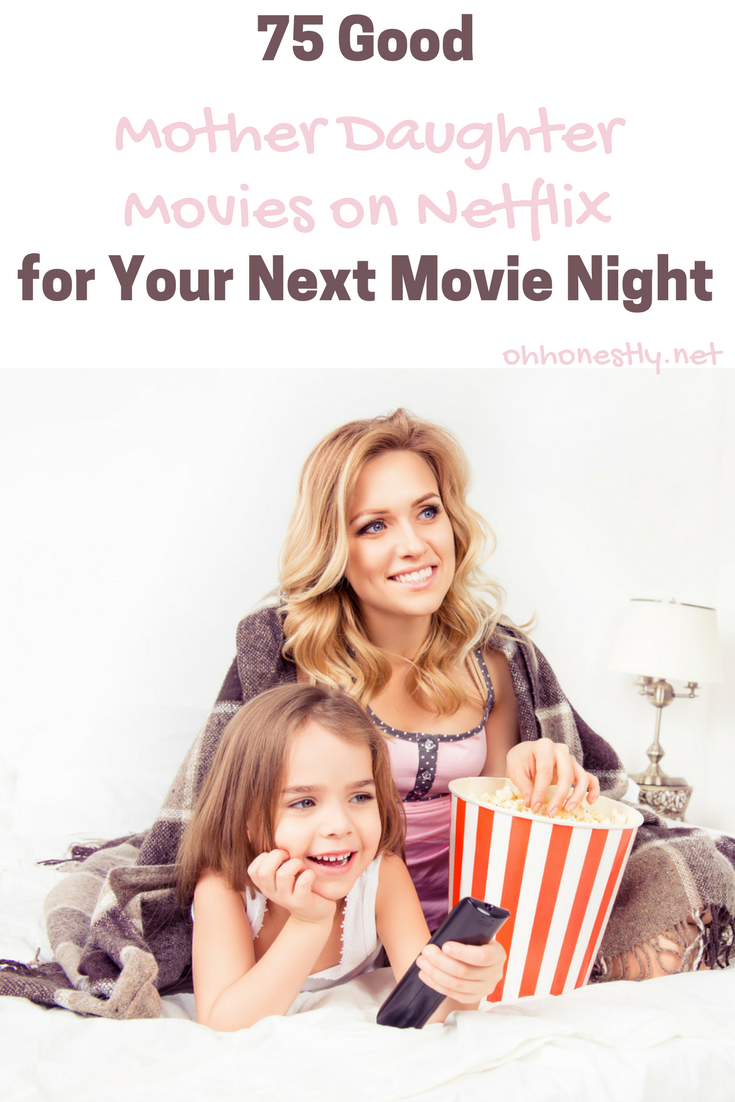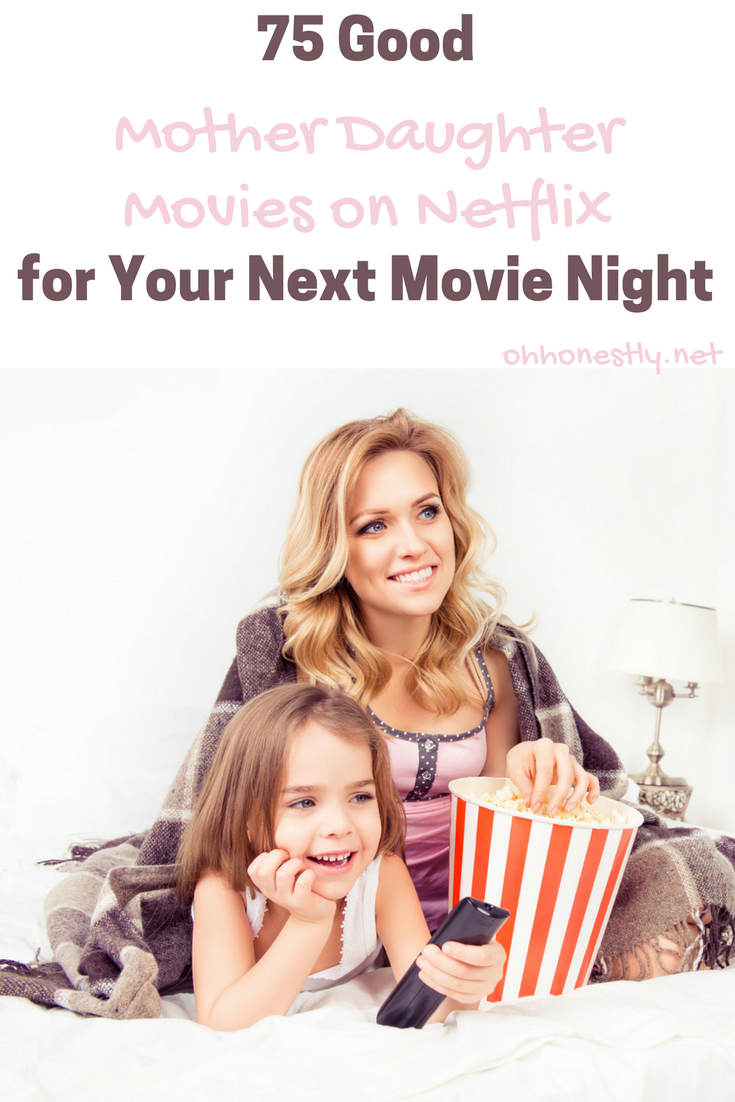 (We also enjoy outings! Here are 24 ideas if you need some inspiration for your own fun mother daughter trips.) 
The hard part about movies though is figuring out what to watch. There are so many out there that it can be overwhelming to pick one.
I also find it difficult to search through Netflix unless you already know what you want to watch. That's why I've compiled this list of good mother daughter movies on Netflix that you can use for your next movie night.
They're divided up by rating, so you'll know where to look depending on your daughter's age and/or what you're comfortable with her seeing. You'll probably notice that a lot of them were popular when you were a kid. There's nothing like sharing the classics with your kids!
I also tried to include a wide variety of genres. My daughter loves a good princess movie, but I know not all girls do, so you'll find comedy, action, drama, and more in this list.
Please note: This list of Netflix movies is current as of publication. Netflix changes their offerings each month. If you can't find a particular movie from the list on Netflix anymore, you should be able to find it on Amazon Prime. Try a free 30-day trial by clicking the banner below:
I am a participant in the Amazon Services LLC Associates Program, an affiliate advertising program designed to provide a means for me to earn fees by linking to Amazon.com and affiliated sites.
Good mother daughter movies on Netflix that are rated G
Anastasia
Mulan
Pocahontas
Charlotte's Web
Homeward Bound
An American Tale
Cars 3
Good mother daughter movies on Netflix that are rated PG
Beauty and the Beast
Captain Underpants
Zootopia
Charlie and the Chocolate Factory
Dead Poets Society
The Jungle Book
Finding Dory
Apollo 13
National Treasure
The Truman Show
Kung Fu Panda
Trolls
Queen of Katwe
Moana
Boss Baby
The BFG
Ella Enchanted
Kubo and the Two Strings
Sing
Paddington
Pete's Dragon
Emma
The Prince of Egypt
Leap Year
Dolphin Tale
While You Were Sleeping
Cool Runnings
Nacho Libre
The Little Rascals
Good mother daughter movies on Netflix that are rated PG-13
Men in Black
Armaggedon
Ocean's Eleven
The Pursuit of Happyness
The Italian Job
The Sixth Sense
Batman
Meet the Parents
The Giver
13 Going on 30
Wild Hogs
How to Lose a Guy in 10 Days
Mothers and Daughters
Good mother daughter movies on Netflix that are rated R
Troy
The Shawshank Redemption
Lethal Weapon
Bridget Jones's Diary
Love Actually
Good mother daughter TV shows on Netflix
Friends
Grey's Anatomy
Stranger Things
Call the Midwife
The Office
Parks and Rec
Arrested Development
When Calls the Heart
Mad Men
The Crown
The Good Place
Gilmore Girls
The Dick Van Dyke Show
Unbreakable Kimmy Schmidt
Girl Meets World
Fuller House
Freaks and Geeks
Parenthood
Liv and Maddie
Royal Pains
Party of Five
Which ones will you watch?