First time joining me for the Keeping It Real Challenge? Click here to learn what it's all about.
For Eli's birthday last month, we bought him Sea Dogs tickets (for those of you who don't live around here, the Sea Dogs are the Red Sox Double-A team). The game was this past Sunday. We left Annelise with my parents and headed out early for our all-day excursion.
4 minutes into the trip:
Eric- "Oh, I forgot my wallet."
Me- "I have my purse. Do you really need it?"
Eric- "No, it's fine."
Me- "Wait, what if they require ID to get in? Should I turn around? Oh wait, your name isn't even on the tickets. They must not check IDs."
22 minutes into the trip:
Samuel- "Tomorrow is always a day away!"
Eric and I- "Bahahahaha."
Eli- "GRRRRR!"
If you don't understand this exchange, you should follow me on Facebook where I share things like this:
45 minutes into the trip:
Me- "Oh crap. I left my phone at home. Do you have yours?"
Eric- "Nope."
Me- "What if Mom needs to get a hold of us??"
Eric- "Maybe when we get down there we can see how much it would cost to buy a TracPhone."
Me- "I don't want to buy a new phone… Maybe we can find a payphone. It would be weird to ask someone to use their cell, wouldn't it? This is okay. Ten years ago I didn't even have a cell phone. It'll be like the pioneer days, hahaha."
1 hour, 6 minutes into the trip:
Guy on the radio: "Today Pastor Chuck Swindoll will share a message about making delightful memories with your children."
Me- "Yes! WE are making delightful memories today!!"
1 hour, 27 minutes into the trip:
Eric- "Ugh, there are no good songs on the radio!"
Me- "Oh, here's one!"
Eric- "Bohemian Rhapsody is not a good song."
Me- "How can you say that?!?! Oh wait, your idea of good music is techno."
The rest of the day really was delightful. We played catch on the field.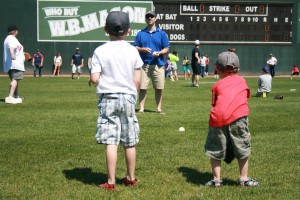 I practiced my mommy friend pickup skills which served a twofold purpose: I had a nice mom with three kids to chat with while we waited for the game to start and I hinted about needing a pay phone so she asked if I wanted to use her cell. Okay, maybe I had a little bit of an ulterior motive when I started talking to her, but I really did like her! The Sea Dogs won an exciting game in the 10th inning, and the boys got to run the bases when the game was over.
Moral of today's Keeping It Real Challenge Update: Sure, it's best to be prepared, but being completely unprepared doesn't mean your day has to be ruined. Attitude is everything. Also, it is, in fact, possible to survive a day without a phone. Try it sometime.
And now the part of the post where I share pictures of our real, everyday lives.
Fleece PJs in June. Just. Not. Right. (But I can't complain… we've had hot days too!)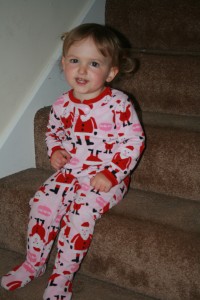 Poor kid. Swollen eye from a bug bite and rashy cheeks from a sunscreen that didn't agree with him.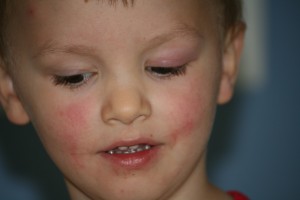 When he couldn't find a clean cup (the dishwasher was full of them), Eric decided to get creative in order to drink his OJ.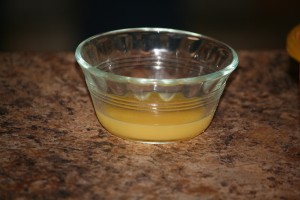 The morning of the Sea Dogs game, I came downstairs to find this. Eli had gotten our coffee mugs ready for us.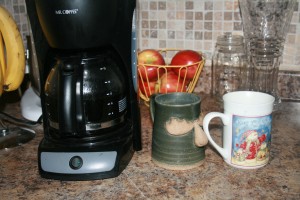 Have a great week and remember to keep it real!