This post contains affiliate links. I will earn a small commission on any purchase made at no extra cost to you. Thank you for your support!
When the new school year begins in several weeks, I will send my second child off to kindergarten. For some reason I thought it would be easier the second time around, but I'm finding that whenever I begin to dwell on it, all the same feelings from the first time come rushing back.
I suppose it's never easy to see your babies grow up, whether it's the first or the fifth, but I do have one thing going for me this time around: Knowing the following seven things has allowed me to feel far more prepared.
If you're sending your oldest off to kindergarten this year, allow me to let you in on the secrets that parents who've been there have already discovered. They just might help you too!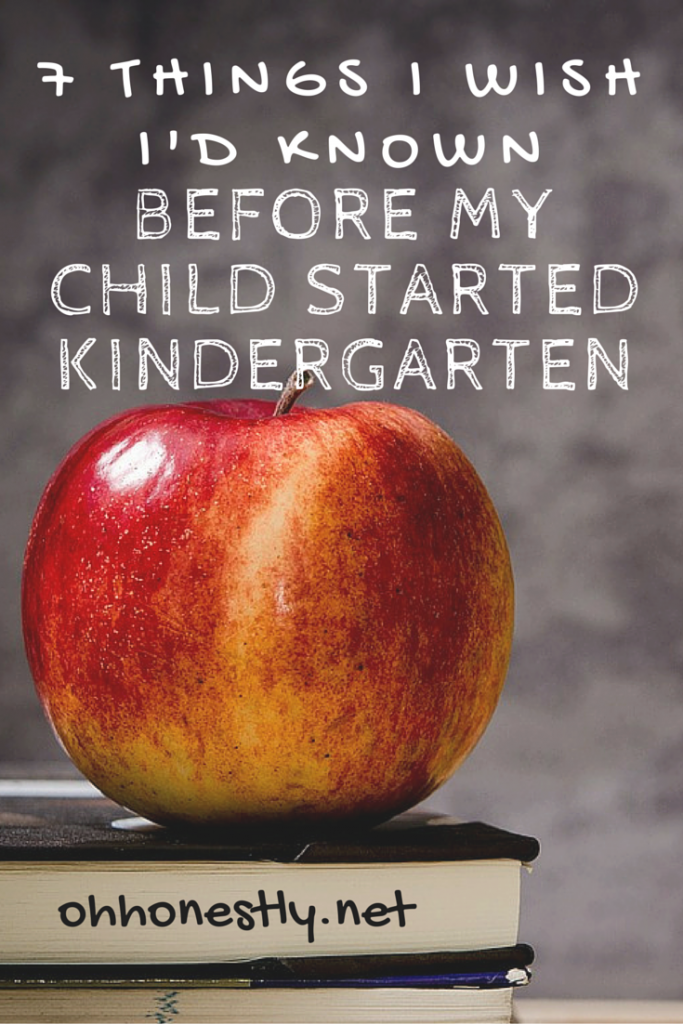 7 Things I Wish I'd Known Before My Child Started Kindergarten
1. It will probably be harder on you than on her
I know some parents look forward to their child starting kindergarten like kids look forward to Christmas, but I think most of us (even those parents) would admit to feeling pretty sad at the thought of their baby starting school.
When my oldest entered kindergarten he was a bit nervous, but immediately loved school and settled in quickly and easily. I, on the other hand, cried for days leading up to it and all day after I dropped him off too.
How to Deal: Transitions are hard. Let yourself feel all the feelings and know that it does get better! If your child is having a hard time, know that it will get better for her too.
2. He will be exhausted at the end of the day
Even if your child was in preK full time last year, don't be surprised if he is exhausted each evening at the beginning of the school year. PreK most likely offered a decent amount of playtime and possibly a rest time as well. Although Kindergarten isn't all work and no play, it has definitely gotten a lot more academic since we were there 20 or 30 years ago.  That new routine can really tire kids out at first.
How to Deal: If possible, avoid scheduled activities after school, at least until he gets used to the new routine. Also, decide on a fairly early bedtime and stick to it. If you can institute it before school begins, even better!
3. Her behavior after school will be completely awful
This is coming, so prepare yourself. Thankfully, it doesn't mean that terrible things are happening at school to make your little angel act like a demon.
Believe it or not, bad behavior at home is actually a good thing. It means that your kindergartner is trying so hard to behave at school that by the time she gets home she needs to blow off steam. Home is a safe place for her to do so. Keep that in mind when you're ready to pull out your hair and sell her to the next passing caravan (because I'm sure a lot of caravans go by your house in the 21st century).
How to Deal: Take a deep breath, be thankful she feels comfortable enough to let it out at you instead of her teacher, and be firm but kind when offering correction. Pretty soon things will level out. (Don't be surprised if you go through this at the beginning of each school year, not juts the kindergarten year).
4. The sooner you get to know the other parents, the better
I'm painfully bad at small talk, so striking up conversations with people I don't know is stress-inducing. Because of that, it wasn't until the very end of my oldest's year in kindergarten that I started to get to know the parents of his classmates. I wish I'd sucked it up and done it sooner. They're pretty great people, and since my kids go to a small school, I know I'll be seeing a lot of them over the next 12 years.
How to Deal: If you're shy like me, a good way to break the ice is to 'friend' the parents of your child's classmates on Facebook. You can get to know them a bit through their posts and then you won't feel like you're going in cold when you see them at school pickup.


5. The more self-help skills your child has, the more the teacher will love you
Actually, I did know this one before my son started kindergarten because I used to be a kindergarten teacher. Maybe it's a bit of an overstatement to say the teacher will love you more, but seriously, she'll think you're awesome.
Have you ever had to open 18 lunch containers? Insert 12 straws into drink pouches? Tie 22 pairs of shoes? Zip 15 winter jackets and get 150 fingers into the right holes of 15 pairs of gloves? Every. single. day? Your child's teacher does and it takes a ton of time away from what she wants to be doing with the kids.
How to Deal: I realize that some kindergartners aren't developmentally ready to tie their own shoes, but working with your child to perfect any self-help skills she can do will be a huge help to your child's teacher.
6. The year will go by incredibly fast
You probably already know that time flies, but somehow once your kids enter school, it speeds up even more. You'll blink and summer vacation will be upon you.
How to Deal: Don't get too discouraged on the hard days because they won't last. Soak in the good days because they won't last either.
7. Your child will leave kindergarten as his own little person
Yes, when your child starts kindergarten, he's already his own person, but something about this first year of school really amps up his independence. Suddenly he has his own life, completely separate from yours. He is learning new things and making new friends. He might enter kindergarten only knowing his alphabet and leave kindergarten knowing how to read. At the end of the school year you'll look back at pictures from the beginning of the year and you'll wonder where your little boy went.
How to Deal: This is a bittersweet time. It's hard to watch your baby grow up, but it's also amazing. Try to focus on the amazing more than the sad.
Experienced parents, what would you add to this list? Share your wisdom in the comments below! 
Parents of new kindergartners, did you find this advice helpful? Tell me how or what improvements it could use in the comments below!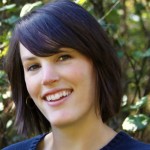 Lauren is a wife, mom of three, and the writer behind Oh, Honestly. She loves to share the real life joys and trials of motherhood so other moms will know they're not alone. She is also the author of The Words Your Kids Need: The Value of Writing to Your Children and How to Do It With Ease.