Below: The best versions of the best Christmas songs to add to your holiday playlist.
When it comes to Christmas music, the only thing everyone can agree on is that the Christmas Shoes song should be banned world-wide. Other than that, everyone has their own opinion about which songs are good and which are awful, which versions make them want to tear their ears off and which ones get them bee-bopping and doing their best Celine Dion impression. (Don't pretend you didn't listen to her back in your '90's music heyday.)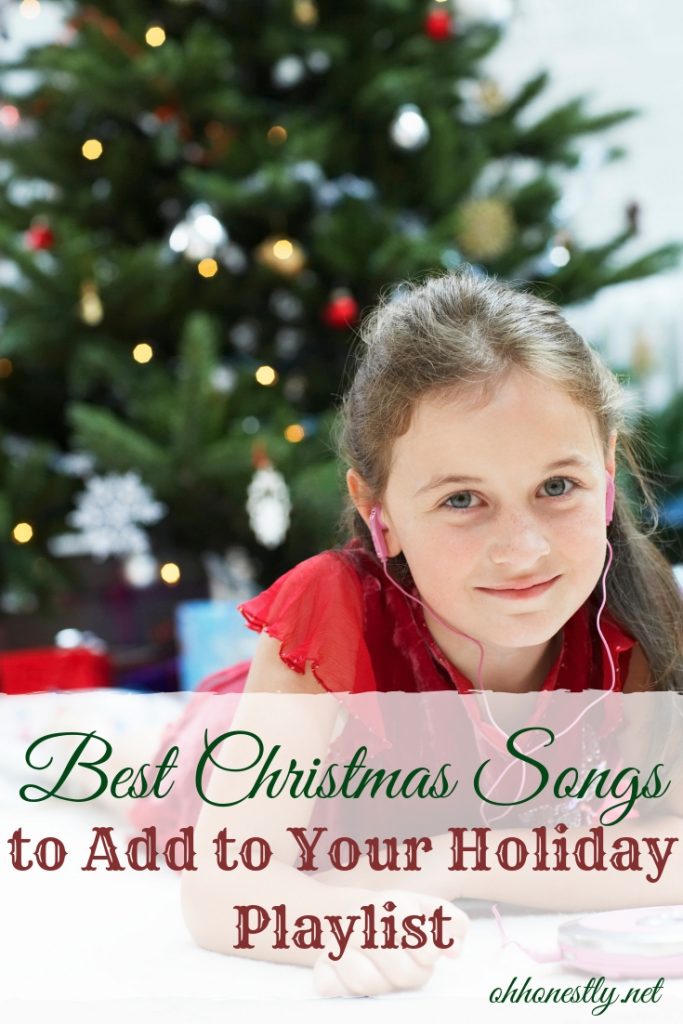 The Best Christmas Songs to Add to Your Holiday Playlist
So while I'm about to present to you what I think are some of the best versions of the best Christmas songs out there, you may wholeheartedly disagree. I urge you to give each one a listen though, then let me know what your favorites are.
Looking for the best karaoke songs? Find them here.
Hallelujah– Cloverton
The original version of this song is beautiful, no doubt about it. But when I heard the lyrics rewritten with a Christmas twist, I fell in love with it. The last verse always gives me chills.
Give it a listen. I think you'll like it too. Unless you're a purist. Then you'll hate it.
Breath of Heaven– Amy Grant
I know, I know, Amy Grant. As much as I grit my teeth at the mere mention of Baby, Baby, I can't help but love her Christmas album, mostly because of this song right here.
When you think of everything Mary had to go through, it kind of takes your breath away. I've heard other people sing this song, but this has been my favorite version since I was a kid.
God Rest Ye Merry Gentlemen– Barenaked Ladies featuring Sarah McLachlan
One early morning 20+ years ago, I was laying in bed working up the energy to get up and ready for high school. My radio alarm was playing my favorite pop station when this song came on. I immediately loved it and when it was over and the DJ said he'd accidentally played it instead of some other song, I knew it was fate. I've loved it ever since.
O Come O Come Emmanuel– Sugarland
I went through a country music phase years ago, but it's not really my thing anymore. Even though this version of O Come O Come Emmanuel definitely has a country twang, it's still beautiful. This chick (not to be confused with a Dixie) can sing.
White Christmas– Sidewalk Prophets featuring Francesca Battistelli
I've never been a fan of this song. The original, sung by Bing Crosby, is so… I don't know, just slow and blah.
And then one day while driving the kids to school, I heard this version and now it's a favorite. It's actually very similar to the Drifters version (the one in Home Alone), but having the female vocals is a nice addition. I love how jazzy it is.
How Many Kings?– Downhere
This song is an awesome reminder of the sacrifice God made to send Jesus to us. Plus it's just a great song.
White Winter Hymnal– Pentatonix
I will never not be impressed by the talent of these five people. It was hard to pick one song of theirs to feature, but this one is a little out of the ordinary, so it seemed like a good choice. The runner up is Mary, Did You Know?
Carol of the Bells– Trans-Siberian Orchestra
Okay, so I tried to find the official YouTube video for each of these songs and this one is soooo weird. But the song still rocks.
What's YOUR favorite Christmas song?