"Is it stupid that I'm sad the crack will be gone?" I turn to look at my husband, praying he'll offer the validation I need in this moment.
He looks directly at me, my heartache reflected in his own eyes, and doesn't hesitate, "No, it's not stupid."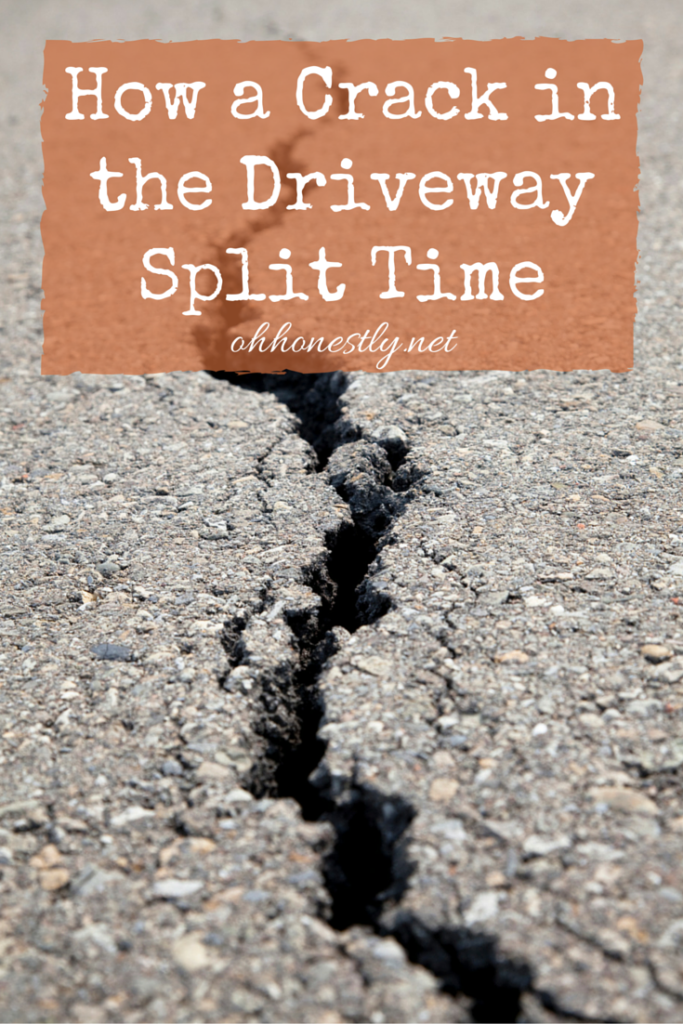 How a Crack in the Driveway Split Time
It's been seven years since we moved into our home; a young couple with a one-year-old, eager to begin a new chapter in our family story.
Since that time we have added two more children and made a host of changes to our house, inside and out. The carpets are gone. We've completed the unfinished Bonus Room. Even the siding has been replaced by a new color.
We are not the same family that we were when we moved in, but there have been several constants.
One of those is The Crack.
It lies near the end of our driveway, a line in the pavement that stretches from one side to the other, created by a culvert that hasn't stayed where it's supposed to. Another four or five feet stretch from the crack to the road, making it the perfect invisible fence for our kids.
I have walked hand in hand to the crack with each of my three children as soon as they are old enough to understand. I have pointed at the crack, stood behind it, said an emphatic, "Yes!", then crossed over and said an equally emphatic, "No!" We have practiced this game over and over until I've been able to slowly move away because they understand it on their own.
I have yelled more times than I can count, "Stop at the crack!" Nine times out of ten, they do, and on the occasions when they've rebelled, they have been sent into the house to show them the severity of their offense. They must not cross the crack unless they've been given permission.
As time has gone on, our oldest has started to outgrow this rule. A missed ball will roll across the street and into the ditch on the other side and he carefully looks both ways before chasing it down. He will rush past it on his way to our mailbox and I'll think nothing of it.
But still, The Crack has remained.
Until now.
My husband leaves for work and shortly after, the kids and I head out the front door, walking across the grass to avoid getting in the way of the workers who are there to repave our driveway. They have already scraped away a large area of grass for the turn-around we're having built. Although it will be more convenient than backing out of our driveway, our greater reason for building it is so that we can put up a basketball hoop.
As we continue across the grass, it dawns on me. Our family is once again beginning a new chapter.
Gone are the days of strollers and tricycles, replaced by scooters and two-wheelers. Diaper bags that were once a staple have been exchanged for backpacks and sports gear.
And The Crack that once tethered my children to our home is quietly disappearing to make room for a hoop that will usher in the teen years.
We're at the end of the lawn now. A group of workers is chipping away at the asphalt over the culvert, getting ready to lower it back to it's former location. I swallow the lump in my throat as we head towards our car, silently bid farewell to The Crack, and ready myself to turn to the next chapter.