Not long ago I found a bunch of
stock photos of families
at dinner time and I've got to tell you, they looked NOTHING like our family dinners.
Everyone was in their seat. Everyone was smiling.
Kids were grabbing second helpings of vegetables.
No one had food on their face or shirt.
These photos were remarkable. They were peaceful. They were perfect. They were ridiculously fake.
You want to know the word I would choose to describe dinner time with three young kids?
Chaotic.
Not perfect. Not peaceful. Chaotic.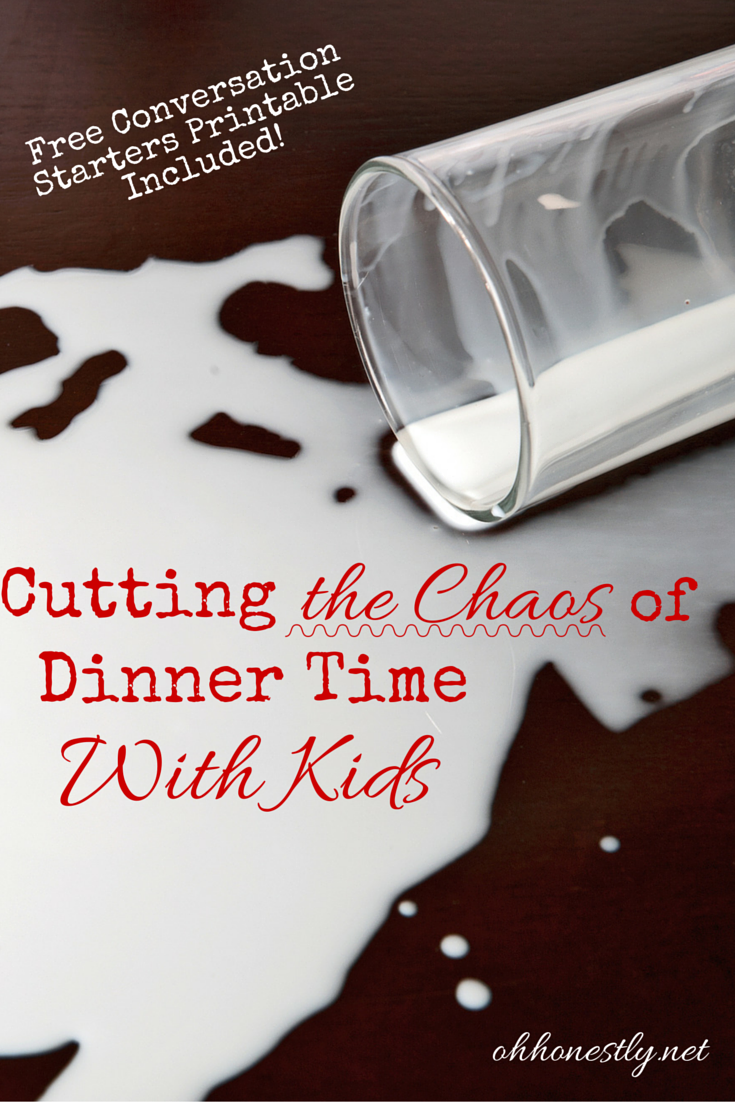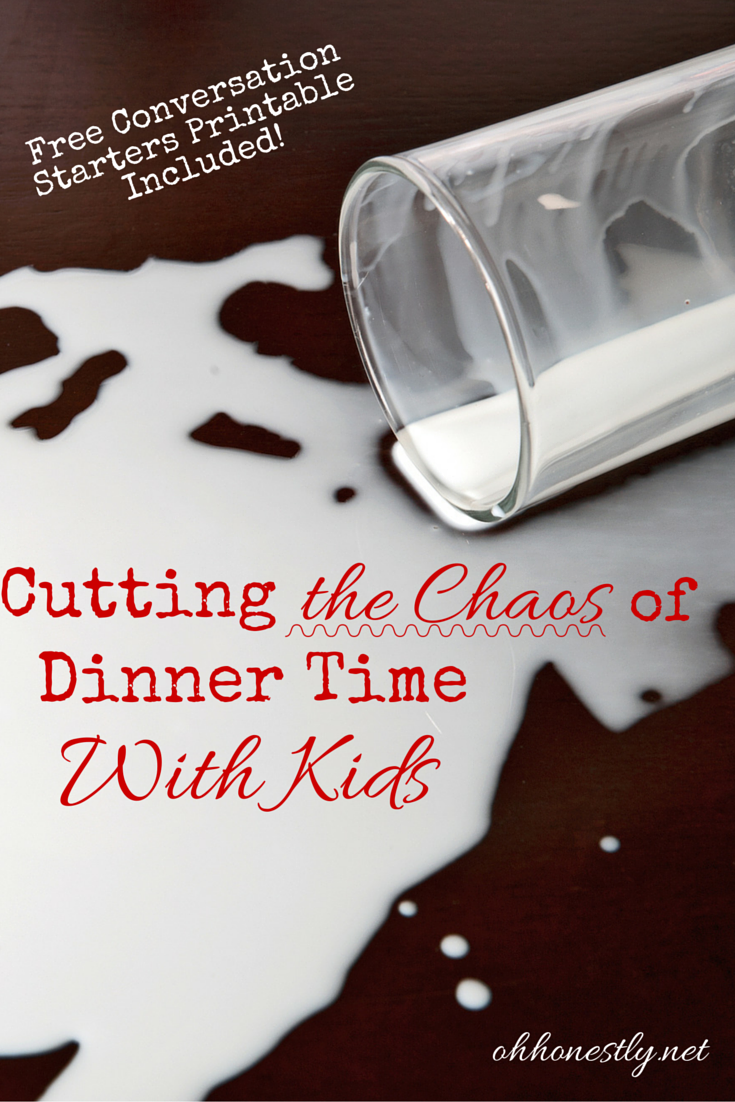 Cutting the Chaos of Dinner Time With Kids
Here's a little snapshot (with actual snapshots included) of how our dinners often go. Can you relate?
Dinner is ready, but it takes 10 minutes to get everyone to come to the table. As soon as they arrive, the complaining starts.
"What?? We're having this?"
"Ugh!"
"I don't liiiiike thaaaat."
As soon as we get everyone to sit down, the requests start: A glass of water, ketchup, some milk, a spoon instead of a fork. In the midst of our back and forth, the youngest slips under the table in an effort to avoid eating.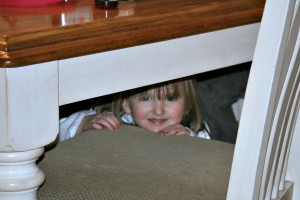 We issue some minor threats involving an early bedtime and she reluctantly climbs back into her chair.
Someone spills their water.
While we clean it up, our best eater cleans his plate. He'd like to be excused, but we tell him he has to wait until everyone is finished. Unfortunately for him, it could be a while. He does his best to wait patiently, but falls out of his chair, then turns around to look out the window, even though it's gotten pitch black since we first sat.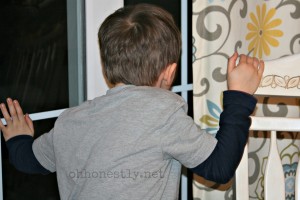 I take my third bite since sitting down only to discover that it's cold, then scarf it all down in less than five minutes so I can start clearing the table.
Each night takes a slightly different form of the above scenario, but there is rarely a night when our kids stay still the whole time with smiles plastered on their faces, taking extra helpings of the healthy stuff. And by rarely I mean never.
Even so, dinner time at our house is something that we enjoy and find important. We've seen the studies that link family dinners to improved grades and lowered chances of a child making poor life choices, and we know that making this a habit now will make it a lot easier when the kids get older.
But does that mean we just have to deal with the chaos now so that our kids will reap the rewards later?
I'd say yes and no.
Part of the chaos is just the stage of life we're in. Our kids are at ages where someone always needs something, it's hard to sit still, and manners are constantly being learned and practiced. We don't expect them to be perfectly behaved at dinner time (or really any other time for that matter. They are kids after all.)
On the other hand, there are things we can do to at least lessen the chaos:
Make a plan
First of all, having a meal plan is huge for my own stress levels. When I plan ahead for the week, I don't have to scramble to come up with what to make at the last minute.
Having a plan also lets me look at what meals I've scheduled back-to-back so that I can make sure that they're varied and that there aren't too many in a row that the kids will dislike.
Make meals everyone likes
While I don't cater to my kids or make separate meals for them, I do want to make sure that we have some meals that I know they'll enjoy.
One way I do this, which also makes meal planning a little easier, is to have Pizza Night every single week. The kids will tell you that Pizza Night is their favorite night of the week, and I have to admit, it's mine too. I mean, who doesn't love pizza?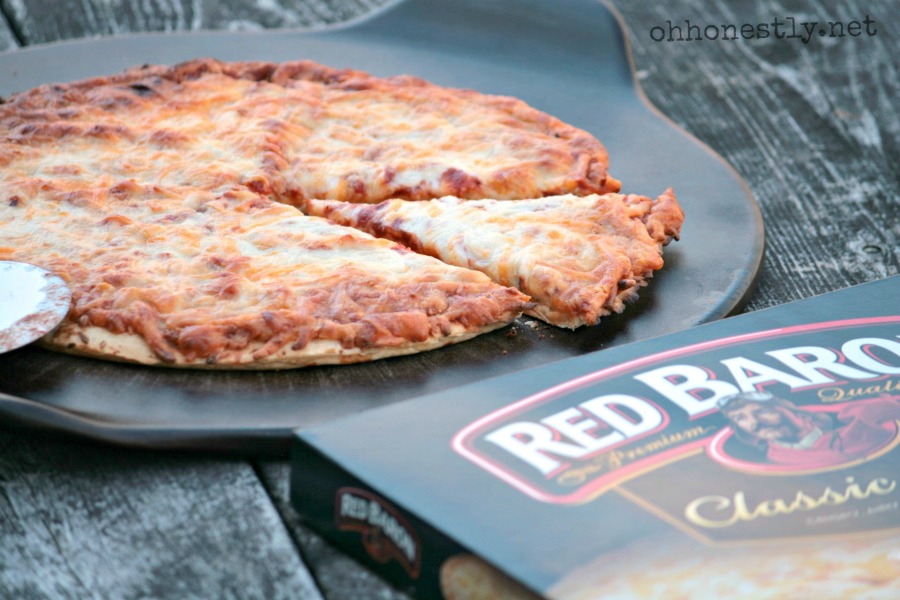 Sometimes I make homemade (the kids love to help!) and sometimes, especially if I'm short on time or just don't feel like cooking, we have RED BARON® pizza. I loved the RED BARON® Singles as a kid and now I love the Classic Crust that has just the right crunch.
Pizza Night means I only have to tell everyone to come to the table once, it means there isn't any complaining about what's on the menu, and it means that everyone pretty much stays in their seat because they're too busy eating to get up and move around.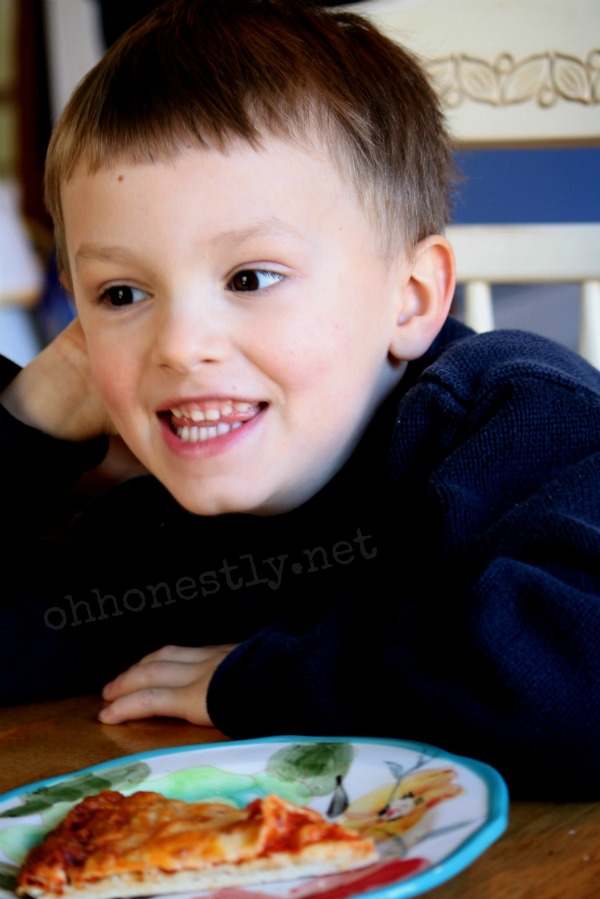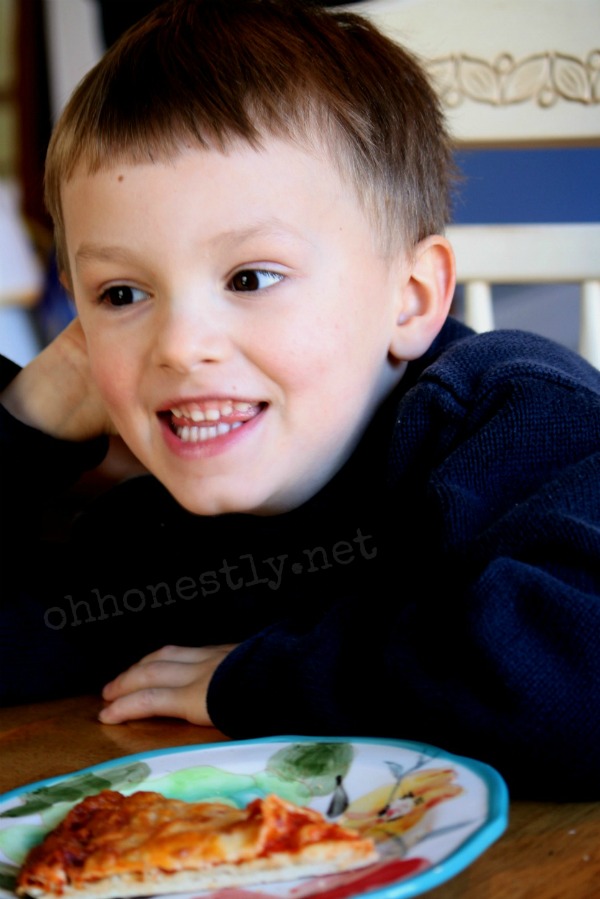 Get a conversation going
One of the best reasons to have family dinners is because it's a great opportunity to talk to each other, but often we're so caught up in getting everyone settled that most of the dinnertime conversation consists of commands from the parents. Plus, it's common knowledge that the question "How was your day?" rarely prompts much more than a quick, "Fine," before you're back to Square One.
If you want to get a quality conversation started, one that gets everyone thinking and sharing while also giving you a peek into your children's minds and hearts, be purposeful about it.
We've started asking a specific question at dinner time that each of the kids (and Dad and Mom) can answer as we eat. Not only does it get everyone interacting, but it has the added bonus of keeping everyone in their seats.
I've created a printable PDF that has an entire month's worth of conversation starters for dinner time. Just click on the picture below to go to the full sized version, print it off, and you'll be ready to go.
Some of the questions are silly, like the one in the picture above, and some go a little deeper. They're great for getting everyone thinking and then, depending on how your children respond, you can extend the conversation from there.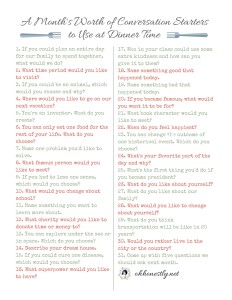 Even if you take all of these suggestions, you'll still find that there are many nights when the kids complain, milk is spilled, and you can barely sit down because someone is constantly asking for something.
So I do have one more idea to cut the chaos and make dinner time just as perfect as those stock photos I like to laugh at.
Force your family into sweaters, make them sit outside on the patio on a cold winter day, and stage your own perfect family dinner time photo.
You'll still know the truth about your imperfect family, but boy will that picture look good on Facebook! Betcha can't figure out which one is the real stock photo and which is my family 😉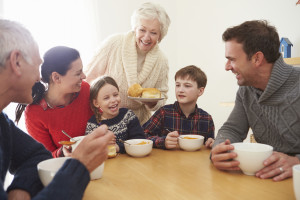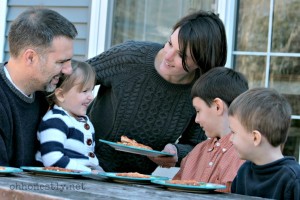 Here's wishing you many perfectly imperfect family dinners!  
Now for a chance to win a $100 Visa gift card, tell me in the comments below, how do you spend your special family night? 
Entry Instructions:
No duplicate comments.
You may receive (2) total entries by selecting from the following entry methods:
1. Leave a comment in response to the sweepstakes prompt on this post
2. Tweet (public message) about this promotion; including exactly the following unique term in your tweet message: "#SweepstakesEntry"; and leave the URL to that tweet in a comment on this post
3. Blog about this promotion, including a disclosure that you are receiving a sweepstakes entry in exchange for writing the blog post, and leave the URL to that post in a comment on this post
4. For those with no Twitter or blog, read the official rules to learn about an alternate form of entry.
This giveaway is open to US Residents age 18 or older (or nineteen (19) years of age or older in Alabama and Nebraska). Winners will be selected via random draw, and will be notified by e-mail. The notification email will come directly from BlogHer via the sweeps@blogher email address. You will have 2 business days to respond; otherwise a new winner will be selected.
The Official Rules are available here.
This sweepstakes runs from 3/11/2016 – 4/30/2016
Be sure to visit Red Baron's brand page on BlogHer.com where you can read other bloggers' posts!