This post contains affiliate links. I'll earn a small commission on any purchases made through the links.
DIY Christmas Gifts: Personalized Christmas Tree Cutouts Tutorial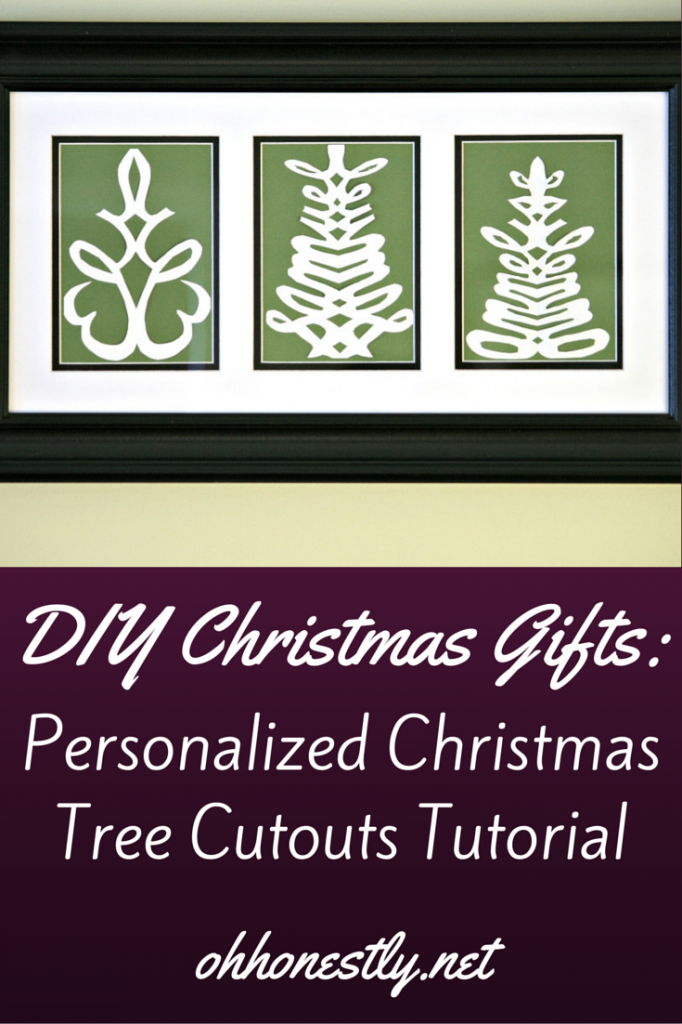 Last year my mom texted a picture to my sisters and I with a message something like, "Look what I've been working on for you guys!!! I love DIY Christmas gifts." I looked at the tiny, grainy picture (this was in my pre-Smartphone days) and I thought, "Oh. That's cute. It's a doily-looking Christmas tree. I think."
Then my sisters began to respond with messages like,
"OH. MY. GOSH! I LOVE IT!!!",
"Mom, you are AMAZING. How did you do that??",
"This will be something I cherish FOREVER.",
and it got me thinking that maybe I was missing something. Not that I wouldn't be thrilled to receive a snowflake-type cutout of a Christmas tree and if that's all it was, my mom would still be amazing, but I was pretty sure my sisters weren't freaking out over a mere tree.
A few days later, my parents stopped by to visit and my mom had the craft in hand. She held it up for me to see. I smiled and said how cute it was. Then she turned it sideways and BAM! "OH MY GOSH MOM, YOU ARE AMAZING!!!! HOW DID YOU DO THAT??? I LOVE IT AND WILL CHERISH IT FOREVER!!!!!!!!!!"
Do you see it?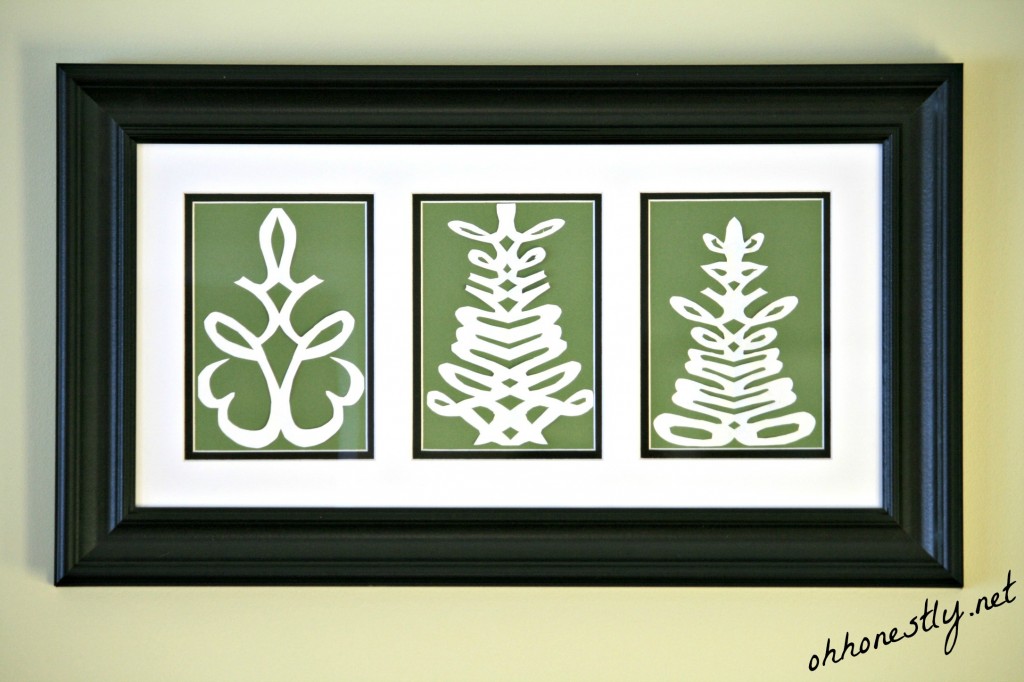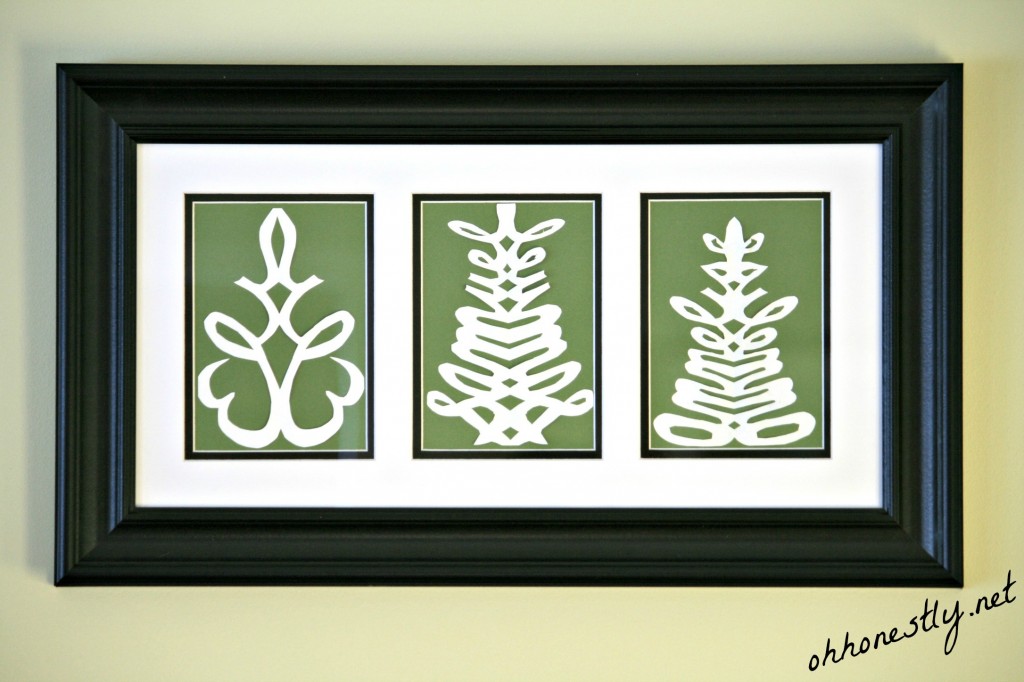 How about now?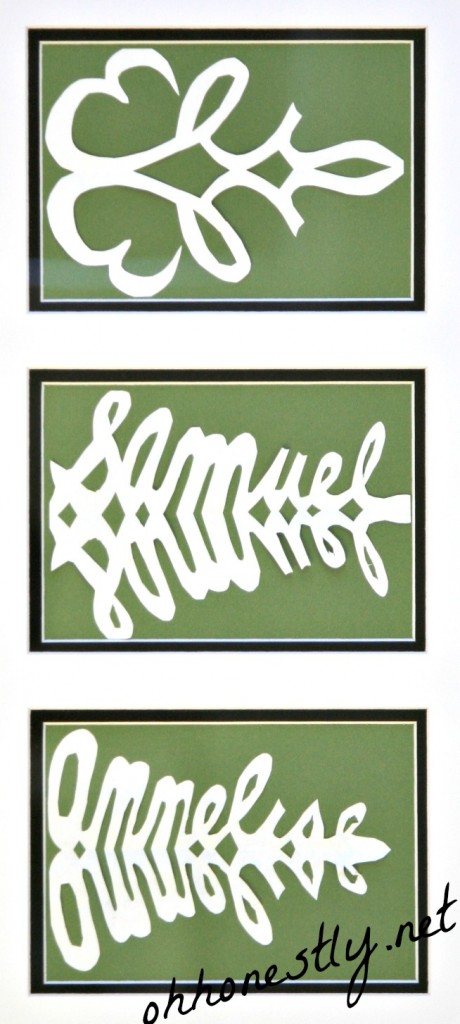 That's right, each tree is one of my kids' names.
I recently pulled the frame out of storage and posted a picture online. I had a lot of "How did you do that??" comments, and since my mom shared her secrets with me, I am graciously passing them on to you. These are pretty easy to do (I suggest having a really good set of scissors!) and make awesome DIY Christmas gifts for grandparents, teachers, etc.


1. Gather your supplies.
You'll need paper (I used plain white computer paper, but you could use anything), a pencil, a thick point highlighter, and a straight edge. Apparently we don't own a ruler, so I improvised because we own multiple three-hole punches. Yeah, I don't understand it either.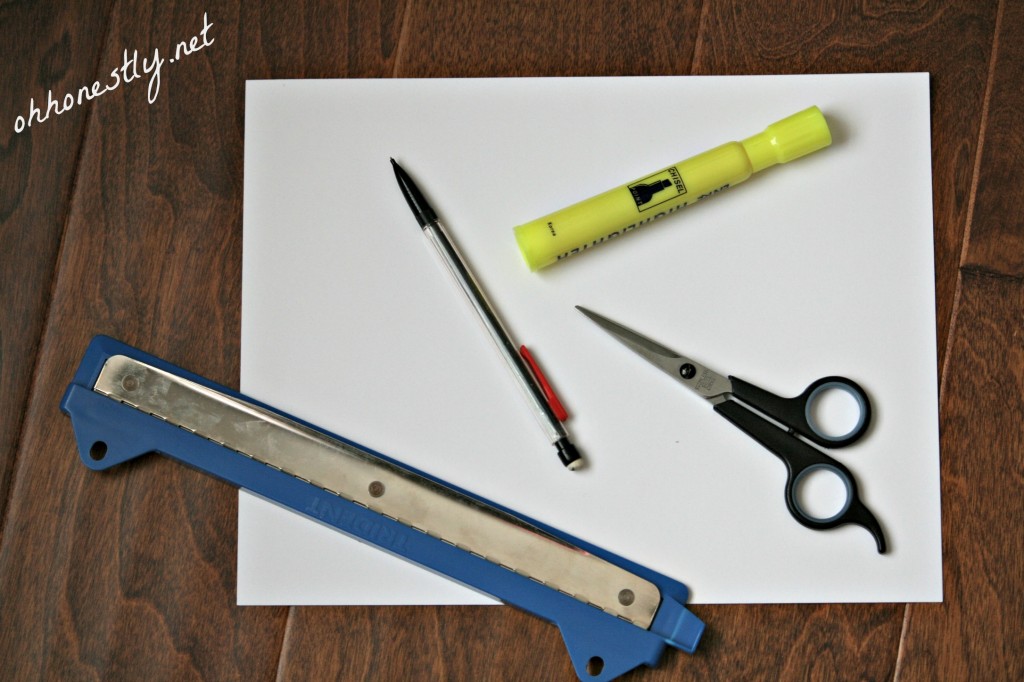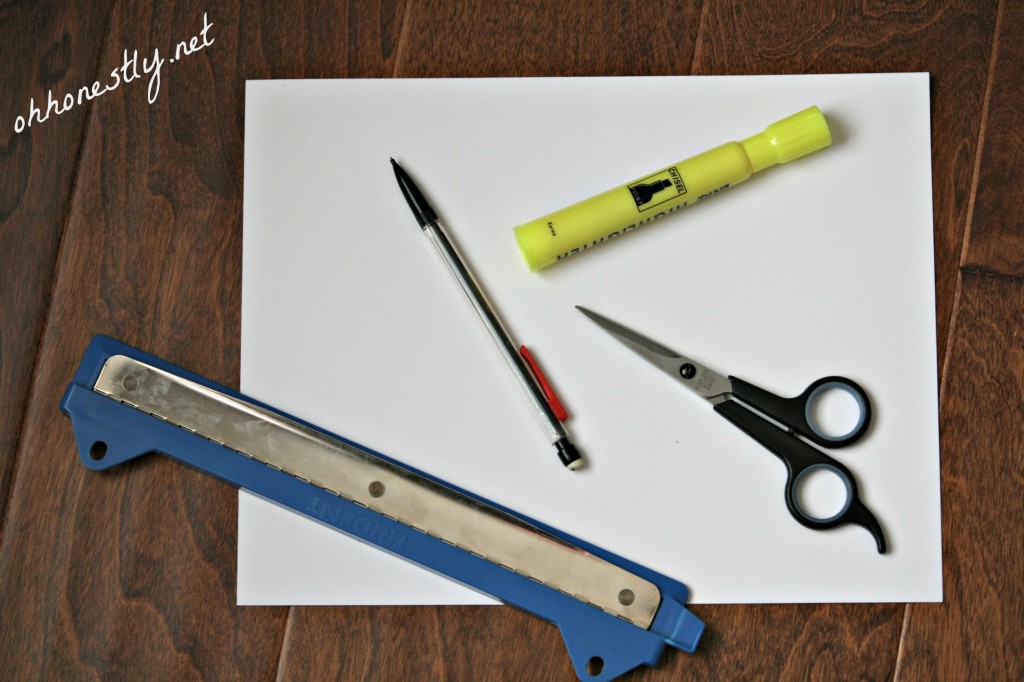 2. Fold your paper in half.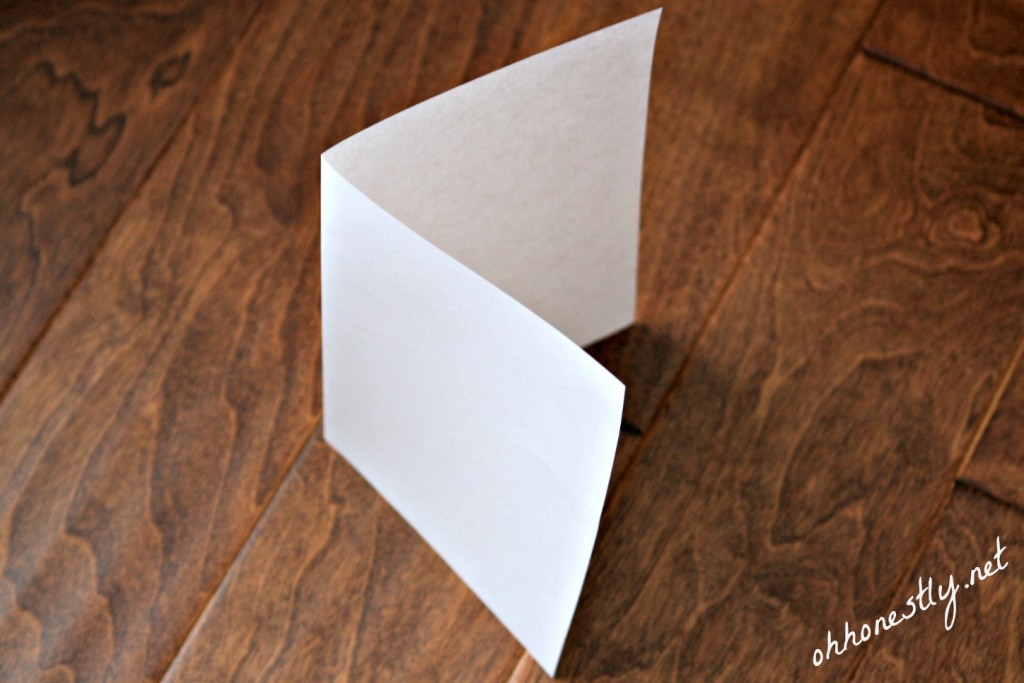 3. With the fold of the paper on the bottom, use a pencil and straight edge to draw a diagonal line to form half the width of the tree. The widest part should be on the left and the point of the tree should hit the fold towards the right end.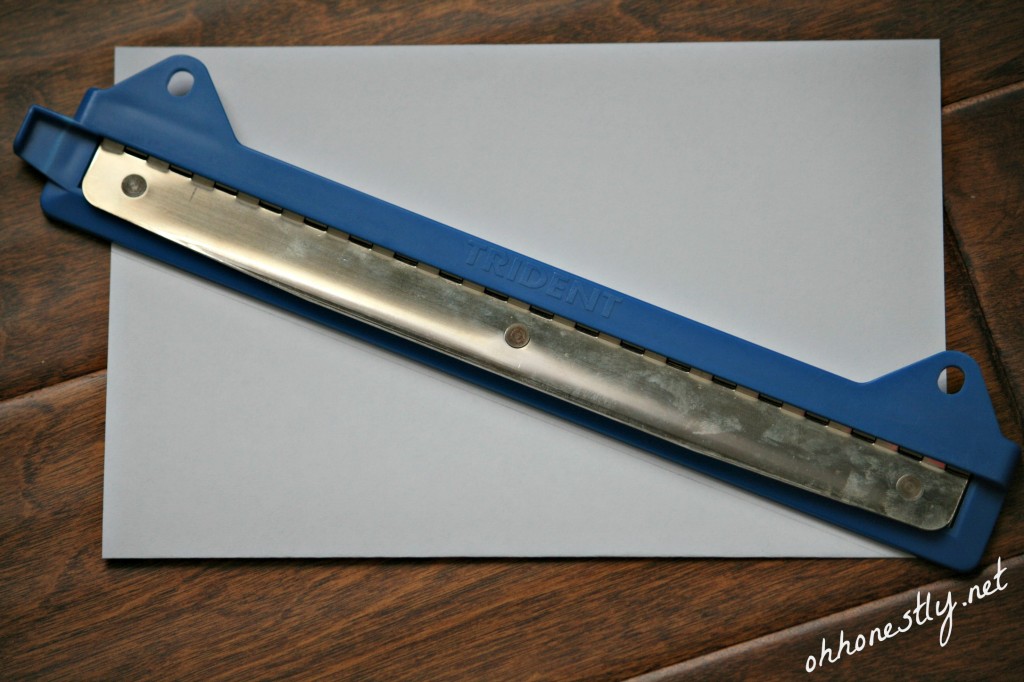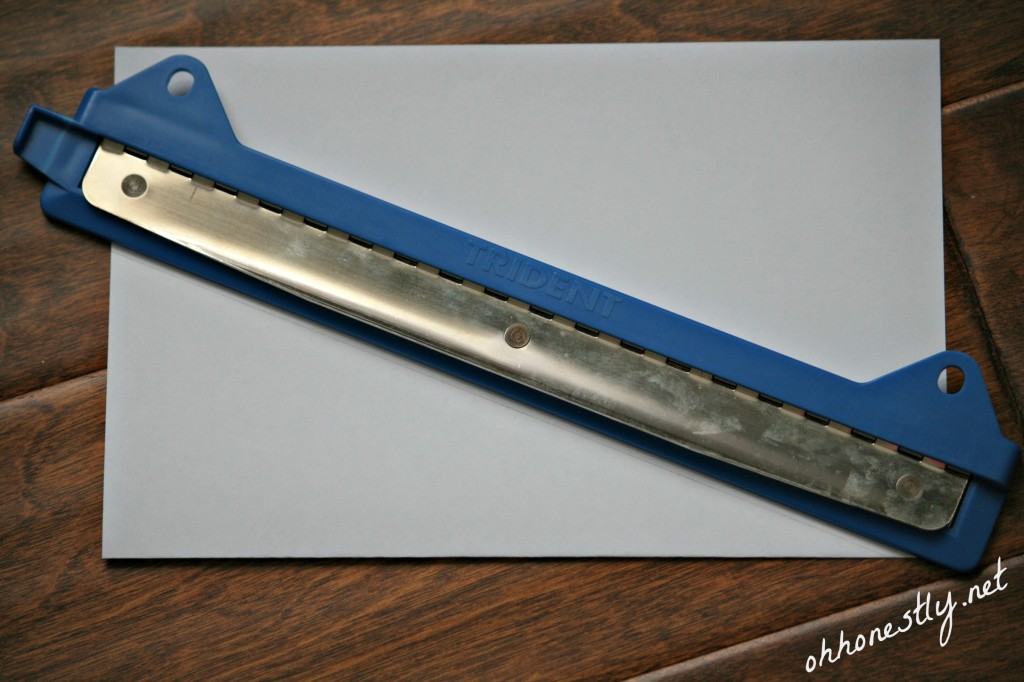 4. Beginning at the wide end, with the fold on the bottom, write the name in cursive, being sure to hit the top and bottom line with each letter.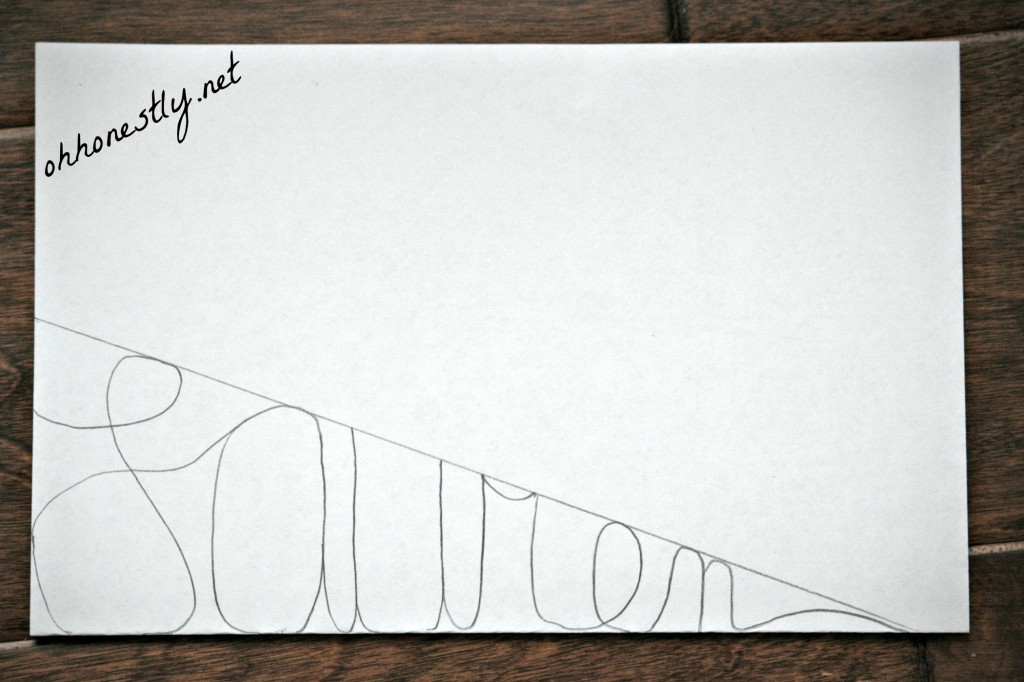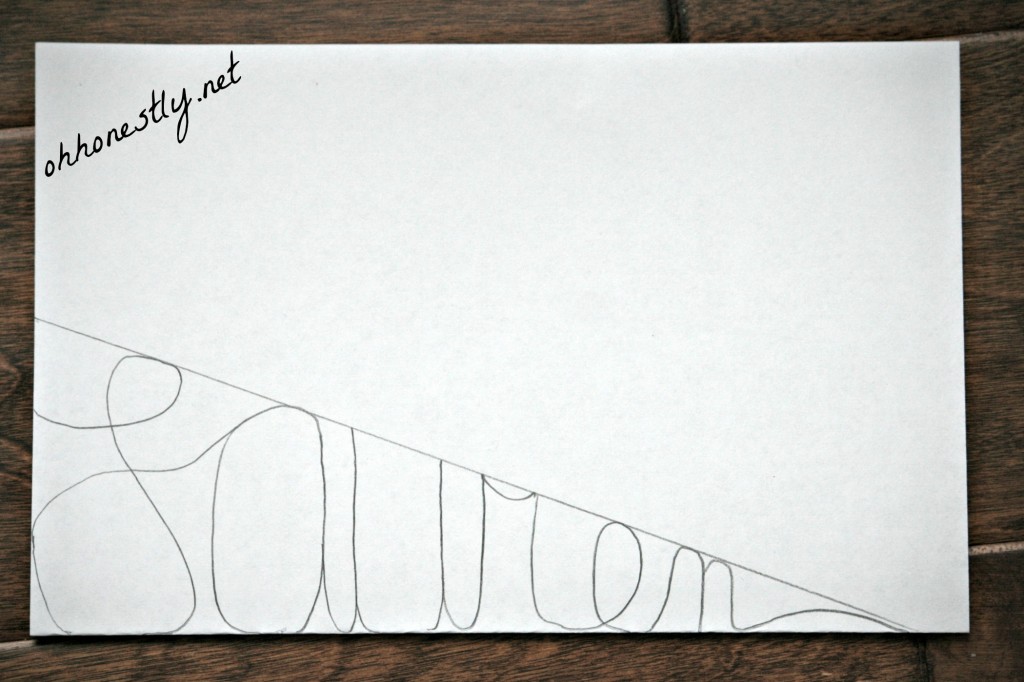 5. Use the highlighter to trace the name. Try to keep the same thickness for all parts of the name.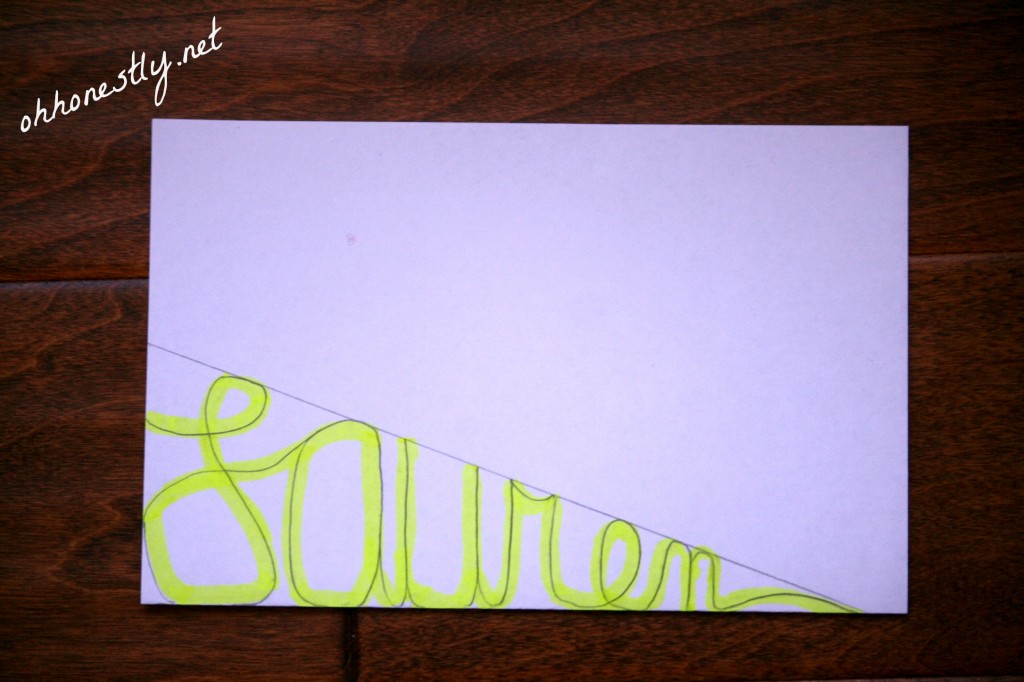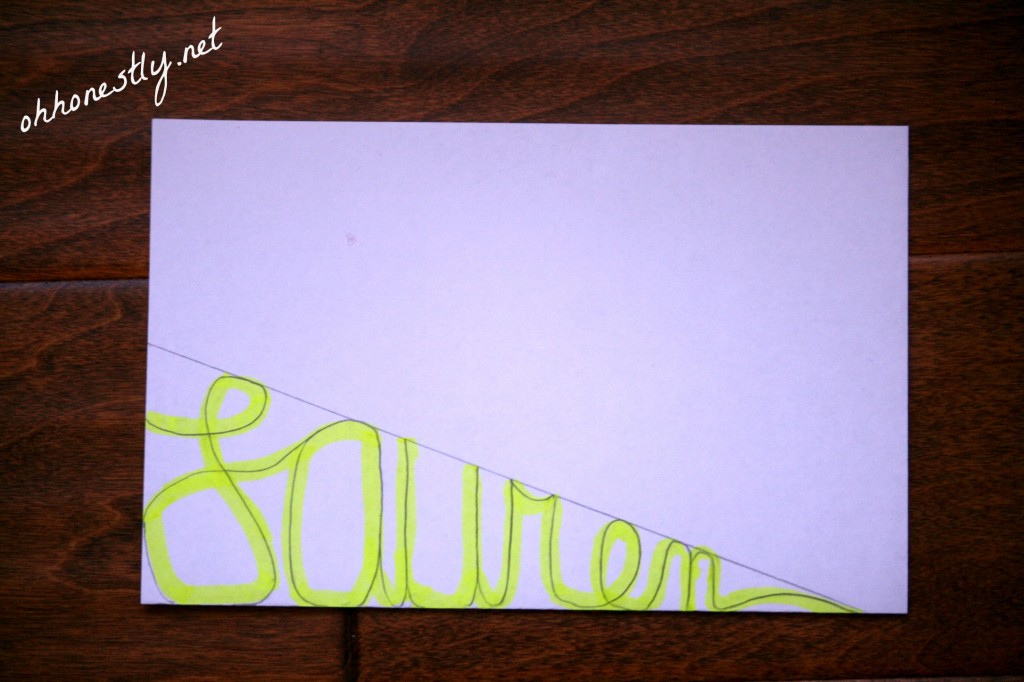 6. Cut along the straight line you drew in Step 3.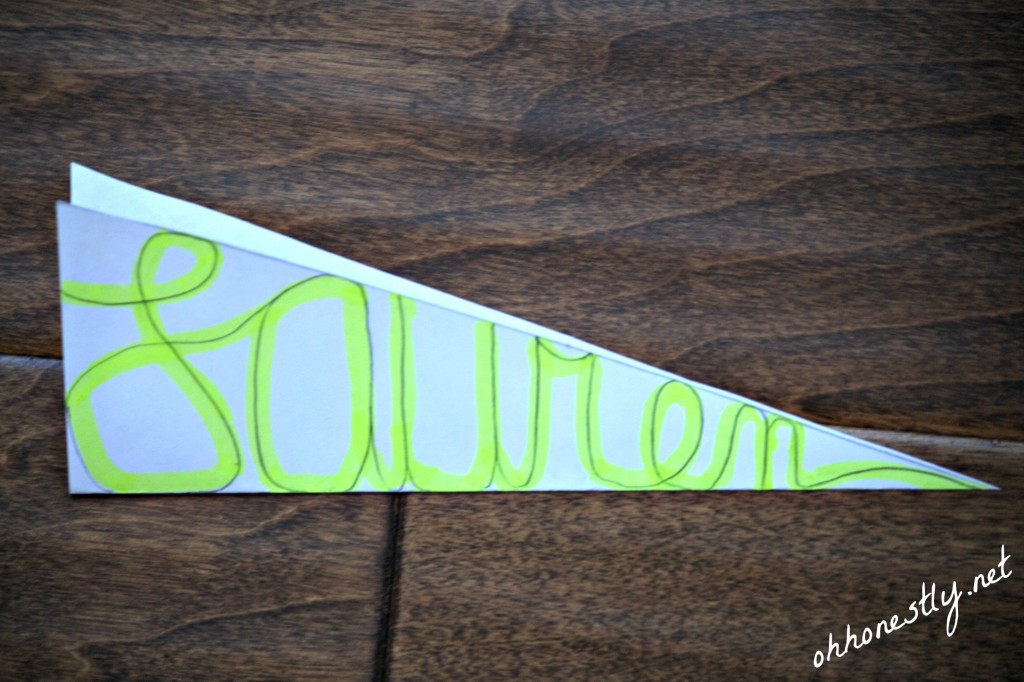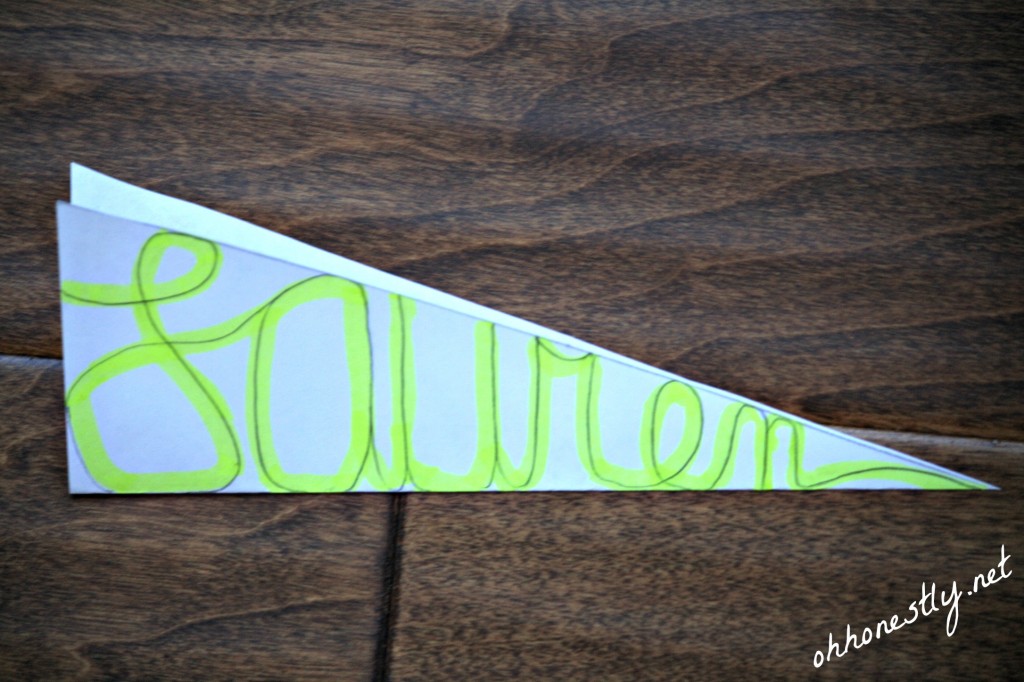 7. Cut along the inside and outside edges of the highlighter.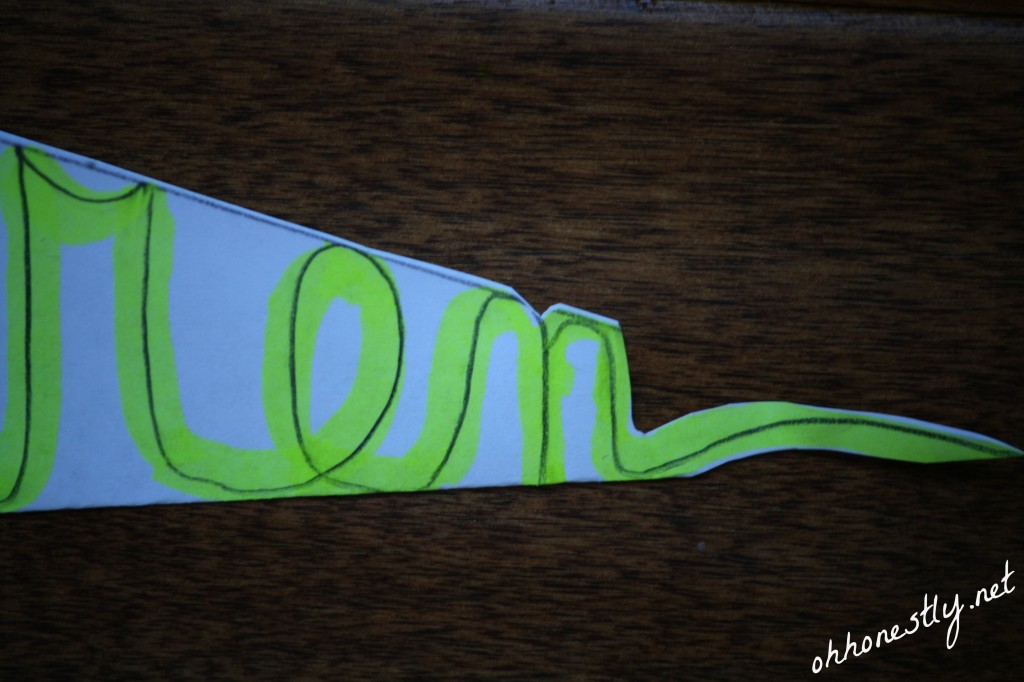 When you're done cutting, it will look like this: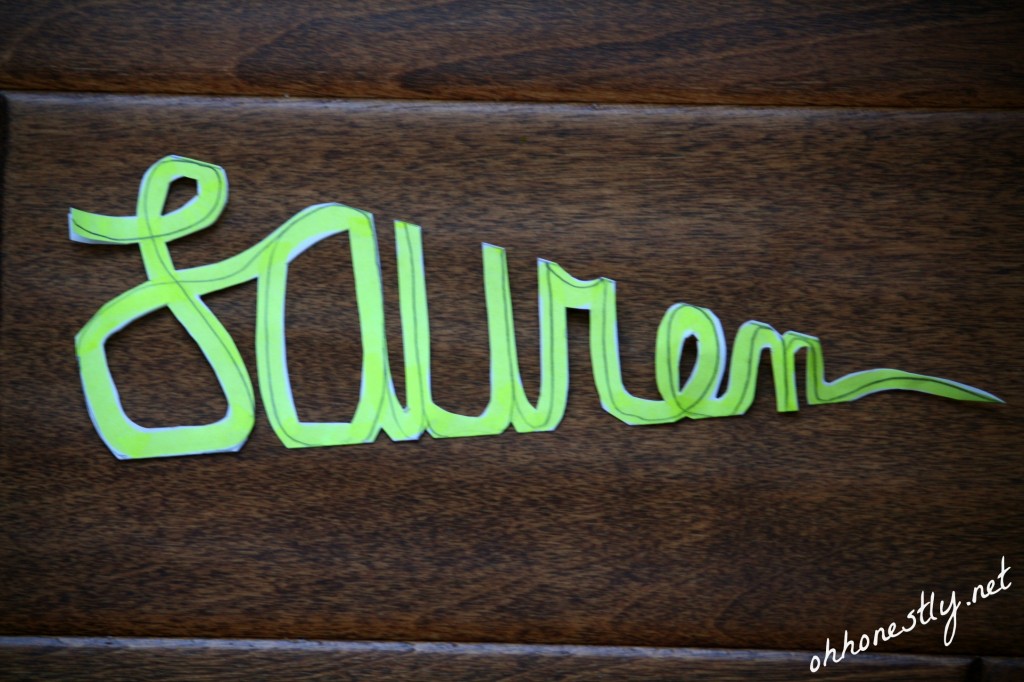 8. Unfold the paper and there you have it!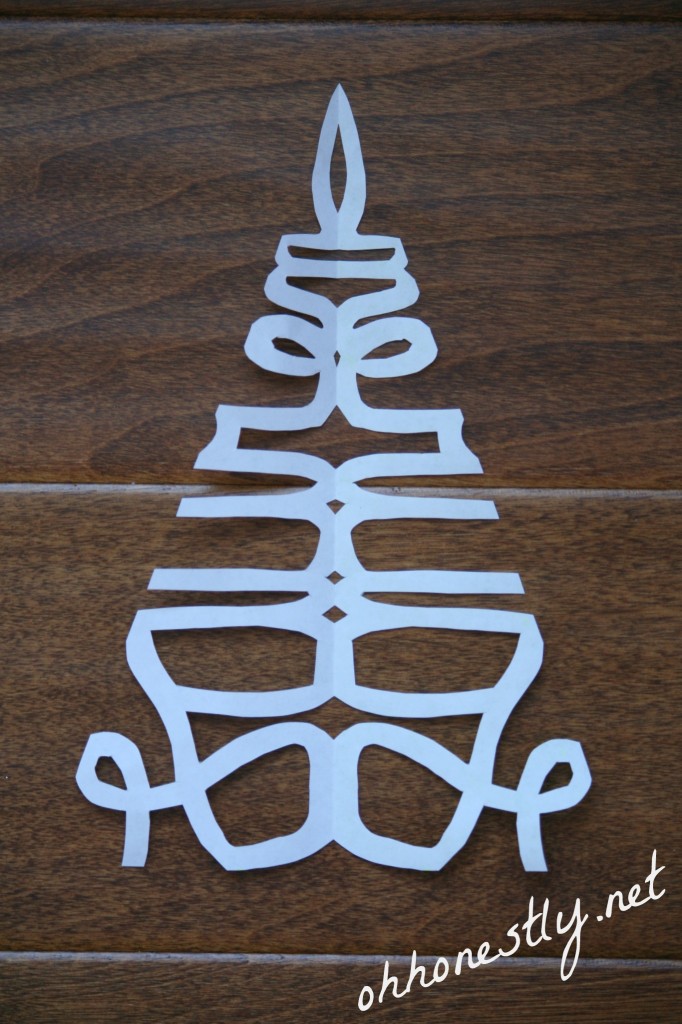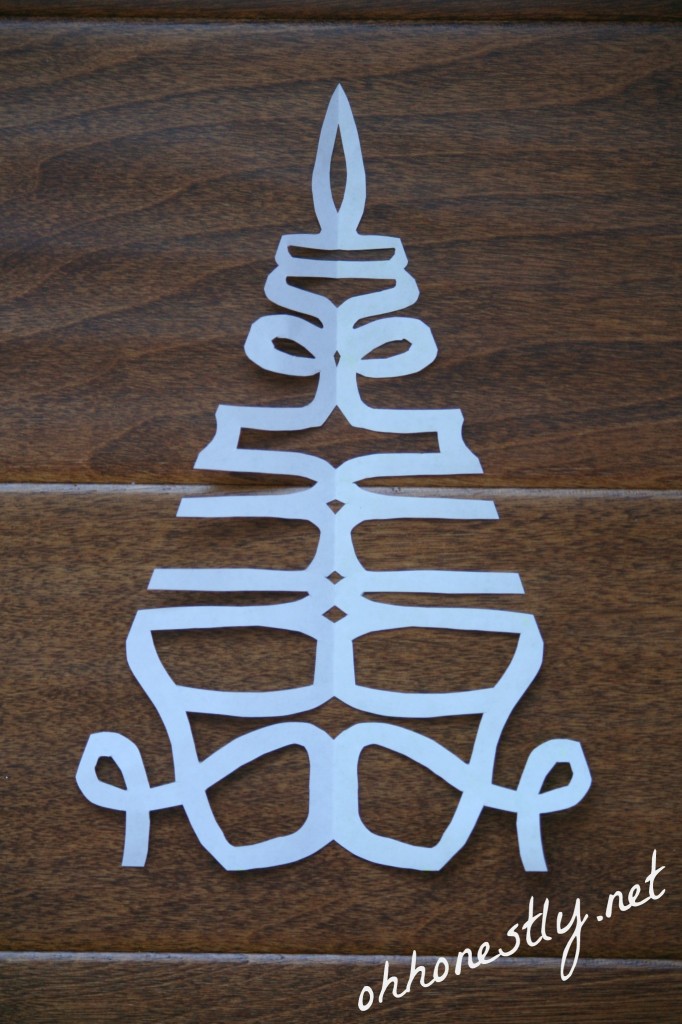 9. Mount on a contrasting color of card stock and frame if you so desire.
Sorry to not show you the one I did mounted and framed; I didn't have a glue stick. One tip: If you use a regular weight paper, be very careful when using the glue as the paper will tear fairly easily.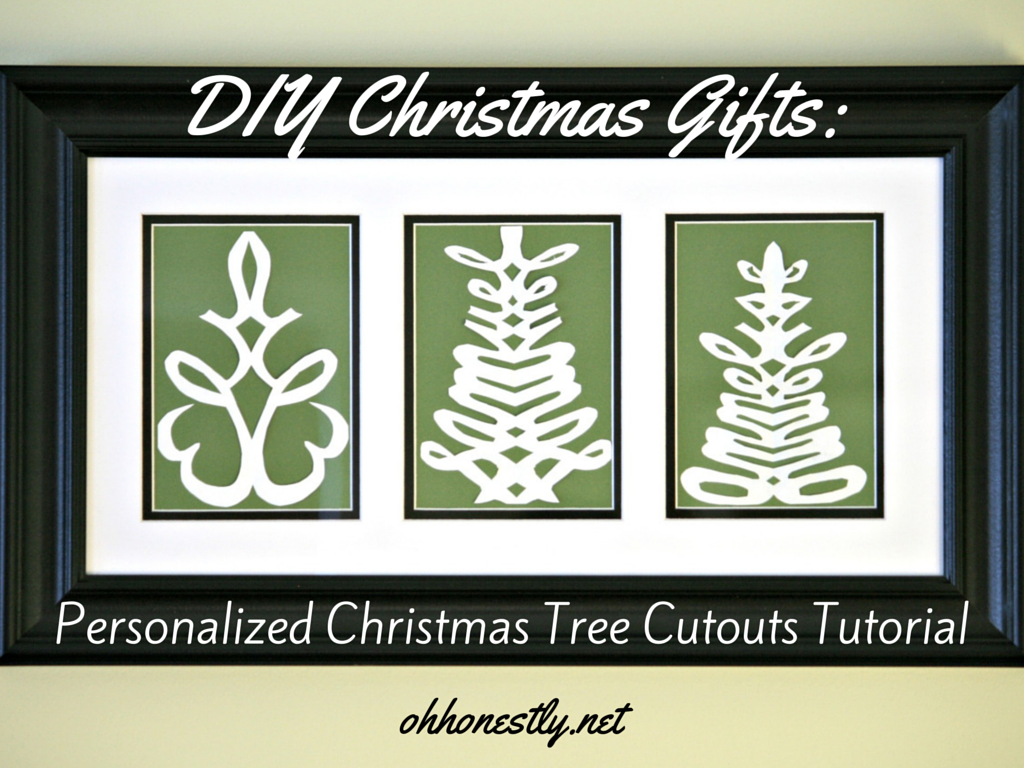 Planning to try this out? Why not pin the top image for easy reference?  And once it's done, let me know here or on Facebook how yours turned out!