This post was originally published on February 15, 2014 and contains affiliate links.
February 14th. Valentine's Day. The day to show our love. Or lament our lack of love. Or rail against the ones we love.
There are usually are two major camps when it comes to how people feel about this particular holiday. In the first are the people who take adorable selfies of themselves with their significant other or gush about the amazing flowers/chocolates/jewelry they received. In the other camp are the ones who have no significant other and therefore hate the holiday and all that it symbolizes. If they're not happy, nobody should be.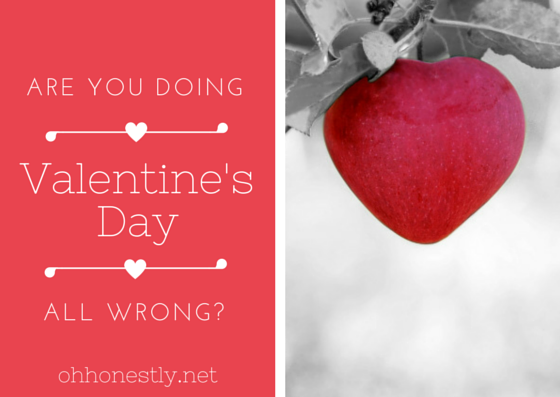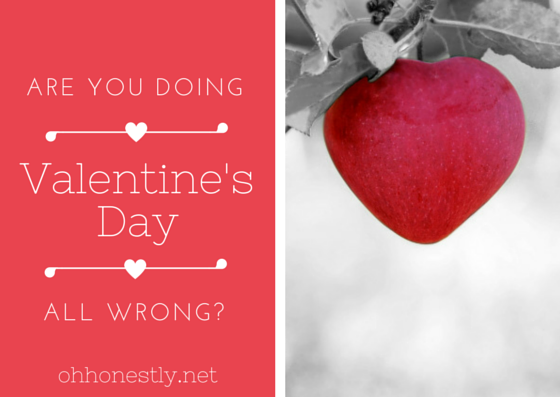 Are You Doing Valentine's Day All Wrong?
Yesterday, however, I was introduced to two new viewpoints. They're both minor in the sense that you don't see many people in either one. That's a good thing for the first, which I can only describe as disturbing. The second one, however, holds what I believe is the solution to the problem of the first.
Two words were all it took to introduce me to the first new viewpoint. The words were blasted across Facebook in a fit of rage. I won't repeat the first word, but the second was 'you' if that helps to decipher this angry girl's message. She then continued her rant in the comments, deriding her husband, and husbands in general, because he hadn't gotten her anything for Valentine's Day.
One guy tried to make things better by suggesting that perhaps her husband would give her a gift later that day. Unfortunately, this guy made the mistake of not being married yet and also being male, so his suggestion was met with scorn. Something along the lines of, "One day you'll get married and then you'll suck too."
By the time I had finished reading, I had one word bouncing around in my head. SELFISH. I almost wanted to ask her what she had gotten him, but I was pretty sure I knew what her answer would be: "Not a &*!#$ thing!" Her message was clear: Buy for ME. Give to ME. Do for ME. Me, me, me.
While completely disgusted by her brazen display, I was simultaneously aware of my own penchant for selfishness. I may not share it with the world, but if I take a look at my own heart, I certainly spend an awful lot of time thinking about me. What I want. When I want it. Why I'm entitled to it. How the world is an awful place when I don't get what I deserve. I bet you have that tendency too. It's one of the uglier aspects of our human nature.
Thankfully though, I was also introduced yesterday to that other viewpoint I mentioned earlier. Again on Facebook, a friend described the gift her husband had given to her. Every day since last June he has written down one thing that he's noticed about her, that makes her unique, that he loves about her. He handed her the notebook in which he's recorded these thoughts with the stipulation that he needs it back in order to continue his project for a complete year.
Of course the comments under this post were all of the swooning variety. What woman wouldn't want a husband like that?? And of course, my first (selfish) thought was, "Wow, maybe I should mention this to Eric so that he'll do it too!" Then I realized that I was looking at it all wrong.
Instead of lamenting what he doesn't do for me, why don't I brainstorm what I can do for him? Instead of bemoaning the fact that I do the majority of the housework, why don't I celebrate the fact that he works hard every day so that I can stay home with the kids? Instead of focusing on the things about him that I'd like to tweak, why don't I focus on changing the things about me that get on his nerves? Instead of being selfish, why don't I be selfless?
Valentine's Day is the holiday of love, but I think we've gotten things backwards. We quote the words of First Corinthians 13 and hold them up as the pinnacle of true love, which indeed, they are. But instead of asking if we're being loved like that, why don't we start asking if we're loving like that?
'Love is patient, love is kind. It does not envy, it does not boast, it is not proud. It does not dishonor others, it is not self-seeking, it is not easily angered, it keeps no record of wrongs. Love does not delight in evil, but rejoices with the truth. It always protects, always trusts, always hopes, always perseveres. Love never fails.' 1 Corinthians 13: 4-8