I'm excited to partner with The Growing Place and Polish for this post.
You've been putting it off. Every time you think of it, you come up with something else that's just a liiittle more urgent. Although the sun is shining and you'd rather be outside (or truthfully anywhere but here), you know what you need to do.
You set your shoulders, march into your child's bedroom, open a bureau drawer, and empty it's contents into a heap on the floor. Soon you have three piles: Still Fits, Not Sure, and Too Small. You place the Still Fits pile back in the drawer and decide to wait until you've gone through everything before fighting your kid to try on the Not Sures.
By the end of the afternoon, you've gone through every article of clothing your child owns and have a big bag of items that are too small.
But what should you do with them?
Throwing them away is just plain wasteful, donating them could be a good idea, but what about consigning them? If you bring them to a consignment store you'll get a percentage of the profit when they sell your stuff. It sounds like a good idea, but is it really?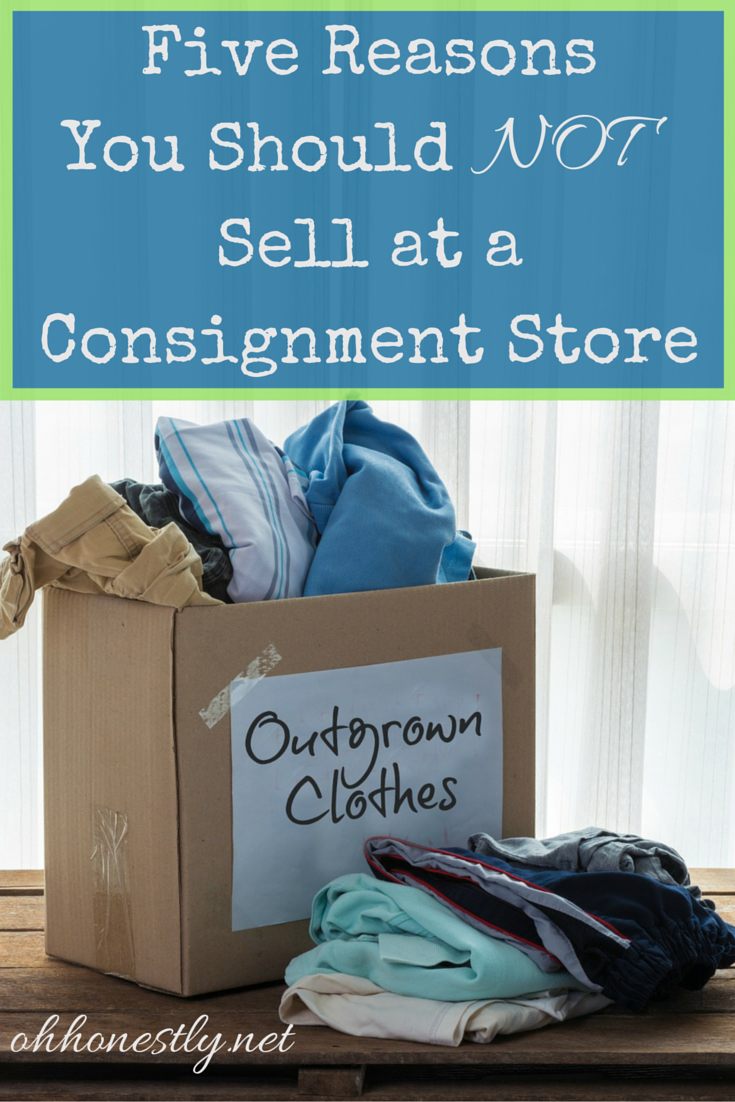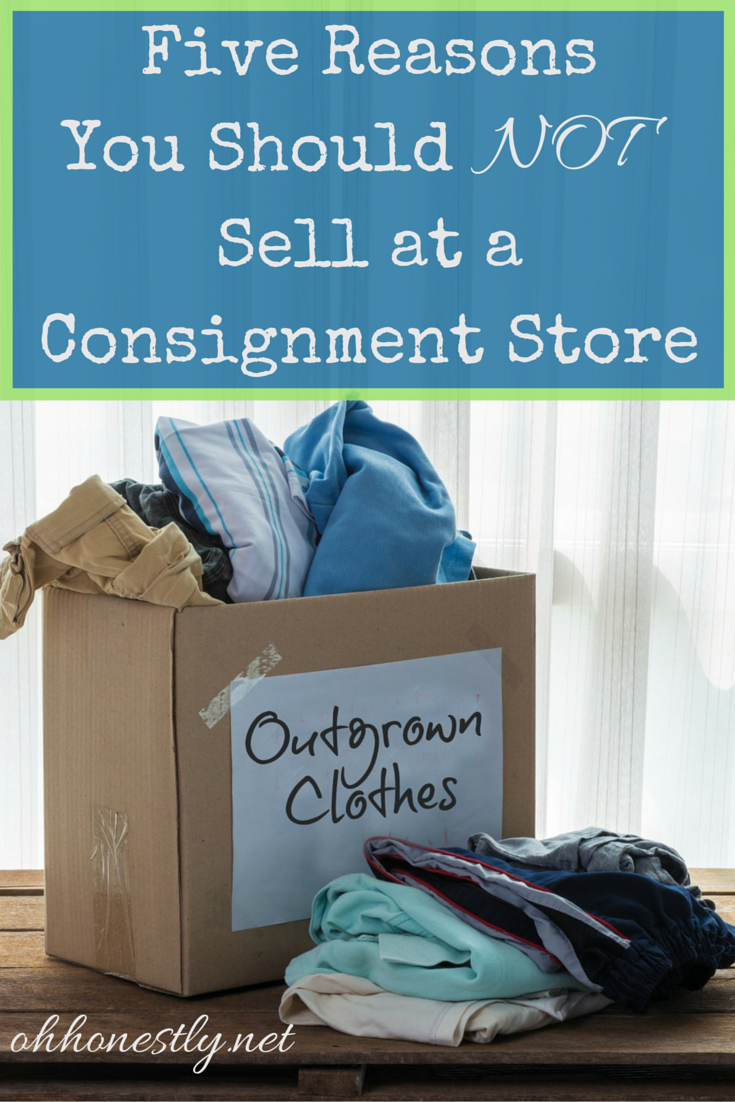 Maybe this will help you decide:
Here are five reasons you should NOT sell at a consignment store.
1. You have plenty of money
Do you have all the disposable income you could ever want? I'll wait while you finish laughing.
Clothes are expensive, even if you buy them on sale, and kids grow fast. Sometimes I'll find outgrown items in the closet that still have tags on them, for goodness sake! It's like tossing money in the trash.
Consigning is a great way to recoup a portion of that money, but like I said before, if you have more money than you know what to do with, why bother?
2. You have a lot of free time
I used to do a lot of selling in online swap groups. I sold locally and nationally and for a while it made me a decent amount of pocket change. Although I enjoyed doing it and I made some great friends along the way, it took a lot of time.
In order to sell, I had to get our items ready, photograph them, upload the pictures into each appropriate group, and include a detailed description with each picture (brand, size, price, and other pertinent details).
I had to answer questions about the items, gather the sold items together, weight them to figure out the shipping cost, send an invoice to the buyer, and package them up to mail. I had to make sure my photo albums were current and that I deleted items that had been sold.
It took a lot of time and eventually I got sick of it.
The other day I went through some clothes my daughter had outgrown. I called The Growing Place (a consignment store in Bangor, Maine) to see if I could bring them in.
I placed them in a tote, brought them over during an outing that had me nearby already, and that was it. They'll do the rest of the work for me. I might not make as much as I did when I sold directly, but at this point in my life, my time is more valuable to me than the few extra dollars I'd make selling them myself.
3. You ruin all your clothes
When my boys were young, I got a lot of mileage out of their clothes. Most of what Eli wore was passed down to Samuel which was then passed on or sold to someone else.
Now that they're a little bit older, they're harder on their clothes. Most of their pants end up with holes and a lot of their shirts end up with stains.
If all of your clothes end up that way too, don't bother consigning them. Most stores won't accept pieces like that anyway and you'll just end up wasting everyone's time.
But if you have some clothes (from your kids or yourself!) that are in good condition, consignment is a great way to go.
4. You hate getting a deal
Many consignment shops offer you a bigger percentage of the sale if the money is then spent back in the store. For example, if I get cash for the items I brought to The Growing Place, I'll receive 40% of the selling price, but if I get store credit, I'll receive 50% of the selling price. I think that's a pretty good deal.
Add to that the fact that you can find name brand items at a consignment store for a fraction of the price you'd pay at a retail store, and consignment selling and buying just makes sense.
5. You hate supporting local small businesses
Don't you just love spending hundreds at a big box store, knowing you're further lining the pocket of someone who's already filthy rich? No?
Well, how about knowing that by dropping off your gently used items, you're helping someone in your community care for her family? Most consignment stores are owned by individuals like you and me or they're run by a local organization that puts the profits back into the community.
But by all means, if you can't stand the people who live near you, don't take your clothes to a local consignment store. You might inadvertently help them!
So there you have it; five compelling reasons not to sell at a consignment store.
Will you never step foot near one again or are you ready to gather up those outgrown clothes and head to your nearest store today?
If you live in my area, The Growing Place and Polish is a great place to not only bring children's clothes, but also toys, baby gear, women's clothing, accessories and more.
Just make sure to tell them Oh, Honestly didn't send you 😉