I love football. I love the Patriots. So ever since DeflateGate broke open, my mind has been running through a million questions and possibilities.
Did they do it? Was it intentional? Was the weather a factor? Who's responsible? Do they do this every game? Maybe it was a mistake. Maybe every QB does it. Maybe it's not that big a deal.
On Football, Cheating, and a Six Year Old Sports Fan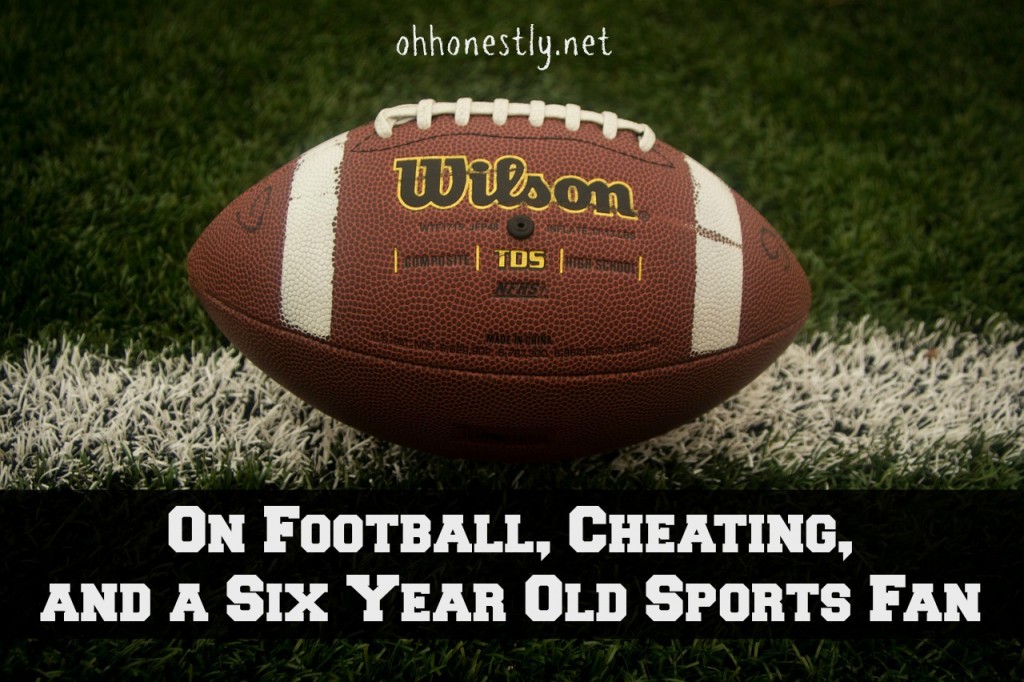 I haven't listened to all the talking heads (there are a lot of them!), but from what I have heard, almost a week later, I'm lead to this conclusion:
Brady had to know those footballs were deflated. However, a deflated ball wouldn't really have any impact on the outcome of a game. I heard one guy on the radio compare it to driving 58 mph instead of 55. Is it breaking the rules? Sure. Is it homicide? No.
Everything in me wants to justify this and I have a pretty compelling list for why we should:
If it doesn't affect the outcome of the game, who cares how inflated/deflated the ball is?
Everyone hates the Patriots, so this is just one more way to try to ruin their legacy.
58 in a 55? Really? I do that every day.
It's not like they were taking steroids like all the cheater-pants baseball players.
Yes, I can easily justify it because it's not that big a deal.
But then.
My six year old is the biggest sports fan I know. He'll watch any team, any sport and be 100% invested in that game. But most of all, he loves his New England teams.
So we discuss DeflateGate, talk about cheating, go over the consequences, and his major question is, "But they'll still be in the Superbowl, right?"
Yes, but it's sullied now. Any major win will always have an asterisk. *They're cheaters.
"Don't you see, buddy? Cheating, no matter how big or small, is wrong. It ruins the win."
I am steeped in hypocrisy. Driving 58 mph as we talk. I am a rule breaker, a cheater. We all are.
How do I teach my children black and white in a world that increasingly thrives in shades of gray?
Do I think a deflated ball is as bad as taking performance enhancing drugs? No. But wrong is wrong and I will teach my children that regardless of how gray we think it is, if we step over that line of black and white, there are consequences.
I'm not naive enough to think my kids will never cross that line, but I certainly hope that when they come to the big moments in their lives, they will choose to move ahead honorably, regardless of how much they have to gain or lose.
And I hope they'll remember that there might be a six year old watching to see what they'll do.