Updated: Nov 2018
I'm a gift buying waffler.
What do I mean? Well, sometimes I can't think of anything to buy anyone (hey nieces and nephews, that's why you get money most of the time!), but other times I think up some really great gift ideas (like this list I compiled for Mother's Day a couple of years ago; you'll find the perfect gift for the mom who has everything. Or this one that tells you what parents really want you to buy their kids.).
Lately, I've been thinking about some of my favorite things and it made me realize that if I like them, there are probably a lot of other moms out there who would like them too.
Each of these items would make an awesome gift for the mom in your life (or if you are the mom, print this list out and leave it laying around with your favorites circled). There are also a variety of price points so whether you have $200 to spend or a couple of dollars to spend, I've got you covered with these unique gifts for mom!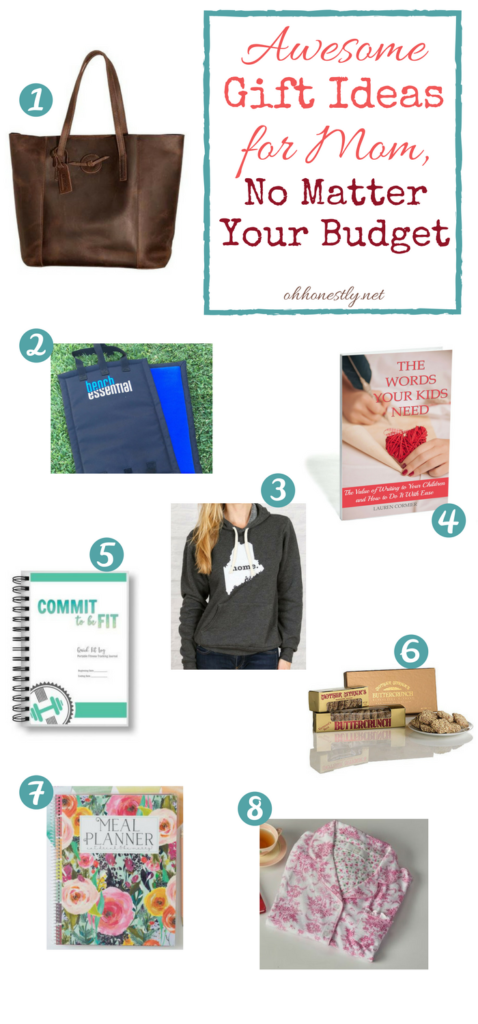 All of the items below are things that I actually own and love. Wait, that's not entirely true. I no longer own any Buttercrunch because I ate it all. I'm an affiliate for some of the products and others were sent to me to try at no charge, but I only included things that I would enthusiastically suggest to a best friend.
Read on to see my top picks for Christmas gifts for mom this season. Click on the titles and pictures below to be taken to the product websites.
Fail-Proof Gift Ideas for Mom, No Matter Your Budget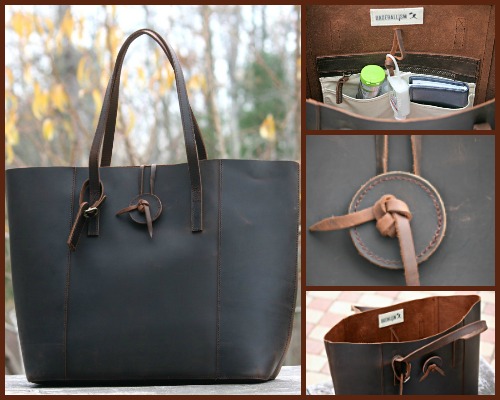 I tend to keep things for ages. I've owned the same small purse for years, even though it's not very stylish and I don't really like it. I've been eyeing the tote-style bags for a while now, but haven't taken the plunge because there wasn't anything wrong with my old one, and I thought I might not like having a big purse.
Then I spotted Baseballism's leather tote and decided the time had come.
This tote is gorgeous. It's made of real baseball glove leather, so I know it will last a lifetime (which is obviously important to the girl who still owns a fleece she got in high school… 20 years ago). The straps are the perfect length, there's a cute clasp made of baseball glove lace, and there are several interior pockets (one zippered) to keep things organized.
As for the size: Well, it's definitely on the big side, but now that I've made the switch, I keep wondering how I survived the first eight years of motherhood without a big purse. Usually when we leave the house, my hands are full. My purse, my keys, that letter to mail, a snack for the kids, a toy or two, school forms to drop off; there's always something. Now I just toss everything in my bag and it's so much easier.
This tote would make the perfect diaper bag too, so check it out if you have an expecting mom in your life who isn't into carting around a bag with Winnie the Pooh plastered all over it (not that there's anything wrong with Pooh Bear).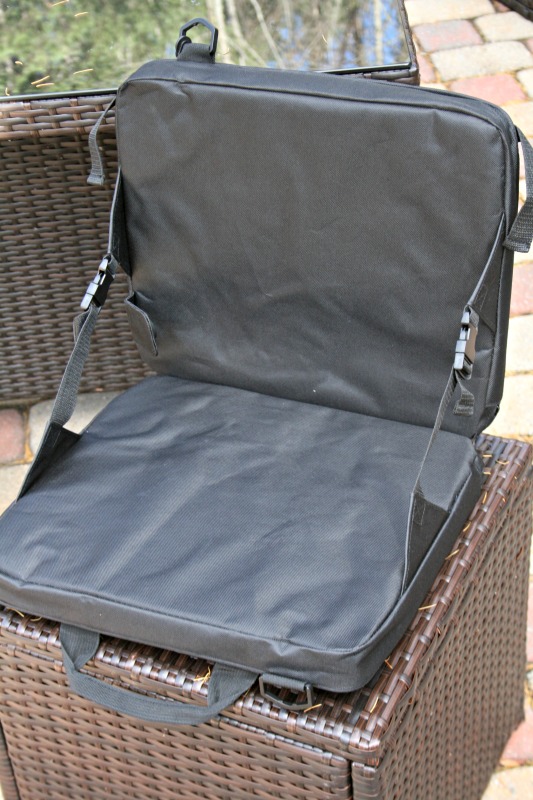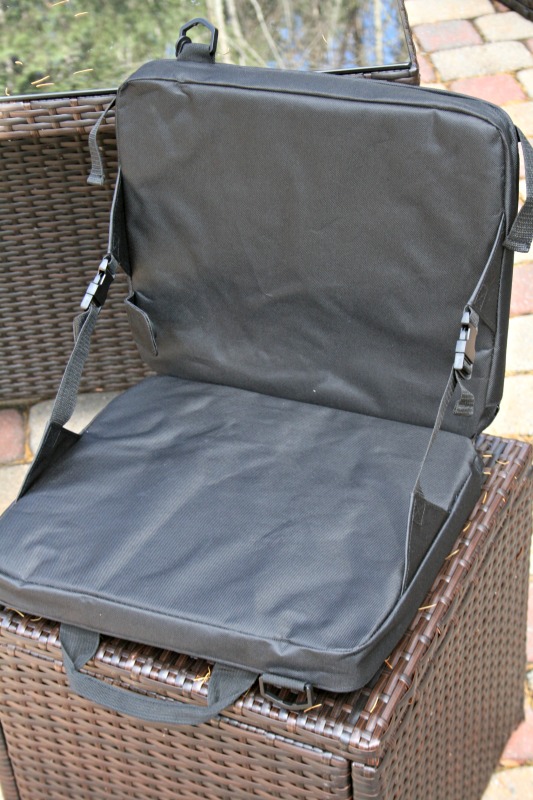 When I originally wrote this post in 2016 I included a seat cushion that spread out to fit several people on it. The company that made it has since gone out of business, but don't fear! I've found something even more amazing. This seat cushion may not seat three, but it does way more. It heats up (the bottom and the back), it massages, it's super lightweight. This thing is amazing. From now until November 30, 2018 I'm giving one away! Just visit my post, 5 Best Gifts for Sports Moms to enter!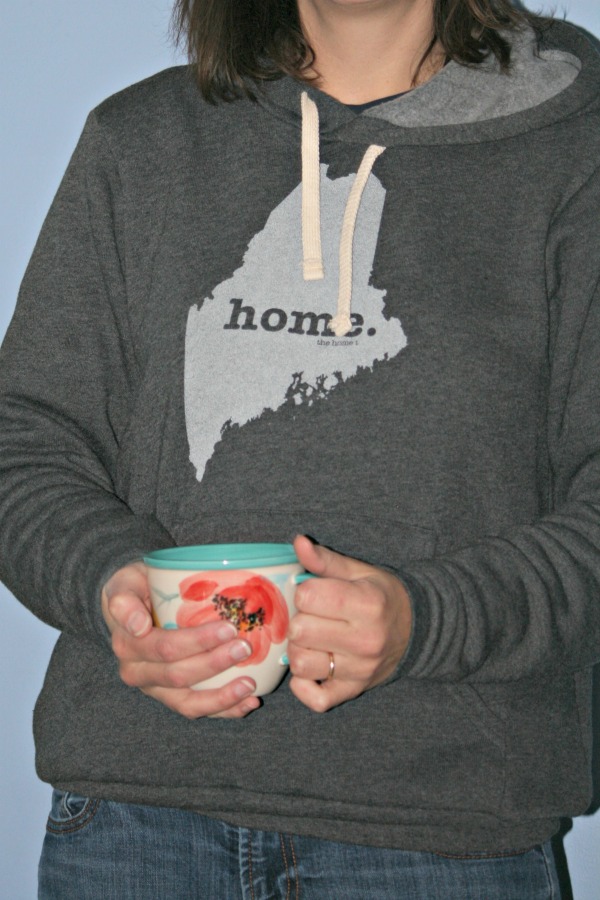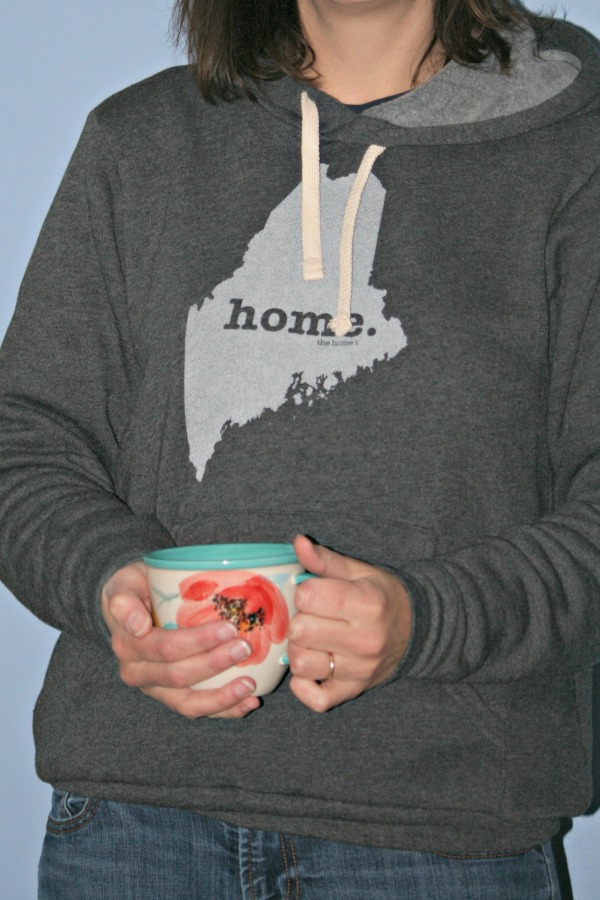 I first discovered The Home T when I saw my son's friend wearing one of their shirts and I immediately knew I wanted one of my own. I'm kind of a sweatshirt fanatic, so that's what I ordered and, oh my word! If it was socially acceptable to wear the same thing every day, I would live in this sweatshirt. One of the company's catchphrases is 'insanely soft' and they're not lying.
If you're not into clothing, The Home T's home decor items would make perfect gifts for friends and family who have moved away (or who just love where they live, like me).
The Home T products are American-made and they donate 10% of their profits to Multiple Sclerosis research, so you can feel extra good about shopping with them.
4. 
The Words Your Kids Need: The Value of Writing to Your Children and How to Do It With Ease

, Print book $9.99, Ebook $2.99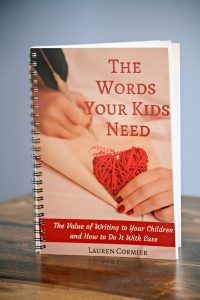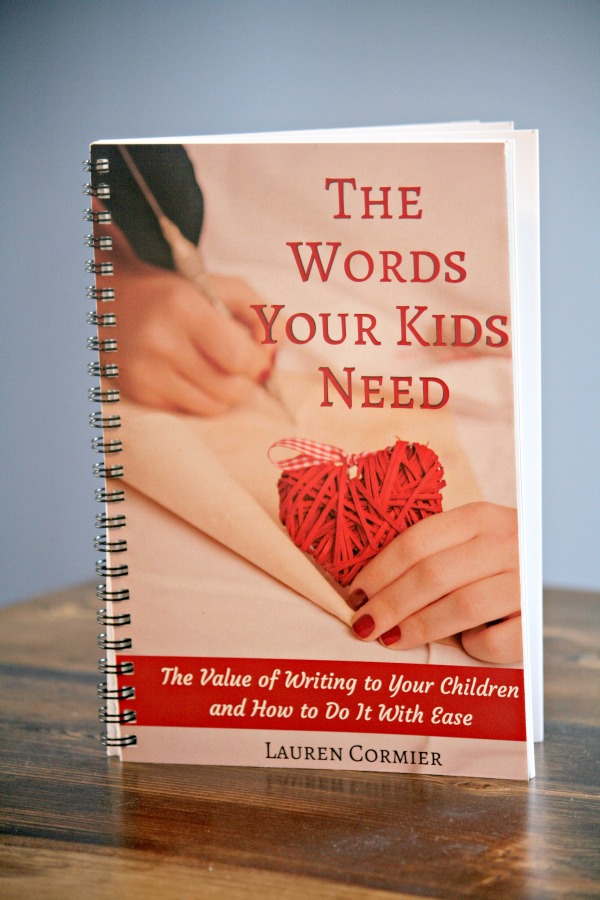 You may not have heard, but I recently published a book (eek!).
If you've ever desired to create a stronger bond with your children now or want to give them something to value later, this is the book for you. In it I share the reasons why writing notes and letters to your kids is important and give a ton of ideas for how to do it, from prompts to templates and more.
The print version includes a resource section that has ready to go lunchbox notes, fill-in-the-blank letters, and more.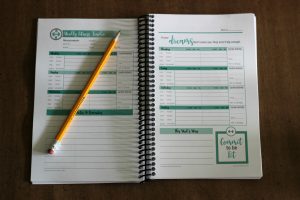 I noticed something happening to me this spring and summer. My pants and shorts were fitting a little tighter than in years past. I've never paid much attention to what I eat or how much (or little) I exercise, and up until this year it hasn't really mattered. I'd been told that somewhere in your 30's or 40's your metabolism starts to slow down and sure enough, it's beginning to happen to me.
Although my current fitness plan is along the lines of "Walk the dog and eat more fruit", I know if I want to stay healthy (and in my current clothing), I'm going to have to put a little more effort into it. My friend Herchel from Gym Craft Laundry, recently created a great resource for tracking your workouts, meals, and goals in an easy to maintain workbook. If you're ready to start 2017 off on a healthy track, you'll want to grab your own copy!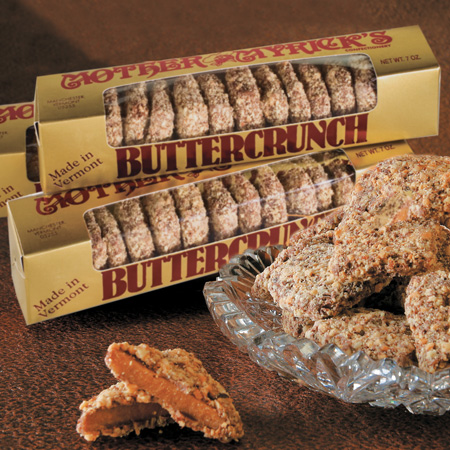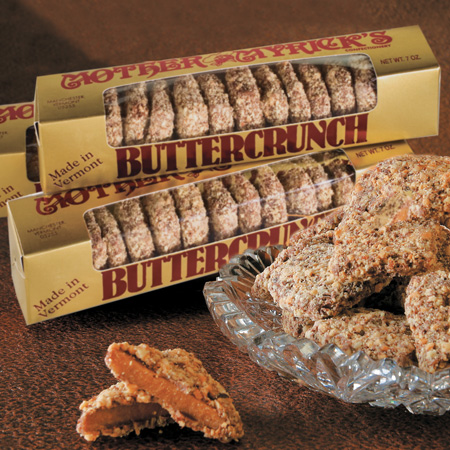 Yes, I see the irony of putting this directly under a fitness guide. I'm all about moderation though 😉
I've never been to Vermont, but thankfully that hasn't stopped me from getting acquainted with Mother Myrick's Confectionery in Manchester.
My dad's cousin owns this sweet-lover's dream and although some will claim the Lemon Lulu Cake is the best thing they make, I have to stick with the Buttercrunch. It's homemade toffee, covered in chocolate, and rolled in crushed cashews and almonds, and it's soooo amazingly good (and addictive! Don't say I didn't warn you!).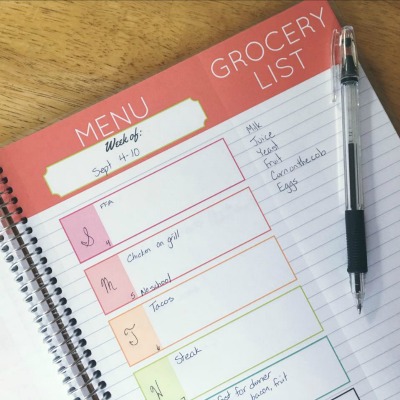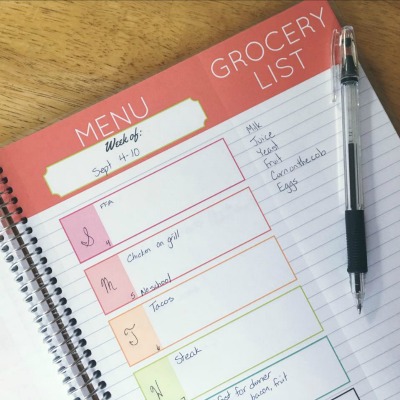 You guys are probably sick of hearing me talk about this meal planner, but I love it so much I can't help it. Besides, everyone I know who has one raves about it too, so it's not just me.
With it's monthly, weekly, and holiday planning pages, it's got everything you need, but the best feature is the perforated tear-off grocery list on each page. It's a breeze to write down the ingredients you need as you make your plan for the week and then you're not scrambling at the last minute when you discover you're missing something. Not that I've ever done that.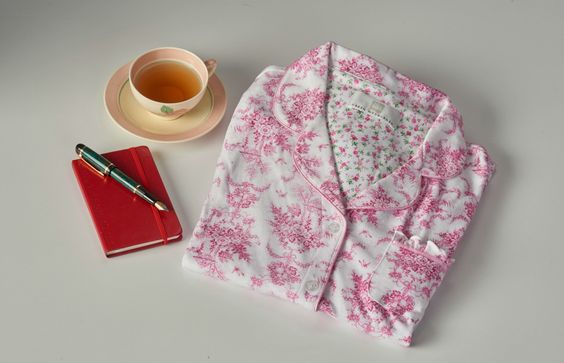 What does a mom love to do around 6 pm each night? Put on her pajamas! Well, this mom does anyway… especially now that it gets dark at 4:30 (sobs quietly).
I recently got a PJ set from Karen Neuburger and I love it. These pajamas are soft and lightweight, but still nice and warm. The top has really cute three-quarter length sleeves and I love the print, it's so feminine. I was also pleasantly surprised that the pants are long enough for me (a rare treat). At 5'9″, I'm just tall enough that my PJ pants usually look like I got confused between buying capris and cropped pants, but these ones are perfect.
There you go! Something for every mom (including you!) on your list. Which will you get?