This post contains affiliate links. At no additional cost to you, I earn a small commission on any sales made through these links.
Have you ever had guests over and partway through their visit had the unsettling realization that you forgot to check the bathrooms before they arrived?
Sure, your master bathroom might be clean as a whistle, but they won't go in there. Oh no, they'll use the one that is most easily accessible. They'll use… the kids' bathroom.  If you have kids, especially boys, I know I don't need to elaborate.
In order to avoid future embarrassment, I offer you this simple step-by-step guide on how to get your kids' bathroom guest-ready.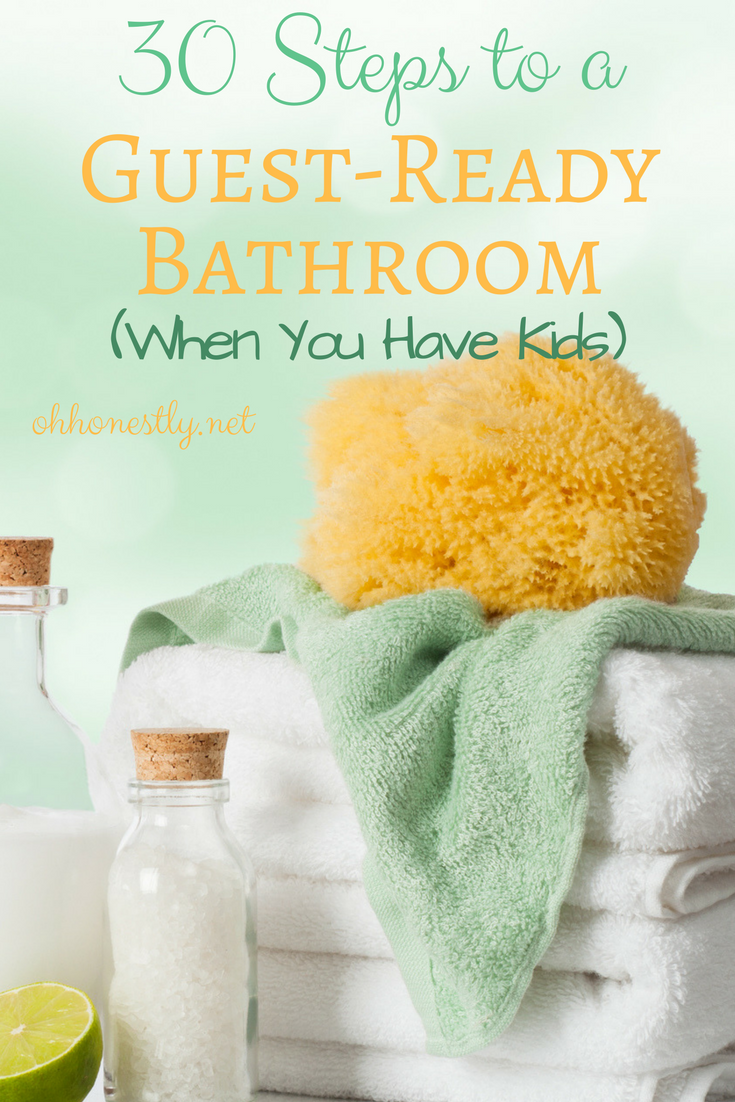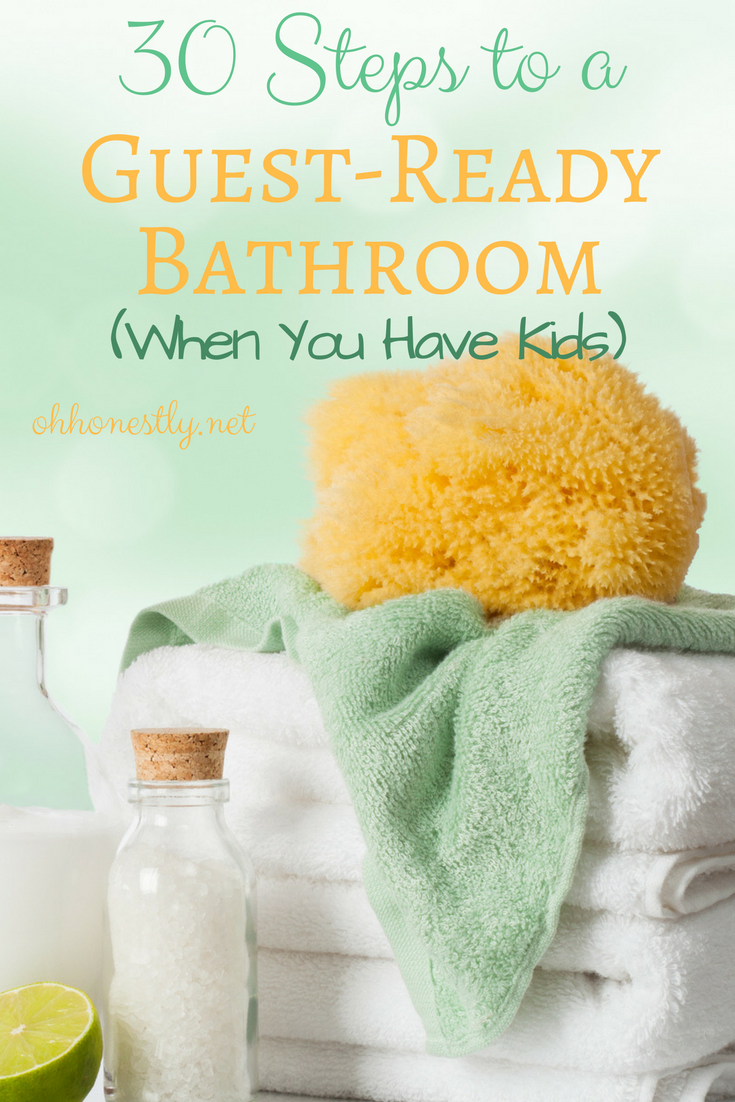 30 Steps to a Guest-Ready Bathroom (When You Have Kids)
Step 1: Build up your courage. Take a swig of coffee and a deep breath, then get in there!
Step 2: Enter the bathroom. This is the hardest part.
Step 3: Remember to breathe through your mouth. Urine has a pretty nasty smell.
Step 4: Before taking an assessment of the space, do a courtesy flush. You'll thank yourself later.
Step 5: Take an assessment of the space. Note the toothpaste spatters on the mirror, the toothpaste globs in the sink, the bits of soap and hair clogging up the shower drain, the pee all over the toilet, the pee you can't see, but know is on the floor and probably the walls too.
Step 6: Realize you haven't gathered your supplies.
Step 7: Retreat and breathe deeply of the untainted air.
Step 8: Gather your supplies- Glass cleaner, cloths, a broom, industrial-strength bleach, and a hazmat suit.
Step 9: Don the suit.
Step 10: Re-enter the bathroom.
Step 11: Douse everything in bleach.
Step 12: Wait a few hours.
Step 13: Rinse everything off. The bathroom should be sparkling and bright and have a new nauseating smell.
Step 14: Drive to the store.
Step 15: Buy new towels.
Step 16: Drive to a floral shop.
Step 17: Buy flowers.
Step 18: Drive home.
Step 19: Put the towels in the bathroom.
Step 20: Put the flowers in a pretty vase.
Step 21: Put the vase on the bathroom counter.
Step 22: Go online to Grove Co.
Step 23: Get a free Mrs. Meyer's hand soap and a $10 credit when you place an order.
Step 24: Wait for your order to arrive.
Step 25: Remove your free Mrs. Meyer's Hand Soap from the box.
Step 26: Put it on the bathroom counter near the flowers.
Step 27: Close the bathroom door.
Step 28: Lock the bathroom door.
Step 29: Make the kids go to the bathroom in the woods.
Step 30: Unlock the bathroom door one minute before your guests arrive.
That should do it.
Oh, one more thing! Don't forget to take that hazmat suit off before your visitors arrive!