I received free access to the Get Your Pretty On Spring Challenge in exchange for a review. All opinions are honest and 100% my own. This post also contains affiliate links. With no added cost to you, I'll earn a small commission on any purchase you make through these links. 
I have this sweatshirt. It's big, orange, and ugly, but I would wear it every day if that wasn't a gross thing to do. It's just so cozy, comfortable, and easy.
I've always been a low maintenance girl who considers comfort more important than style. Looking stylish and put together has always been appealing, but having little to no fashion sense has made it seem too far out of reach.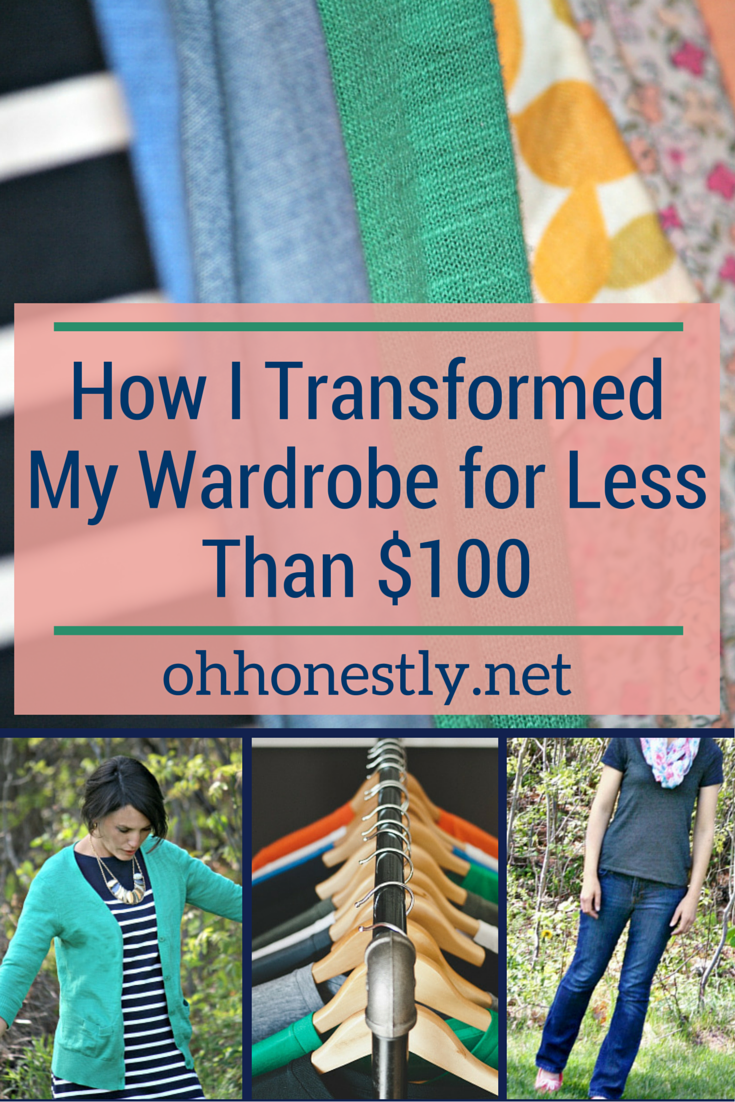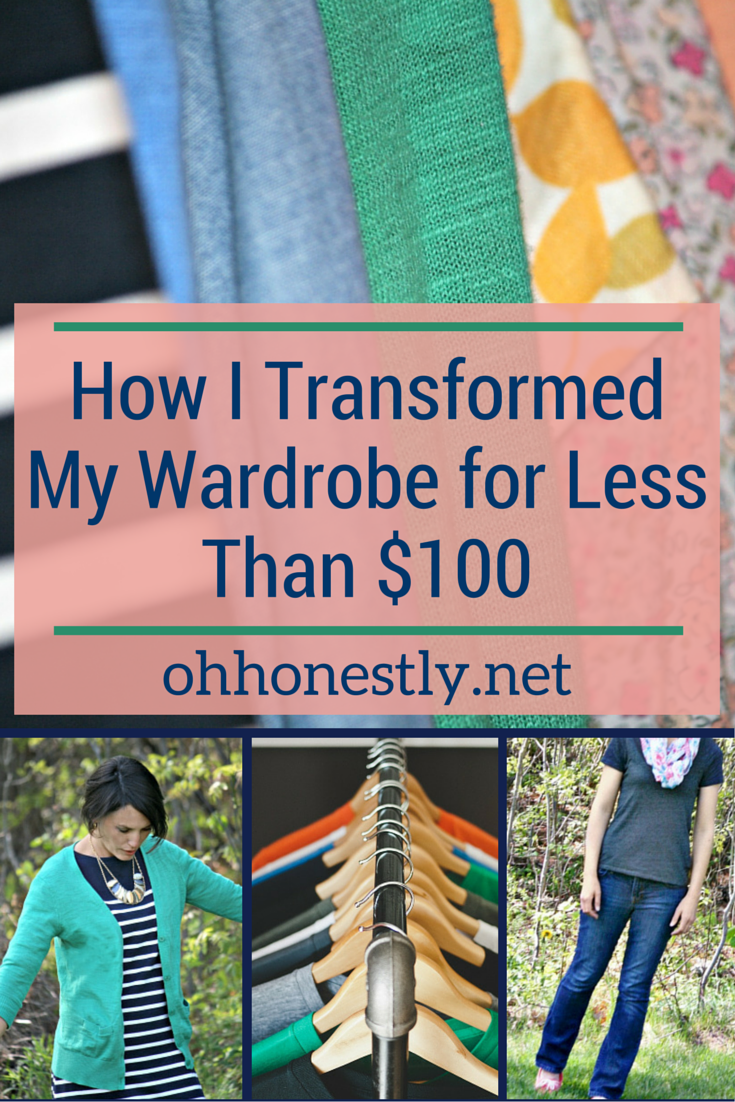 How I Used the Get Your Pretty On Style Challenge to Transform My Wardrobe for Less Than $100
Thankfully, my friend Kristen introduced me to someone who could help: Alison Lumbatis from Get Your Pretty On. And by help, I mean that she pretty much laid it all out for me from the clothes to buy to how to wear them, and how to do accessories, which I was totally clueless about.
It was exactly the push I needed to stop looking so unkempt, but I was worried that I'd end up spending a fortune for a bunch of uncomfortable clothing I'd never wear.
Instead, once I had the plan of action, I was able to make careful buying choices and ended up with a capsule-ish wardrobe (I'll explain why I'm calling it that later) that doesn't leave me running for my sweats. And the best part? I spent less than $100! Here's how I did it:
1. I signed up for a Get Your Pretty On Style Challenge
Without Get Your Pretty On, I'd still be stuck in my mom jeans and orange hoodie (which I didn't get rid of, by the way, because I love it and it's great to wear around the house on cool days. Just thought I'd throw that out there for all of you who want to look a little more put together but worry that you'll have to throw out your yoga pants in order to do so).
What exactly is Get Your Pretty On? Well, there's a lot on the website, but let's focus on the challenges. There's a challenge each season. Once you sign up, you're sent a shopping list and added to a private Facebook group. Then each day for 21 days, you're sent an email that tells you what outfit to wear.
The fact that most of the decisions were already made for me was greatly appealing, but even if you prefer a more autonomous approach, you should still check it out. I've been amazed to see all the variations on one outfit that the women in the Facebook group have come up with. Plus you can always do your own thing.
If you don't want to join a challenge, there are other options too. Buy the Closet Staples Casual Capsule Wardrobe Builder and you'll end up with a mix and match wardrobe for all four seasons.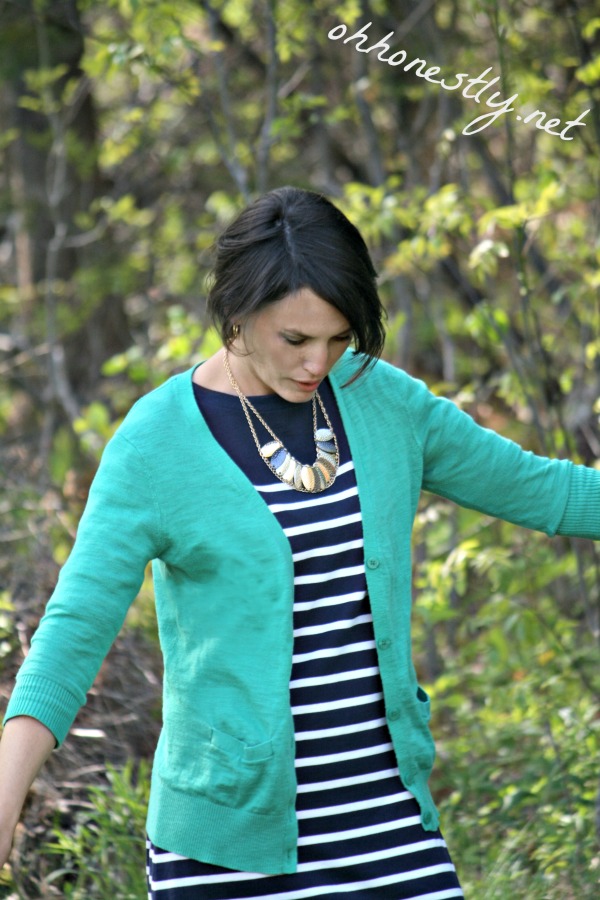 2. I shopped my closet
Once armed with my shopping list, I headed to my bedroom and began to look through what I already own. Despite my lack of fashion sense, I was surprised to find that I already had a lot of the items on the list. Dark wash jeans? Check. Various colored cardigans? Check. Neutral ballet flats? Check. You get the idea. I was able to cross off at least half of the list simply from mining through what I already had.
I also took a few minutes to get rid of some of the clothes I've been hanging onto that I hate. You know the ones. They make you feel frumpy, dumpy, and grumpy, but for whatever reason you keep them and even wear them on occasion when you have no motivation. I decided if I was going to do this, then I was going to DO THIS (except for the clothes that might make me look frumpy, but are too comfortable to part with, like… you guessed it… my orange hoodie).
3. I shopped the stores where I earn rewards
I have two credit cards that earn rewards at clothing stores, so it only made sense to use those reward dollars to buy as much as I could from the shopping list. I purchased six items and after using my rewards, I spent $35.
4. I didn't go designer
Most of the items on the list were basics, but there were a few trendier pieces thrown in. That's why I called this a capsule-ish wardrobe earlier. So many of the capsule wardrobes I've seen tend to be boring because of the mix and match element, but by adding just a few items with a bit more character, the boring capsule is taken up a notch. When the trendy pieces are no longer in style, you still have the basics and can add in a few new trends to stay current.
That said, some of the trendy pieces were quite outside of my comfort zone and I either decided to sub them out for something I was certain I would wear or skip them entirely (yes, that's an option!). For the ones I decided to stay on script for, I shopped at Walmart. Why pay an arm and a leg on a name brand when you're not sure if you'll wear it all that often? I ended up spending $47 at Walmart for six more pieces which brought my total to $82.
After seeing how great the women in the Facebook group looked in some of the pieces I didn't buy, I might go out and get another item or two, but with my total so low, I don't have to feel bad when I do!
5. I used Ebates when I shopped online
Actually, this isn't true. I forgot to use Ebates and I'm kicking myself. If you're not familiar with the website, you should be. Whenever you shop online, go there first, type in the name of the store you're shopping at, click the link over to the store, and you'll earn a percentage back on whatever you buy. It's really that easy. You don't have to pay anything and there's no hidden agenda. Ebates is awesome. Since joining, I've gotten almost $200 cash back and it would probably be substantially more if I would remember to use it!
So that's it. I have a stylish new mix and match wardrobe that's actually comfortable, I didn't break the bank to get it, and with the help of Get Your Pretty On I'm starting to figure out how to put the pieces together all by myself (I feel like such a grownup!).
Do you think you're up to the challenge? If you decide to try to update your look, I'd love to hear all about it. And don't forget to keep track of how much you spend. That makes it even more fun!