This post contains affiliate links.
This morning I discovered a dead tick in my bed. I was grossed out of course, but kept a cool head. After all, if you live in the northeastern US, dealing with ticks is just a part of life.
We check our kids daily to make sure they don't have any on them. We know the right way to remove them when we do find one. We know that unless it's a female deer tick that's been on us for more than 24 hours, we don't need to worry about Lyme's Disease. We don't hide in our homes all summer because that would be silly.
So when I found the tick, my first thought was, "Ugh!", but my second thought was, "Alright, let's get rid of it and do some laundry!"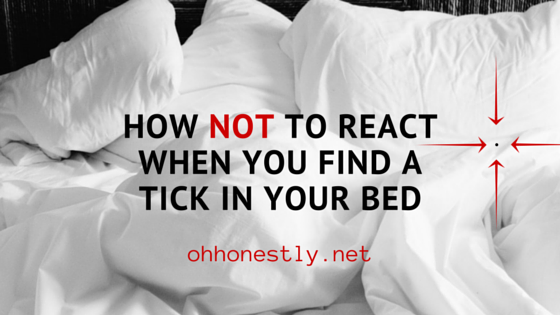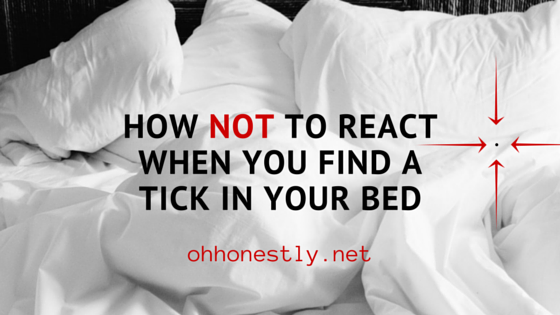 Unfortunately, my mind wasn't content to let me stop at that. It suddenly started wondering if ticks die immediately after laying eggs and if so, did that mean there were thousands of tick eggs all over my bed? Once it went there, there's was no turning back. I was on a dark path. A path full of disturbing pictures and slightly insane thoughts.
PLEASE NOTE: THIS POST IS A HUMOR POST. FOR REAL INFORMATION ABOUT TICKS IN YOUR BED, I INTERVIEWED AN EXPERT. CLICK HERE TO FIND OUT WHAT TO DO WHEN YOU FIND TICKS IN YOUR HOUSE.
What started as a 'Flush it and move on' event soon became a full blown 'This is the worst thing that could ever happen' catastrophe. So at the prompting of a fellow blogger (and my web host… if you need a new one, I highly recommend him!) who told me that "tick posts are all the rage these days", here's how you should and shouldn't handle finding a tick in your bed.
How NOT to React When You Find a Tick in Your Bed
Okay: Taking a picture (it might be needed to figure out if the tick did in fact snack on someone, so you know if you need to watch yourself for signs of illness).
Not Okay: Staring at the picture in horror and disgust until it fills your dreams each night.
Okay: Asking someone who actually knows what they're talking about if you need to be worried about tick eggs on your bed.
Not Okay: Asking the untrained Facebook masses if you need to be worried about tick eggs on your bed. (I did this and freaked a lot of people out. And freaked myself out. More than I already was. Which was already quite a bit at that point.)


Okay: Considering moving to another part of the country.
Not Okay: Running outside to stick a For Sale sign in your lawn three minutes later.
Okay: Cleaning everything really really well.
Not Okay: Washing yourself with bleach when the cleaning is done.
Okay: Googling information about ticks and choosing reliable sources to click on.
Not Okay: Googling 'tick eggs' and using the image search feature. Just don't! You've been warned.
Okay: Cleaning all of your bedding on the hottest settings your washer and dryer are capable of.
Not Okay: Using it as an excuse to buy that new comforter you've been eyeing. (Actually, I'm kinda on the fence about this one being Not Okay, so if you find yourself in this situation, you have my blessing to head to Macy's).
Okay: Calling the local university's Entomology Department to ask logically thought-out questions.
Not Okay: Calling the local university's Entomology Department and leaving harassing messages every five minutes asking why they haven't returned your phone calls yet.
Okay: Joking on Facebook about burning your house down.
Not Okay: Actually burning your house down.
The person who knows what he's talking about said he's pretty sure that tick wasn't at the egg-laying stage. After taking all the precautions I could think of, I'm going to have to trust him.
But that doesn't mean I'll be sleeping well tonight.
Enjoy this post? Subscribe to my newsletter so you don't miss out!