This post originally appeared on Mom Babble.
I awoke to quiet talking and took a moment to get my bearings. Our room was unusually dark, mostly because our three kids were camped out on our bedroom floor. With their bedrooms vacant, we'd forgotten to turn on the nightlight in the hall and the dim green glow that usually emanated from the baby monitor was dark.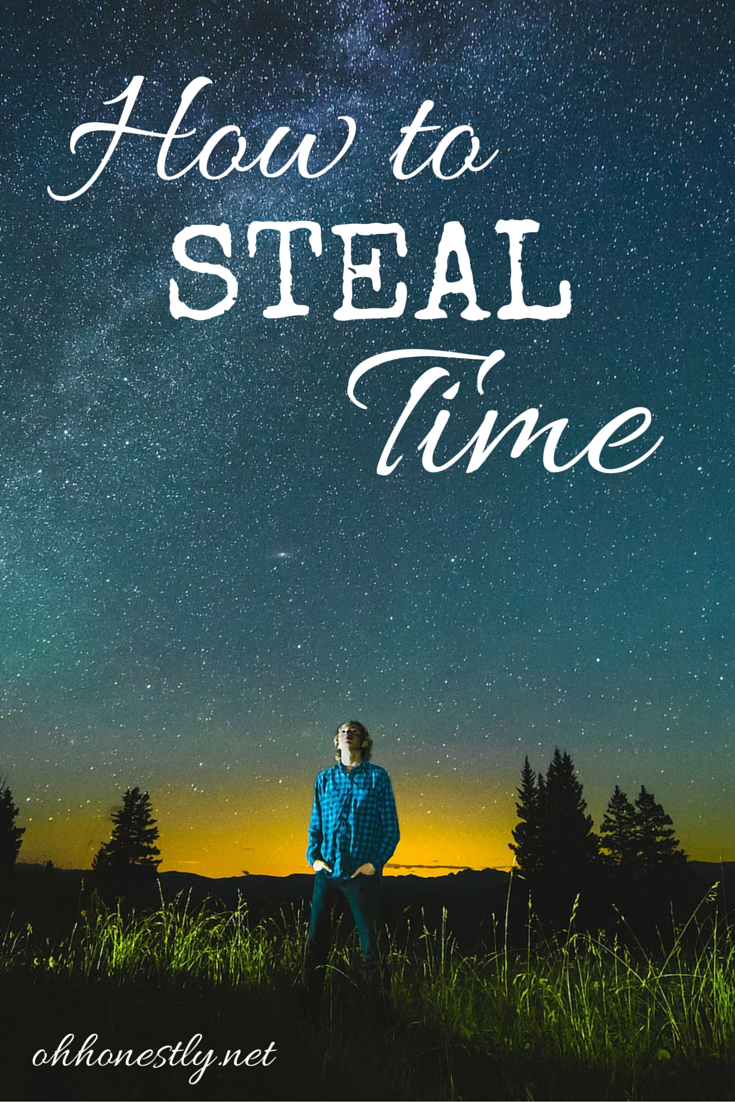 How to Steal Time
The voice was my 7 year old saying he needed to go to the bathroom. Normally he would get up on his own, but since he wasn't in his usual spot and it was pitch black, I dutifully got out of bed to flip on the master bathroom light for him.
Once he was settled back in bed, I flipped off the light and suddenly remembered a news story I'd read earlier in the evening. There was a meteor shower tonight.
I'd always loved star-gazing as a kid; laying on the grass in a field near my house, the cool nighttime air whispering past my cheek. There was something holy about those moments. A vast sky filled with millions of stars, and me, a tiny speck held to the surface of a spinning globe by the very Hand that flung those stars into space.
It had been years since I'd spent time gazing up at a nighttime sky. Every time I heard about a meteor shower or the possibility of seeing the Northern Lights, I made big plans to check it out, but it was always cloudy or I couldn't stay up that late or I failed to wake myself up in the middle of the night.
But here I was at 1:25 in the morning, up and out of bed. I peeked out the bathroom window. A cloudless sky beckoned.
"Eli," I whispered, "Do you want to go outside and look for shooting stars?"
He nodded, jumped up, and headed towards the hallway. "I'll put a pair of shorts on!"
We sneaked down the stairs, through the dark living room, and out the sliding doors to our patio, settling onto the cool, damp bench of our picnic table. I thought back to earlier that afternoon when I'd been sitting on this same bench.
I'd come outside with Samuel and Annelise, alternately playing their game of 'Move the fallen apples from one spot to another' and thumbing through my phone. Eli had elected to stay inside, coloring a picture of a fierce, fire-breathing dragon. As I gathered up apples, an all too familiar sense of guilt washed over me.
As much as I try to spread my time and attention evenly between the three of them, it always feels like someone is being left out and Eli is often that one. Maybe it's because as the oldest, he's always demanded the most attention. Maybe it's because during the school year, he's been the one who's gone all day while the other two are home with me.
Whatever the case, as we gazed at the wonder of the skies, I smiled to myself at this opportunity. We were outside, just the two of us, in the middle of the night. I could think of no better way to spend quality time with my son.
He leaned against me and I wrapped my arms tightly around him. Nothing was happening in the sky and I breathed a silent prayer to let us see some meteors. A few seconds later, the first streaked by.
"Did you see it?" I asked excitedly.
"I think so," he replied unconvincingly.
Enthusiasm dampened, I continued my search. Suddenly another one raced across the sky, leaving it's white tail behind for half a beat longer.
"There was one!" he cried, pointing heavenward.
After a few more sightings, he shivered and said he'd need to go in soon. My neck was stiff from craning it back, but I wasn't ready for our time together to end, so I told him to stay put while I grabbed some blankets from the house. I laid one down on the table and we laid on our backs before I spread the other over us.
We stared at the sky and began to search for constellations. The Big Dipper, Orion… was that the Little Dipper over there? We couldn't be sure. Every now and then we'd interrupt our search to exclaim over another flying meteor.
"Imagine," I said in awe, "Each of those tiny stars is much much bigger than the Earth."
"Yeah," his voice echoed my awe, "Our sun is only an average sized star."
I heard a cry from inside the house. Annelise was stirring, possibly having heard our voices drifting through the open bathroom window.
"Alright buddy, one more meteor, then we should go inside."
A minute later as I slid open the door, Eli said, "Thanks Mom."
"For what?"
"For letting me watch the meteor shower."
I pulled him in for a hug and whispered into his hair, "Thanks for coming out with me. I love spending special time just with you."
As he settled back into bed and I adjusted his blankets, he smiled at me, "I won't tell anyone what we did. Well, I won't tell Samuel and Annelise. I don't want to make them jealous."
I kissed him, then climbed into my own bed, thinking back to my nights of star-gazing as a kid. I wondered if someday he'd think back to this night, back to the wonder we felt as we looked heavenward, to the love between a boy and his mom.
I have a feeling he will.
And he won't be the only one.