The front door squeaks open, softly heralding your arrival. Cries of "Daddy!" fill my ears as three kids rush to be the first to give hugs.
I smile, grab a dish towel to dry my hands, round the corner from the kitchen to the living room, and give you a peck on the cheek before returning to the stove. I can't let dinner burn.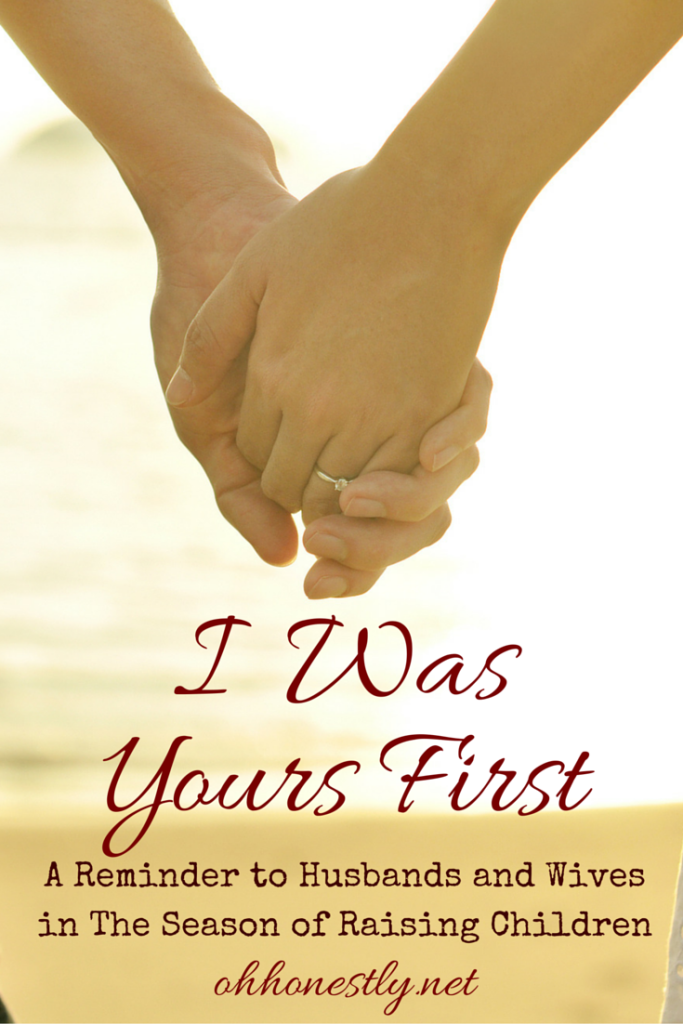 I Was Yours First: A Reminder to Husbands and Wives in This Season of Raising Children
We have time for a quick, "How was your day?" before one child needs help with his homework and another can't go one more minute without something to drink.
They need us and I am so thankful to have them, but sometimes they make me forget that I was yours first.
It used to be that I would wait in excited anticipation for the time when I would see you. All day I'd watch the clock, waiting for work to end. I'd jump in my car and drive the hour it took to get to your apartment, just to be with you for a few hours before heading home again.
Now I spend my days being theirs. Their mom. Their cook. Their event coordinator and taxi driver. I watch as the clock speeds too fast through the hours and I spend my time waiting for them. To put on their shoes. To finish their lunch. To get out of school.
But my time was yours first.
I used to cut pictures out of magazines so that we could plan our dream house. "Do you like that kitchen? How about this flooring? Wouldn't it be cozy to sit in front of a fireplace like this at night?" We'd spend hours going over home designs and making plans for our life together.
Now my mind is filled with a never-ending to-do list and our conversations center around the kids. "The boys need new sneakers. Someone broke the remote again. How much do you think college will cost by the time the kids graduate high school?" Our dreams are on pause, pushed aside for more pressing needs.
But my dreams were with you first.
You used to look at me when I was quiet and ask, "What are you thinking right now?," and I'd tell you whatever silly thing was on my mind. And sometimes we were quiet together because neither of us needed to fill the space with words all the time and being together was enough.
Now you spend your days talking to patients and I spend my days listening to the non-stop chatter of children and by the end of the day we are both so tired of words that we don't have any more to spend on each other. So we sit in silence as we decompress.
But my words were for you first.
I used to love to cuddle with you on our big green couch. I'd lay my head on your chest and the strong, steady beat of your heart was a calming reassurance of your presence.
Now I still love to cuddle with you on our worn leather sofa. I lay my head on your shoulder and drift off to sleep, secure in your unending love for me.
Because my love was yours first.
Time has changed us. Time has sometimes made me forget. But there is one thing time hasn't changed.
I am still yours first.
And I will be yours to the last.