Below: An Indian Echo Caverns review that tells you what to expect on your tour, if it's kid-friendly, what to wear, and more.
Thank you to Indian Echo Caverns and Visit Hershey and Harrisburg for the tickets.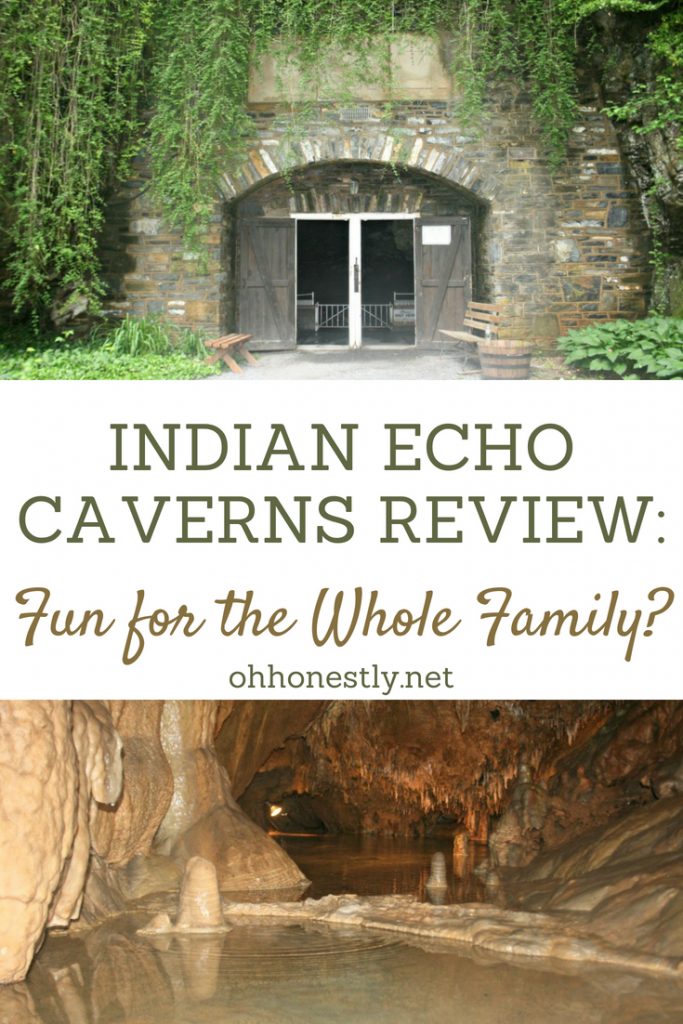 Indian Echo Caverns Review: Fun for the Whole Family?
Is spelunking on your bucket list?
To be honest, I'd never given it much thought. The idea of exploring caves was kind of cool, but I don't know of any near where I live (Mainers, you can correct me if I'm wrong), so it's wasn't really on my radar.
When I started researching things our family could do besides Hershey Park when we visited Hershey, PA last month, Indian Echo Caverns popped up. After reading a little bit about the caverns, my husband and I decided it sounded like a fun adventure, so we decided to go on a tour with our three kids.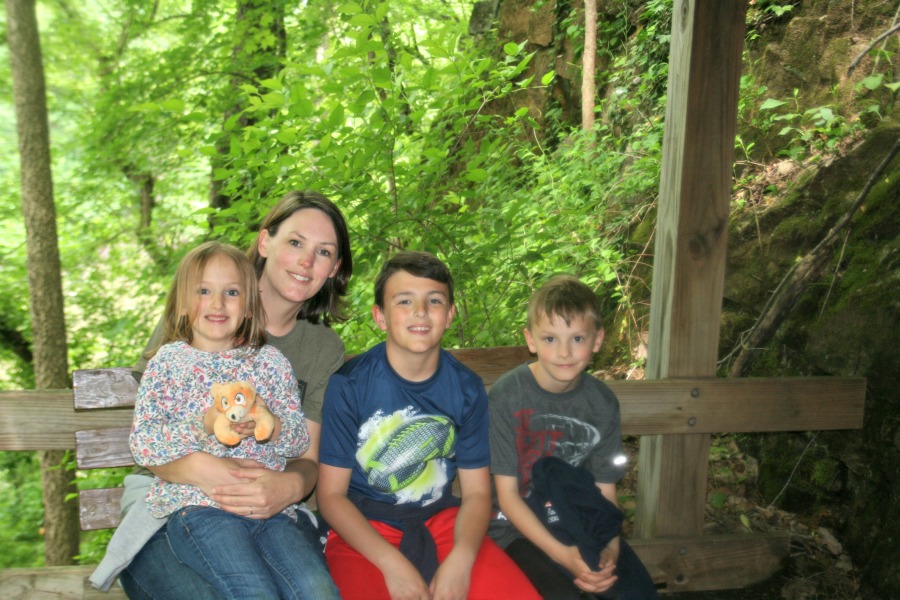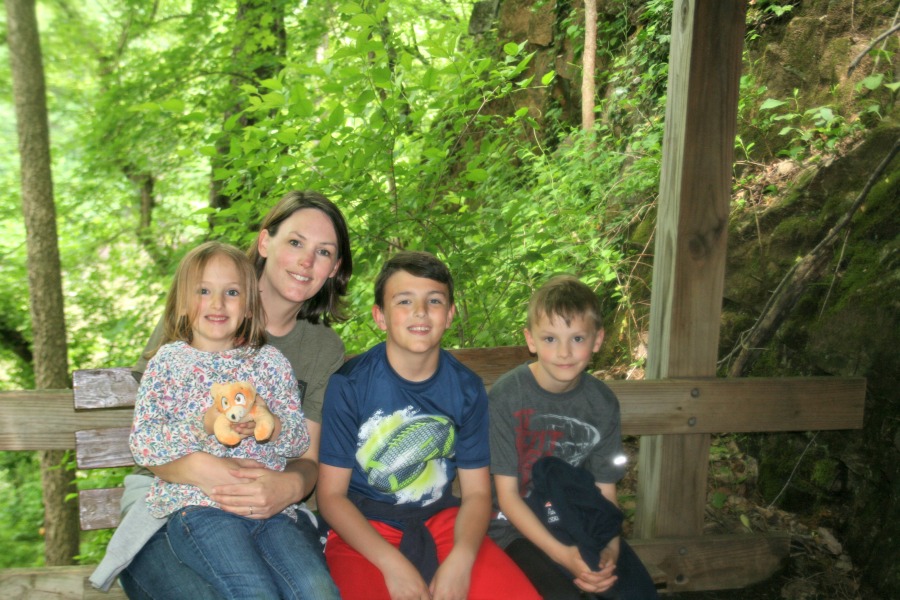 I was mostly excited to check it out, but a little part of me was worried.
What if there were bats?
What if our six-year-old freaked out (I never know what she'll decide she's scared of on any given day)?
What if one of us got claustrophobic?
Regardless, we headed to over to Indian Echo Caverns shortly after it opened one weekday morning.
Located in Hummelstown, the Caverns are only a few miles from where we stayed at Hershey Lodge.
What to Do While You Wait
When we arrived, we encountered a large number of school groups. I'd purposely planned our vacation before school got done for the summer, but forgot that everyone would be doing end-of-the-year field trips.
Since we hadn't made a reservation, we decided to check on the wait before deciding if we should come back another time and were pleasantly surprised. The school groups had their own tours, and the next non-school tour was heading out in about half an hour's time.
There was plenty to keep the kids occupied while we waited. There is an area to pan for gold, a couple of fenced-in pens with farm animals, and a playground.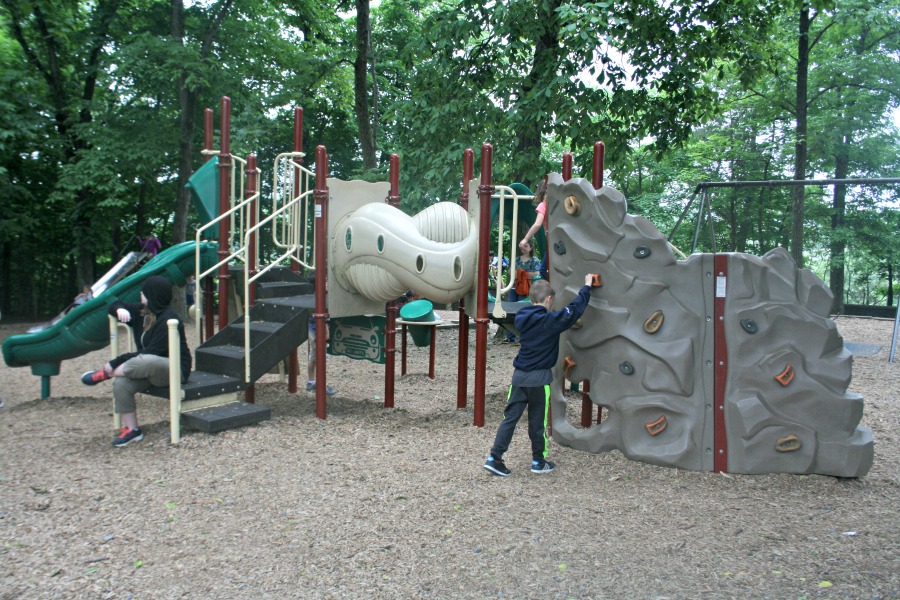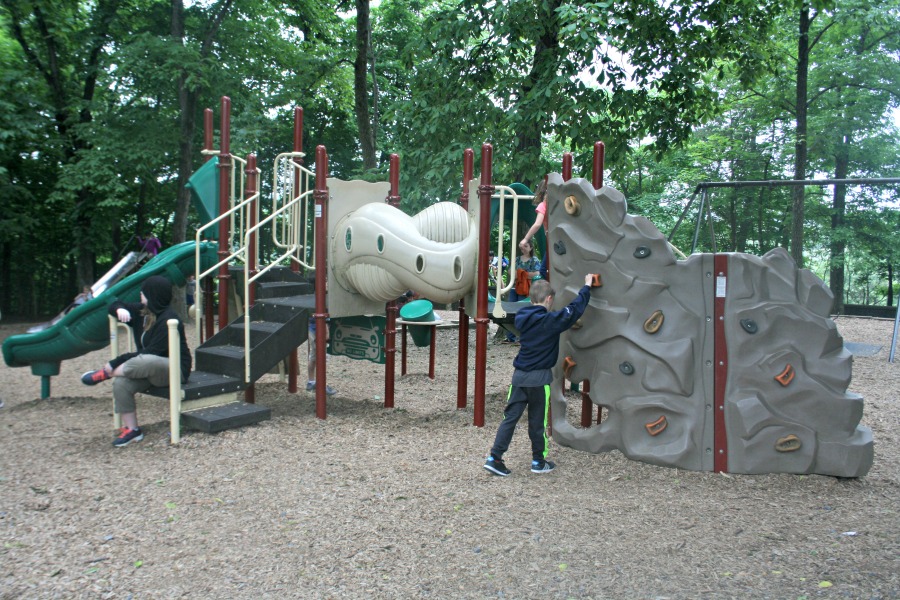 There's also a large, well-stocked gift shop and a covered picnic area if you want to bring something to eat.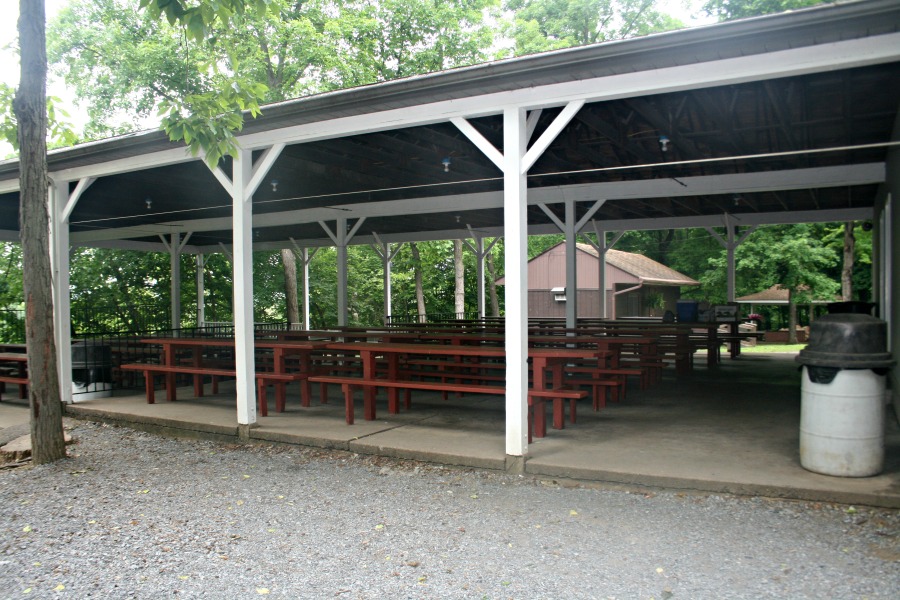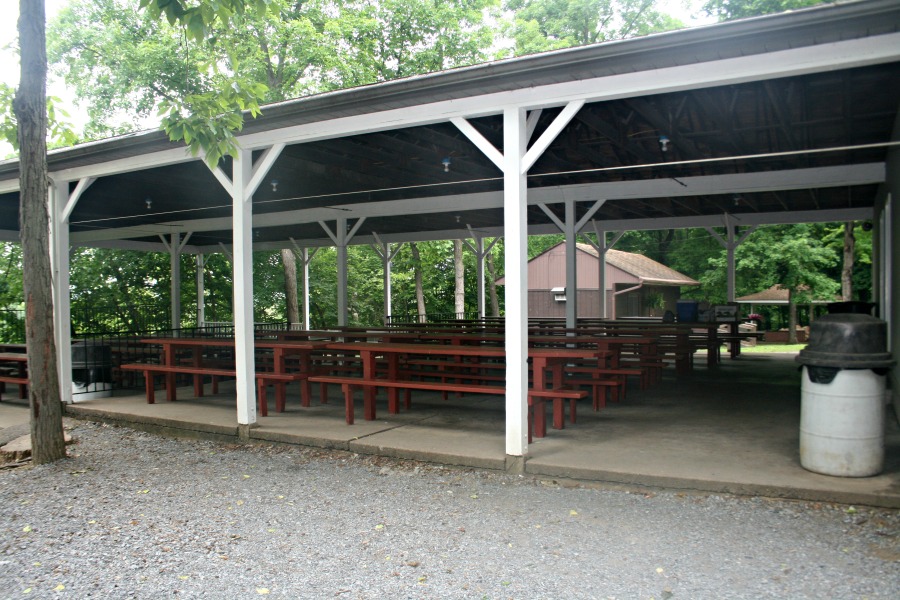 Beginning the Tour
At our assigned time, our tour group was called over a loudspeaker and we congregated near a walkway that led down to the cave entrance.
Our tour guide was a college student who had been working there for several years. She was knowledgeable, engaging, funny, and did a great job throughout the tour.
We had to walk down a bunch of steps to get to the entrance to the caverns and the outside is pretty cool with vines growing all around.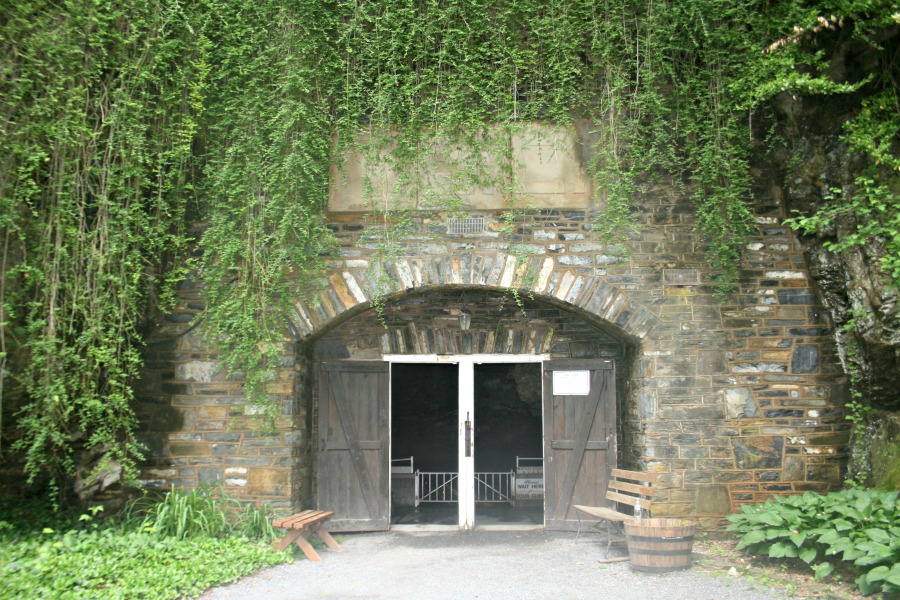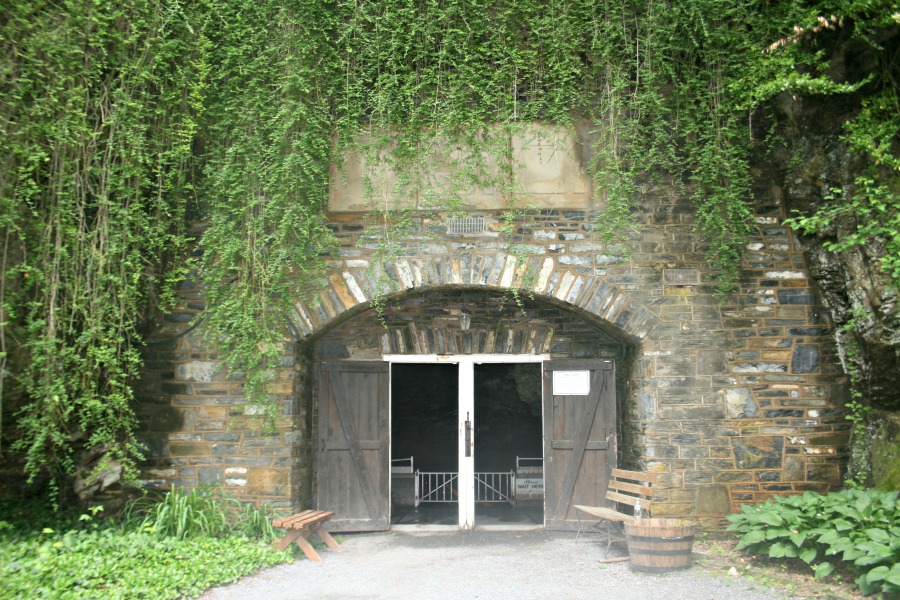 Before we went in, our guide told us a little bit about the history of the caverns and how a local Native American tribe used them hundreds of years ago.
Then it was time to go inside.
How to Dress
The caves themselves are a constant 52 degrees, no matter what time of year you visit, so if you go in the summer, you'll want to dress accordingly. We went on a day that was warm and muggy, so it felt nice inside, but we were happy to have brought sweatshirts with us.
It's also quite damp inside, so I suggest closed-toed shoes or sneakers, not sandals. You may also want a sweatshirt or jacket with a hood since you'll walk under some drippy spots.
Claustrophobia?
The size of the caverns is impressive. A couple of the 'rooms' are really large with high ceilings.
The tour also leads you on some tunnel-like walks that are fairly narrow. I had to duck a time or two during the tour, but there aren't any spots where you have to crawl or anything.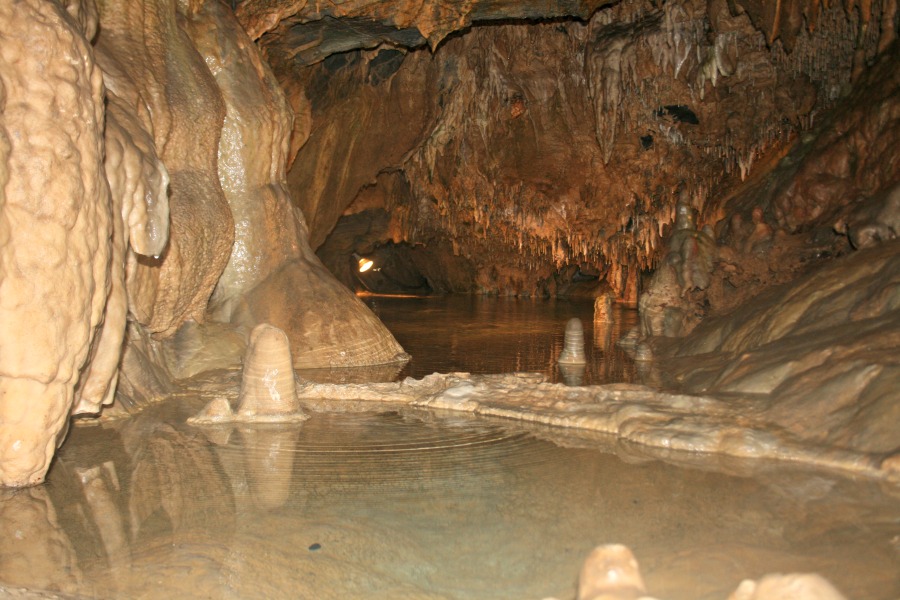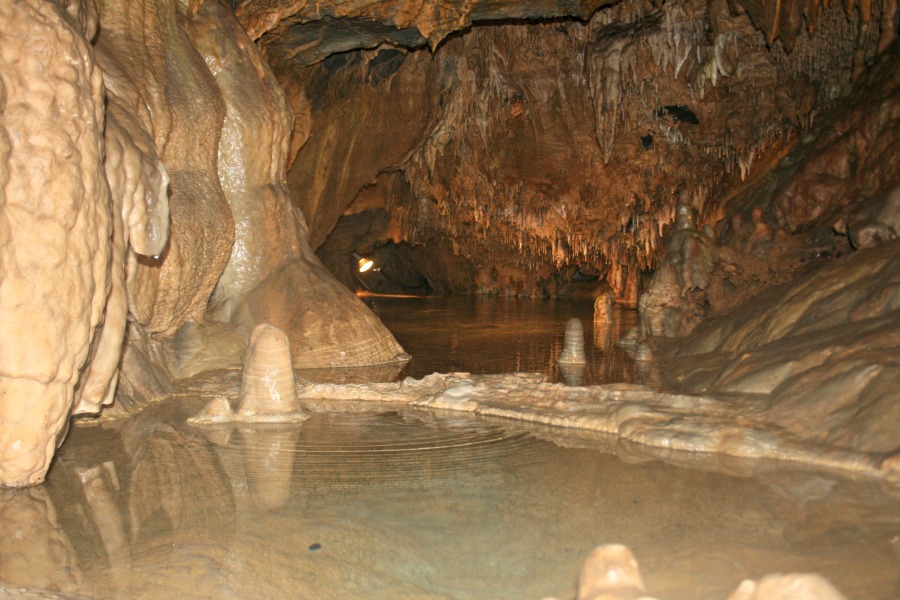 None of us felt claustrophobic during the tour.
There was one part where the guide turns off the lights so you can experience total darkness. My youngest was nervous, but the guide told her to close her eyes first and then to open them after the lights were off.
It was crazy how dark it was. Total, complete blackness. It only lasted a few seconds and was actually a really neat experience, but if that sort of thing makes you nervous, it's good to know about it ahead of time.
The Tour
The tour is a fun mix of history and make-believe. The staff has made up stories about some of the formations and indentations that look like animals and people (there was one story about a dragon and a wizard and one formation looks like Jabba the Hutt).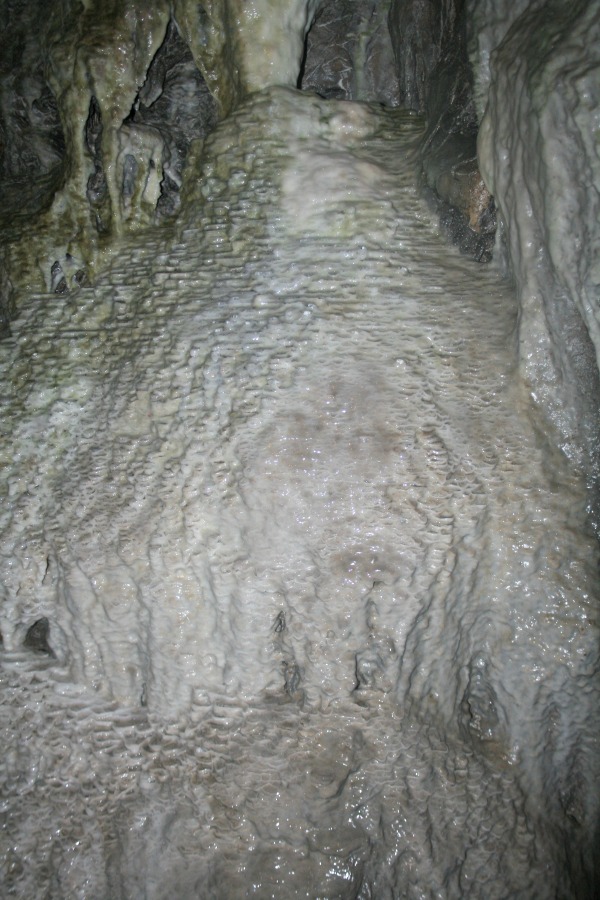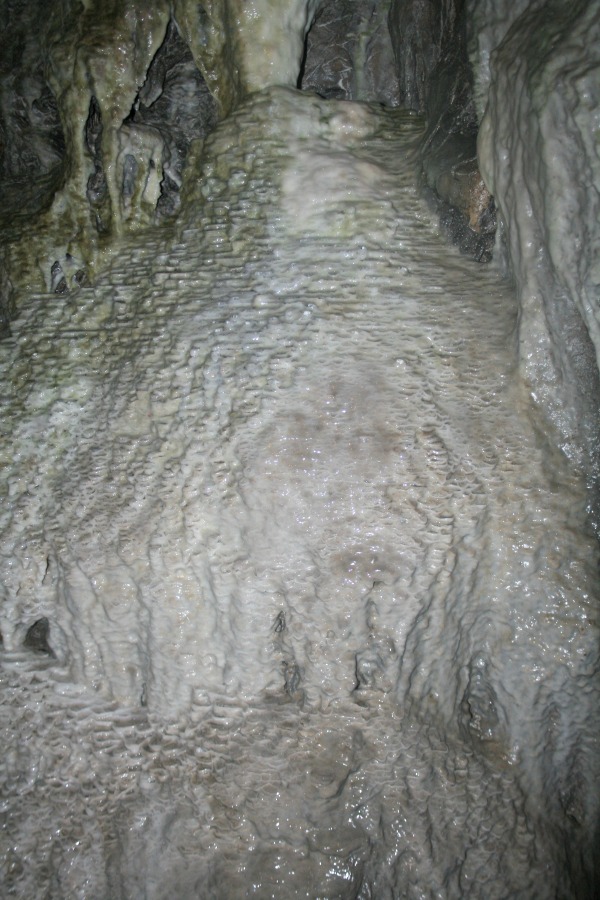 The history is really interesting. The part I found most intriguing, and also kind of sad, was when our guide told us about a man who lived alone in the caverns for 17 years. I can't even imagine what that must have been like. The caves were fun to visit, but to live in? No thanks.
Were There Bats?
No. Well, there probably were, but we didn't see any. When I asked about them, our guide told me that there are some bats that live in the caves, but they are very shy and tend to hide in the crevices away from the tours. She's seen them a couple of times, but it's rare.
Was It Kid-Friendly?
Absolutely. What kid doesn't love exploring cool places? Even if there was nothing to the tour beyond that, my kids would have loved it.
However, the guide added much more. It's educational for a variety of age-levels and the stories they tell are appropriate for all ages too.
Final Thoughts
We had a great time touring Indian Echo Caverns. None of the things I was worried about came to pass and all five of us agreed that it was a really cool place to visit.
If you're in the Hershey/Harrisburg area, I definitely suggest putting Indian Echo Caverns on your To Do list!