I know, I know, when you think about healthy changes, meatloaf probably isn't the first food that comes to mind. One New Food for me, though, is just as much about expanding my kids palettes as it is about getting them to make healthier choices. When it comes to meat, the kids will grudgingly eat chicken and occasionally steak. They'll eat ground beef in meat sauce, but that's about it. Honestly, if I could get them to eat a hamburger for the sole purpose of having a choice other than hot dogs when we go to a cookout, I would be happy. (Kristen got her daughter to eat one, so I'm hopeful!)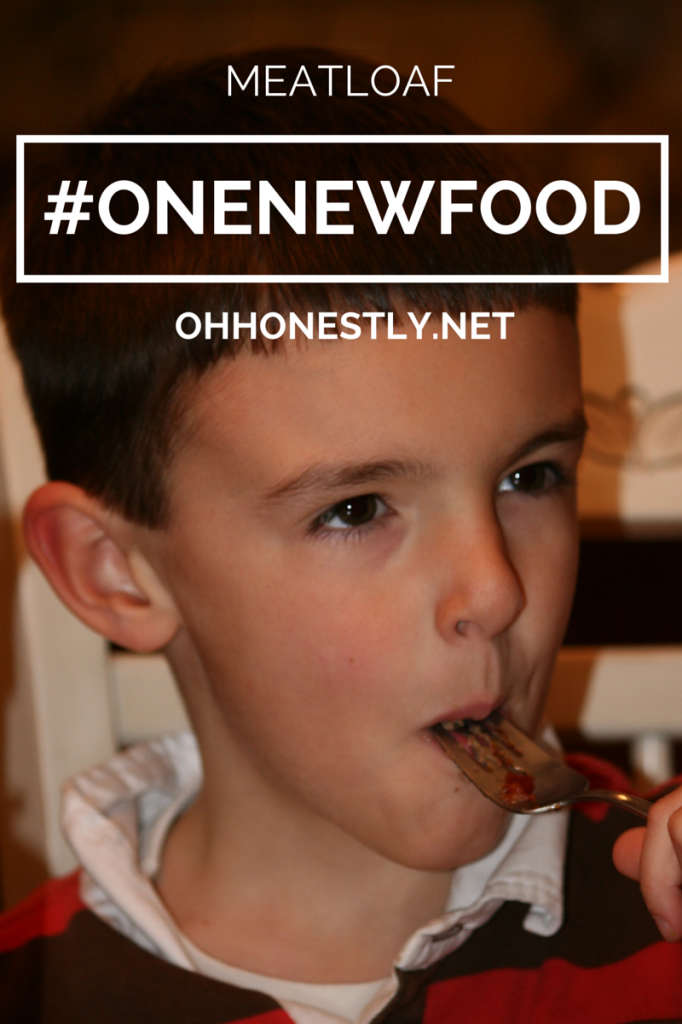 This week when I made one of Eric's favorite meals, meatloaf and mashed potatoes, I decided it was time to stop letting the kids get away with not eating it. As is usually the case, Samuel cleaned his plate with nary a complaint, Eli whined but finally tried it, giving it one thumb up and one thumb down, and Annelise refused refused refused until about 15 minutes after dinner when she obediently opened her mouth for me to toss a bite in. I was sure I'd find it's slimy remains on the floor somewhere, but she actually swallowed it. Wonders never cease.
Healthy Meatloaf Recipes
A Pinterest search quickly turned up several recipes that beef up (get it?!) the health content of your meatloaf. Here are a few to try:
Giveaway Time!
I've written a bit about Samuel's allergies and about my struggles to breastfeed due to those allergies. When he was only a few months old and we were trying to figure out what was going on, I began an elimination diet in hopes of discovering what foods were causing problems. It was a lengthy, difficult, and frustrating process that in the end had me cut out all traces of dairy, soy, eggs, and wheat from my diet. That may not seem like a huge list, but look at any food product label and I can almost guarantee it will have at least one of those ingredients in it.
I was living on oatmeal, fruit, and plain old chicken as I slowly learned the ins and outs of the natural living aisles at the grocery store. It was there that I discovered the Enjoy Life brand. This company saved my sanity. I'm not even joking.
I'm a girl who likes her sweets. Enjoy Life makes products, such as cookies and candy bars, that are free of the top eight allergens. After weeks and weeks of no desserts, I was finally able to indulge in a chocolate chip cookie. It was heavenly.
Even after I stopped breastfeeding and we found out that Samuel's allergies were only to peanuts and dairy, Enjoy Life has remained important to our family. It's never fun to watch your child miss out on things like s'mores in the summer or treats in their stockings on Christmas morning because you can't find chocolate bars that are dairy and nut free. That's not a problem anymore  because of Enjoy Life. I truly am thankful for what they've provided for my son.
And today I'm thankful that they're graciously providing us with a gift basket of goodies (valued between $50-$75) to give away to one lucky winner! They don't just make cookies and chocolate bars either, so you'll be in for a sweet OR salty (or probably both!) surprise if you're the winner. Other products include cereal, chips, and trail mix to name a few, and all are allergen free! Enter via the Rafflecopter widget below and good luck!
Oh, and a word of warning: The first entry is mandatory. We actually check to see if you've done it, and if you haven't, you'll be disqualified, so please don't think you can skip it and still win. Have some decency, people! Follow the rules!