We've been at this #ONENEWFOOD challenge for five weeks now and Kristen and I want to give you the most bang for your proverbial buck. From now on, our posts will not only include what food we tried and whether it was a success or not, but also links to healthy recipes and tips to make the most out of whatever our #ONENEWFOOD is each week. Getting our kids to eat a wide variety of healthy foods doesn't have to be difficult and we want to make it even easier for you!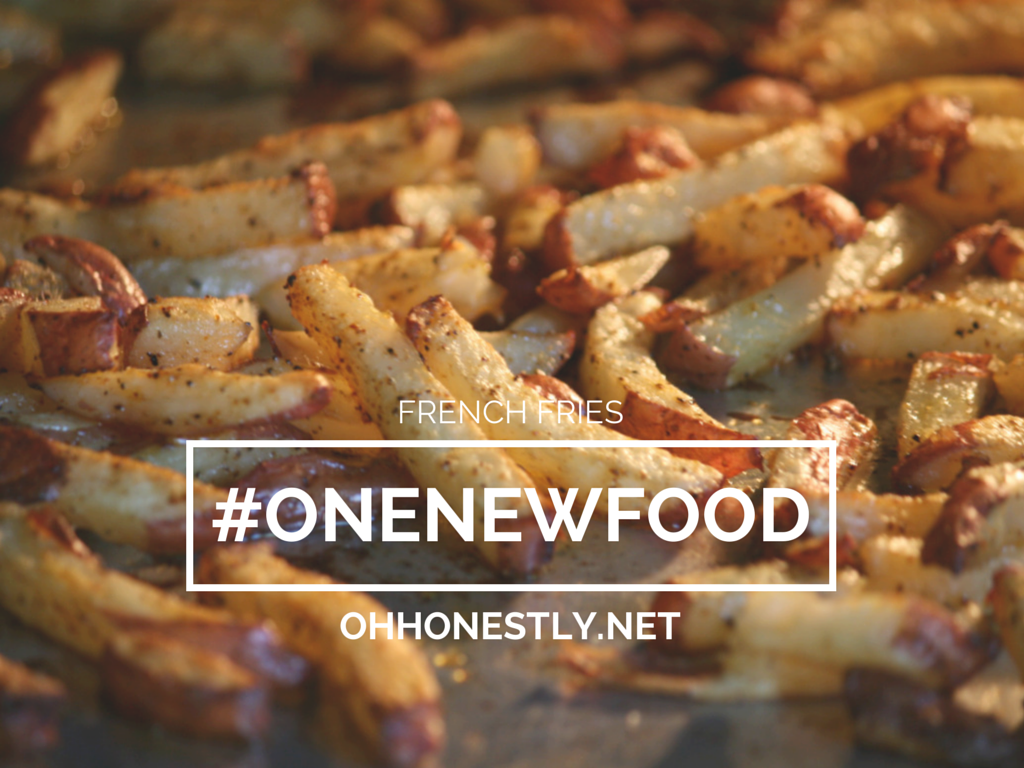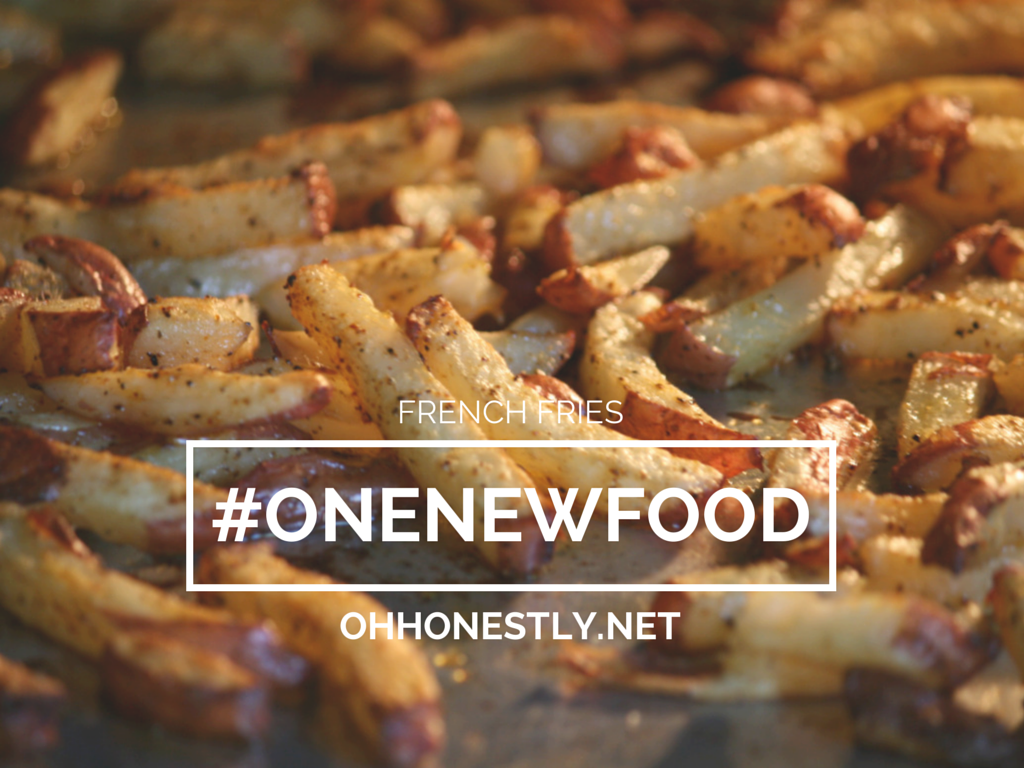 So this week our #ONENEWFOOD was french fries.
Yes, you read that right.
No, it's not a typo.
Yes, I know what you're thinking.
Yes, I'd be thinking the same thing.
Okay, so hear me out. We don't eat french fries all that often. When we do, they're either from a fast food joint or the frozen kind.
I've been trying to make healthy changes that the kids will actually eat, so this week I thought, "Hey, why not use my Pampered Chef french fry cutter, olive oil, some spices, and bake those bad boys?" and that's exactly what I did.
Unfortunately I accidentally overcooked them and some ended up a little bit darker than the boys liked. They ate a few, but didn't want any more. Annelise, my junk food junkie, loved them. I made a second batch last night and watched them like a hawk to make sure they didn't burn. Eli gobbled them up and Samuel declared them, "So-so."
Also, since french fries seemed a little like a cop out, I made the kids try either a bite of summer squash or a bite of zucchini from a stir fry I made. They grudgingly ate it, but no one went back for more.
Healthy French Fry Recipe Round-up
Want to try some baked fries? They're definitely healthier than the ones you put in a deep frier and they taste just as good. If so, try out one of these recipes and let me know how you like them!
Dinnerplanner.com not only offers three healthy french fry recipes on one page, but also busts a lot of myths about potatoes in the same spot. Those suckers have a surprising amount of nutrients in them!
Here's a simple recipe from Sweet C's Designs that ensures your fries will come out nice and crispy.
If you're dead set against french fries, check out this list of 25 Baked Alternatives to Potato Chips and French Fries. They use everything from polenta to zucchini and they all look delicious!
This week I'm featuring Echo from Domain of the Mad Mommy who clearly was on the same wavelength as me when she made homemade potato chips. Her kiddos liked them, but weren't as crazy about the egg salad (which I think looks delicious!).
Egg salad & homemade potato chips. #OneNewFood ×2 Apparently, egg salad is a toxic substance. http://t.co/41JhLgMf0Z pic.twitter.com/iuLW6234u1

— Echo (@IrkedMommy) September 11, 2014
Why not join us next week? You can get your awesomeness featured on Oh, Honestly! or Mommy in Sports and you can have the satisfaction of knowing that you're helping your kids make healthy choices!