Every two years, nations all over the world come together to cheer on and celebrate the accomplishments of their elite athletes. It's a wonderful and exciting time and those athletes deserve every ounce of recognition they receive.
But what about the millions of people living quiet, unseen lives who not only deserve gold medals, but also billions of dollars in sponsorship opportunities and a good night's rest? Who are these people? Parents.
I propose a new world-wide event, The Parenting Olympics, in which parents of all ages and stages have a chance to show their stuff in front of an adoring audience and finally get the recognition they deserve. A sampling of events follows. What would you add?
Parenting Olympics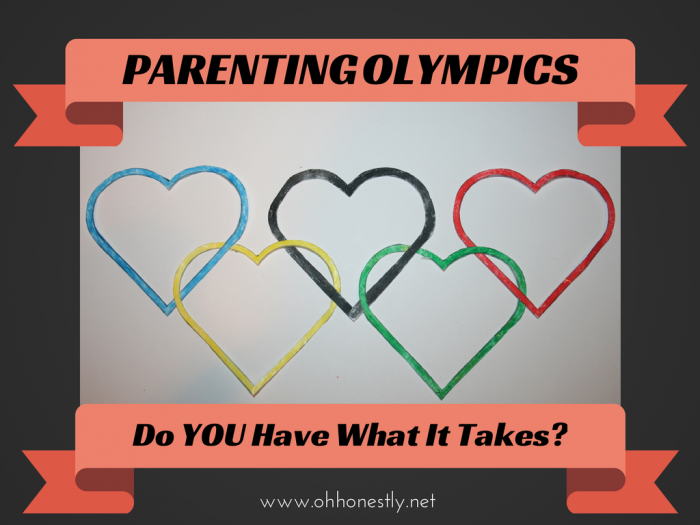 Baby Wrangling Triathlon
As the name implies, this is a three-part event.
First, parents must safely remove a squirming, screaming, slippery child from the tub. Contestants will be judged on how much time it takes to complete the task, the amount of water that spills on the floor, and how well they wrap the wriggling child in a towel.
Second, parents must change the poopy diaper of a newly crawling baby. Contestants will be judged on how many times the baby rolls over during the diaper change, the amount of poop that ends up in a place it shouldn't, and how secure the diaper is upon completion of the task.
Finally, parents must dress an active toddler who much prefers nudity. Contestants will be judged on how much time it takes to complete the task, the number of times the child escapes their grasp, and whether all the clothes are put on properly (i.e. nothing is backwards, buttons are in the correct holes, etc).
Immediate disqualification for any injuries to children during the event.
Running Late Dash
Parents must prepare themselves and three children to leave the house in record time. Everyone starts this race unfed and in pajamas.
Parents are given half an hour to complete as many tasks as possible in order:
Showering and dressing themselves
Feeding everyone
Cleaning up
Dressing the kids
Packing all necessities for the day
Making sure everyone has used the bathroom
Getting everyone out the door and safely buckled in the car
Contestants will be judged on how many tasks are properly and fully completed in the allotted time. Points will be deducted for bad attitudes and yelling at the children.
Immediate disqualification for swearing or any reference to what life was like before kids.
Pre-Teen Obstacle Course
Parents must navigate the murky waters of pre-teen emotions by offering the proper support at the proper time. Contestants will be judged on how well they 'read' the child's current emotional state, how effective the offered support is, and how long it takes for the tween to fall into his or her next mood.
Immediate disqualification for making the pre-teen cry.
Lack-of-Sleep-athon
Parents are kept awake for 48 hours straight, cleaning vomit and various other bodily fluids. They are then sent to work and must function as normal human beings. Contestants will be judged on how closely they follow traffic laws while driving to work, how efficiently they complete work-related tasks, and the number of times they doze off between the hours of 9 am and 5 pm.
Immediate disqualification for getting into a car accident.
Teen Embarrassment Sprint
Parents must behave in a way that will embarrass their teenager. Contestants will be judged on how quickly their teenager shrivels up in mortification and how serious a threat the teenager levies at the parent to stop the embarrassing behavior (i.e. 'Please stop!' will receive fewer points than 'If you don't stop now, I'll never speak to you again!').
Immediate disqualification if the teen joins in the supposedly embarrassing behavior.
Have an event to add? Know any influential people we can petition to get the Parenting Olympics up and running? Let's get this going! The world has lived in oblivion to the stupendous accomplishments of parents for far too long. It's time we give credit where credit is due!