Disclosure: This post contains affiliate links. If you make a purchase through my link,  I will receive a small commission at no cost to you. Thanks for your support!
About a month ago I asked for your questions on Facebook. You could ask whatever you wanted about whatever subject you wanted and I would answer them in a blog post. Here  are my answers.
If this is something you like, we can do it again sometime. If it's a great big flop, we won't do it again. Easy peasy.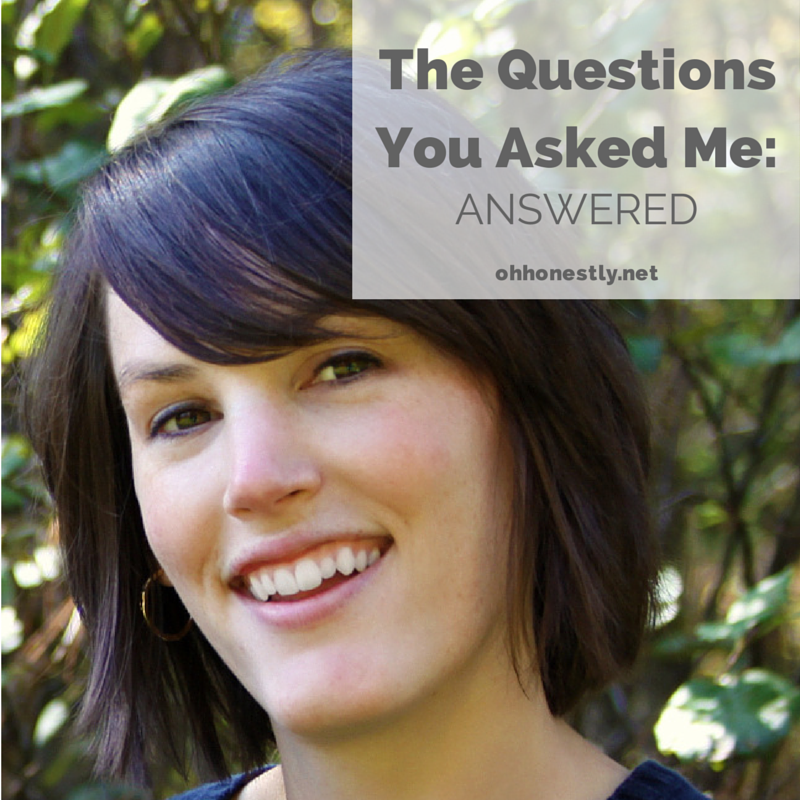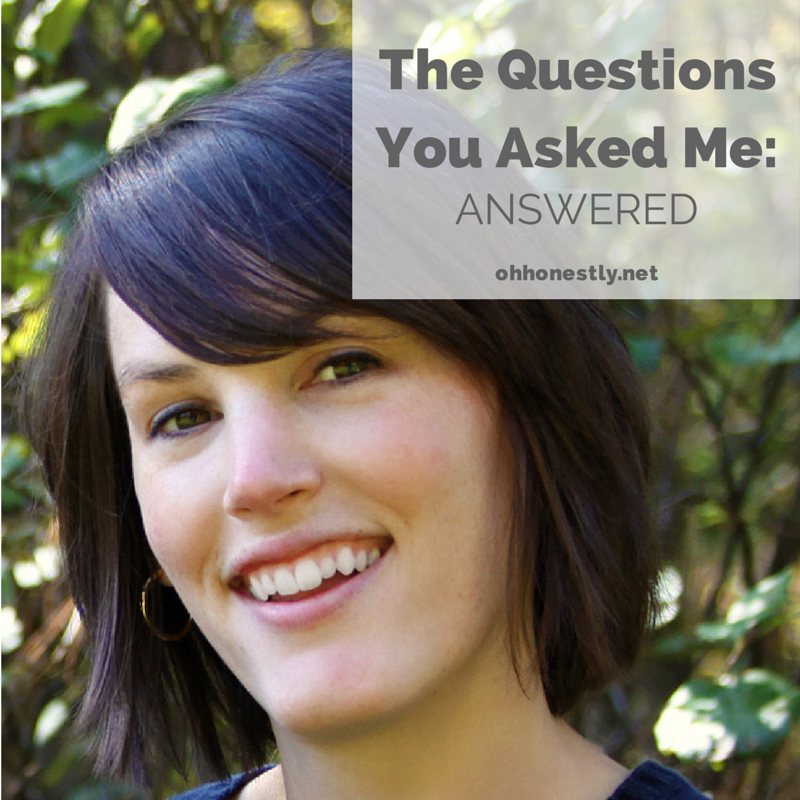 The Questions You Asked Me: Answered
1. Do you make or buy Halloween costumes?
I wait until Halloween is over, then raid the clearance aisles for costumes that are 50-75% off. I've gotten a bunch of superhero costumes for, like, $4 each. We don't make a big deal out of Halloween and the kids like to dress up year round, so usually if they need a costume for something, they just choose one of the ones we already have.
Here's one of my favorite pictures of Eli. We have a friend who is a UPS driver and Eli adores him. When I found a UPS costume a few years ago, I knew he would love it. Doesn't he look like the friendliest delivery man you ever did see??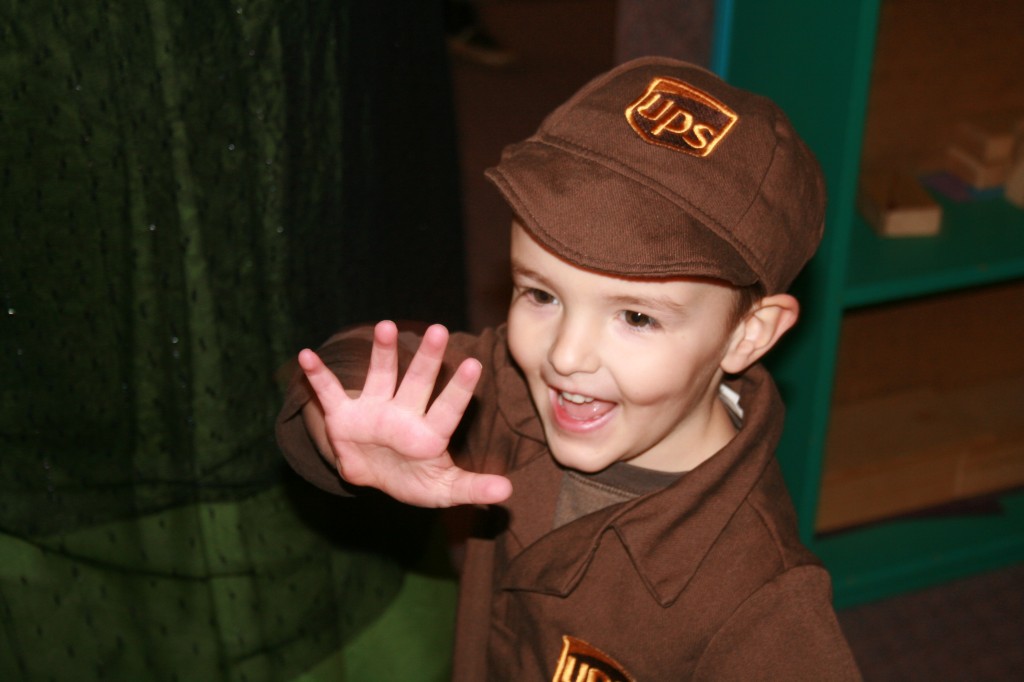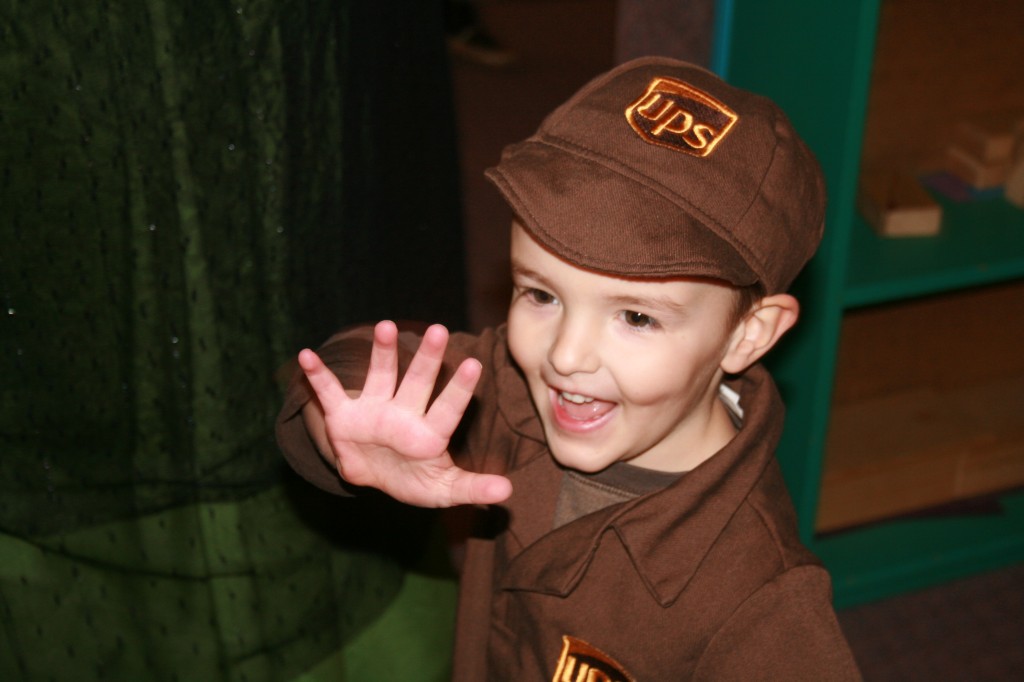 2. Have you always lived in Maine? If not, what brought you here?
My family moved to Maine the day after my mom found out she was expecting me, so I've always lived here. I went to Pennsylvania for college, but knew I'd be back. There's no place else I'd rather live!
3. Is grilled cheese one of your favorite foods? (Sorry, couldn't help myself.)
I'll eat it, but it's low on my list.
For those of you wondering where the heck this question came from, read this post.
But it didn't end there. Several weeks later I posted this on Facebook:
And that was when I realized:
4. What is your favorite book and your favorite movie?
Oh man, I'm bad at answering 'favorite' questions. There are too many choices.
Books….. well, I've got to go with the Bible as my number 1, and my number 2 would probably be the Chronicles of the Kings series by Lynn Austin. She's an amazing writer; all of her books are good. I'm not usually a huge fan of series, but I couldn't put these ones down. (And Eric, who hates to read, devoured them too. So yeah, they're good.)
Movies…. My favorite movie used to be Robin Hood: Prince of Thieves. And since I've probably only seen three new movies since then, I guess I'll just stick with what I know. The drama, the romance, the action, the humor, how can you not love it? Here's an old trailer, so you can remember too. The voice over is cracking me up.

(I also used to be a big fan of Never Been Kissed and 13 Going on 30 and I won't mention how many times I went to the theater to see Titanic. So I guess my point is, I haven't really watched movies since I was a teenager).

5. Have any special Christmas traditions?
Yes!! I LOVE Christmas traditions. The most special (and my most favorite) one is going to get our Christmas tree. We go to a tree farm, look at pretty much every single one there to make sure we don't accidentally overlook the perfect tree (the one with the halo, as my sister and I say), and cut it down ourselves.
Once we put it up in the house, I put the lights on and we all decorate it together and drink hot chocolate.
And then, once the kids are in bed, it falls over, a bunch of our special ornaments break, and Eric and I spend half the night cleaning it up. This year we're going to anchor it to the wall right from the start. And if anyone knows of an amazing Christmas tree stand that will actually STAND our tree up, please share it with me.
6. What makes Kristi your favorite sister?
No comment.
7. What's your vice? Wine or chocolate? What do you do for me time?
Chocolate and/or ice cream.
I'm an introvert, so if I have me time, I like to read, write, relax, or do some other quiet thing by myself.
8. What is your favorite childhood memory?
Wow, that's a hard one. I don't know. I had a really great childhood. I don't think I can pinpoint one specific memory as my favorite.
For some reason the memory that keeps popping into my head is playing Popcorn Factory on the porch of one of the cabins my parents owned when I was really little. There was a big evergreen tree right beside the cabin and I'd shake the boughs so that the cones would fall off and I'd pretend they were my popcorn. I wouldn't say that's the best thing I did as a kid, but hey, that's what I'm thinking about at the moment, so that's what I'll share.
9. Who is really your favorite sister?
Again, no comment (except to say that I have three wonderful sisters and two wonderful sisters-in-law. The end.)
10. What do you do when your patience has run out and it's only 10:30 in the morning?!
Pray that it's Saturday or Sunday so that Eric will be home too 😉
Alright, now tell me your favorite movie so I can get a list of the ones I need to see!