Disclosure- I know the title is seven things I wish I'd known, but here's a bonus #8: Having three kids is expensive. I've thrown a few affiliate links in this post, so if you use one you won't have to pay any more than you normally would, but I'll earn a few cents to buy my kids food and stuff. Thanks for helping keep my children alive!
After seeing the popularity of my post, Five Things I Wish I'd Known Before I Had My Second Child, I decided to follow it up with a post about things I wish I'd known before having my third. It got a little long, so I've broken it up into two posts.
Below is Part Two. You can also get ALL of my "Things I Wish I'd Known" posts in one PDF. Just fill out this form.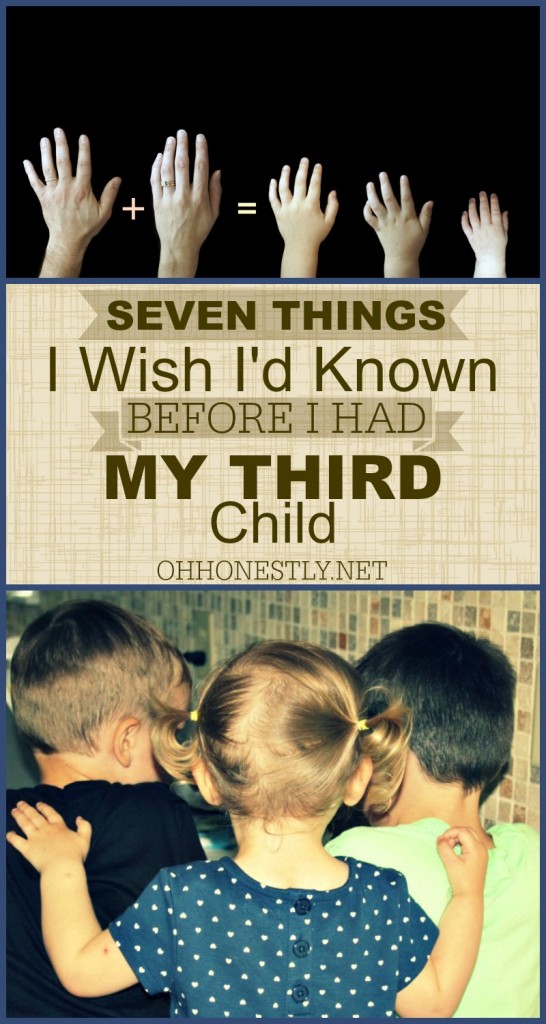 Seven Things I Wish I'd Known Before I Had My Third Child
5. From now on, you will be woefully outnumbered
Even if you have a spouse around to help, you'll be outnumbered, but it's when you're alone with all of them that you're woefully outnumbered.
Let me explain in a brief illustration.
You take the three kids to the playground. When it's time to leave, they don't want to go because, hel-lo, it's the playground! So you pick up the littlest one, grab the hand of a second, and half lead, half drag those two to the car. Meanwhile, the third is streaking past the monkey bars like the Flash on speed to try to hide from you.
Once the first two are buckled in, you return to the playground to hunt for the third and most elusive child. It's like a kiddie version of The Hunger Games. I'd say "May the odds be ever in your favor", but we've already established that the odds are 3:1, so you're out of luck.
Don't lose heart though! I have learned two important lessons from the knowledge that I am woefully outnumbered.
1. If you tend to be one of those independent people who never wants to ask for help (aka ME), you lose that in a hurry. When someone offers to help you herd your three kids from the car, through a busy parking lot, and into the safety of a building, you nod your head and say, "Thank you!"
Whether you agree with her politics or not, you suddenly embrace the truth of what Hillary said: It really does take a village to raise your children. Maybe you don't see this as a good thing, but to me, anything that requires me to lose some of my pride while simultaneously reminding me of the importance of community is a very good thing. Plus it's always comforting to see all the people who are willing to help.
2. Adding a few more kids into the mix doesn't make much difference. Three, four, five: Once you're outnumbered, you're outnumbered, regardless of the number, so letting the kids have friends over is really no big deal.
Bottom Line: Two hands, three kids… God made us this way for a reason: We need each other! Don't be afraid to ask for help. Also, invite other kids over to play. It won't make much difference in the chaos, and sometimes it changes the dynamics in a really positive way.
Speaking of dynamics:
6. Sibling dynamics both change and multiply
There used to be the one simple dynamic between your first and second child. Now there are the dynamics between your first and second, your first and third, your second and third, and of course, all three.
The way my youngest interacts with my oldest is very different from the way she interacts with my middle child. Similarly, when all three of them are together, the way they interact is quite different from when there are only two of them around.
This may be good, bad, or not make any difference at all (most of it depends on their personalities… and their moods on any particular day), but it does make it a bit more complicated than when you only had two.
Probably the best thing you can do is observe, observe, observe. Watch the kids interact, see how they relate to each other, figure out what the different groupings do together, etc. Then use this knowledge to your advantage. If two of the kids seem to have a tighter bond, make sure the third gets one on one time with his siblings so he doesn't feel left out. If two are always at each other's throats, figure out if throwing the third one in the mix helps or hurts, then plan according. Obviously, you can't always divide them up exactly the way you want, but it helps to know how they get along (or not) with each other.
Bottom Line: Things get more complicated with three. On the other hand, it's harder for the kids to claim they're bored with so many people around.
 7. You'll never regret it
I know a lot of what I've said here doesn't sound totally wonderful. If you were hoping I'd say that having three kids is rainbows and unicorns all the time, well, I apologize, but it's not (is anything rainbows and unicorns all the time??).
However (there's always a however!)…
If you have a third child, you won't regret it. You'll have moments when all three kids are going crazy and you're looking around in bewilderment and annoyance and you'll barely be able to hear yourself over all the screaming as you yell to your spouse, "What were we thinking, having a third??" You'll try to remember back to the days when you had two and life was so much quieter.
Then you'll look at your youngest and, even though you can kind of remember what that life was like, you really won't be able to imagine life without your baby. And the moments when all three are playing nicely together or helping each other out or cuddling up together on the couch: Those moments are so amazingly sweet, they'll bring tears to your eyes.
Bottom Line: Despite the craziness, each of those kids is an unbelievable blessing.
Parents of three (or more!), what did I miss? Parents thinking of having a third, did I scare you? (I hope not!!)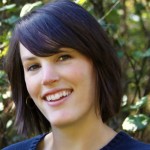 Lauren is a wife, mom of three, and the writer behind Oh, Honestly. She loves to share the real life joys and trials of motherhood so other moms will know they're not alone. She is also the author of The Words Your Kids Need: The Value of Writing to Your Children and How to Do It With Ease.