Below: Home command centers will help you get and keep your family organized, but you have to put some thought into what you really need in your family command center before you set it up. These 17 swoon-worthy examples will give you tons of inspiration.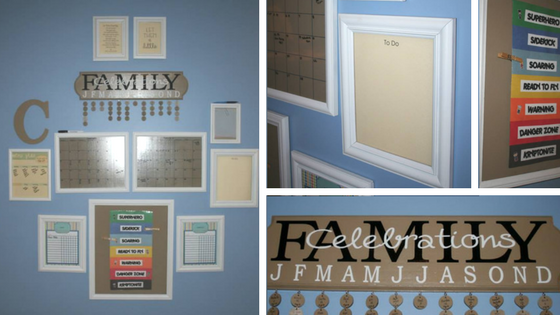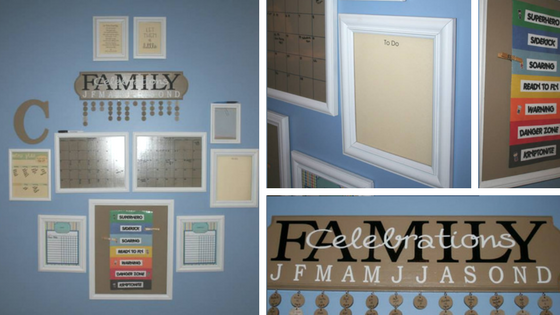 Four years ago I decided the giant bare wall in my kitchen needed a little TLC. I don't remember if we had anything hanging on it, but I don't think we did. It was just a big, blank, unused space.
Life was crazy with three young kids, so I decided to create a home command center to get organized. I did some research and put a lot of thought into what I needed and what I would actually use. Once I decided on the aspects I wanted to include, I rounded up old picture frames from around the house and from Goodwill, painted everything in a few different colors, grabbed a hammer, and hung everything up.
Since then, a few sections have been replaced, but it's still there and going strong. The part I find the most helpful is the two month's worth of calendars. My oldest likes the meal plan section because he always likes to know what we're having for supper. The bottom section started out with chore and behavior charts, then changed to Notes for the Kids, but will soon change again to a cute wall organizer I found from Hobby Lobby. One of my constant battles is paper piles on the counter, so I'm hoping the bins will give us a more organized storage space.
If you've been thinking of creating a home command center for your family, I highly recommend giving careful thought to what your major sources of disorganization (and stress) are and how a command center can help with those areas.
Look through the command centers I've rounded up for you, jot down ideas you love, ignore the parts you know wouldn't help you, then plan your own custom center. It might become your favorite spot in the house!
This post contains affiliate links. Purchases made through those links will earn me a small commission at no extra cost to you.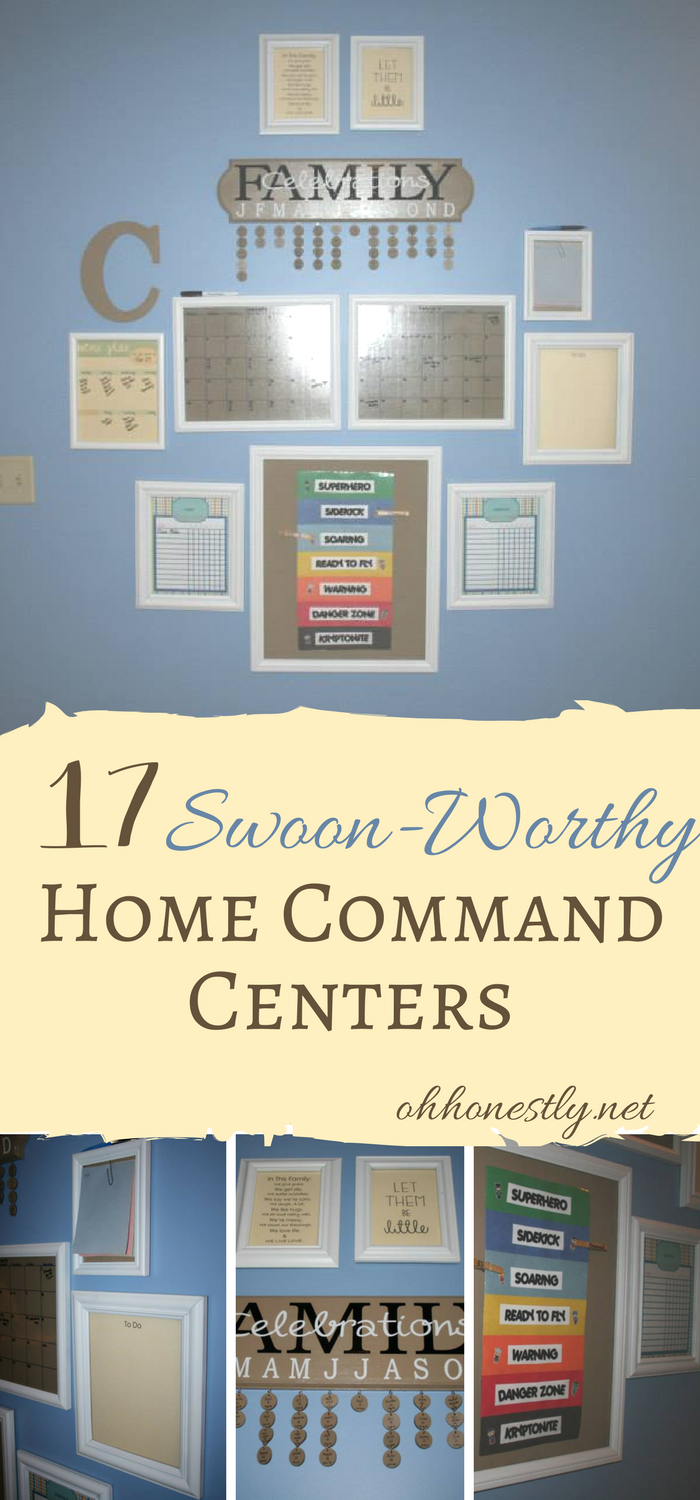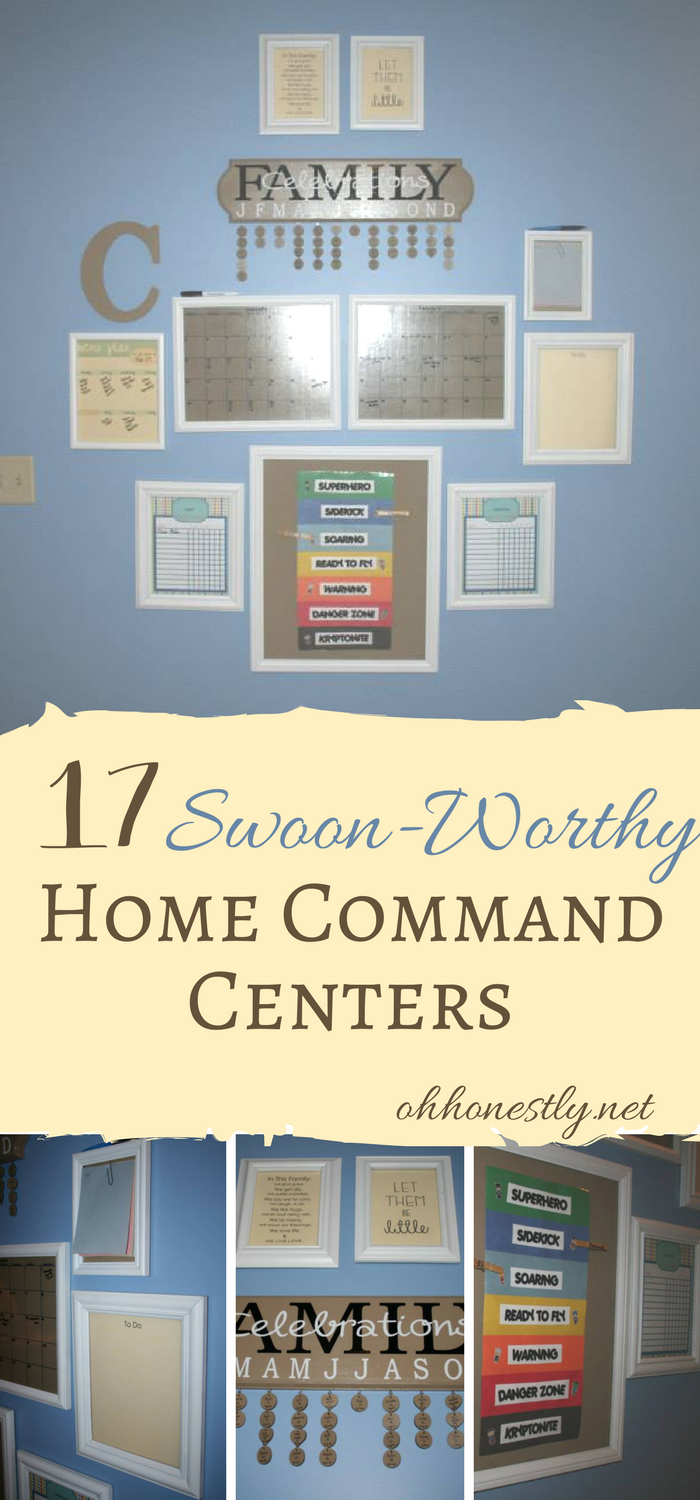 17 Swoon-Worthy Home Command Centers
I love this home command center from Home Heart Harmony. The style is so sweet and warm, and the desk is a great addition if you have room for it.
https://www.pinterest.com/pin/178736678945781866/
If you have an entryway or mudroom that's constantly a disaster and desperately needs an organizational makeover, try this idea I found on allparenting.com.
https://www.pinterest.com/pin/178736678945781982/
Use space wisely by turning a narrow, unused wall into the highest functioning section of your home, like Jenna Burger did here.
https://www.pinterest.com/pin/178736678945782023/
If you have a small coat closet that isn't being used to it's full potential, convert it into a home command center like this one by The Happy Housie.
https://www.pinterest.com/pin/178736678945781924/
If you need a space that's less for your own organization and more for your kids, this simple center from The Yellow Cape Cod is perfect.
https://www.pinterest.com/pin/178736678945781938/
I love that this home command center by The Turquoise Home is cohesive without being too 'match-y.'
https://www.pinterest.com/pin/178736678945782027/
But then there's this one from The Caldwell Project that is totally match-y, but isn't too much of the same.
https://www.pinterest.com/pin/178736678945781994/
This command center by Lovely, Etc. is simple, functional, and beautiful.
https://www.pinterest.com/pin/178736678945781863/
If you're feeling handy, Shanty 2 Chic offers a tutorial on this DIY command center.
https://www.pinterest.com/pin/178736678945781868/
Iron and Twine started with IKEA bookshelves and ended up with a functional and beautiful center.
https://www.pinterest.com/pin/178736678945781877/
This command center could go anywhere, but Houseful of Homemade chose to fill underutilized hallway space. It would be perfect right outside of the kids' bedrooms!
https://www.pinterest.com/pin/178736678945781860/
There's something about the pops of color that I just love with this command center from See Vanessa Craft. Those little tins are adorable too!
https://www.pinterest.com/pin/178736678945782008/
This command center (with elements from Hobby Lobby) screams Joanna Gaines, so of course it made the list!
https://www.pinterest.com/pin/178736678945781989/
I've never used chalkboard paint, but after seeing this center from Beneath my Heart, I might have to try it.
https://www.pinterest.com/pin/178736678945781891/
Still haven't seen anything that suits your fancy? Why not repurpose old wooden shutters into your new command center, like Martha Stewart?
https://www.pinterest.com/pin/178736678945781978/
Maybe you'd love to have a big command center, but you don't have the space. This hidden command center by IHeart Organizing fits right on the back of a cabinet door.
https://www.pinterest.com/pin/178736678945781896/
The awesome thing about home command centers is that they can each be as individual as the people who create them. I hope you found inspiration above to build your functional and beautiful family command center.