Ahh, toddlers. They can go from being the most charming people on Earth to behaving like Satan's spawn in the blink of an eye.
Having gone through the toddler years three times now (well, four times if you count my own toddler years, but those are a bit hazy), I've become quite well-versed in the art of the toddler tantrum. As I've borne witness to approximately 4,593 of them, a pattern has emerged. Much like the five stages of grief, the toddler tantrum also has five distinct stages.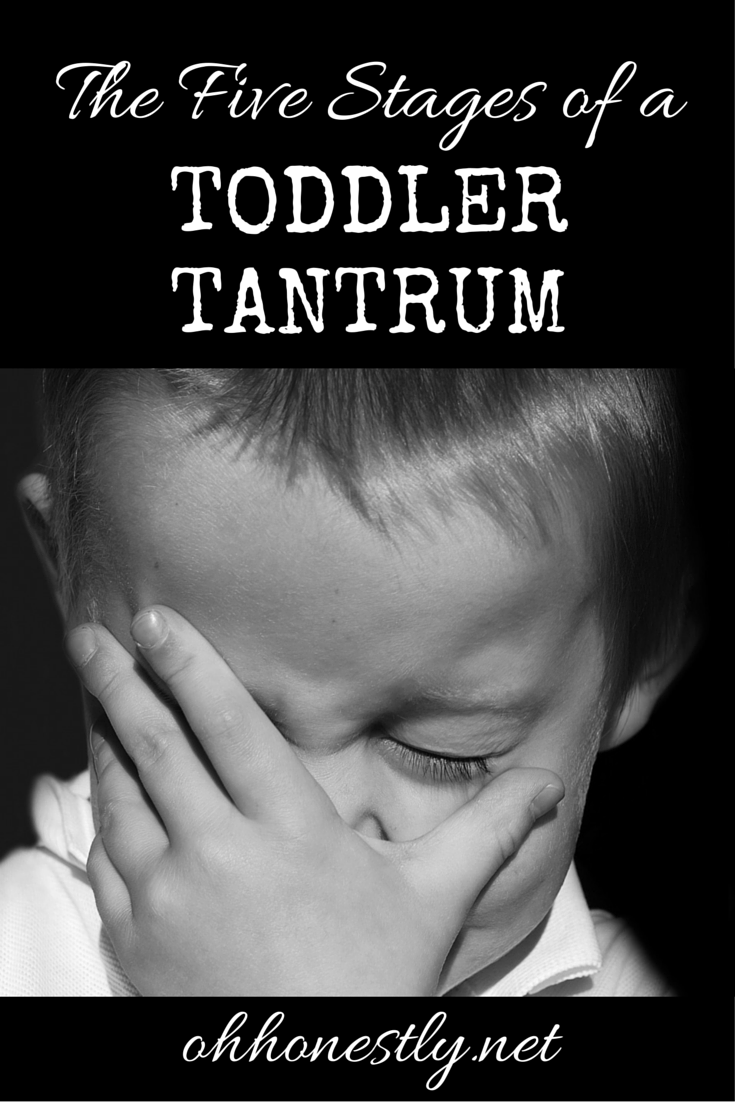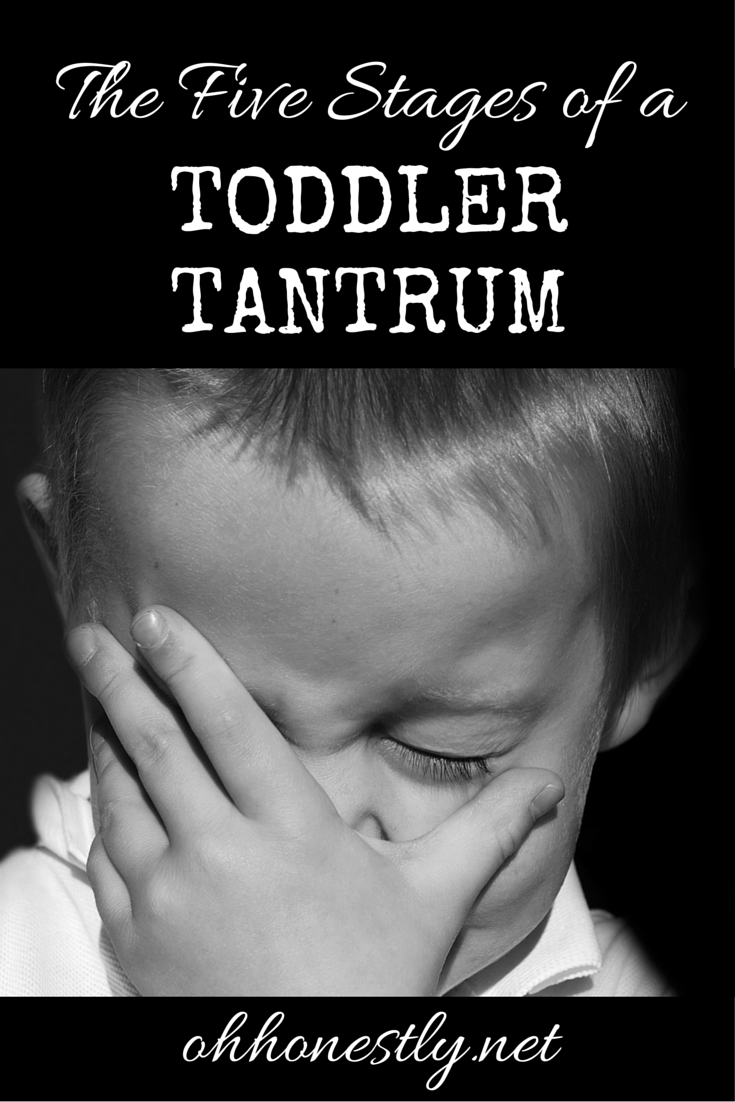 The Five Stages of a Toddler Tantrum
Stage One: Denial-  This stage usually begins right after the parent has said something contrary to the desires of the toddler, such as, "No, you may not run naked through the mall," or "I've already cut your sandwich in triangles. I can't cut it into rectangles now."
The toddler will insist on the opposite of whatever the parent has stated, refusing to believe that anything other than his Own Way will prevail.
Parents, take note! This is the warning stage. It's about to get real, so prepare yourselves.
Stage Two: Anger- When the toddler realizes that the parent is indeed serious about whatever was stated in Stage One, Stage Two will quickly commence.
This is probably the most well-known and documented of the five stages because it is the stage in which the toddler goes completely insane: Screaming, crying, throwing herself on the floor, flailing, kicking, biting, shooting fire darts from her eyes.
A toddler in Stage Two is quite possibly the strongest and most dangerous force on earth. No amount of reasoning will help; you'll just make her more angry. Stand back and watch in frightened amusement until she moves to Stage Three.
Stage Three: Bargaining- No one is sure what causes a toddler to move from Stage Two to Stage Three, but the most likely explanation is that he's just plain tired from all the anger he's spewed and needs a break.
This stage is characterized by the toddler's attempt to negotiate. There will be a lot of puppy dog eyes and "Pweeeease Mommy," and "I be good, I pwomise!" However, after the horror of Stage Two, the logical parent will not be willing to give in.
If receiving an undesired answer, it is possible for the toddler to move back to Stage Two, but eventually he will get past Stage Three and move on to Stage Four.
Stage Four: Depression- This stage begins when the toddler has exhausted all anger and tried every bargaining tactic in her arsenal to no avail. Thankfully it's much quieter than Stage Two, but although the screaming is over, be prepared for a lot of crying.
Stage Four can be hard to get through simply because sad toddlers are really cute and make parents feel really bad, but take heart and don't give in! You've almost made it to Stage Five!
Stage Five: Acceptance- Finally! After a hard-fought battle, the toddler realizes that the parent isn't in fact going to back down. Crazy Toddler slowly morphs back into Sweet, Adorable, Loving Toddler (or SALT if you like acronyms).
The best part of Stage Five is that everyone is so worn out that nap time becomes an almost immediate necessity. Rest up while you can! Another Stage One is sure to be just around the corner.
Enjoy this post? Share it! I appreciate your support 🙂