I wrote this last year and never hit the publish button, but after rereading, it was a good reminder to me to not take anything for granted. I hope it does the same for you!
Inches.
That's how close we came. A distance we can physically measure that would have changed everything forever.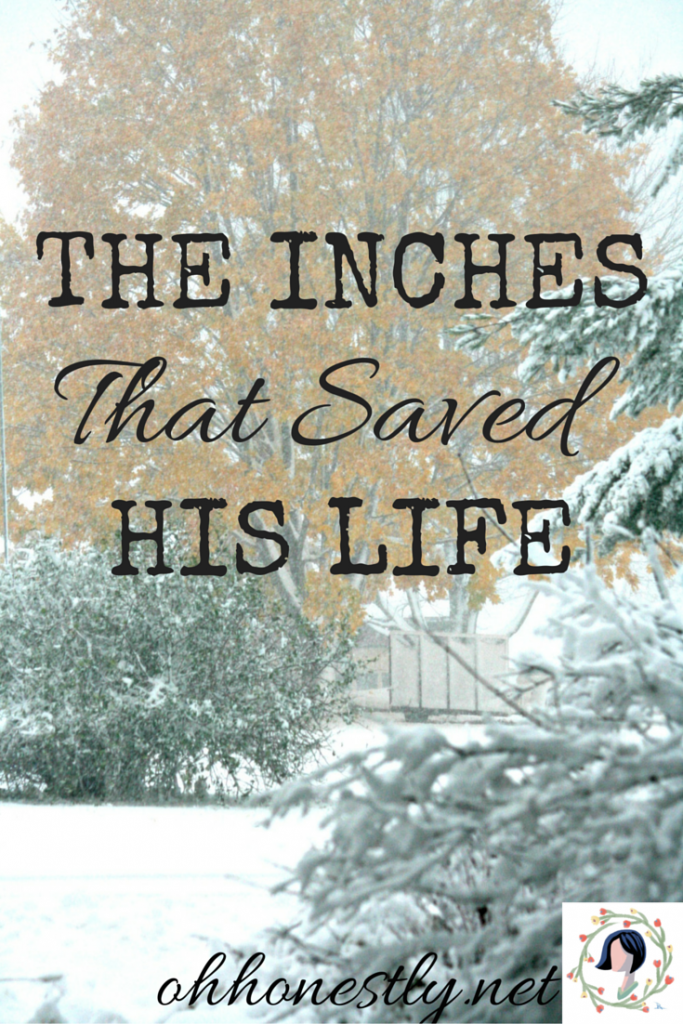 It was the first snow of the season and not the typical few flakes or light dusting that we normally get this time of year. It was a full blown storm, dumping a foot of white stuff on the virgin ground and bringing strong winds along with it.
We braved the cutting wind in the morning to play outside with the kids, then came inside, made popcorn, and cozied up in the living room, watching a Disney movie while the pellet stove blazed in the background. It was the perfect snow day.
Then Eric's phone rang.
The early storm had taken the unsuspecting trees by surprise. They weren't ready for the heavy loads piled upon their branches.
A tree that grew behind the apartment building we own had fallen on a car and Eric's assistance was needed. He headed out with a warning from me to 'Be careful!'; then the kids and I went back to our movie. In what didn't seem like too much time, he was home again. Home again with a substantial limp.
He hobbled up the stairs to our bedroom and explained that while he and his friend were dealing with the fallen tree, another one fell. On him.
He didn't make a big deal out of it, didn't rehash the events in great detail. Maybe that's why it took a while for it to sink in for me. When your husband tells you in a perfectly calm voice that it was the scariest thing that's ever happened to him, that it made him throw up afterwards, you kind of wonder if he's being serious.
But later, while we ate pizza and watched football, he mentioned again how close it had been. As I stared at the back of three little heads, lined up in a row on the floor, the implications of what might have been came crashing down on me.
Instead of watching the game with my husband safely beside me, I could have been getting the worst news of my life; news that I would then have to share with three people who think their daddy has superpowers.
And then I would have had to figure out how to raise those three little people without the single most important person in our lives.
Inches.
That was the only distance between him sitting beside me on the couch and the worst day of our lives.
So I breathed a prayer of thanks and slid closer beside him, erasing the inches between us.
Because you never know when those inches won't be in your favor.