Choosing valentines (whether for your kids or yourself) can turn into a huge time suck if you're not careful. If you plan to buy them, the store has row upon row of options, and if you plan to make your own, you'll spend an entire afternoon on Pinterest.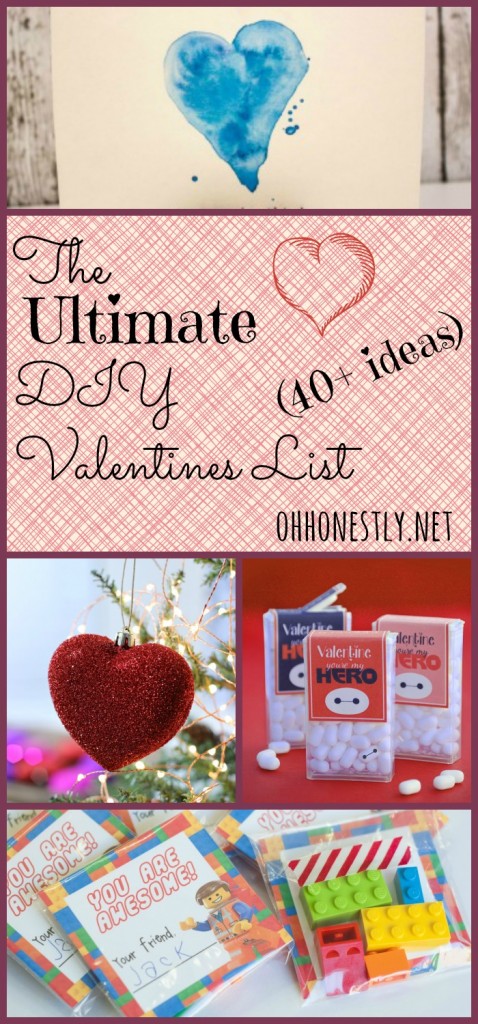 The Ultimate DIY Valentines List (40+ Ideas)
In an effort to save you some time, I've done the searching for you! Below are over 40 DIY valentine ideas. Most are really easy and some are a bit more involved, but I can guarantee that there's something for everyone.
Find your favorite and then let me know which one you're planning to use (especially if your kids go to school with my kids  😉 )
If you don't have the time or energy to make your own (I feel you!!), but don't want the store-bought feel, check out Etsy. You're sure to find some adorable ones! (Affiliate link)


Printable Valentines
Favorite Characters Printables
Have any Lego fans at home? These printables from Carrie Elle will be perfect for your kids to hand out to their friends. Find them here.
These Big Hero 6 valentines from One Creative Mommy are adorable and since she's done the hard work for you, all you have to do is print and paste. Check them out here .
Frozen Olaf Valentines :: One Creative Mommy
Fast and Frugal Brave Valentines (Merida) :: One Creative Mommy
Easy DIY Star Wars Valentines :: Carrie Elle
Mickey and Minnie Cutie Valentines :: Disney Family
Free Despicable Me 2 Valentines Printables :: She Scribes
Superhero Valentines :: Little Bit Funky
Non-Food Printables
Play-Doh Valentines with Printable Labels :: Random Thoughts of a Supermom
"Super Fly" Printable Boy Valentines :: One Charming Party
You Blow Me Away Valentine Printable :: The Girl Creative
Glow Stick Valentine's :: Kommunicated
Mad Libs Classroom Valentine Idea (+ free printable) :: Hip2Save
Free Valentine Printables "I'm Stuck on You" :: Making Home Base
You Are Just Write for Me Valentines :: The Teacher Wife
Valentine Socks :: Made to be a Momma
You Rock, Valentine :: Honest Co.
Fortune Cookie Valentines :: Design. Wash. Rinse. Repeat.
Other Printables
Fish Bowl Valentine's Card :: Bliss Bloom Blog
DIY Popcorn Valentines :: Crafty Morning
I Chews You Valentine Idea and Printable :: Crazy Little Projects
Tootsie Pop Super Valentines :: One Creative Mommy
"You're One in a Minion" Twinkie Valentines :: Crafty Morning
Non-Candy Fruit Valentines :: The Cards We Drew
Ring Pop Valentines (w/ Gem Printable) :: Dimple Prints
Love Potion Valentines :: Inkhappi
DIY Valentines
These watercolor heart note cards from bumblebreeblog are beautiful and easy enough that adults and kids can do them. Find the instructions here.
If you're looking for a valentine that won't be thrown away as soon as the kids bring it home from school, try these fleece heart rice bags from Creative Pink Butterfly. You can pop them in the microwave for a few seconds and they make perfect hand warmers to stick in your coat pocket. The step-by-step instructions can be found here.
If you love glitter, these glass glitter hearts from Woods of Bell Trees are perfect for you. Granted, it might be hard to find heart-shaped Christmas ornaments this time of year, but I bet you can find lots of other heart-shaped items that would do the trick. Find out how to make them here.
Paint Chip Bookmarks :: Old Town Home
"You Color My Heart" DIY Valentine Cards for Kids :: A Mom With a Lesson Plan
Photo Card Lollipop Valentines :: Keepin' It Real 24-7-365
DIY Fabric Heart Valentines :: Flamingo Toes
Origami Heart Pocket :: Home-ology
Valentine Heart Keychain :: Albion Gould
Cupcake Valentines :: Hey, Let's Make Stuff
Valentine Mason Jars :: Yesterday on Tuesday
Handprint Monkey Valentines :: Crafty Morning
Heart Caterpillars :: Crafty Morning
Button Heart Cards :: Real Simple
Celery Heart Flower Stamp :: Momstown Oakville
DIY Toy Animal Valentines :: Please Note
Thumbprint Valentine's Day Bookmarks :: Sweet and Lovely Crafts
Visit Oh, Honestly! 's profile on Pinterest.
Follow me on Pinterest and join me on Facebook!