Back in September I wrote a post entitled Five Things I Wish I'd Known Before I Had My Second Child. It has easily become the most popular post on my blog, sometimes even beating out new posts for the number of views in a single day.
As I thought about it's popularity, it occurred to me that there may be people out there who already have two kids and are considering a third. So I'm back to help with: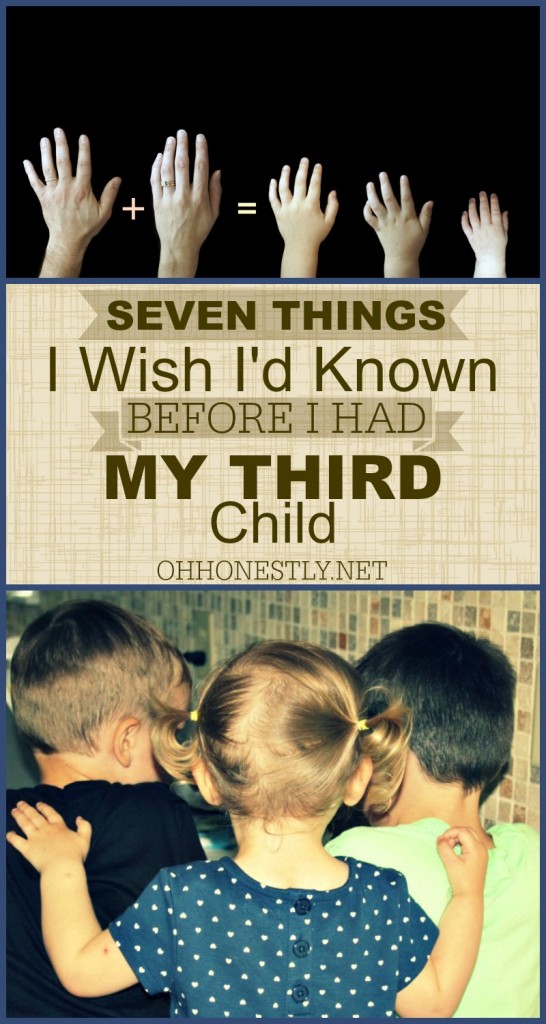 Seven Things I Wish I'd Known Before I Had My Third Child
I've split it into two separate posts because with seven things to go over, it got a little long. Click here to read Part Two.
Now let's get to it!
This post contains affiliate links.
1. It's a lot more work
I'm not going to sugarcoat it. You might as well go into this with your eyes wide open, right? Having three kids is a lot of work.
Opinions seem to be split on whether it's harder to go from one child to two, or two children to three, but I think all parents of three can agree that however quickly they adjust, it's a tough job.
The thing is, someone always needs something. Always. A drink. A snack. Help wiping their butt. A ride to soccer practice. It's constant. If someone wants a drink, you'll just finish putting the milk away and the second one will ask for some. If you sit down to pay some bills, the third will need a refill.
So yes, you will be constantly busy, but there's a good opportunity here to teach your children independence.
The first winter I had three kids, we all came down with a stomach bug. My oldest, Eli, got it first and was starting to feel better when I came down with it. My husband was at work and I was laying on the couch, trying not to lose it while also keeping a four year old, a two year old, and a nine month old alive.
Eli asked for lunch and just the thought of looking at anything edible was enough to push me over the edge. I sorrowfully told him that this time he was on his own. Lo and behold, my little four year old pulled out all the fixings for a peanut butter sandwich and made it without a stitch of help from me. It was an eye-opener that reminded me that Mom does not equal Indentured Servant.
Bottom Line: Yes, you'll be busy, but if you're intentional about it, it can be a good learning opportunity for your kids (and you!).
2. People suddenly think you know what you're doing
Three is a magical number. It's the number that signals to people that you must know what you're doing and therefore, they have no reason to give you advice. I noticed the change immediately.
With my first two, I had nurses in my hospital room constantly. Checking on me, checking on the baby, taking our temperatures, helping me breastfeed, making sure I wrote down every minuscule detail of each baby's life (When did they eat? What side did they nurse on? How long did it take to latch? How long did they stay latched? When did they pee? How wet was the diaper? When did they poop? What color was it? How much was there? Did you weigh it? How did it taste? …Okay, I'm exaggerating. A little.)
Anyway, when my third popped out, I actually began to wonder if the hospital had changed it's policies for the maternity floor. Yes, the nurses still checked on me… occasionally. But I never saw the sheet to record poops and pees. I never saw a lactation consultant. I was pretty much left on my own. It was glorious! I had a private room, milkshakes and cookies whenever I asked, barely any visitors (it was my third, remember?)… it was kinda like being on vacation.
Of course, the flip side of this is that, while everyone thinks you're an expert, you know the truth: You still have very little clue about what you're doing. Sure, you can take care of a baby with a lot more confidence than the first time, but you also know that each kid is ridiculously different from the others, and you'll run into a million situations a day that make you question whether you're cut out for this job at all.
Bottom Line: Enjoy the lack of unsolicited advice, but remember that there's still a vast network of moms out there who are willing to help if you ask.
3. You'll feel like there's never enough of you to go around and you can't give each kid what they need
Oh, the mom guilt. It never ends.
I bet when you had one kid and you spent a ton of one on one time with him: Talking, teaching, playing.
Then you had your second child and it got a little harder to have that meaningful time together. The baby needed to eat when the toddler wanted you to play. The toddler needed to go to the bathroom Right Now while the baby just wanted to be held. You figured out ways to make it work, though. You could still take one of them shopping while the other one stayed home with Dad and, boom, they were both getting one on one time. You totally rocked the Parenting Two Kids scene.
With three, you sometimes get the feeling that you are failing all of them. Like when your oldest says you never have time for him anymore. Or when you're so excited to be taking just one of them out somewhere, but the other two are sobbing at the unfairness of it all, even though they've been told their special time is coming. Or when there are 15 loads of laundry to do, supper to make, and bathrooms to clean, but the youngest wants you to do a puzzle, the oldest wants you to shoot hoops, and the middle wants you to play superheroes.
One person can only do so much. Realize that right from the start and you'll be better able to handle the moments of disappointment and guilt. Also realize that your kids will not die if they don't have your undivided attention all the time. In fact, it's better if they don't.
Bottom Line: Go ahead and acknowledge the mom guilt, but tell it to get lost. Then try to find even just one way per day to connect one on one with each child, even if only for five minutes while the other two are playing in a different room. It'll be good for all of you.
4. You'll be waaaay more laid back
Remember when you had your first kid and you thought you were a pretty chill parent? You let people hold your kid without washing their hands first and thought to yourself, "I am way less uptight than that friend of mine who made people put on surgical masks when they came through her door."
By the time your third kid shows up, you've taken chill to a whole new level. "Oh, you're still being treated for Ebola? Sure, you can hold him. Just turn your face away when you need to cough, okay?"
Seriously though, not much phases you anymore. Your older kids are constantly bringing home germs, so there's no sense trying to shield the baby from them. You try to keep the older ones from jumping on the youngest, but you soon discover that the more they manhandle her, the funnier she thinks it is. You realize that a dinner of popcorn and cookies every now and then won't kill them.
Bottom Line: Obviously some health and safety precautions need to be taken, but those kids are a lot more durable than you thought when you first started out.
Want to know the other three things I wish I'd known? Click here to read Part 2. And be sure to join me on Facebook where we have all sorts of fun.
Parents of three (or more!), what did you wish you'd known before you had your third?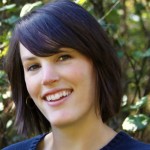 Lauren is a wife, mom of three, and the writer behind Oh, Honestly. She loves to share the real life joys and trials of motherhood so other moms will know they're not alone. She is also the author of The Words Your Kids Need: The Value of Writing to Your Children and How to Do It With Ease.