If this is your first time joining me, please click here to find out what this is all about.
Sixteen weeks! That means I'm a third of the way through the Keeping It Real Challenge. Gotta be honest, this is the longest I've stuck with a project in a long time. I always have good intentions, but I tend to peter out after a few weeks of doing something. So this, kids, is the real deal.
When I first started the challenge, I really had no idea what it would look like, how I would bring it to you, or what it would 'do' (if anything). I just decided to write down, each day, the real stuff that happens in my family. Some weeks there hasn't been a whole lot to report and other weeks I struggle to decide which one topic to focus on because there are so many to choose from. Some weeks' topics resonant with readers big time, others don't make much of an impact. Some weeks I wonder why I'm bothering to do this and other weeks I notice that changes are taking place in my life. Good changes. Small changes that just might add up to something big.
Since this is a milestone week of sorts, I've decided to use it to look back over the previous fifteen. Just a quick synopsis of each to see where I've been and maybe get an idea of where I'm going.
Week 1- I yell at my kids a lot.
Week 2- I talk about my messy house a lot, but I still try to make it look great when people come over.
Week 3- My one year old runs the house.
Week 4- Most days I don't get anything done.
Week 5- I allow my kids way too much screen time.
Week 6- I'm working on getting our paper clutter under control.
Week 7- The thought of something happening to my kids is unbelievably terrifying.
Week 8- I'm really tired, but still got some stuff crossed off the 'to do' list.
Week 9- I realize I could be unintentionally hurting other women with my words.
Week 10- Sometimes our kids do embarrassing things.
Week 11- Sometimes our kids do more embarrassing things.
Week 12- I was mortified when my child melted down at a school Open House.
Week 13- What an anniversary looks like when you have three young kids.
Week 14- We never see our friends anymore.
Week 15- We're late a lot.
Last week a friend made me aware of the number of mommy bloggers who constantly complain about motherhood; who use their platform to whine about the hardships and who never seem to find the joys. Looking at my list, I worry that I am doing the same. If that is the case, I apologize. My intent with this challenge in particular and this blog on a broader level is not to complain. It's not to scare future moms into thinking that life with kids is horrible.
My goal is to bring us together. To help the struggling mom who feels all alone realize that yes, this gig is the hardest thing you will ever do, but you are not alone. Millions of other women have been where you are, have felt what you've felt, have wondered if they're the only imperfect one around.
When we try to make it look like we have it all together we deny ourselves the chance to form real connections. Conversely, when we allow ourselves to show our true selves, we begin to realize that we have more in common with each other than we ever imagined and that being imperfect doesn't mean other people won't like us; it means that other people will find us relatable.
Here's the thing. The more I've opened up and shown my true self, the more I'm able to see the joys within the hardships. Because those joys are all over the place. Some are easy to see and some take a little digging to find, but they are always there, just waiting to be discovered.
So all that is to say this: If you find me crossing the line from being relatable to being a joy-sucker, call me out! And if I stop finding the gems and only see the work, call me out on that too. Because it would be a shame to have the kids grow up and move out and suddenly realize that I wasted all the years that they were right here beside me.
And now the part of the post where I share pictures of our real, everyday lives.
Enjoying Nee and Pops' play house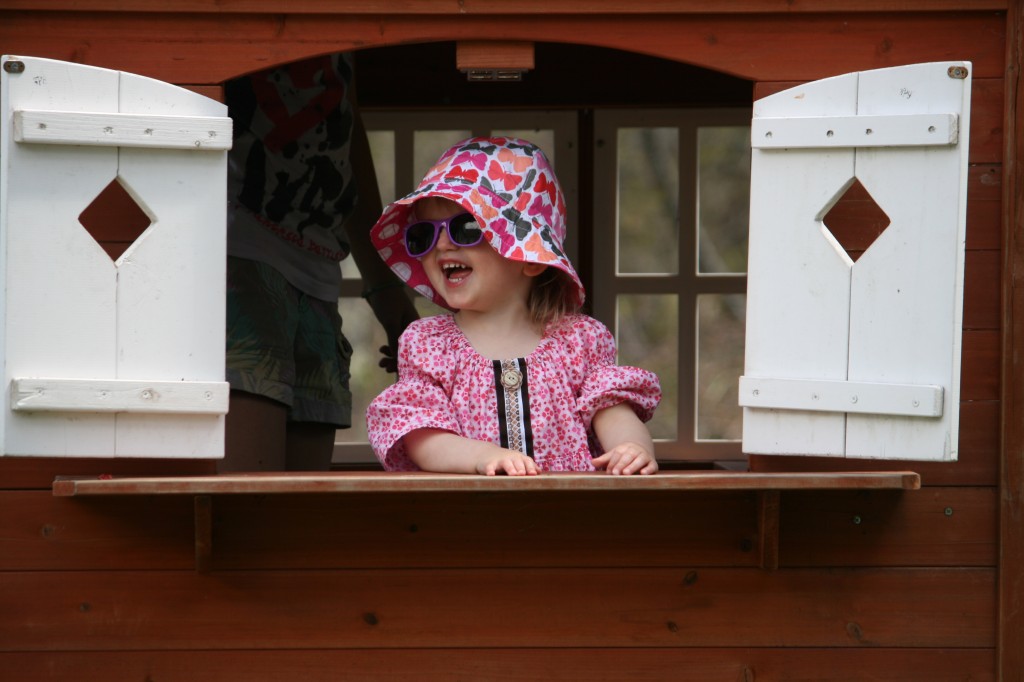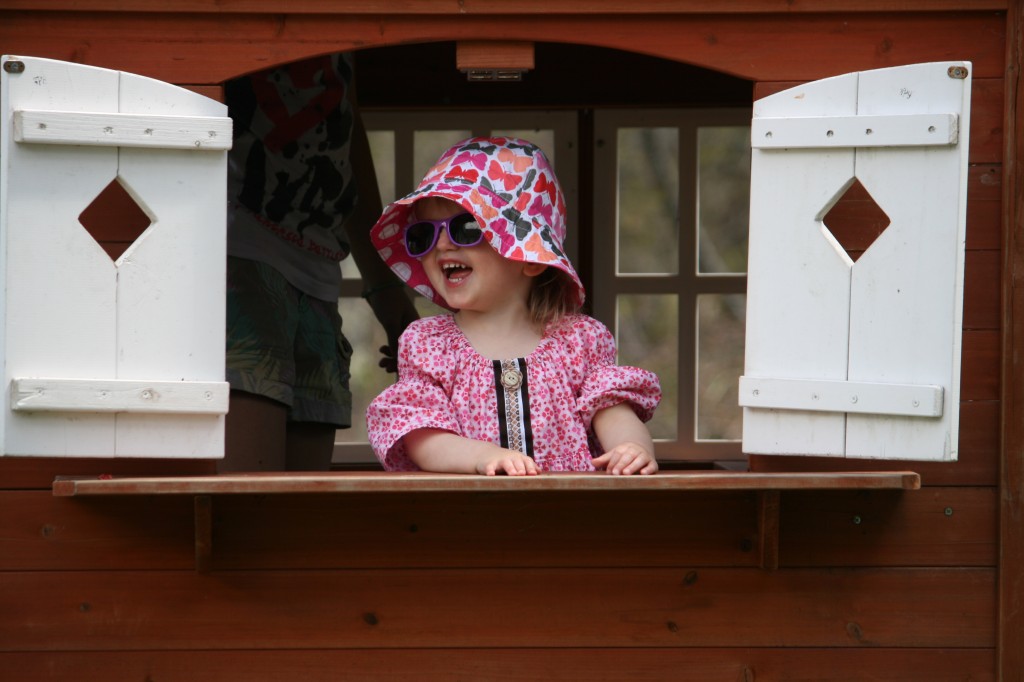 Chasing bubbles!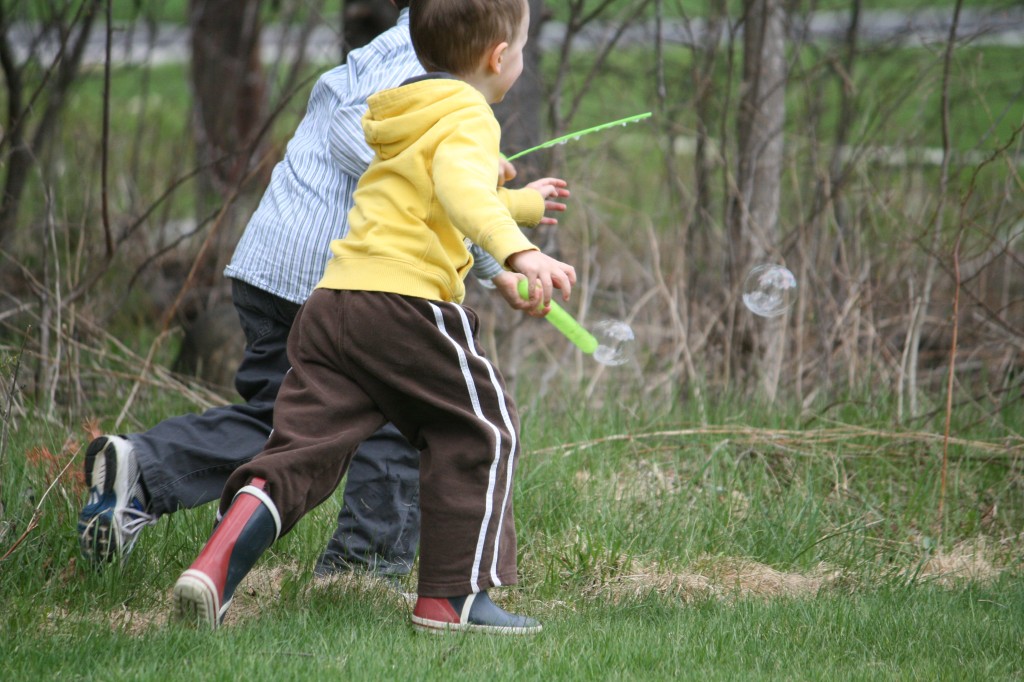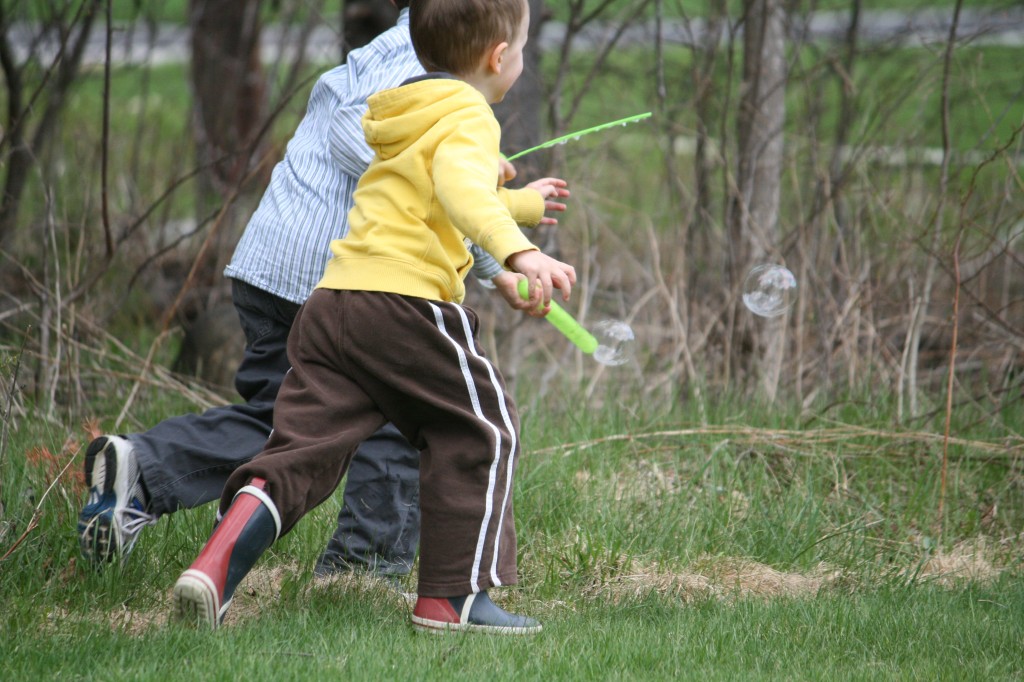 My silly boy