If this is your first time joining me for the Keeping It Real Challenge, click here to learn what it's all about.
I should have known it wouldn't be easy. I imagined calling the cable company, telling them we were cancelling our television subscription, and that would be that.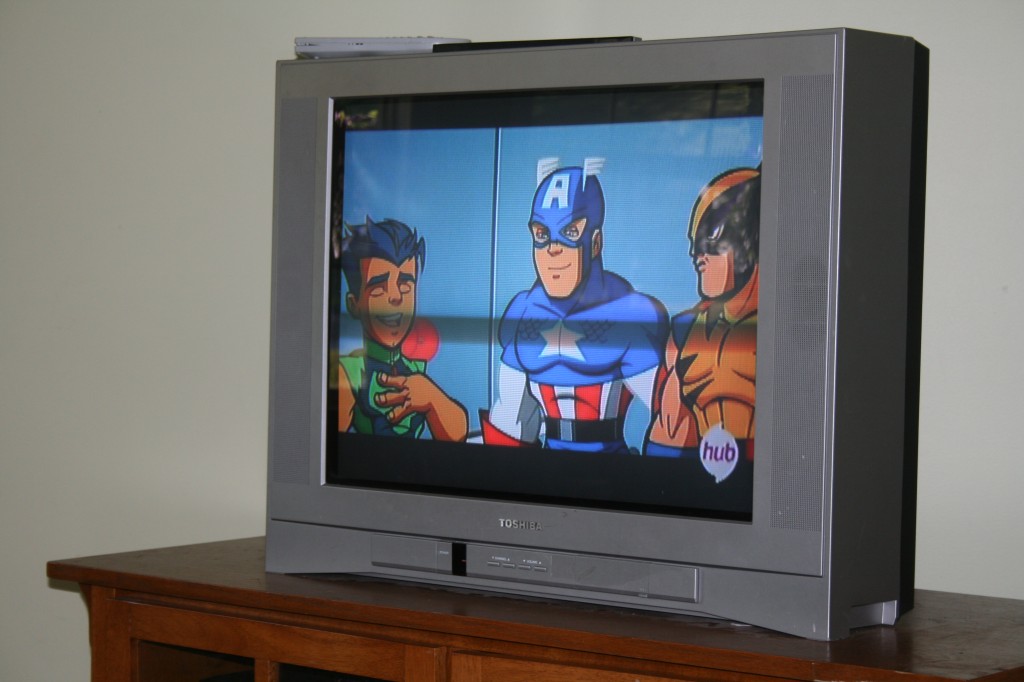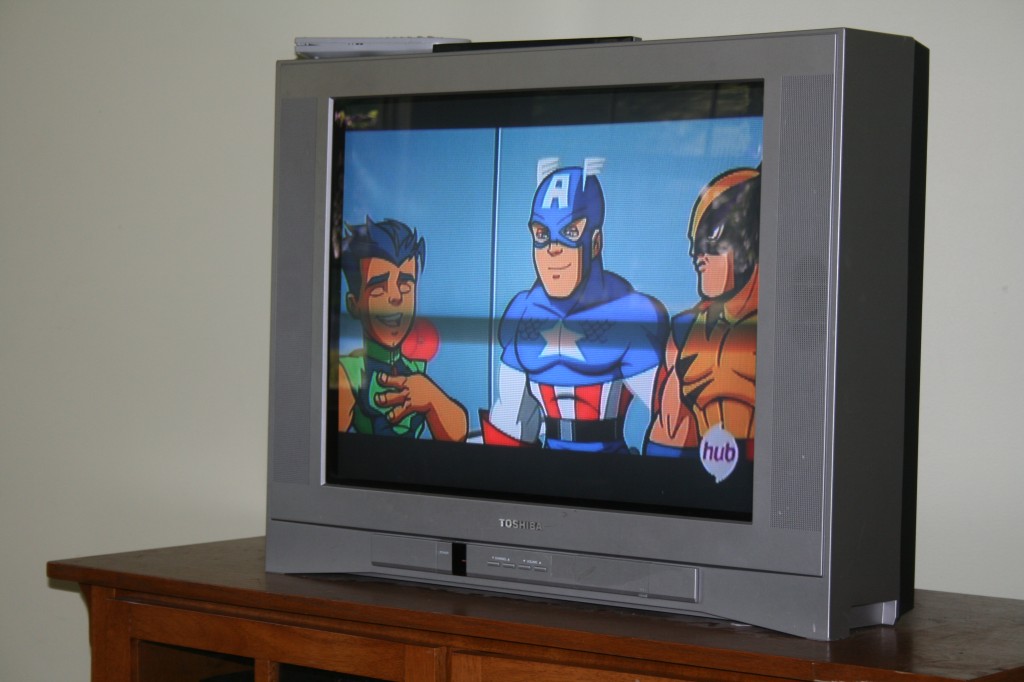 Since the approximately 19 bazillion phone calls I made all blend together into one high blood pressure inducing memory, I will recount them to you as if they all occurred at one time. The reality is that there were many calls over several days.
I dialed the company and listened to their automated options. One was for putting your account on a seasonal hold, so I chose that option.
"Hmm," said I, "maybe that would be easier. Please tell me more."
And the guy obliged. Apparently for $5 a month, you can put your account on hold.
"Soooo, I have to pay you to receive nothing?" I asked, cheapness oozing from every orifice, "No thank you, I'll just cancel, but please tell me how much we'll be paying each month for internet now."
"Just a moment."
I waited on hold for a minute and then a new guy answered. For every ten words he uttered, I could understand one. After 10 minutes of frustration on both our parts, we got disconnected. He may have hung up on me. I wouldn't have blamed him. In fact, I would have thanked him if given the opportunity. I redialed and prayed I'd get someone else.
Finally I was back where I'd left off with the first guy.
"Well, you'll be getting rid of your bundle, so the internet will now be $65 a month."
"Say what??"
"Yes because that's the unbundled price."
"So," I quickly checked the website for special promotions and said, "you want me to pay $65 a month for something I could get for $35 if I was a brand new customer."
"Well, you can only receive one discount at a time and you've already used your discount with the bundle."
"Well, I'm not going to pay $65 for something you're giving other people for $35. I'll have to cancel both TV AND internet and take my business elsewhere."
(Can I just pause for a moment here to tell you that I was pretty darn proud of myself for getting riled up and actually saying something? I'm typically a very non-confrontational person, so this was a big deal for me.)
"Just a moment, Mrs. Cormier."
'Woot!', I thought, 'He's gonna get back on the line and tell me they'll give us the internet for $35 a month and I'll call Eric and he'll be so proud of me for standing up for myself and I. Am. Unstoppable.'
"Okay Mrs. Cormier, I can take $8 off your bill and you'll get internet for the bargain price of $57 per month."
I deflated like a balloon with a slow leak, but stuck to my guns because although I may not be confrontational, I am ridiculously stubborn. "I can't do that," I told him, "I'm going to call some other internet providers and then I'll call you back to cancel."
So I called the one other internet provider in our area. The only speed they have available in our area is 3 mbps. We currently have 15. Since I'm about as tech-stupid as they come, I have no idea if 3 is enough for our needs. We don't do a lot of video streaming besides the occasional Youtube video. My biggest internet speed need is uploading pictures for blogging. So will 3 mbps be enough? I have no idea.
At this point, I was beyond frustrated. I really really just wanted to cancel the cable and be done with it, but I couldn't do that without canceling the internet and I couldn't do that without having a new one in place and I couldn't do that without knowing if 3 mbps would meet our needs.
The $5 a month seasonal hold fee was starting to sound good, so I called them back. "Tell me more about the seasonal hold. How about I put the TV on hold and keep the internet? How much would I be paying then?"
"You can't put one on hold and not the other. You have to put both on hold. And you don't actually lose your service during that time; it just becomes very basic. 20 channels and 2 mbps internet speed."
Since when is 20 channels considered basic?! I grew up with four channels. And I really don't want any TV at all. Not four and certainly not 20. On the other hand, 2 mbps is pretty close to 3 mbps, so $10 a month for that might not be such a bad plan. I can just unplug the television.
So this is where we are in the Summer of No Television plan: We still haven't made a decision. If anyone can tell me if I can get away with a 2 mbps internet speed for the next two months, I would really appreciate your help. I'd really really like to cancel entirely because I'm so irritated with the company, but we don't have a whole lot of options around here, and let's face it, I'll just be irritated with a new company the next time our introductory rate expires.
Luckily there was a silver lining to not yet having turned off the TV: On Wednesday I had a nasty migraine all day and I was pretty thankful to turn on that mind-numbing box and let the kids veg out all afternoon while I laid in the recliner.
And now the part of the post where I share pictures of our real, everyday life.
Samuel wanted to take a picture of me while we played a game in which I crawled around on all fours trying to peg him with a mini beach ball.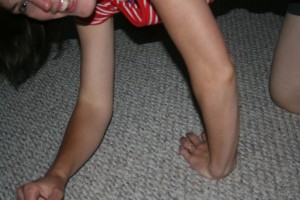 Sparklers! Oh how I love summer!!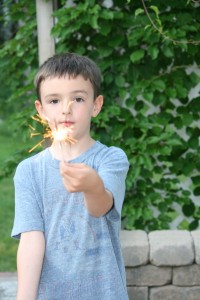 While I fought the cable guy, Samuel fought the sprinkler.
There is a picture of me at 10 months old sitting in this very toy box, so when Samuel pulled it out at my parents' house, we had to snap a picture.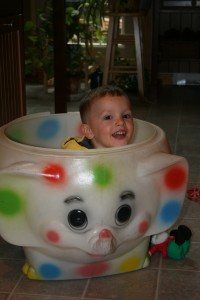 Have a great week and remember to keep it real!