If this is your first time joining me for the Keeping It Real Challenge, click here to find out what it's all about.
I'll just apologize for this one right from the start. I've realized that writing is the best way for me to work through events and sort out my feelings. Sometimes I get to the end of something I've written and think, "Hmm, I had no idea I thought that." So anyway, this is going to be one of those posts. I wish you a safe journey through my ramblings.
In the past couple of weeks I've had a few posts go 'big'. I'm not saying this to brag. I'm saying it because it's weird and exciting and has everything to do with what I'm going to say next.
Lots of views on my posts mean lots of comments on my posts. The majority of them are positive and uplifting. It amazes me that something I wrote can have an impact on people and even change the way they do something.
But then there are the not so positive comments. It's strange how one bad comment can outweigh a dozen good ones. How as much as I try to shrug it off, it still nibbles away at me.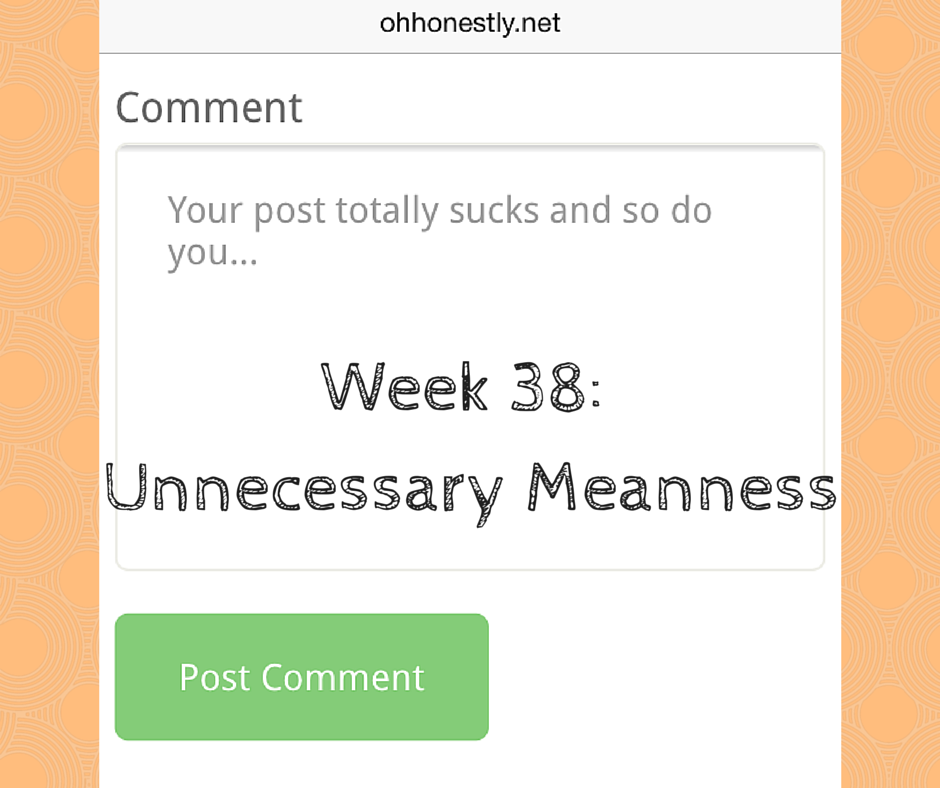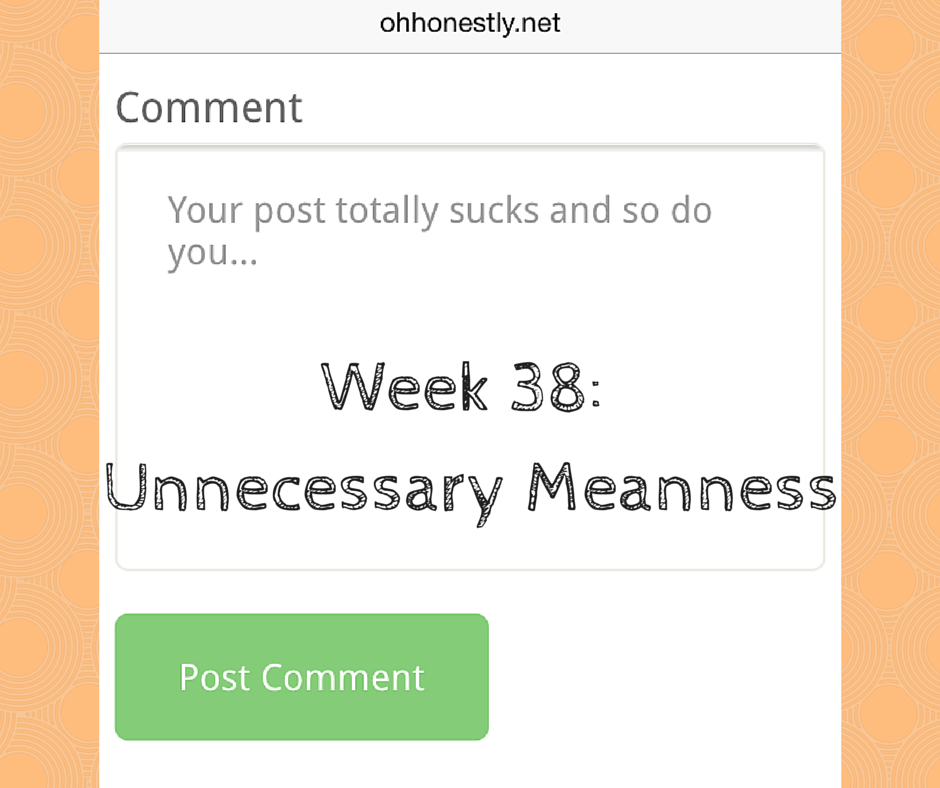 I've been brooding over the various comments that have come in and I think I can put them into several categories.
The Downright Mean Comments- Thankfully I haven't come across any of these yet. Actually, that's not true. There was that one guy a long time ago who said I was a crappy mother because I occasionally buy my kids fast food, but come on, really? My guess is that he doesn't have any kids of his own. These comments must come from miserable people who just want other people to feel as bad as they do. In fact, one of my favorite bloggers, Kristen from When at Home, made a funny video highlighting some of her hater's comments. One person actually told her she should kill herself. Can you imagine?? What is WRONG with people?!?! Thankfully, I haven't gotten anything close to that… yet.
The 'I Didn't Read the Article' Comments- It's pretty clear when someone only read the title or the first couple of sentences, decided they knew what the post was about (and that I was wrong), and spouted off with why I was wrong. For instance, when I wrote The Day My Son Gave Up On Me several people said, "Hellooo, just bring water up with you when you first bring the kids to bed, duh!" Umm, that had nothing to do with the post. People who don't read what I wrote, but act like they know what I was trying to say deserve to be ignored.
The Disrespectfully Disagree Comments- Look, you don't have to like what I wrote. In fact, it would be creepy if everyone agreed with me all the time. But you can at least be polite when you tell me why you think I'm wrong. Telling me I'm stupid doesn't really bring me around to your point of view.
The 'I Know Everything' Comments- These are the comments from people who have an opinion. About EVERYTHING. And since they know best about EVERYTHING, they have to share their wisdom with the world, one annoying comment at a time. Okay, I know I'm being kind of mean right now (see #1), but it really annoys me when someone acts like their way is THE way and is all condescending about it. Get off your high horse people. There's more than one way to skin a cat. (I dare someone to comment telling me that my writing is horrible because I use too many idioms).
The Completely Missed the Point Comments- Alright, these are the ones that bother me the most. I want to be understood. I want to convey my meaning in a way that everyone 'gets'. I know that this isn't possible, that there will always be people who totally miss the point, but it really bothers me when it happens, probably more than it should. Using The Day My Son Gave Up on Me as an example again, here's what I got a lot of:

"Oh great, another article to make me feel guilty." (Not at all what I was going for.)
"Kids always try to manipulate bedtime. Just set clear boundaries." (The point of the post actually had nothing to do with bedtime and believe it or not, my kids are pretty fantastic at bedtime.)
"Our kids can't dictate our lives. They're not the center of the universe." (That's funny… I said the EXACT same thing in the post. You must have skipped that line.)
"I need Me-time. It makes me a better mother." (I need Me-time too. Everyone needs Me-time. If you think I'm telling you to give up Me-time, then you didn't get it.)
I know I'm going to continue to get comments that irk me. I also know that my skin will get thicker over time. Honestly though, I hope it doesn't thicken up too much. Being sensitive allows me to be empathetic. Which means the next time I comment on someone else's writing, I'll make sure that whatever I say is is laced with kindness, even if I don't agree with them. And for the people who comment negatively to me? Well, maybe I'll use the same tactic and kill 'em with kindness. Because we can all use more kindness.
[Tweet "What to do to the haters? Kill 'em with kindness. @Oh_Honestly_LC"]
And now the part of the post where I share pictures of our real, everyday life.
I meant to post this gem last week. Annelise likes to keep chewed up food (grape skins, popcorn, etc.) in her mouth and then spit it out into my hand. Last week she came up to me while we were playing outside, grabbed my hand, and spit this nastiness into it. It was the leftovers from a cookie that she didn't swallow. Ugh.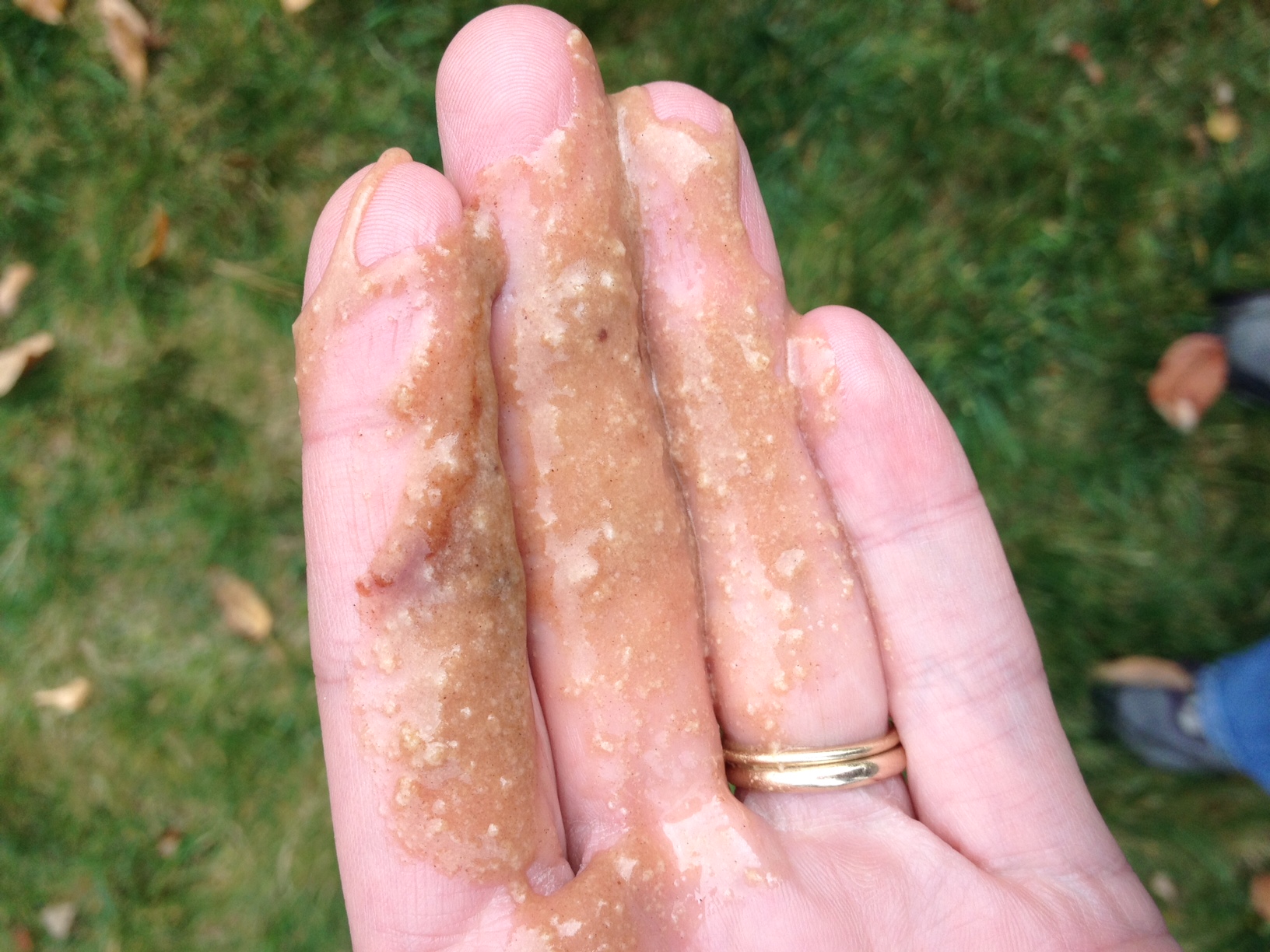 Annelise got her very first haircut this week. It was kind of traumatic… for me. She did great 😉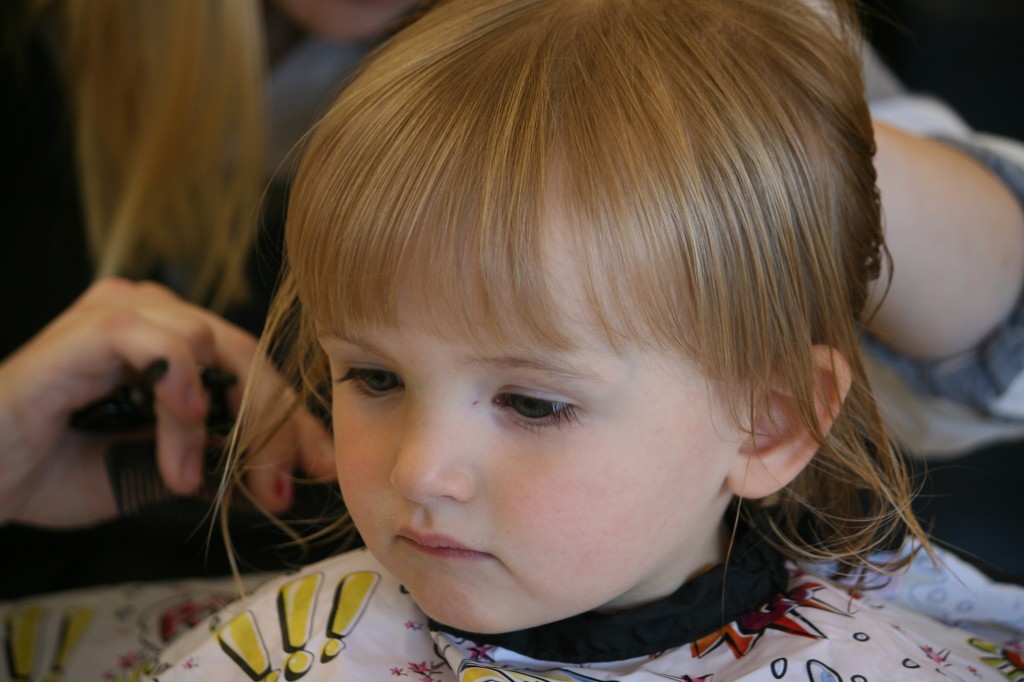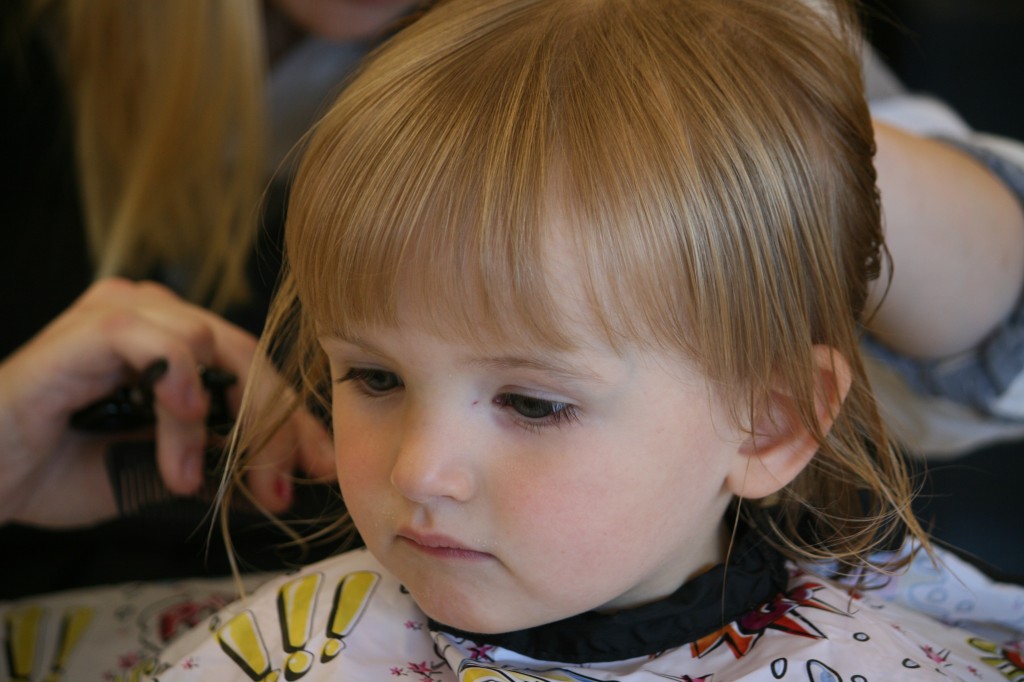 Have a great week and remember to keep it real!