On Friday night, Eric and I got to go out on a date. Dates are a rare occurrence. Rarer still is the fact that we spent part of the time Christmas shopping together. Guess how many times we've done that since we met. (Side note: Tomorrow, December 23rd, is the 10th anniversary of the day we met. Awww.) Zero. We never go Christmas shopping together. I do the bulk of it and if I need his help, he looks online or runs out after work.
We went into the mall and he commented on how busy it was. Here's a snippet of our actual conversation:
Him: "Wow, there are a ton of people here."
Me: "Well, it is the Friday before Christmas."
Him: "Yeah, exactly. It's Friday night. I figured everyone would be…"
Me: "Be…."
Him: "It's Friday. I figured everyone would be home."
Me: "……."
Me (trying to shake my speechlessness): "It's Friday. Night. Before Christmas. Normal people go out on Friday night. I bet you used to go out on Friday nights."
Him: "Oh. Yeah, I guess I did."
And that, Friends, is when I realized that hermits don't just grow bushy beards and live in the woods. Seriously. My husband forgot that people go out on the weekend.
Anyway, after we shopped, we went out to eat and chatted about some of the things we hope to accomplish next year. Although the subject of our kids came up indirectly, we didn't specifically talk about them the entire meal. It was kind of nice to know we still have things to talk about that don't involve our children.
(Also, we decided that if we were from Mexico, we would totally dance together like those two people in the background.)
After chatting about some of our mutual goals, we talked a little bit about my writing goals. Eric is big on setting goals and writing them down. I could just write them in a notebook somewhere that only I can see, but I think if I put them out there for everyone to see, it'll be easier for me to come back to them throughout 2015 and see if I'm staying focused. Plus if any of you feel like keeping me on task, go for it!
So here we go. I'm kinda nervous to be putting these out there for the world to see 'cause, you know, what if I fall flat on my face? It's okay though. A dose of humility is good for everyone now and then.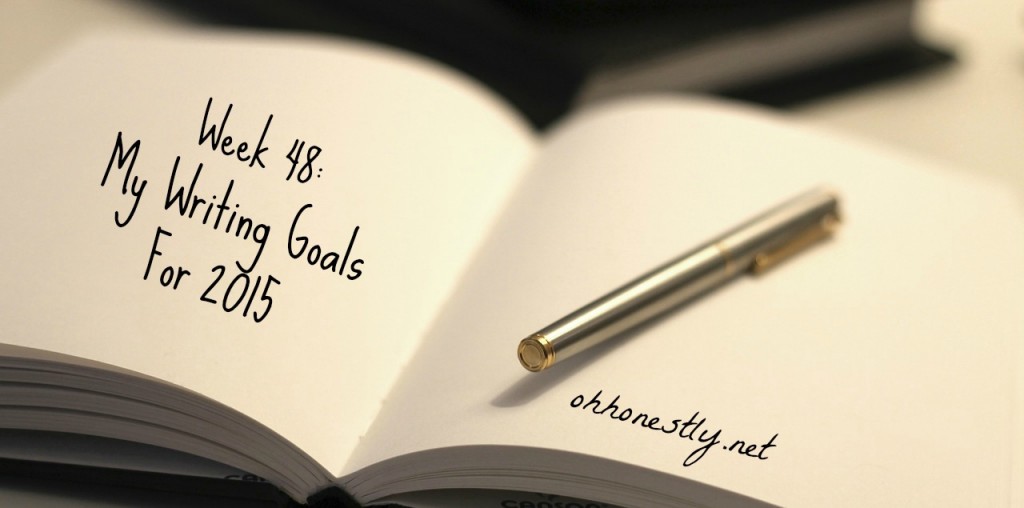 My Writing Goals for 2015
Writing Goals
Self-publish a book
Eek, I said it. I have the idea for the book; now it's just a matter of having enough content for it. Well, having enough content and the little matter of doing all the stuff that goes into publishing something. There will be a big learning curve with this one, since it's all totally new to me. I'd love to connect with people who have experience with this, so if you've self-published, introduce yourself!
Write for other websites/publications at least once a month
I got a really good start on this in 2014, writing for Mamapedia, Scary Mommy, Huffington Post, and more. Recently, Mamamia, iVillage Australia, and The Good Men Project all ran The Day My Son Gave Up on Me. I'd like to continue this trend, making it a priority to expand my portfolio each and every month in 2015.
Blogging Goals
Send out a weekly or biweekly newsletter
Right now everyone who subscribes to my mailing list receives an email each time I write a new post. I want to do away with that and instead send out an email newsletter every week or two, highlighting some of my new posts and also offering some subscriber-only extras. I'm already in the beginning stages of this goal and hope to kick it off early in the new year.
Increase the number of email subscribers to 1500
A fancy newsletter won't do anyone any good if no one receives it.
Honestly, I have no idea what a realistic number is to shoot for. Right now I have close to 1500 Facebook fans, but often times only about 200-300 see my Facebook posts. Since most of my blog traffic is referred from Facebook, this is problematic. I need a way for the people who enjoy reading my blog to actually know when I have posts to share. The best way to do that is through a newsletter.
If you enjoy reading the blog, I encourage you to sign up for my emails. I promise I won't spam you. Once the newsletter is set up, you'll only receive, at most, one email a week. (Until then, you'll receive an email each time I publish a post, which is usually three times a week. Hopefully these emails will only last for the next couple of weeks.)
Increase my Facebook fans to 7500
This one seems a little out there, but I want to dream big yet attainable. At the end of 2013 I had 320 people following my Facebook page. I now have 1458. That's an increase of 356%.
If I say I want to get to 5000 by the end of 2015, that's an increase of 243%. 7500 is an increase of 414%, which is high, but hey, go big or go home, right?
So that's where I'm heading. 2014 has been an amazing year and I can't wait to see where 2015 takes me. I hope you'll come along for the journey!
What are your goals for the new year?