If you're just joining me, please click here to find out what this is all about.
Samuel was supposed to start nursery school last fall. We sent Eli to a wonderful school when he was three and just assumed we would do the same with Samuel. However, when August rolled around it was clear that he wasn't quite ready to take the plunge, so we cancelled out.
Shortly after that, a friend suggested that we start a home school group. Since October, we've been meeting twice a week with three other kids. It has been the perfect way for Samuel to get some peer interaction within the safe confines of home.
A few weeks ago, that same friend told me about a nursery school program her daughter goes to at a local high school. It's only an hour, a couple of days a week.The spring session was starting soon, so we signed Samuel up.
Monday was his first day.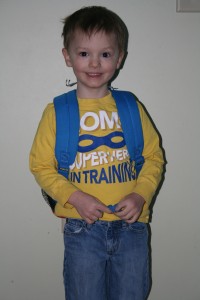 In true Samuel form, when I woke him up on Monday morning, he rolled over with a groan, "I don't want to go to school!" By the time I got him dressed and into the car he was a little more agreeable, but nervous. We got to the classroom and he wouldn't go through the door. Thankfully, the teacher made an instant connection with him and soon he was inside playing at the sand table. I was excited by how well things were going. And then I screwed it all up.
I decided it would be wise to bring him to the bathroom before I left. Annelise was happily digging in the sand, so we quickly went about our business. The toilet was a little high, so I decided to lift him up. Big mistake. Let's just say that our aim was off and his pants (and mine) ended up significantly wet. Everyone in the classroom probably heard my frantic cries of, "Stop peeing! Stop!!" I snuck out of the bathroom, grabbed his change of clothes, and got him all set to go. When we opened the door, the teacher was standing there with a bawling Annelise in her arms. Apparently, she suddenly noticed I was gone and freaked out a little.
Luckily Samuel's enthusiasm wasn't dampened like our pants and I managed to leave the room in one piece, albeit without my dignity. When I returned an hour later he was contentedly singing 'Five Little Ducks' with the group and he serenaded me the whole way home. He's looking forward to returning and I'll be sure to pack two extra sets of clothes next time… one for him and one for me.