"Why Am I Sticky?"
A Poem About Parenthood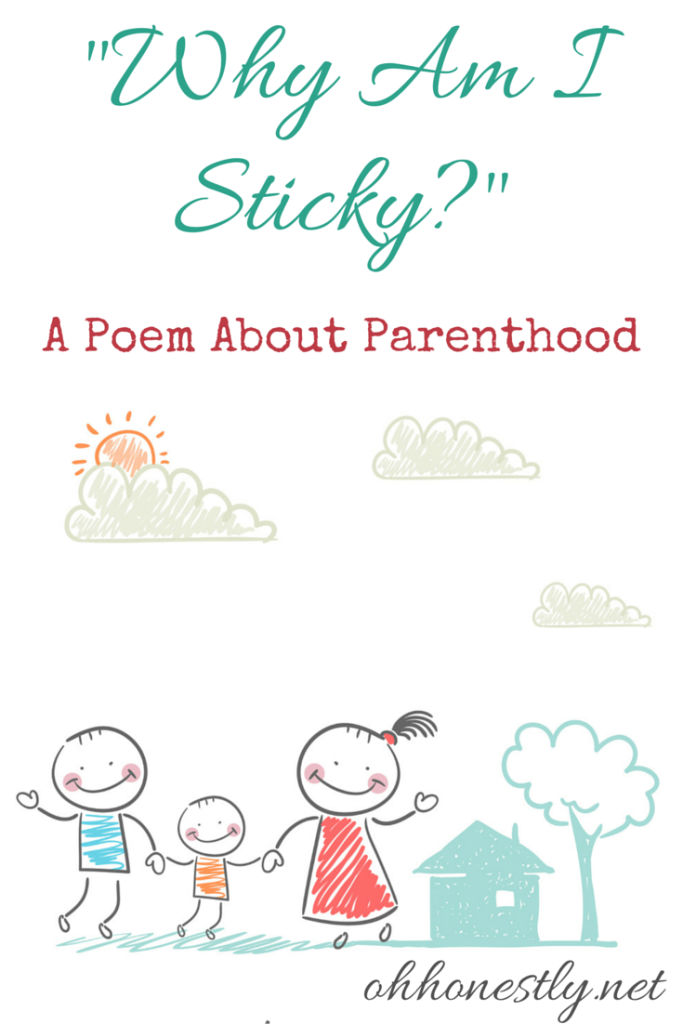 Our baby is here,
a sweet little boy.
He's tiny, my love bug,
our bundle of joy.
I feed him and burp him,
then lay him down.
"Why am I sticky?"
I ask with a frown.
Upon closer inspection,
I soon see why.
Dribbled milk's on my skin,
and now it is dry.
Who knew milk was sticky?
Surely not I!
Our boy is a toddler,
so active and fun.
He's talking and learning,
always on the run.
We give him some cuddles,
then tuck him in bed.
"Why am I sticky?"
I ask in my head.
My pants hold the secret,
with oatmeal encrusted.
I ran errands like this!
I'm completely disgusted.
Parenting is tough!
Will I ever get adjusted?
Preschool has started,
where has the time gone?
He shows me a picture,
our family he's drawn.
I smile at him,
he gives me a hug.
"Why am I sticky?"
I ask with a shrug.
My hair is all knotted,
as I run fingers through.
His hands hold the answer,
they're covered in glue.
I'll shower tomorrow
and be good as new.
He's at school all day now,
We cherish the nights.
Our time spent together,
though sometimes there's fights.
Once he's in bed,
we clean up downstairs.
"Why am I sticky?"
I ask without care.
Within several moments,
the answer's deduced.
All over the counter
is sticky, spilled juice.
He didn't clean up,
I await his excuse.
Our boy left for college,
we miss him like mad.
The days are so quiet,
the nighttime so sad.
I live for his phone calls,
his short visits home.
"Why aren't I sticky?"
I ask with a moan.
I laugh at the irony,
but my, how it's true!
I want to be sticky
and covered in goo.
So smile at the messes, parents!
Too soon they'll be through.