When I think back to the defining movies of my childhood, Home Alone stands at the front of the pack (it's in a dead heat with The Little Mermaid, but they both have pretty killer soundtracks so I can't pick a favorite).
I don't know how many times I watched it as a kid, but I do remember quoting entire scenes with my cousin and laughing like a maniac when Kevin politely says "Hello" before shooting Marv in the forehead with a BB gun.
via GIPHY
The movie came out when I was 8 years old and since my son is closing in on his eighth birthday, I've been thinking this might be the year to let him watch it. I know there are a few scenes that I don't especially want him to see (like when Buzz tells Kevin he wouldn't let him sleep in his room if he was growing… well, you know the line), but that got me thinking:
What else will I see through different eyes now that I'm a parent?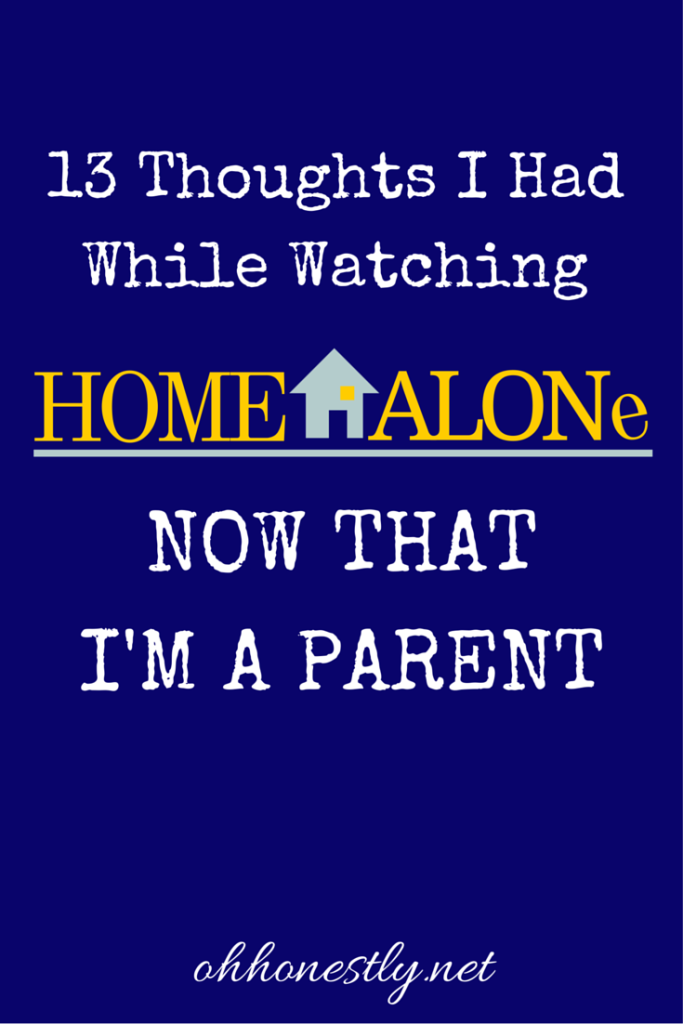 After re-watching the movie (without my seven year old), here's what I came up with.
13 Thoughts I Had While Watching Home Alone Now That I'm a Parent
1. What do they do for work??
This is the same question I have when I watch House Hunters and the people have a budget of over a million dollars.
via GIPHY
The McAllisters have a huge gorgeous house full of beautiful expensive stuff. They wear nice clothes, have a bunch of kids (how many actually belong to them? I think there's four, but I could be wrong), and go on big vacations. (Granted, the brother in Paris is footing the bill for this one, but that just makes me wonder what he does for work).
Clearly none of them are making minimum wage. So what do they do??
2. What a mouthy little brat.
via GIPHY
The way Kevin talks to his mom makes me want to grab a bar of soap for his mouth and ban him from electronics for the rest of his life (too bad all there is to take away is TV and the original Nintendo).
That said…
3. If my brother-in-law talked to my kid the way Uncle Frank talks to Kevin, it would be ON.
"Look what you did, you little jerk."
Kevin isn't the only jerk, Frankie.
I have no problem with another adult correcting my children when they're wrong, but if they treat them like that, Mama Bear is going to make an appearance.
4. A house with 11 kids in it and they ALL sleep 'til after 8:00? I call BS.
Seriously, this might be the most far-fetched thing in the whole movie. Which is saying A LOT.
5. What's with the dad?
If we were on another continent, our eight year old was home alone, and no one could get in contact with him, my husband would be doing more than saying, "You're tired, Honey. Let's head over to my brother's house and we'll get this all sorted out later."
I get that he's the calm, cool, and collected one, but really?
6. Kevin freaks out about packing a suitcase, yet easily rigs up the party scene to fool the burglars?
Also, why the heck do they have all those mannequins? Creeeeepy!
7. On second thought, maybe I just don't expect enough from my kids.
Kevin keeps himself clean, makes his own meals, does the laundry, goes shopping, and is a booby trapping genius. Maybe asking my kids to sweep the floor isn't such a stretch after all.
8. Clearly, Marv does not have kids.
If he did, he'd be used to stepping on Legos and those ornaments would be nothing.
via GIPHY
9. I wonder how many kids have ended up in the ER (or worse) after trying these stunts.
Blow torches to the head, irons to the face, burning hot doorknobs to the hand, yet somehow those two bandits keep on keepin' on.
I'm sure most kids are smart enough to realize how far fetched the movie is, but I bet there have been a few who ended up with serious injuries because they thought a paint bucket to the face wouldn't do too much damage.
via GIPHY
10. Add 'Tarantula' to my list of banned house pets.
via GIPHY
11. How is the house so clean the next day?
He totally trashes the house while defeating the bad guys and then… stays up all night cleaning the mess?
12. Awwwww!
This part always got me as a kid too, but now that I'm a mom it turns me into a big pile of mush.
via GIPHY
13. Even after 25 years, this movie is comedic gold.
I may not be 8 years old anymore, but I still laughed my way through the whole thing. And that scene with Kevin, Marv, and the BB gun is still one of my all-time favorites.
Merry Christmas (you filthy animals)!