We were minutes away from the beach when the fog began to roll in.
"Uh-oh!" I said to the kids, "It might not be the best day to play in the ocean. I hope the fog doesn't stick around long."
My three year old piped up from the back seat. "I know what to do! Mickey called Toodles and they got a giant fan to blow the fog away! Let's call Toodles!"
Outwardly I smiled at her recollection, while inwardly I cursed Mickey Mouse and his ragtag team of rodents. Once again he had set my daughter up for failure. She was sold a package of dreams that her mommy now had to crush beneath the heel of reality: "Sorry honey, but Toodles ain't comin' with no stinkin' fan."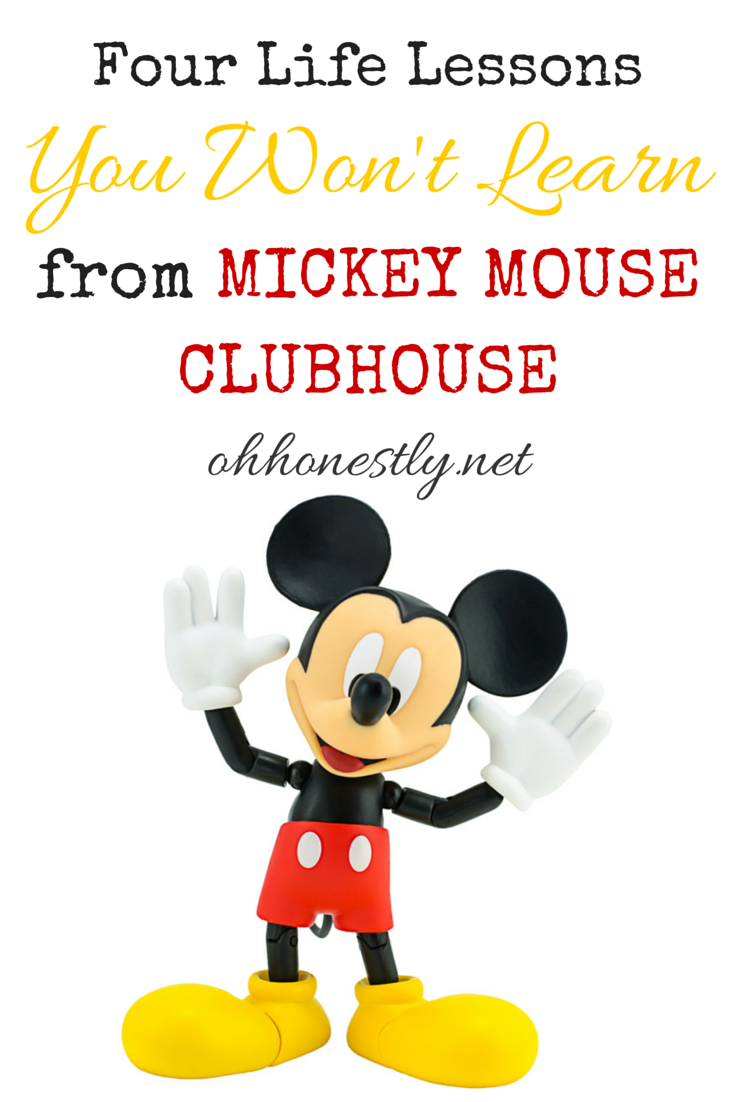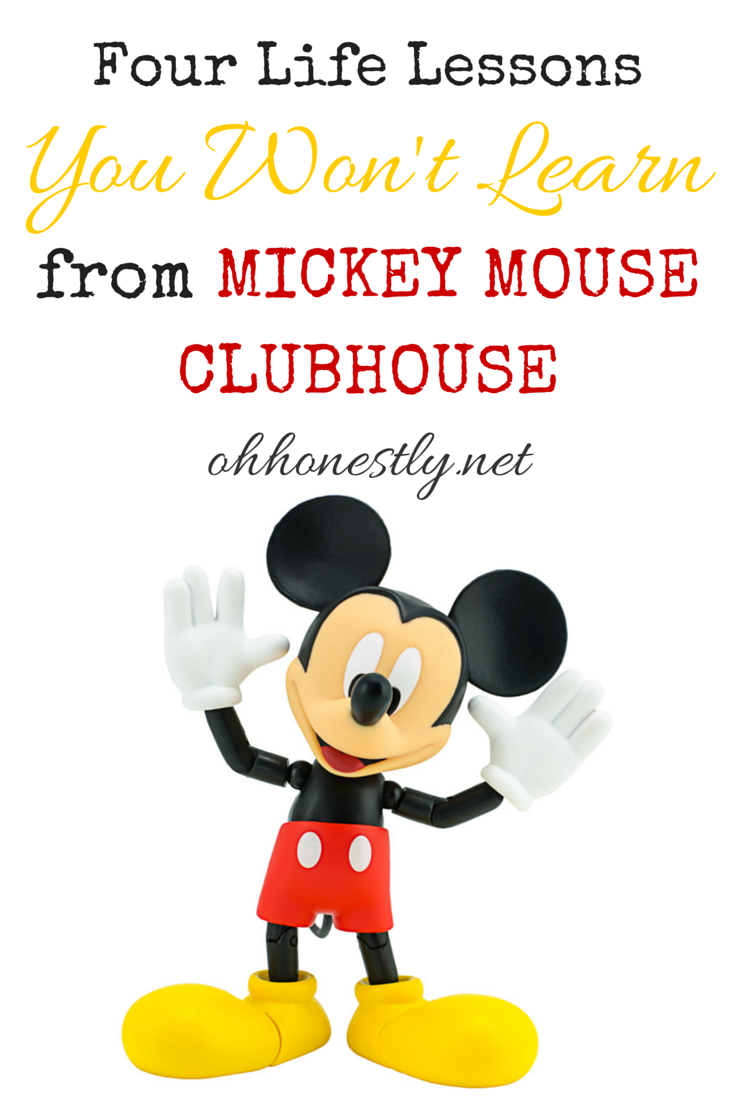 Four Life Lessons You Won't Learn From Mickey Mouse Clubhouse
Do you think Mickey Mouse Clubhouse is a fun educational show? No, it is not. It is a show that crafts dangerous lies for your children to fall for only to enter adulthood ill-prepared for the realities of life.
Don't believe me? Think about the following four life lessons our children need to learn and how Mickey Mouse Clubhouse teaches directly the opposite.
1. Stranger Danger
The lies begin from the opening line. A smiling, half-dressed mouse walks jauntily towards your child and says in a friendly voice, "Hey everybody! It's me, Mickey Mouse! Say, you wanna come inside my clubhouse?"
Clearly he's expecting your innocent, wide eyed toddler to shout a resounding, "YES!" and follow him wherever he takes her, whether it be to the clubhouse or his van with no windows.
Next time you're teaching your child to never go someplace with a stranger, you may want to remind her that just because someone tells you his name, has big, cute ears, and giant clown shoes doesn't mean he's not a stranger.
2. You Won't Always Get Rewarded for Trying
We can't place all the blame on Mickey for this one because our culture has been teaching the 'self-esteem is king' lie for quite some time, but he definitely loses points for perpetuating this myth.
Sure it would be nice if everyone got a prize for trying their hardest, but let's face it, when you grow up that's just not how it goes. A company has one position to fill and they're sure as heck not going to hire every applicant so no one gets his delicate feelings hurt.
Would Goofy have felt bad about losing the Road Rally and not getting a prize? Probably. But it would have taught him an important lesson about losing gracefully and getting back on his feet to practice practice practice so he could beat the pants off Mickey the next time. Hey, you may not like it, but that's life baby.
3. Anything you'll ever need is just a shout away
I mentioned this in the intro, but it bears repeating. Life would be grand if we all had a Toodles at our beck and call.
Sink sprung a leak? No problem. Toodles will bring us a new gasket and we'll fix it up lickety-split.
Vacation is being ruined by bad weather? Don't worry. Toodles will bring us a giant vacuum to suck up the clouds and bring on the sunshine.
Feel like checking out the surface of Mars (because who doesn't)? Good thing Toodles has those super-springy boots for us. We can jump right up there and eat a yum blat or two before heading back to Earth.
Sadly, none of us, not even the ultra-rich, will ever have the happiness provided by the instant gratification Toodles provides. Perhaps even more sad is how Mickey Mouse Clubhouse blatantly disregards any lessons about patience and hard work we may want to instill in our children.
4. Sometimes we need to exercise tough love
As in every good story, each Mickey Mouse Clubhouse special has an antagonist. The strange thing is that the antagonist is always the same person… er, cat. Pete the Cat is always the bad guy. Always. That's not the disturbing part though.
The disturbing part is that at the end of every special Pete begs forgiveness. He gives some sob story about how misunderstood he is and Mickey and the gang fall for it every single time.
"Sure Pete, come back to us. We'll be your friends. We know you've changed and will never try to sabotage us ever again."
Look, I'm all for second chances. I'm all for forgiveness, even if the person doesn't necessarily deserve it. But when you've repeatedly proven yourself to be untrustworthy, you can bet your boots that I won't be welcoming you back into my life with open arms. Hopefully my kids can learn to distinguish true repentance from the 'I'm just trying to weasel my way out of trouble' repentance.
And hopefully they don't decide that Pete's gig is actually pretty sweet. If you find your child repeatedly acting up and being shocked when you levy a consequence, go ahead and thank Mickey Mouse Clubhouse. And then make sure she knows that while you'll always love and forgive her, you won't let her get away with bad behavior scot-free.
Sure, Mickey Mouse Clubhouse is fun. It's cute. It teaches your kid how to count and identify letters. But if you're looking for a show to teach your child the broader lessons in life, maybe you should stick to something different… like Cops.
If you enjoyed this post, you probably share my slightly snarky sense of humor. Join me on Facebook for more!