I know, the title is a little harsh. I have a reason for it though!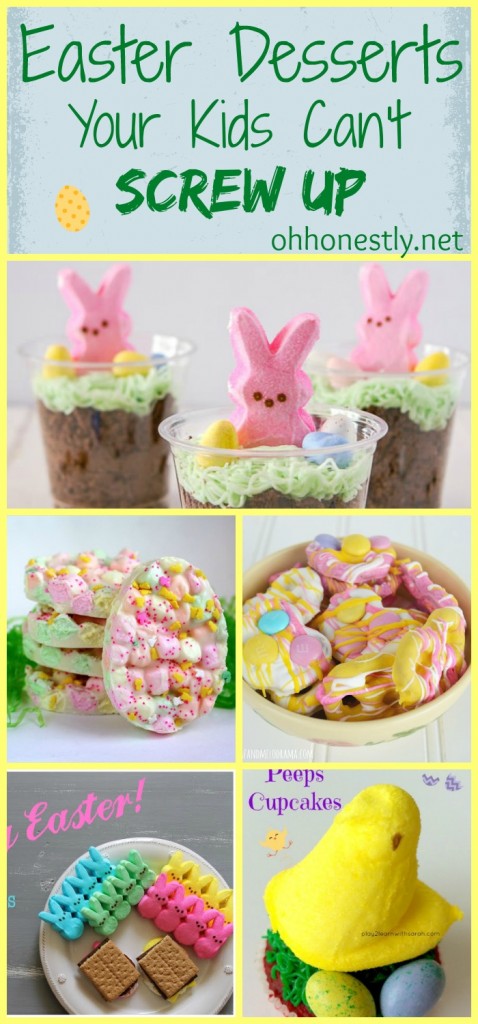 Last year, just before Easter, I wrote a post entitled Our Cookies Look Like Crap and They're Absolutely Perfect. You should go read it, but the gist was that when you get your kids to help decorate, the results don't always turn out like the Pinterest pictures. And by 'don't always', I mean 'almost never'. Like maaaaybe .00000001% of the time.
My point was that we need to lower our expectations. We're doing these things with our kids for the memories, not for everyone to think we're Martha Stewart.
But this year, I was reflecting on that post and suddenly it dawned on me that there were probably some Easter desserts out there that the kids could make that would still look awesome. So I ran off to Pinterest and sure enough, I found some recipes that are both cute and kid-friendly. What a killer combination!
Now, saying that your kids can't screw these desserts up might be a bit of an overstatement. They could put the bunnies upside down or squeeze that frosting grass all over everything, but they'd really have to put some effort into it. For the most part, getting your kids to help you make these desserts will not only make memories, but also have you looking like the domestic diva you've always dreamed of being. Or at the very least, not the hot mess you usually feel like.
Without further ado, I present to you Easter Desserts That Your Kids Can't Screw Up. Click the title above each picture for the recipes.

You may also like:
Lucky Charms Munch from Deliciously Sprinkled
Tie Dye Cake from Handmade Charlotte
Trix Krispies from Cravings of a Lunatic
Rainbow Bars from Bloom Designs
Find all these recipes, plus more great recipes, crafts, and decor ideas on my Easter Pinterest board!
Follow Oh, Honestly! 's board Easter on Pinterest.
What's your favorite Easter treat?