For most things in life, experience is the best teacher. We won't truly learn how to do something until we, well, do it. Even so, there are things about certain experiences I would have liked to have known ahead of time. Things that would have, at the very least, mentally prepared me for what was to come. Things that, for some reason, the books usually leave out.
I've already written about the things I wish I had known before I had my second child and before I had my third child, and since those posts are two of my most popular, I'm going to continue the series.
My third installment is: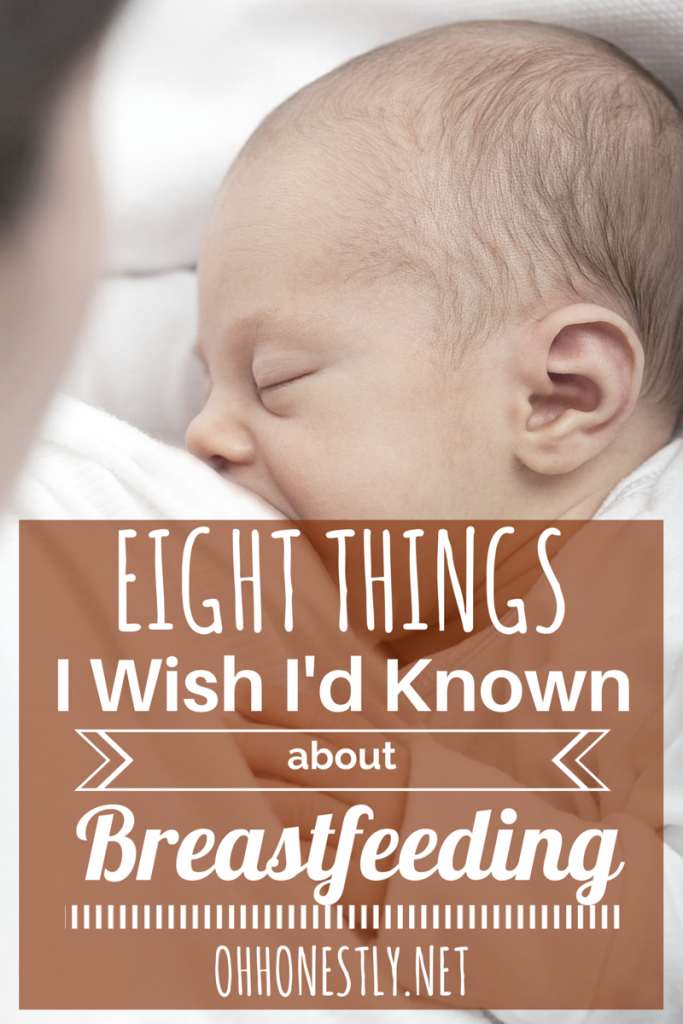 Eight Things I Wish I'd Known About Breastfeeding
Before I begin, a tiny disclaimer: I am not a breastfeeding expert. Everyone will have a different experience and I am sharing what I learned from my experiences with my three children.
Also, I have breastfed and formula fed and I have no desire to get into a debate about the best way to feed your child. If you love and care for your baby, you're an amazing mom. End of story.
Disclosure: This post contains an affiliate link. If you make a purchase (at no extra cost to you) I'll receive a small commission. Thank you!
1. Natural Isn't the Same Thing as Easy
If you only read one point in this post, read this one. We've all heard someone say, "She's a natural artist," or "Algebra comes naturally to her." The implication is that something that is natural is easy; that it doesn't take much work to 'get it'.
What could be more natural than breastfeeding? Not much, but please hear me loud and clear: Just because breastfeeding is natural does not mean it will come easily!
Maybe you'll be one of the lucky ones and it will. My oldest caught on quickly to the whole thing and we had a pretty seamless transition.
Then I had my second child and WOW, it was a struggle!!! I'd spend at least half an hour just trying to get him latched (while he screamed the whole time) only to have him let go after three sucks and we'd have to start the process all over again. This went on for three or four weeks before we really got it down.
The Take Away: It might be hard and that is 100% normal. Don't give up! It could take a few weeks before it "feels" natural.
[Tweet "Just bc breastfeeding is natural doesn't mean it will come easily! @Oh_Honestly_LC"]
2. It Hurts at First
Imagine putting a damp suction cup on a fresh sunburn. Now imagine attaching a pulsating vacuum to the suction cup. Now imagine doing that for thirty minutes every two hours. Guess what? It hurts. A ton. Maybe not the first day or two, but by day three, feeding your baby is kind of a nightmare. The good news is that it only lasts a week or two before your skin 'toughens up' and the pain goes away.
I tell you this because you've probably heard that if it hurts, you're doing it wrong. LIES! Well, sort of. It's true that if the baby latches incorrectly, it will hurt and you should readjust. However, to a mom who is new to breastfeeding, it's pretty hard to tell the difference between the pain of a bad latch and the pain of sensitive skin.
The Take Away: Pain doesn't necessarily mean that you're doing it wrong. It'll definitely hurt at first. Lansinoh and walking around topless to air things out are your friends. (Use discretion with that second one 😉 )
3. It Might Take a While for Your Milk to Come In
When I had my first baby, my milk didn't come in for four or five days. It's easy to start worrying that your tiny baby is going to starve to death, but somehow the colostrum manages to sustain them until the good stuff arrives.
(Also, if you're worried that you won't know whether your milk has come in or not, let me assure you; there's no mistaking it.)
The Take Away: Obviously you need to keep an eye on how the baby is doing, but don't worry if it takes a few days; that's normal. More good news: With each successive baby, it'll happen a little sooner.
4. The First Time Your Baby Sleeps Through the Night is a Mixed Blessing
It's the holy grail of parenthood: Your child sleeping through the night. My kids all started sleeping through by the time they were six weeks old (yes, you can hate me now) and for each of them, it was the same thing:
I'd wake up around 4 am in amazement, "Oh my goodness, they've been asleep since I put them to bed last night!" The amazement would quickly turn to disgust, "Oh my goodness, I'm soaking wet and extremely uncomfortable." Then came the mental debate, "Do I pump or do I wait for them to wake up? If I pump, they'll probably wake up two seconds after I'm done and then I won't have much left to give them. If I don't pump, they'll probably sleep for another two hours and I'll explode.
The Take Away: If your baby starts to sleep through the night while you're still exclusively breastfeeding, don't be surprised if you want them to wake up!
5. It Can Feel Confining
A baby needs to eat every two to three hours on average. If you are the sole source of food for that little one, even if you pump, there are moments when you'll feel tied down. Everything (everything!) must be planned around a feeding schedule. Sometimes you'll feel like your entire life is measured in two hour increments.
Want to run errands by yourself? If you feed the baby at this time, you'll have this amount of time to be out before you need to be back to nurse. Cooking dinner? Make sure the baby won't be hungry halfway through. It would be a shame to burn that dish you love.
The Take Away: Just like the huge adjustment of becoming a parent, breastfeeding takes time to adjust to as well. When you're used to doing things on your own schedule, breastfeeding can be a bit of a shock. Take time away if you need it (pumping definitely helps with this!) and remember that this is only for a short season.
6. It's Awesome for Introverts
Breastfeeding gives you a rock solid excuse to go hide for 20 minutes during social gatherings, even if those gatherings are at your own house. Someone will say, "Hey, where did (your name) go?" And someone else will say, "She's feeding the baby." And the first person will say, "Oh okay, great!"
No one will think you're antisocial, no one (except maybe your husband or closest friends or relatives) will disturb you, and you'll get a few minutes of peace and quiet to recharge.
The Take Away: Enjoy these moments!! Don't feel guilty for hiding away and certainly don't feel guilty for enjoying it. It's good for everyone if the introverted mom has the time she needs to refresh. Plus, that one on one time with your little one is pretty darn special!
7. It Doesn't Always Go the Way You Planned
I wish I didn't have to include this one, but it's important to know. It's easy to get a plan in our heads of how things will go and not consider any alternatives. Unfortunately, real life doesn't always follow our plans.
In my case, two of my kids ended up being sensitive (and in one case, having allergies) to some of the foods I was eating. I cut out food group after food group until finally I had to make the difficult decision to switch to formula. It was one of the hardest things I've ever done and for a long time, I felt like a failure.
There are other things that might throw a wrench in the works. Maybe your milk doesn't come in or your baby is tongue-tied or you end up with an illness. Please don't misunderstand: I'm not saying these things mean you can't continue to breastfeed. I'm just saying that you should expect the unexpected.
The Take Away: If you're prepared for things to not go the way you want, it will help you cope and make decisions with a clearer head. When you're completely thrown for a loop, it's tough to decide what to do in the midst of the emotions. Regardless of what happens, hear this: YOU ARE NOT A FAILURE!
8. Your Boobs Will Never be the Same
I'll end on a depressing note. It's true. They'll never be the same. I can't tell you what will happen because it varies from woman to woman. Some have said theirs got bigger when they were done breastfeeding. Some get smaller. Some disappear entirely. Some get droopy.
The Take Away: Change is inevitable. Prepare yourself for it now and it will be less of a shock later.
Did I miss anything? Tell me in the comments!
 
Lauren is a wife, mom of three, and the writer behind Oh, Honestly. She loves to share the real life joys and trials of motherhood so other moms will know they're not alone. She is also the author of The Words Your Kids Need: The Value of Writing to Your Children and How to Do It With Ease.