I grew up with a pool. It wasn't private (my family owned a campground and our house was on the property), but it was a pool nonetheless, and one that sat only a couple of hundred feet from my home.
I used to watch my older sister do dives and back dives and the dives where you stand backwards but push off enough to dive in straight.
And then there was me.
I'd don my nose plugs, walk carefully to the end of the diving board, and jump in feet first, straight and tall: The pencil dive.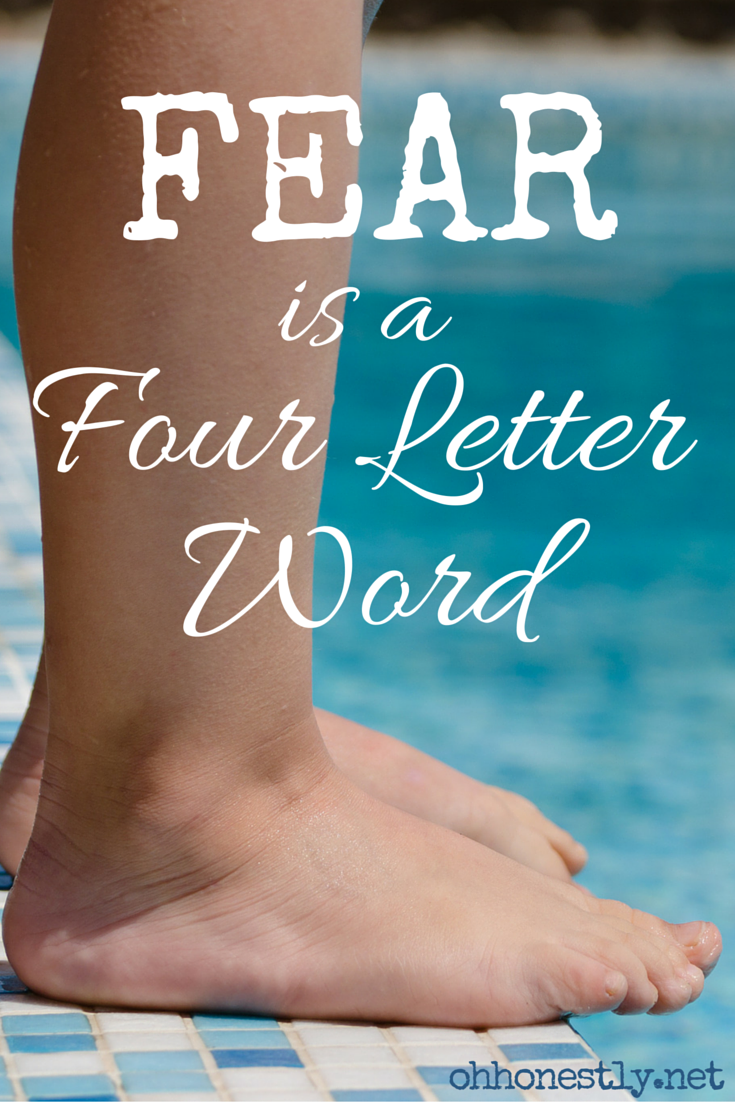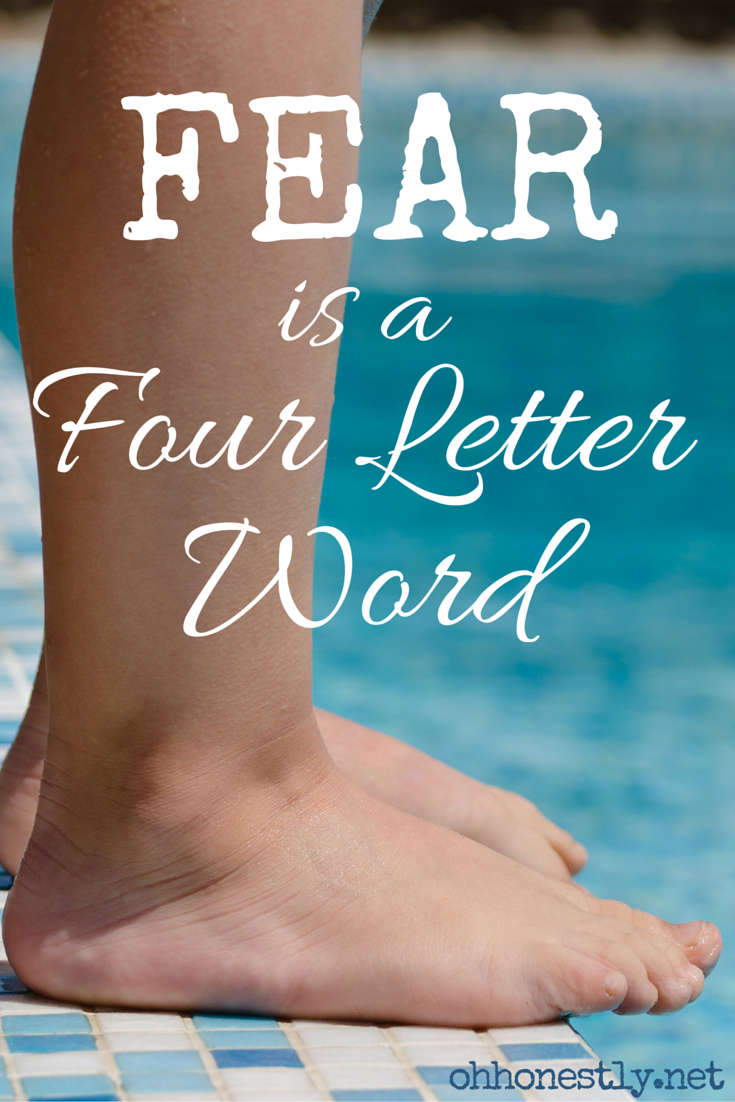 Fear Is a Four Letter Word
It wasn't that I didn't want to know how to dive. I did. I wanted to so bad.
My sister would spend day after day with me, squatting on the rough edge of the pool, showing me how to hold my arms over my head and lean in. Every once in a while I'd manage to make it into the water, but most of the time I'd just kneel there, arms at the ready, never making that final push.
The reason was simple.
I was afraid.
Of what, I'm not really sure. I could swim, so I knew I wouldn't drown. Looking back, I remember thinking that even in my hunched-over position, the distance from my head to the water was a long one. If I belly-flopped it would hurt. What if I looked stupid doing it?
It's easy to realize how foolish those excuses are now. Even so, if you put me on the edge of a pool today, I bet I'd feel exactly the same way. I bet I'd kneel and dawdle, change positions and falter before coming up with a reason why today just isn't the day.
I never learned to dive. I let my fear win.
I read something yesterday that I haven't been able to shake. Someone on Reddit asked people to name something someone said to them that changed the way they think. This was the one I can't get out of my head:
I was 13 years old, trying to teach my 6 year old sister how to dive into a swimming pool from the side of the pool. We were at a big, public pool, and nearby there was a woman, about 75 years old, slowly swimming laps. Finally she swam over to us just when I was really putting the pressure on, trying to get my sister to try the dive, and my sister was shouting, "but I'm afraid!! I'm so afraid!!" The old woman looked at my sister, raised her fist defiantly in the air and said, "So be afraid! And then do it anyway!"
How many things have I not done because of fear? How many opportunities have I passed up because of fear? How many times have I let FEAR win?
Be afraid, then do it anyway.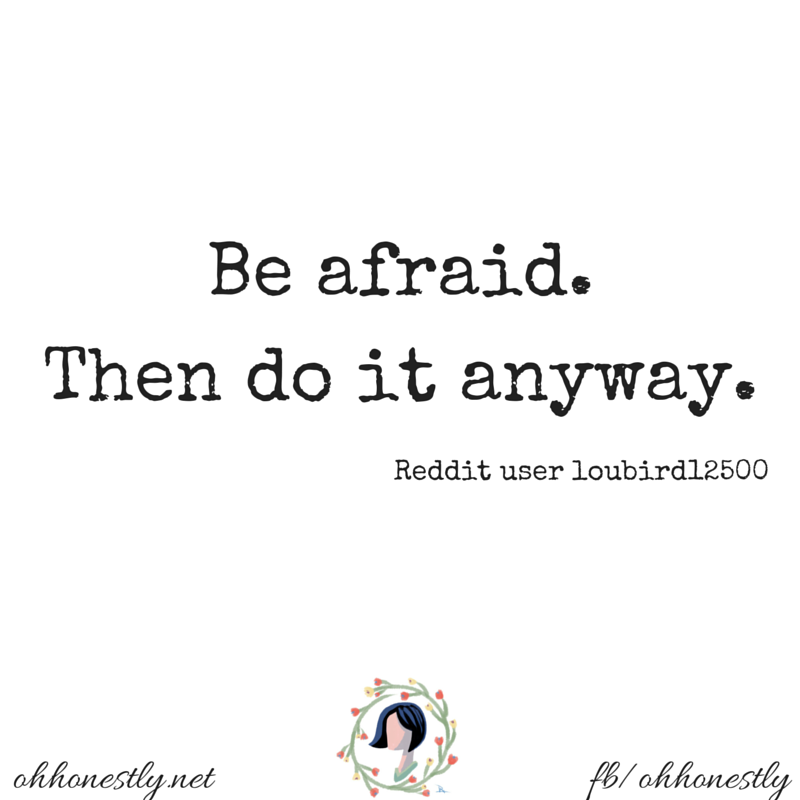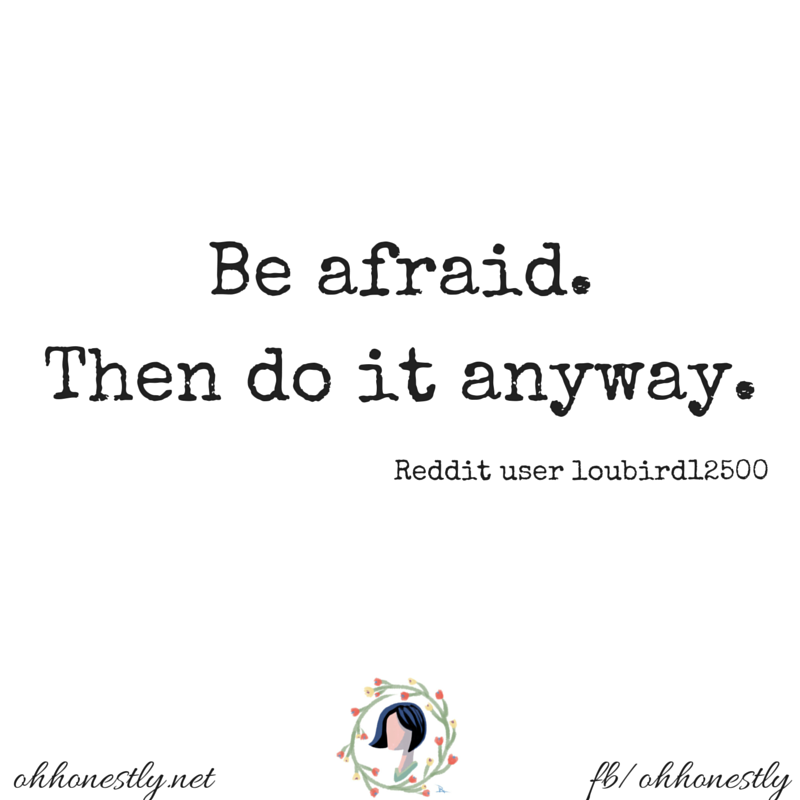 I've been mulling over these words. In the Bible God commands us over and over again to not be afraid. "Fear not." "Be not afraid." "Do not fear."
I tend to take what God says seriously, so if He's telling me I shouldn't be afraid, maybe that 75 year old swimmer is wrong. But I don't think so.
God's command to not be afraid is often preceded or followed by a statement about how He's with us. In other words, He's telling us not to be afraid because we can trust in Him to take care of us.
Of all the commands in the Bible, I often find that one the hardest to keep. Maybe it's a mother thing or a woman thing or maybe it's just a human thing, but it's all too easy to let fear and worry control me.
As I pondered the words of that wise old woman, it suddenly hit me. Maybe I've been doing it wrong. If I rely on myself to just stop being afraid, it's never going to happen. But God still demands that I not be afraid; that I trust Him.
And there it is. Maybe the way to stop being afraid is to do it anyway. To say, "I'm freaking out, but I trust You enough to step out in faith."
I don't know if you'll catch me on the edge of a pool this summer, arms up and ready to go, but I do hope you'll catch me doing some things that stretch me out of my comfort zone.
And if you hear me yelling "But I'm afraid!! I'm so afraid!!", listen carefully afterwards. You might just hear God whisper, "Do it anyway."