There's something magical about finding 'the dress'. Maybe you've tried on dozens or maybe it's the very first one you slip over your head, but as soon as it's on, you know. Just like the moment you realize that guy is The One, you also realize that dress is The One. The one that makes you look your best, feel your best, be your best. The one that you'll glide down the aisle in, the one you'll wear as you stare deep into the eyes of the man of your dreams, the one you'll have on as you say, "I do."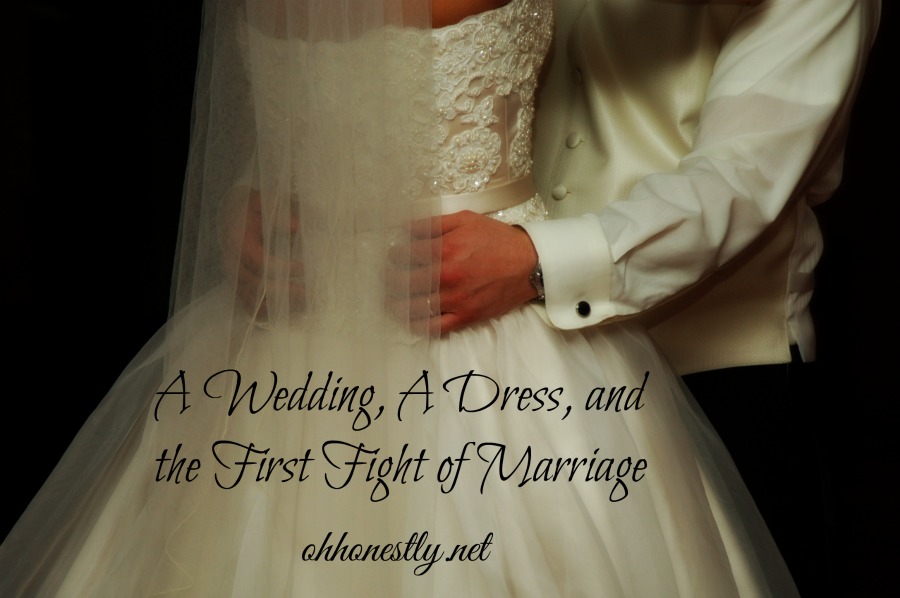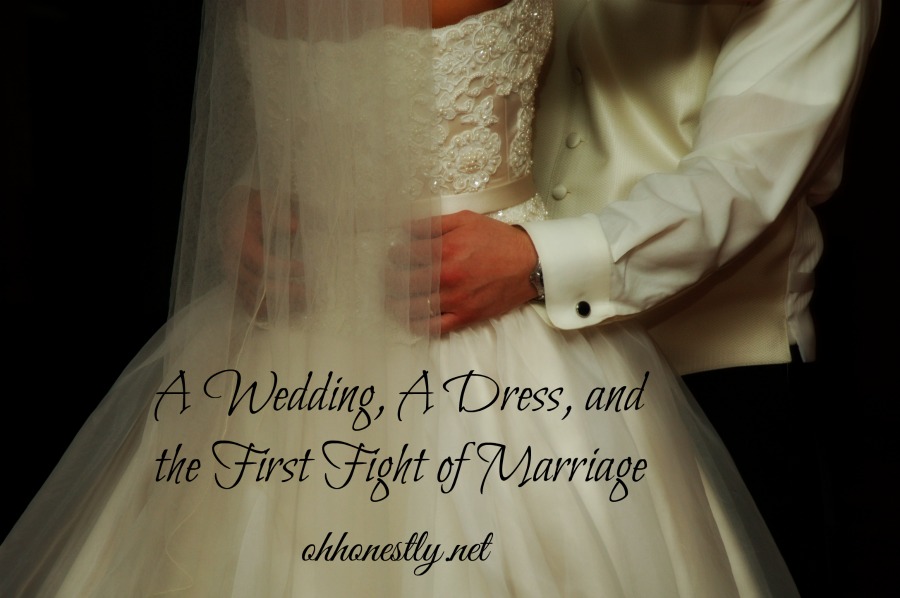 It was no different for me. I tried on a handful before finding my perfect match, but it made all the others pale in comparison. It was a beautiful shade of ivory called Champagne, which complimented my skin color much better than stark white. It had a beautiful beaded bodice, a dainty satin belt at the waist, and a simple yet full organza skirt. When I put it on I felt thin and tan and beautiful, just the way a bride wants to feel. I couldn't wait to wear it on my (I mean our) big day.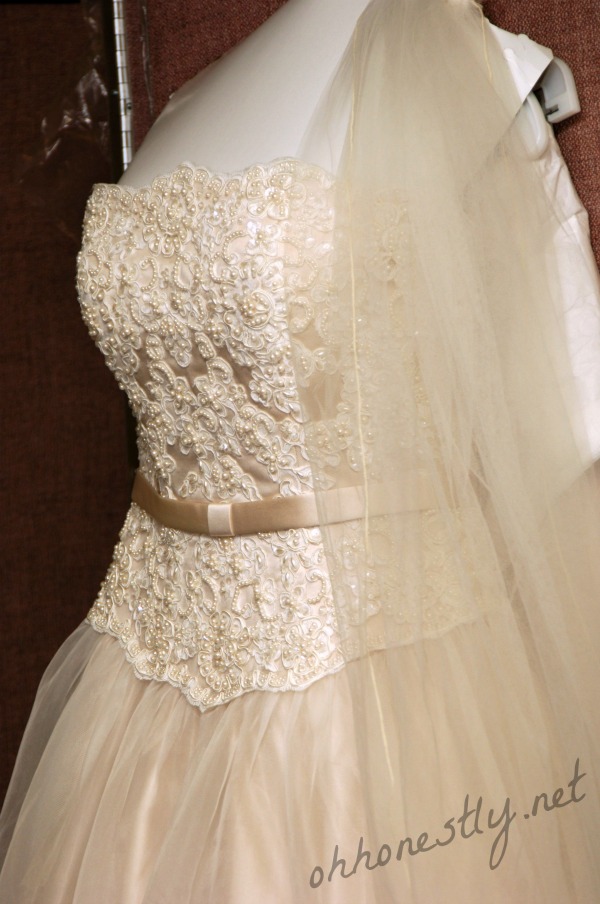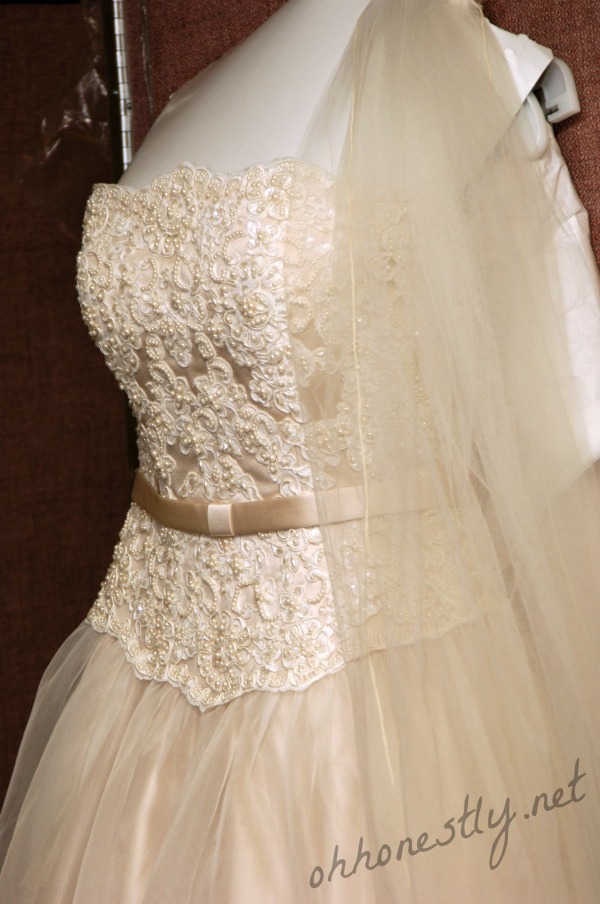 The wedding was perfect. We'd grown our own tulips for the occasion and the theme carried through from the ceremony to the reception. A family friend had done the decorating for us, and stepping into the reception hall was like stepping into a romantic dream of candlelight, flowers, and tulle (but tastefully done tulle because let's face it, tulle can be really tacky when done wrong… and it usually is done wrong).
As the evening drew to a close, we said goodbye to family and friends and headed back to his (our!!) apartment to change before checking into our hotel for the night. We were flying out early the next morning for a tropical honeymoon in the Caribbean and needed to leave our formal wear behind.
That was when it happened.
I needed help with the bazillion tiny hooks on the back of my dress and as Eric undid them he casually said, "We should sell your wedding dress."
"I'm sorry. What??"
"We should sell it. You'll never use it again."
I turned to look at him in shocked disbelief, wondering if I would see a hint of a smile playing on his lips or perhaps his mouth forming a Sheldon-like, "Bazinga!" Nothing. He was dead serious.
"Are you kidding me?? I'm not selling my wedding dress!" I cried in dismay. "How can you even suggest such a thing? Especially when I'm still wearing it??"
"I'm just being practical," he calmly responded, "Think about it. It's worth more now than it will be ever again."
I tried to form some sort of coherent argument, but instead my mind was screaming at me, "Is this the way your marriage is going to start? You've just saddled yourself to this guy for life and he's already trying to auction off your memories to the highest bidder! Will he always be this insensitive? You grew up with three sisters; you don't know what men are really like. What have you done??"
I conveniently forgot the surprise breakfasts he made me, the flowers he'd randomly send my way, how in every situation he looked out for my best interest above his own. All that mattered in that moment was The Dress.
I forced myself to think. "I… I… I'll get it preserved! And then one day I'll show it to our daughter." Phew, just hours into our marriage and I was already bringing up the subject of kids.
"Hey," my mind told me, "he brought this upon himself."
"Do you really think she'll want to wear your old dress at her wedding?" he asked, willingly following my train of thought. Now we not only had an imaginary daughter, but she was already grown and getting married.
"Well no, probably not, but I'm sure she'd love to be able to pull it out of the closet and look at it. When I was a little girl, I dreamed of my wedding day, and I'll be honest, it went a lot better in my imagination than it's going right now! Our little girl will do the same thing and she can try on my dress and imagine what it will be like to be a bride someday. My mom borrowed her dress and I never got to see it. If we sell my dress, our little girl will never get to see it!!"
My husband has never been one to back down from a fight, but perhaps he saw the hysterical glint in my eye and knew that the pitch of my voice, rising higher and higher with each syllable, would soon reach glass-breaking levels. Or maybe he realized that starting our marriage off with an argument was less than ideal. Whatever the reason, he dropped the discussion and we finished getting dressed in relative peace.
Soon after we returned from our honeymoon, I sent my dress off to be preserved. Two years later, we welcomed our first son into the the world. A second son joined our family two years after that. My husband considered our family complete, though I was gunning for one more, which I knew, girl or boy, would be our last.
Occasionally I'd clean out our closet and oh so gently suggest that we get rid of a portion of his over-abundant tee-shirt supply. This was always met with some resistance and not so subtle comments about the large box taking up space in the upper reaches of our closet. I'd roll my eyes and say it wasn't bothering anyone up there, all the while wondering if perhaps I should have heeded his wedding night suggestion. It was just taking up space and who wouldn't want an extra few hundred bucks to blow on something we couldn't otherwise justify, like a bigger TV or a new recliner?
Then, a month after our sixth wedding anniversary, I gave birth to a beautiful baby girl. She's two years old right now, still too young to fantasize about her wedding day, but one thing is certain. Even if she never shows a shred of interest in my wedding dress, one day while my husband is at work, I will force her into it for a few pictures to use as proof: He may be right most of the time, but at least I'll have won our first argument as husband and wife.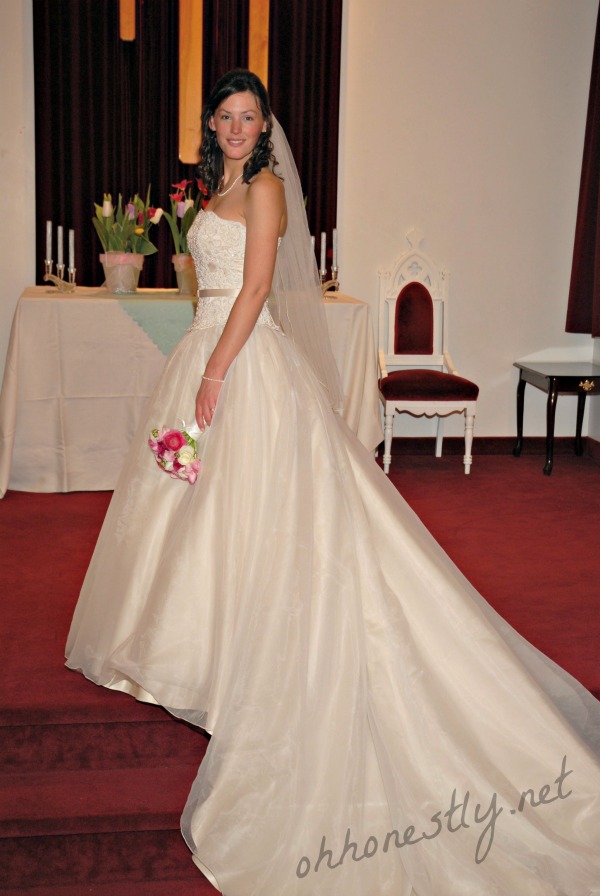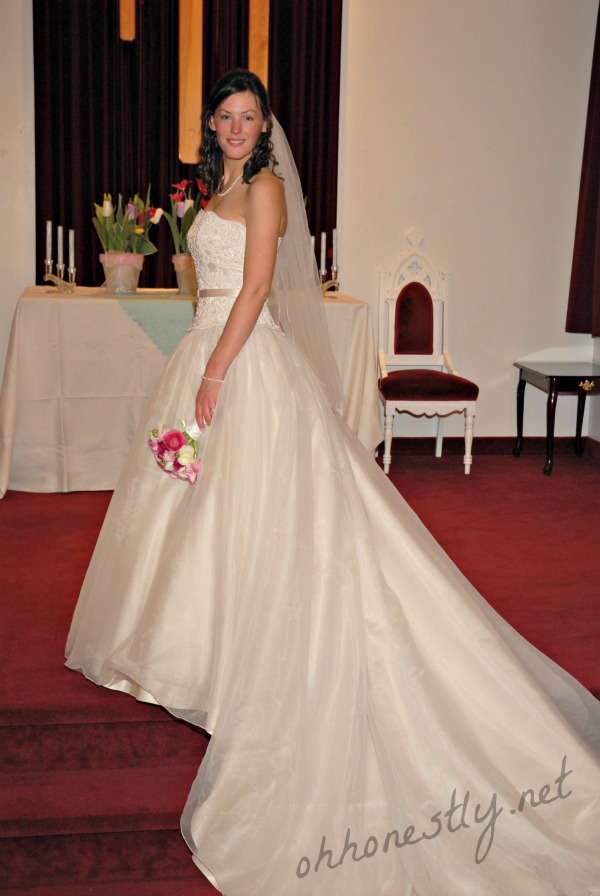 What was your first fight as husband and wife? Tell me in the comments or join the conversation on my Facebook page. 
You can also check out my Marriage Pinterest board 😉