This post contains affiliate links. Any purchases made through these links help support the blog at no added cost to you!
Before my husband and I had kids, I remember my sister-in-law saying that without fail, her kids would get sick while on vacation. She wasn't being overly dramatic. It really did seem to happen to them every time they went more than a couple of hours from home.
There was one legendary trip to the beach that was cut short by a terrible case of norovirus (I'll spare you the details, but it sounded pretty horrific). Even when they traveled three hours to attend our wedding, they had to leave the reception early with a fevered ring bearer. I figured they just had really bad luck.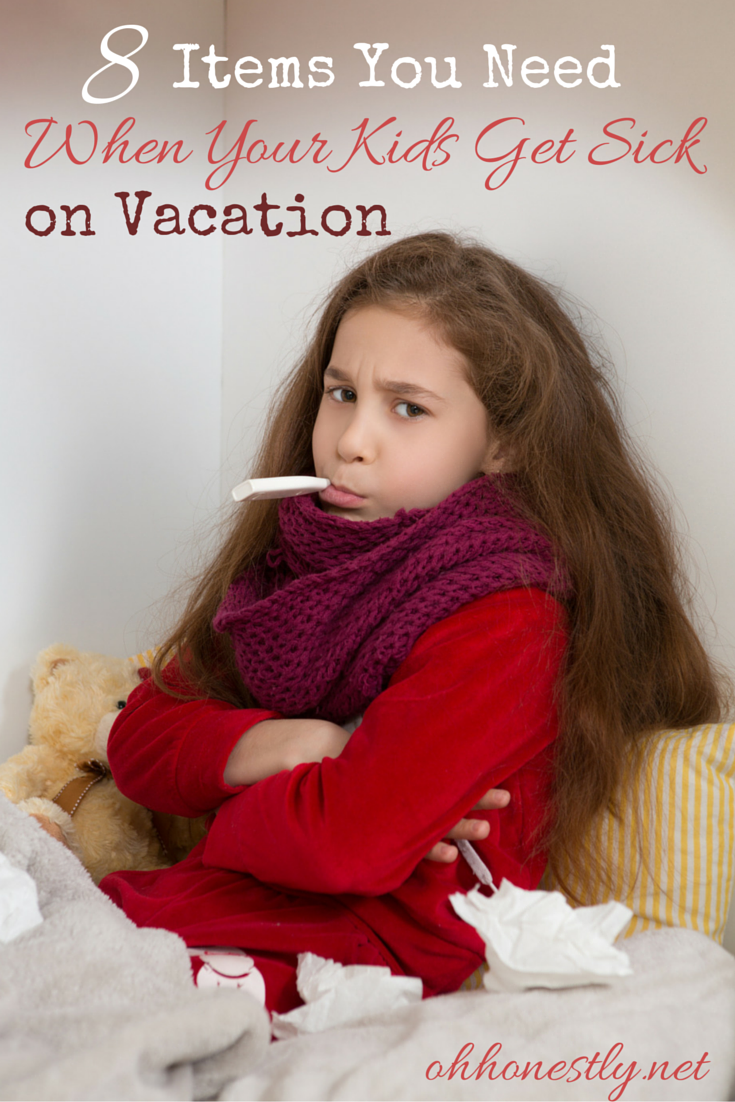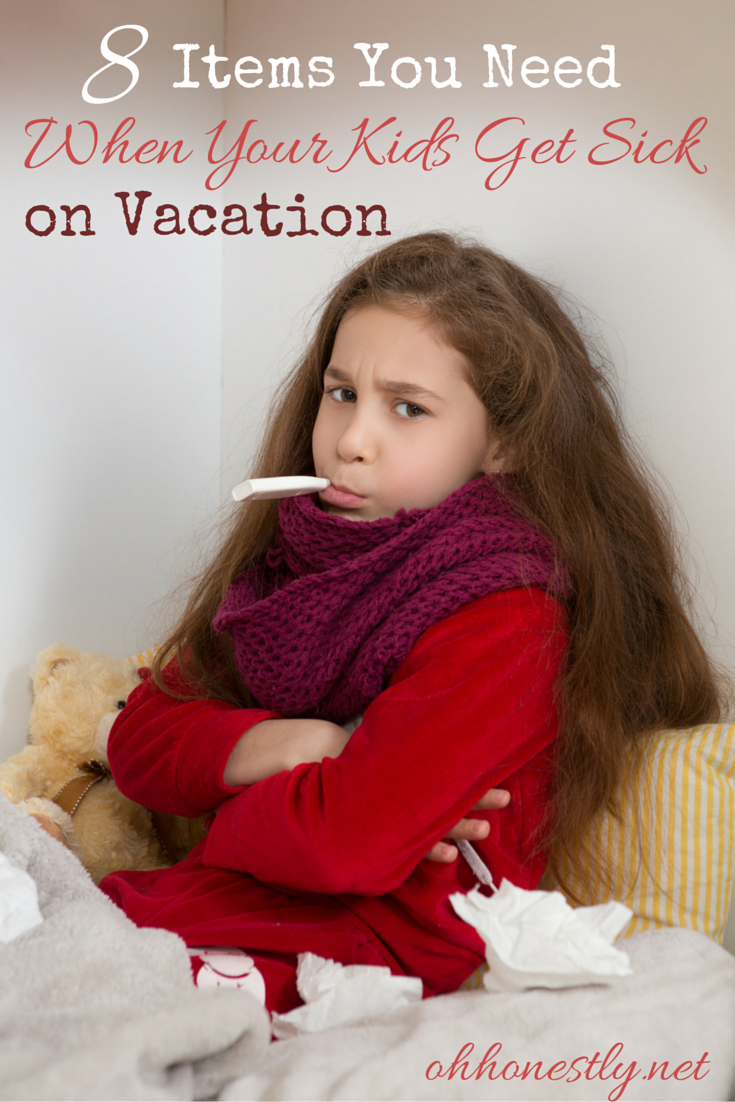 8 Items You Need When Your Kids Get Sick on Vacation
After having kids, I still thought it was a fluke. We went on vacations with our kids with nary a sniffle. But then my friend Kristen went on a few different trips and her kids got fevers or ear infections or bad colds. When she'd share this information on social media, she'd get a plethora of empathetic comments.
"Oh my word, every time!" "What is it with kids getting sick on vacation?" "Yes! Happens to us every time!"
"Interesting," I thought. "Apparently our family is in the minority."
And then, several weeks ago, we joined the ranks of these parenting pros.
Our family had gone away for a short vacation to celebrate our kids' birthdays. We were eager to experience all that the resort had to offer and woke up in the morning raring to go.
That's when our oldest told me that his belly felt 'weird', which of course sent me into my Puke Panic Mode (which is basically where I get obsessed that he's going to throw up and ask him every five seconds how he feels). He insisted that he was just hungry though, so I tried my best to calm my fears and continued to get ready for the day.
Then our youngest did The Cough. I don't know what it is about The Cough, but it has a very distinct sound that is different from a regular cough. Thankfully, especially since we were in a carpeted room, I was standing right next to her when she coughed, so I scooped her up, rushed to the bathroom, and arrived in time for her to… well, you know.
By the afternoon, all three of our kids had some form of this illness. We debated for most of the day about what we should do, but finally in late afternoon, knowing our vacation couldn't be salvaged (that was our only full day there) and fairly certain that the worst of it was over, we decided to pack up and head home before the adults caught it.
Being stuck in a hotel room with three sick kids was a pretty crummy way to spend our mini-vacation, but as I said to my husband, "I feel like a real parent now."
Although it was our only experience with sick kids on vacation (so far), it was still a valuable learning experience. Should it happen again, I know I'll be far better prepared.
If you ever find yourself in a similar situation, or if you like to be proactive, here's the list of items I suggest you have on hand in case your kids get sick while on vacation.
1. Medicine and thermometer- We didn't need these in our particular situation, but I always bring them along just in case. If your child ends up with a fever, headache, the flu, or a number of other illnesses, these are good to have handy.
2. Garbage/grocery bags- These have multiple purposes, but two are especially important.
The grocery bags are perfect for throwing up into. Once your child is done, you can tie up the bag and the mess is contained.
You'll probably have soiled clothing to take care of, and we all know that the laundry bags the hotel provides don't hold very much.
3. Bucket- Having a bucket or bowl to put your grocery bag in is a must! Trust me, trying to hold the bag open while your child vomits is a recipe for disaster. You can be creative here… a cardboard box, something you fashion out of paper clips and maxi pads (then you can call yourself MacGyver), it doesn't really matter as long as it's sturdy and can hold a bag.
4. Liquid hand soap– I reeeeally wanted this one when we were stuck in our hotel room. I'm a freak about washing my hands on a normal day, but when I'm stuck in a 10′ x 15′ box with three sick kids, that freakishness gets kicked up a notch. Every time I used the little bar of soap the hotel provided, I could picture all the germs on it from the kid who had just used it. Gross.


5. Hand sanitizer- This goes along with the liquid hand soap. Having both would be awesome, but even having only one would be great.
6. Disinfecting wipes- These should be standard travel gear regardless of sickness. Who knows what actually gets wiped down in a hotel room between guests and what goes months without seeing a cleaning supply. And for all you know, the family that occupied the room just before you was throwing up right before they left. Not that I would know anything about that.
7. Extra clothes- I have mixed feelings about this. Usually I over-pack and we only end up using a small percentage of the clothes we bring, but extra clothes are a must when your kids have a stomach-related illness. Maybe a good rule of thumb is that if you're staying at a place where you don't have access to a washer and dryer, pack extra.
8. A sense of humor- I'll admit, I shed a few tears when our plans were ruined. The kids (and my husband and I) had been looking forward to this trip for over a month and I was totally bummed that it didn't go as planned. But in the midst of the sadness, I also knew that I had a lot to be thankful for. When I kept it in perspective, knowing that despite a vacation cut short, our kids are healthy and happy, I was able to see the humor in it. I even snapped a few pictures of my little sickies as they laid around to commemorate the event.


One thing is certain, we may not have the best memories of a fun vacation, but it's definitely one we won't forget!
Do you have experience with kids being sick on vacation? What essentials did I miss?