Disclosure: This post contains affiliate links. Any purchases made will cost you the same as ever, but I'll receive a small commission to help maintain the blog. Thanks for your support!
I don't know if you've noticed, but groceries have gotten a lot more expensive over the last few years. For my family, not only have costs increased, but our family has gotten bigger, which means we buy a lot more than we did before we had kids. I can only imagine what our grocery bill will look like when we're feeding three teenagers (yikes!).
With that in mind, it's important that I 'shop smart' to make what we spend on groceries stretch as far as it can. Not only will implementing good shopping habits save us money in the short-term, but it will also set me up to be a smart shopper when the kids are old enough to eat us out of house and home.
I hope you find the following five tips helpful in your quest to save some dough.
Five Ways to Save Money on Groceries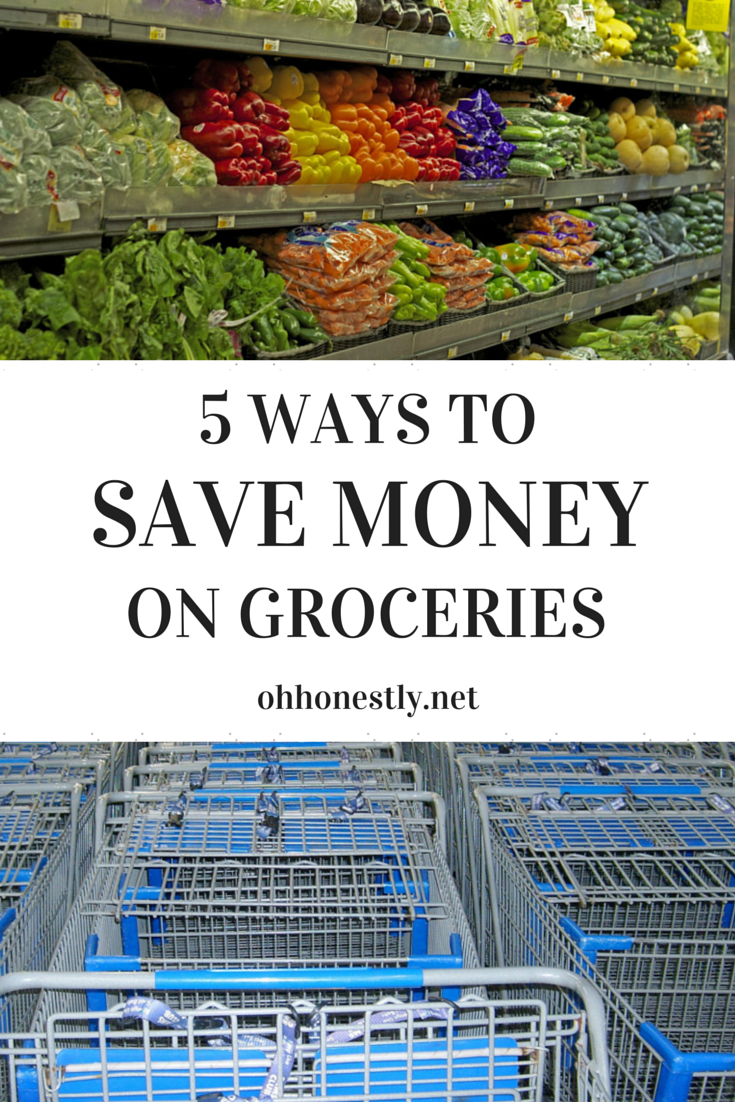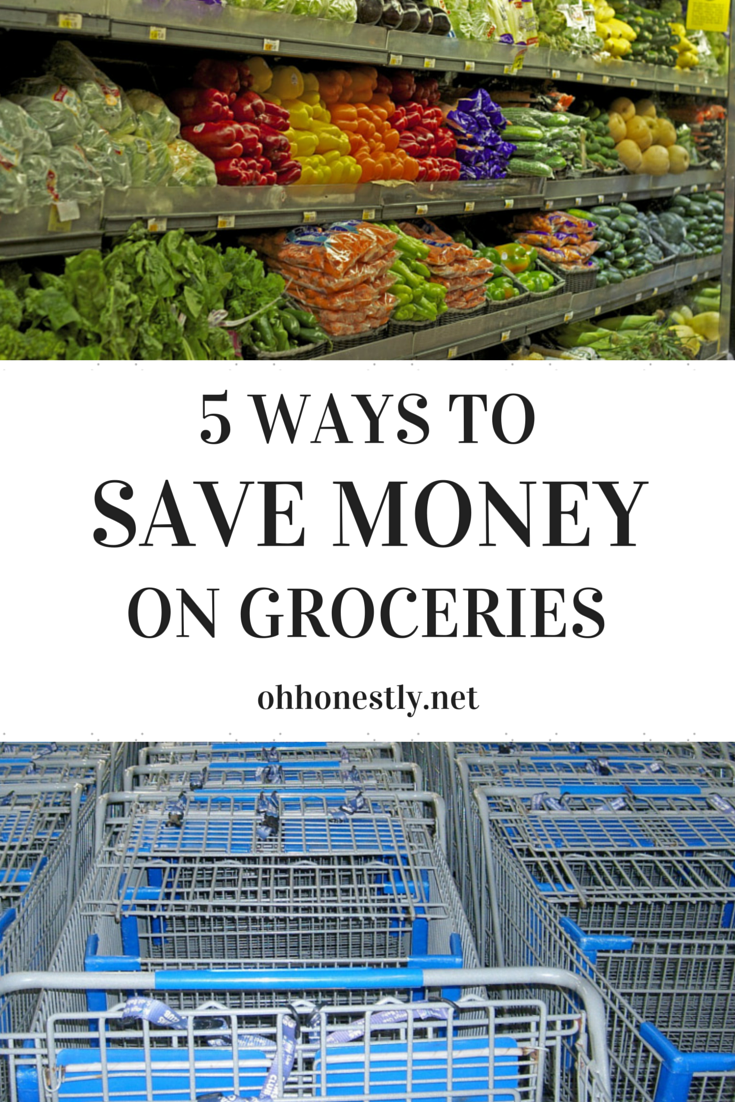 1. Shop the sales
Every week you get those pesky flyers in your mailbox (at least I do). Before you shove them in the recycling bin, put them to good use! It only takes a few minutes to browse through a supermarket flyer and see what they have on sale that week. Make note of the items that you use a lot of (pasta, for example), as well as what meats and produce are on sale. Stock up on those frequently used groceries, buy larger amounts of the meats you eat and freeze them in smaller portions when you get home, and choose your side dishes and healthy snacks for the week based on what produce is on sale.
2. Buy in bulk, but do it wisely
I think it's pretty common knowledge that buying in bulk saves money. However, it can end up costing you money if you don't do it wisely. A few things to think about when buying in bulk are:
Will you be able to use all of the item you're buying before it goes bad? It's great to get that giant tub of yogurt if your kids eat it every day, but if you only eat it on occasion, you'll end up throwing a bunch out. You might as well take your money and toss it in the trash.
Is the item you're buying actually cheaper to buy in bulk? Yes, most items are cheaper this way, but some are not. A little bit of research before heading to the store can save you money in the long run. Kipplinger has a list of things to stay away from (or to at least research before you buy). For example, you'll probably spend the same amount on cereal at a warehouse club as you would at a grocery store, but if you follow Tip 1, you can wait for a sale at the grocery store and get it cheaper there.
Is that extra purchase worth it? Sometimes I have something on my  list that I don't need a large quantity of. However, if I'm already at Sam's Club and I don't feel like going to another store for only one item, I'll just buy it at the warehouse club. Instead of spending a buck or two for Post-It notes, I end up spending $15 for more than I could ever use. If the time and frustration saved is worth the money spent, then go for it. Otherwise put that item back on the shelf!
3. Use coupons wisely
Couponing has never been easier… or more difficult. With it's popularity surge a few years ago, many people are under the impression that in order to coupon, you have to go all in, buying a hundred weekend papers, clipping for hours, and stalking store sales like a lunatic. Look, if you want to do that, go for it! It takes a lot of time and planning, but if you're good at it, you'll save a ton of money and you'll be in good company (even famous football players coupon!).
I want to talk to the rest of us though. Using coupons doesn't have to be time consuming or require a ton of organization. In fact, if you have a smartphone, you might not even need to cut anything out! Target, for example, has the Cartwheel app which allows you to browse through their available coupons, save the ones you want, and scan your special bar code when you check out.
The real savings happen though, when you stack your savings. To continue the example of Target, let's say you find a manufacturer's coupon in the newspaper for an item you buy frequently. It's on sale at Target this week and there's also a Target-specific coupon on your Cartwheel app for that item. Additionally, you save 5% off your entire bill when you use your REDcard (which by the way, you can get as a credit or debit card, so if you don't charge things, you can still get the savings and it'll come right out of your checking account). The item that you usually buy for full price just got a whole lot cheaper.
A word of caution: Finding a coupon that offers a large savings on an item you don't normally buy does not save you money! It's fun to be able to say, "Hey look, I got 80 bottles of mustard for only 50 cents each!", but if you don't use mustard (and who can use 80 bottles of mustard??) then you just wasted $40.
4. Go homemade whenever possible
Convenience foods might live up to their name, but convenience comes at a price. Have you ever looked at the difference in price between the whole watermelon and the one that's already cut into chunks for you? Yowza!
Yes, doing things from scratch takes more time, but the savings are considerable, as are the health benefits. If you don't have time during the week, try to set aside a couple of hours over the weekend to prep food. You can make a triple batch of homemade waffles to freeze instead of buying Eggos. You can peel and chop a bunch of carrots so they're ready to cook at dinnertime. A little time for a lot of savings is worth it in my book.
[Tweet "A little time for a lot of #savings? Good trade! 5 Ways to #SaveMoney on #Groceries."]
5. Try eMeals new budget-friendly plan (for free!)
I've talked about meal planning before and it makes perfect sense that having a plan for the week will save you money. No need to drop $30 on takeout on your way home from work if you already know what you're having for dinner and have all the ingredients waiting for you at home.
But now the savings can be even more substantial. eMeals just introduced a budget-friendly plan which includes seven meals for the week with an average shopping bill of $85. That's right, $85 to feed dinner to your family for the entire week. Of course, you'll still have to buy breakfast and lunch items, but considering that in 2013 the USDA calculated it would cost a family of four $191 per week for a low-cost healthy meal plan (source: USA Today), that's pretty cheap!
Plus, eMeals offers a free two-week trial period, so why not give it a try and see if you save money? You have nothing to lose and some serious cash to gain!


What tips do you have to save money on groceries? Share them in the comments below so we can all benefit!