This post is sponsored by GoodNites* TRU-FIT*, but is 100% my own experience.
Every parent loves milestones. First smile, first word, first steps. We celebrate them, photograph them, write them in baby books, and share them with the world.
There is one milestone that is a bit less public, but every bit as exciting for parents (maybe even more so!): The last diaper. Whether you do it in a weekend or over the course of months, potty training is a huge accomplishment and one to be proud of.
Sometimes though, it can be a surprise for parents when their child, who can use the toilet without incident during the day, still wets the bed at night.
The following four tips will help keep stress at a minimum, for parents and children, if you have a child who wets the bed.
Four Tips to Help Kids Who Wet the Bed
1. Don't Worry
It's human nature to compare ourselves with others and once we become parents the comparisons continue. Whether we compare our children to their siblings, cousins, or friends, it's easy to start worrying if they don't do something as quickly as someone else.
In our case, once Eli was fully potty trained during the day, he was soon staying dry all night or waking up if he needed to use the bathroom. Samuel, on the other hand, still wakes up wet in the morning. Knowing how different our boys' personalities are, this didn't come as a big shock to us and we were able to keep the comparisons to a minimum.
It has also helped to know that bladder control is a part of child development, and just as there is a normal time span in which children learn to walk, there is also a normal time span in which their bladders develop the necessary control to stay dry while sleeping. Nighttime bed wetting is actually quite common in children between the ages of 4 and 12.
Although it can be frustrating, especially if you have to wake up in the middle of the night to change wet sheets, it should help to know that there is nothing wrong with your child and her body will develop the necessary control in its own time.
(I should mention that I am not a doctor and if you feel that something is out of the ordinary, you should consult your physician.)
 2. Don't Push
If your child is not physically ready to stay dry while sleeping, it's important to try your hardest not to put undue pressure on your child.
With Samuel, we have not made a big deal (or any deal) out of him being wet at night. He goes to the bathroom before bed and then we put a bit of extra protection on him so any bed wetting that occurs won't interrupt anyone's sleep.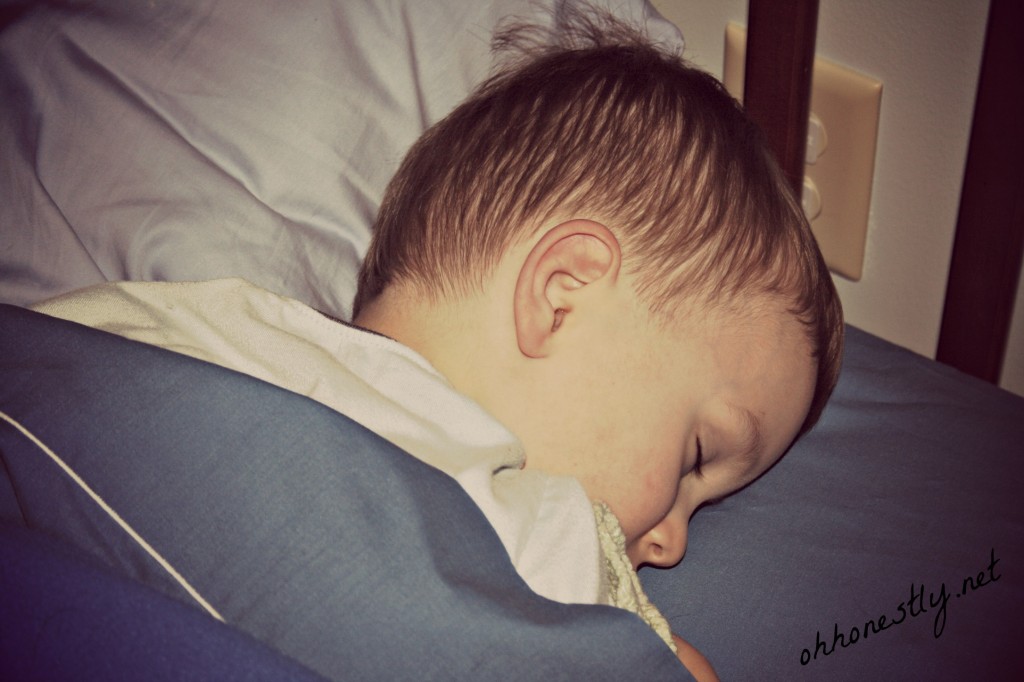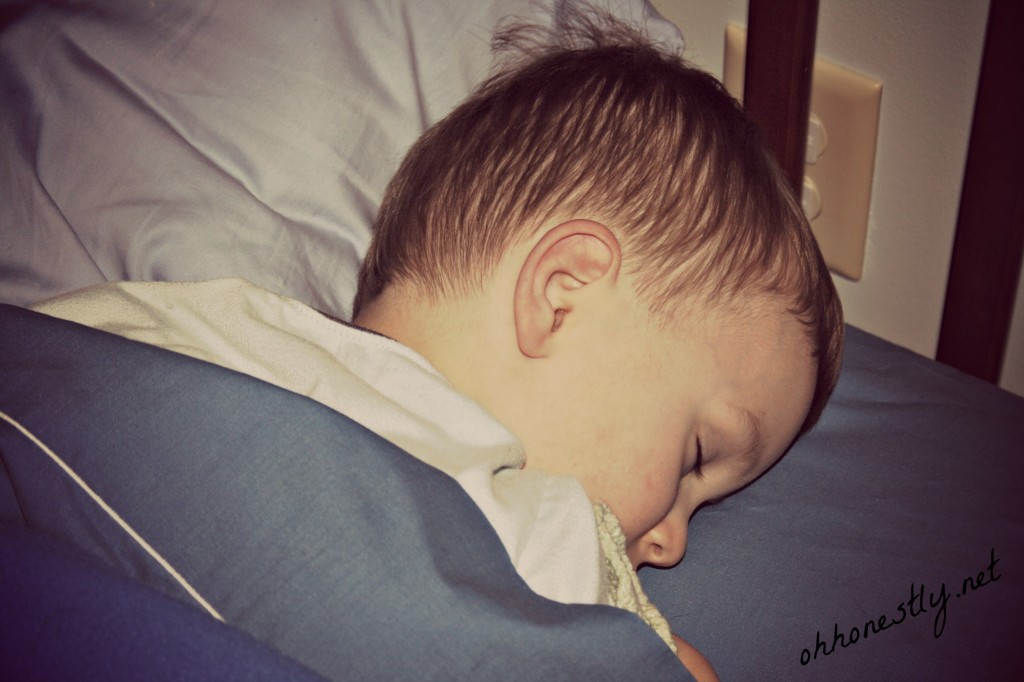 We know that getting upset with him, yelling, or shaming him into staying dry at night will only cause unnecessary stress on all of us. It could even backfire and make the bed wetting worse or more frequent. We've steered clear of these pitfalls and our whole family is the better for it.
3. Get Your Child in on the Process
Not many things are as frustrating as feeling as though we have no control over a situation. Our children have these feelings too, and in the situation of bed wetting, it can not only be frustrating, but embarrassing, especially as they gets older.
Allowing your child to feel like your partner as you come up with possible solutions will make an out of control situation feel a bit more in control, and it will build your child's confidence at the same time.
Up until recently, Samuel was wearing diapers at night. They were beginning to get a bit snug and we decided it was time for an upgrade. When I asked him if he thought he'd like to wear underwear at night just like his big brother, he was very excited at the prospect.
He and I made a date of going to Target together to pick out his new GoodNites* TRU-FIT* underwear. Who doesn't love an excuse to go to Target?? Lucky for me, I was able to print off this coupon before we went which saved a couple of extra dollars. It's lucky for you too because that coupon is available to print until November 29 and doesn't expire until December 6.


Samuel was excited to find that the underwear came in his favorite color and I was happy to see that they come in a variety of sizes (S/M and L/XL), colors, and prints suitable for both boys and girls. It was also clear that they've been a popular item due to the picked over shelf. (Don't worry, my local Target was expecting a shipment in the next few days and I'm sure your Target will have what you need too!)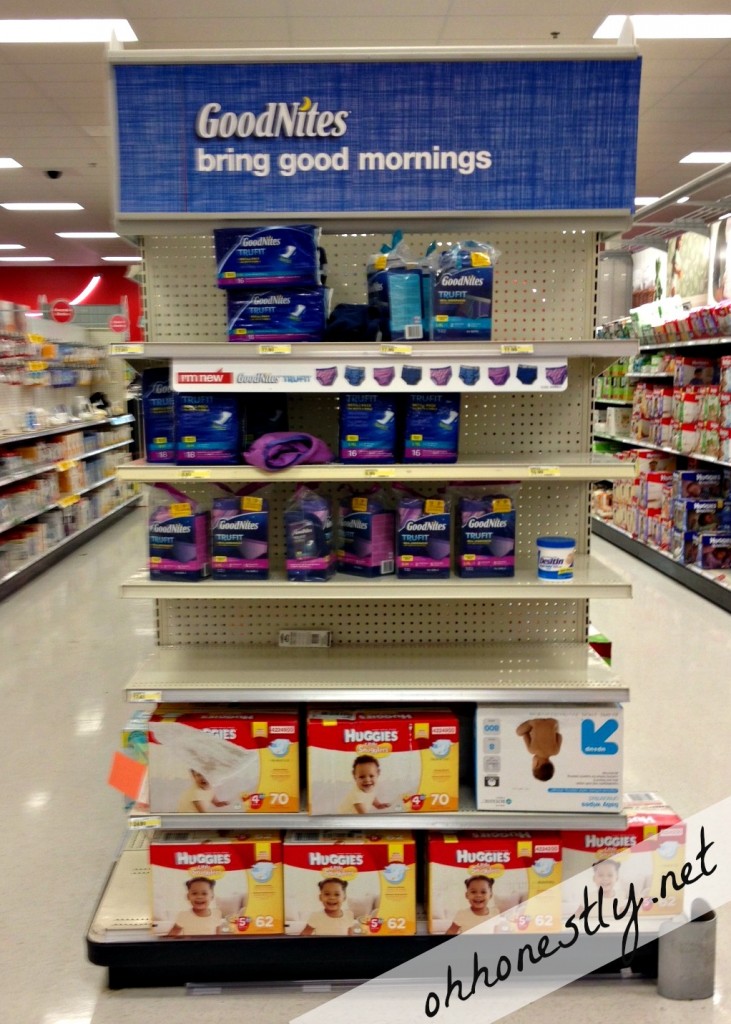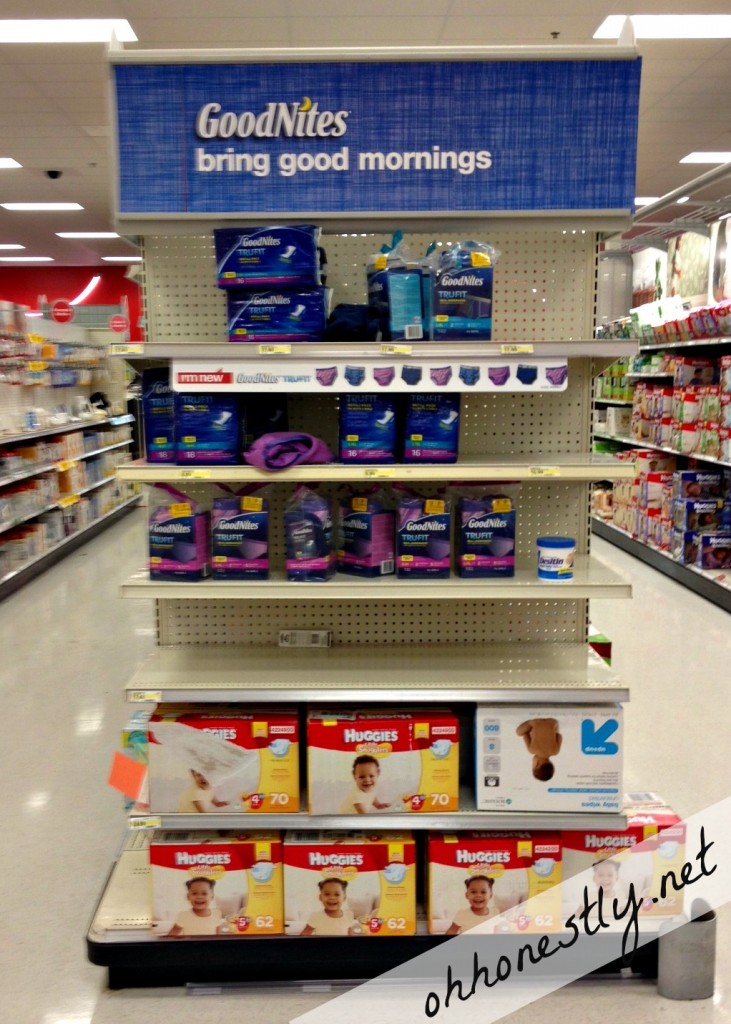 The underwear we bought at Target are the perfect solution to instill confidence in a child who wets the bed. They are real, machine-washable underwear which hold a disposable, absorbent insert to protect pajamas and sheets at night. When they're on, they look no different than regular underwear. In the morning, you just throw away the insert, toss the underwear in the wash, and they're ready to go that night.
The first time Samuel wore them, I wasn't sure how it would go. I imagined him waking up at 3 am to soggy sheets and uncomfortably wet PJs. Instead, he woke up at his usual time, pajamas and sheets still dry. We threw away the insert, got him dressed, and he was ready for the day, happy in the knowledge that he'd worn real underwear through the night instead of the diapers he'd been used to.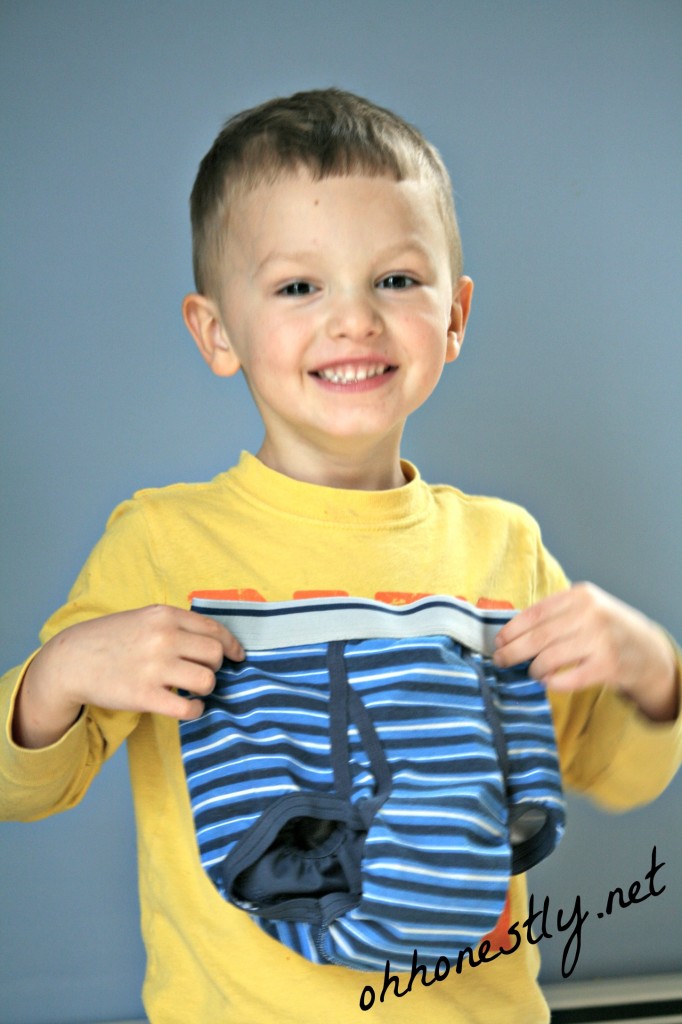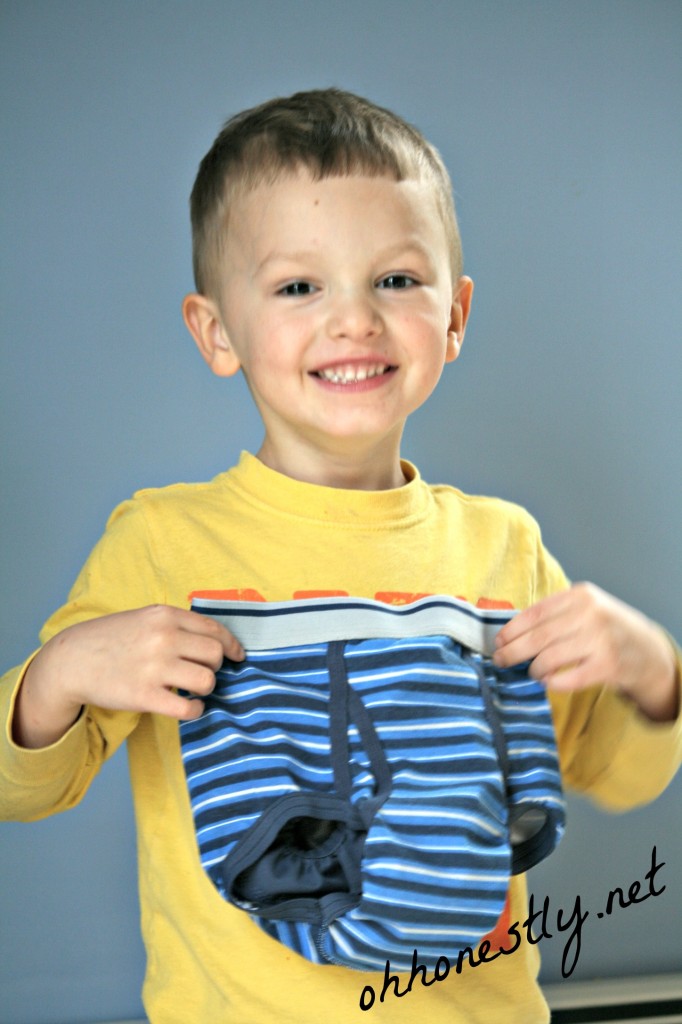 I hope you've found these tips helpful in facilitating stress-free days and nights in your home. And don't lose heart! When your child is ready, he'll hit that milestone of staying dry at night. You may not document it in pictures or on paper, but it's still worthy of celebration!
 P.S. If you're free on Wednesday, November 19th at 8 am PST/11 am EST, join us for the GoodNites* TRU-FIT* #TRUFITTARGET Twitter party! It's sure to be a good time!
This is a sponsored post written by me on behalf of GoodNites* TRU-FIT*.