Below: Good mother son dance songs for a wedding are surprisingly hard to find. Here are ten that work and a few that should be avoided.
I recently wrote a blog post telling my sons the things I want them to know about marriage. It got me thinking about the boys growing up and getting married, which led me to think about weddings, which got me thinking about wedding songs.
Of course there's the first dance of the bride and groom, but there's also usually a Father Daughter dance and a Mother Son dance.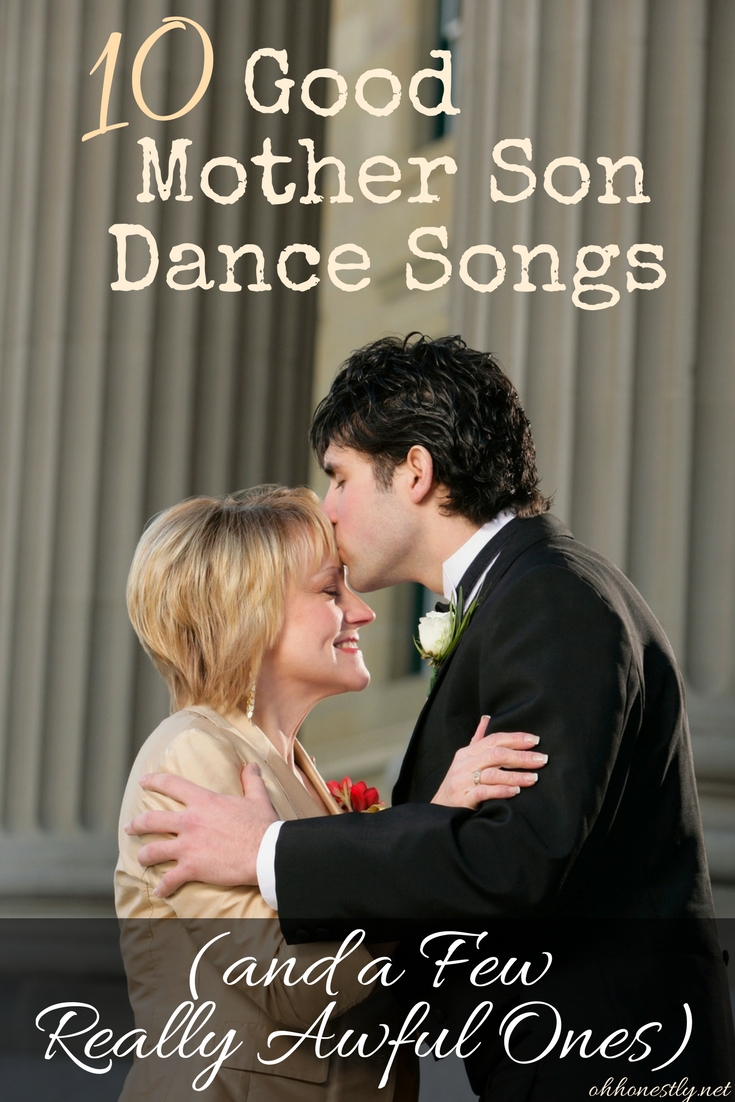 Good Mother Son Dance Songs
My husband danced with his mom to "You've Got a Friend" (the James Taylor song, not the Toy Story one), and although I love the song, going back over the lyrics makes me realize that it's a little depressing… all about the hard times to come. Hopefully my husband doesn't feel that way about life with me. (Ha! I'm sure there are days.)
Anyway, that got me going through some other popular Mother Son wedding dance songs, and although I found some really weird ones in the bunch, I also found some good ones.
If you're planning a wedding or just thinking about the day your baby boy will grow up and move on, keep these in mind for the big day.
Warning: Some are a little cheesy. And some are a lot cheesy. I didn't include the Backstreet Boys song though because I do have standards.
10 Good Mother Son Dance Songs (and a Few Really Awful Ones)
Here are the good mother son dance songs:
"Because You Loved Me"  Celine Dion
"I Hope You Dance"  Lee Ann Womack
"There You'll Be"  Faith Hill
"What a Wonderful World"  Louis Armstrong
"My Wish"  Rascal Flatts
"Slow Down"  Nichole Nordeman
"Twenty Years Late"  Aaron Lines
"Forever Young"  Rod Stewart
"Unforgettable"  Irving Gordon
"Thank You Mom"  Good Charlotte
So there are ten good mother son dance songs for a wedding reception.
Now let's move on to the awful ones. It's not that they're bad songs; it's just that when you listen to the lyrics you realize they're not at all appropriate for a mother son dance at the son's wedding.
Don't be insulted if I name one that played at your wedding. This is all in good fun.
Here are the really bad mother son dance songs:
"Through the Years"  Kenny Rogers
This is a popular one, and it's fairly low on the creep factor, but I'm 99% sure that good ol' Kenny wasn't singing to his mom, which makes lines like, "As long as it's okay, I'll stay with you" and "Can't imagine needing someone so, but through the years it seems to me I need you more and more" a little too clingy for a man who is supposed to be leaving home to start a life with his new wife.
"A Song for Mama"  Boyz II Men
Before we dive into this one, let me remind you that I have two sons of my own, so I get how special the whole mother son relationship thing is, and I understand and am thankful for the way boys love their moms.
That said, I also get that no woman in her right mind wants to compete with her new mother-in-law for her husband's affection. So lyrics like "you will always be the girl in my life" and "you are the food to my soul" played at your wedding reception to your mom… eh.
If your son really feels like that, tell him to send it to you in a text or something, then remind him that you love him with your whole heart, but he has a new girl in his life. Don't be the awful, stereotypical mother-in-law! Don't do it!!
"Mama Tried"  Merle Haggard
I don't know if anyone has actually played this song at their reception, but it popped up when I was doing research for this post, so I have to believe that someone has.
If you're not an old school country fan, let me give you the cliff's notes version of the song: He's always in trouble, his mom always tried to keep him out of trouble, but it never worked, and he spent some time in the clink.
Here's an idea: Just because the song has MOM or MAMA in the title doesn't mean it's a good choice to dance to at your wedding.
I could go on, but I'll stop here before I insult anyone else.
Most of the people who read my blog are quite far away from having to make any mother son dance song decisions, but I hope you think of me and this post when the time comes.
And please, whatever you choose, stay away from the Backstreet Boys.