In case you're new to I Asked, You Answered, here's how it works:
Each time I send out my newsletter (Currently it's once every two weeks, so you have no excuse not to sign up. No one can complain about one email every two weeks.) I include a question. They're all over the board, from favorite karaoke tunes to what baby items are useless. Email subscribers send me their answers and I compile them into a blog post. Want to join the fun and have your voice heard? Subscribe!
This week the question was: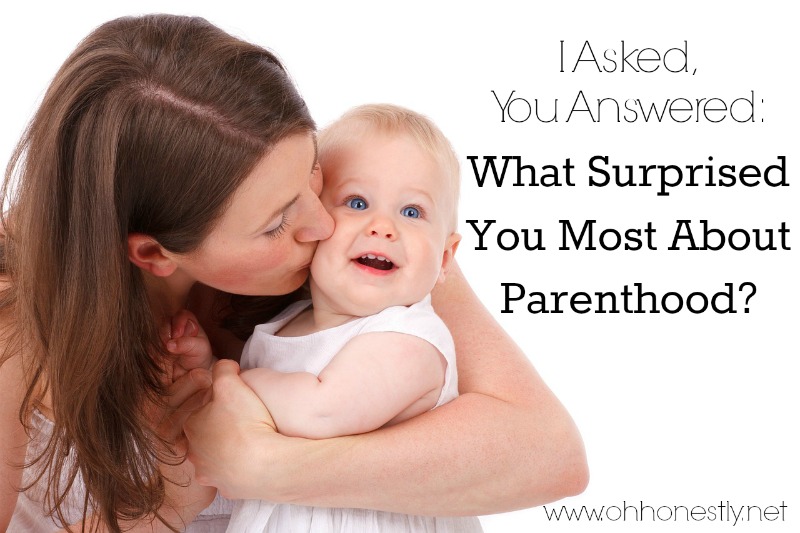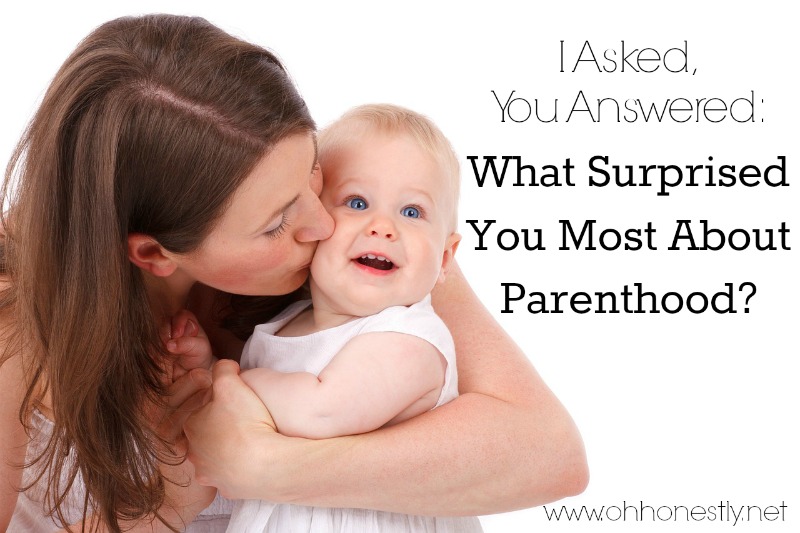 What surprised you most about parenthood?
I loved the answers I received. They ranged from things about babies all the way up to things about adult children. Parenthood is definitely a surprising venture.
"I'm a fairly new mom so I'm sure a lot more surprises are on their way, but what has surprised me most about being a parent thus far is the immediate and unbelievable love I felt for my daughter. I barely got to see her in the operating room because she had to be taken to nicu to be suctioned so when I was in recovery trying to get my toes to move I was literally falling apart being away from her. I wasn't expecting that at all. This sounds super cheesy.. Oh well." -Jackie B.
(Jackie, that is not cheesy AT ALL! I was shocked by the love I felt too. You don't know love like that even exists until you become a parent.)
"For me, the most surprising thing about parenthood continues to be what an amazingly difficult string of choices and grueling efforts it can be, and YET you still constantly feel like you're botching it up. Everyone says it's not as easy as you think it is – but that's doesn't really convey the degree to which it can be just completely crazy-making. I can only describe it as: imagine trying to pick ripe blackberries while riding through the bushes on the back of a motorcycle that someone else is driving; you feel like you're going too fast, or too slow, or you're losing your balance, and what the heck is wrong with your driver – and not to mention the thorns, the stains, and by the end of the day, you're just left saying, 'Can I even muster the energy to think of something good to make from this?! Is it enough? I know I missed so many, but I can't go back! How do other people do this so well?!' But you have to look at the ones you did get – and how lovely they are… and reflect on the tough work it was to get them, but not dwell on those bruises, so when people compliment you on the cobbler or whatever else you make of it – just rest assured that it IS enough, and it is wonderful, and it is just some kind of a miracle. I literally have no idea how couples manage to stay together or children manage to live to adulthood at this point, and I only have two littles!" -Cheryll
"I would have to say the most surprising thing about parenthood is the massive language learning that happens from 2 1/2 and up.  My youngest just turned 3 and he's talking in fully coherent sentences, not only relating nouns with verbs, but numbers and spatial awareness as well!" –Renee
"What surprised me about parenting is that it never ends! My kids are grown and yes, things have changed a lot, but they still need you forever just in different ways." -Becki R.
What surprised you most about parenthood? Tell me in the comments below or join the conversation on Facebook.