Before our oldest child was born, we decided that Santa would not be a part of our Christmas festivities.
We made the decision the way most people do who haven't had kids yet: With full confidence that we knew exactly what we were doing.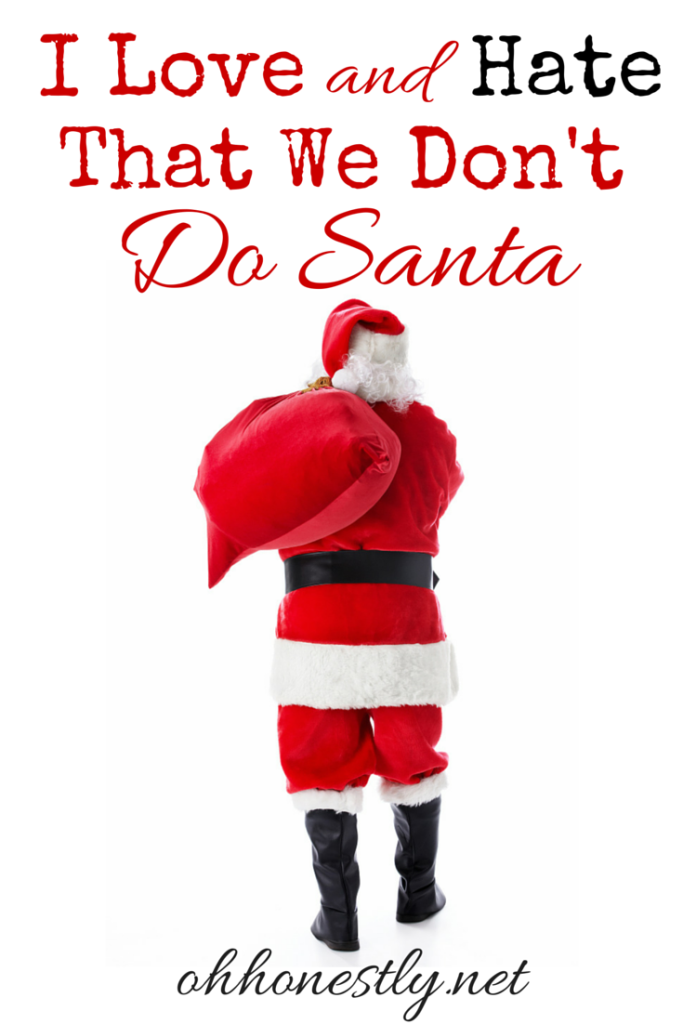 I Love and Hate That We Don't Do Santa
Now in the thick of life with three kids, I look back on those days with more than a little amusement. Not much about parenting has gone the way I expected it to and our decision not to do Santa is no exception.
Don't get me wrong; we stuck with our decision and our kids know that Santa isn't real. But the confident assurance I felt when we first made that decision has long since fallen by the wayside. In it's place I've felt a mixed bag of emotions, ranging from confusion to sadness, thankfulness to worry.
In other words, just like every major parenting decision we've made, this one has brought with it the unsettling question: Are we doing the right thing?
Certainly we made the decision with noble intentions. We wanted Christmas to be about Jesus, not a guy in a red suit, and we didn't want our children to lose trust in us when they discovered that we'd been lying to them for years. But after gaining a few years of parenting experience, I now realize how naive those intentions were.
Although I love that Santa doesn't dominate our holiday, I hate the fact that we still spend a lot of time, energy, and money on all the trappings instead of on the birth of Christ. I've learned that making Jesus the focus of the season takes far more effort than simply excluding Santa from our celebrations.
And as far as the lying thing? Let's just say that any parent who tells you she's never lied to her kids is… well… a big fat liar. Of course I'd love to tell you that I always tell my kids the truth, and most of the time I do, but I've also told them my share of little white lies when it's served my purpose.
So although I think it's valid to not want to lie to our kids, especially about something as big as Santa, now that we actually have kids, our initial reasoning rings a little hollow.
As the years have passed, I've been surprised by how many things have popped up that have made me both love and hate that we don't do Santa. Here are a few:
I love that there is one less uncomfortable conversation that we'll have to have with our kids some day.
I've seen a lot of talk on social media recently about kids asking probing questions about Santa and parents trying to figure out how to perpetuate the ruse for another few years.
I clearly remember when I found out that Santa wasn't real. A friend told me on the bus, so I confronted my mom to find out if it was true. I remember how heavy it made me feel, and now as a parent myself, I can imagine how it made my mom feel to have to be the one to confirm the truth and witness my disappointment.
I know plenty of moments are coming when I'll have to have hard conversations with my kids, witness their disappointment, and feel it as my own. I love that telling them the truth about Santa won't be one of those conversations.
I hate when our kids ask why other parents tell their kids that Santa is real.
As I mentioned before, I've offered up my share of lies to my kids ("No Honey, I wasn't eating your Halloween candy."), so I don't fault other parents for telling their kids that Santa is real.
We've tried to keep it simple and tell the kids that different families do things different ways, but they're smart little buggers and have brought up the whole "Isn't that a lie?" thing, to which I really have no good answer. Technically yes, it is a lie. But to call out other parents on it, especially in front of our kids, is hypocritical at best and sanctimonious at worst.
I hate the confusion it's caused.
This one surprised me. Around the age of four, both of our boys became completely confused about the reality of Santa. We've always told them that Santa isn't real, but think about it: He's everywhere.
The kids see him on TV shows, on commercials, at the store, in parades. He. is. EVERYWHERE.
In fact, a lot of kids' shows this time of year specifically address the topic of belief in him and how he is real even when someone doubts his reality. So our boys saw all of this, heard us telling them that he isn't real, and they were confused. We tried explaining about the historical St. Nick, which only confused them more.
After dealing with it twice, I know that when it happens with our youngest, we'll just let her think what she wants until she's old enough to discern the difference for herself. Both of the boys grew out of the confusion, so I know she will too.
I love that my kids know who their gifts come from.
It's not because I want my husband and I to get all the glory, but more because I value teaching our children to have appropriately grateful hearts. I know that kids can still be grateful for the gifts they get from Santa, but there's something special about our son coming up to us, totally unprompted, to give us a hug, and say, "Thank you. This was the best Christmas ever."
(There's also the possibility of kids realizing that Santa isn't terribly fair in his distribution of Christmas gifts. "Why did my friend get a new iPhone while I got a pack of underwear?" so not doing Santa takes care of that problem.)
I hate the fear I live in leading up to Christmas.
I live in fear of the day that one of my kids blows it for some other kid.
I think we have it pretty well under control with the boys. They've been around long enough and we've had enough conversations about it that they know to keep their mouths shut when other kids start talking about Santa. There were a few close calls, but thanks to some quick thinking parents, no permanent damage was done.
I know I have another couple of years with our youngest where we'll have to role play through some scenarios and just hope for the best, but I certainly won't be sorry when they're all old enough to know not to let the cat out of the bag.
I hate fearing that I've taken the magic out of Christmas.
This has been my biggest struggle of all.
I remember the excitement of going to bed on Christmas Eve knowing that I'd wake up to a transformed living room the next morning. I remember writing my note to Santa and reading his reply the next day. I remember all of the magic of being a kid on Christmas, and I fear that I've taken that away from my kids.
But here's what I've learned:
I love that my kids have taught me that the magic of Christmas actually has very little to do with Santa.
One day I told my sister my fears. Her kids are older than mine and they don't do Santa either. "Lauren," she told me, "I used to worry about the same thing, but my kids still think Christmas is magical."
So last year, I paid attention.
I listened to them talk about their favorite family traditions in the days leading up to Christmas.
I put on Christmas carols and we danced around the living room as we decorated our tree.
I watched them gleefully tear open their Christmas pajamas on Christmas Eve.
I smiled as they snuggled into their beds and declared that they were too excited to sleep.
I got up early and kept them upstairs as long as I could before finally letting them wake Daddy up at the crack of dawn on Christmas morning.
I snapped pictures as they tumbled down the stairs and squealed in delight at their first sight of the gifts that weren't there the night before.
And I realized that all the magic I experienced as a kid still happens for my kids, even though we don't do Santa.
So back to that unsettling parenting question: Did we do the right thing when we chose not to do Santa?
After years of mixed feelings, mistakes made, and lessons learned, I've come to the same conclusion I've come to with so many of the decisions we've made. When it comes to parenting, some decisions are absolutely right or wrong.
This is not one of them.
Whether you do Santa or don't, I applaud you for doing what you think is best for your family. We chose not to do Santa, and despite the ups and downs of that decision, I can finally say with renewed confidence that we're happy we made it.