This post brought to you by DICK'S Sporting Goods . The content and opinions expressed below are that of Oh, Honestly.
The boys lay in their beds, getting ready to drift off. I'm beside Eli, doing my nightly round of cuddles, when Samuel suggests we play a round or two of "Guess the Person" before I head downstairs.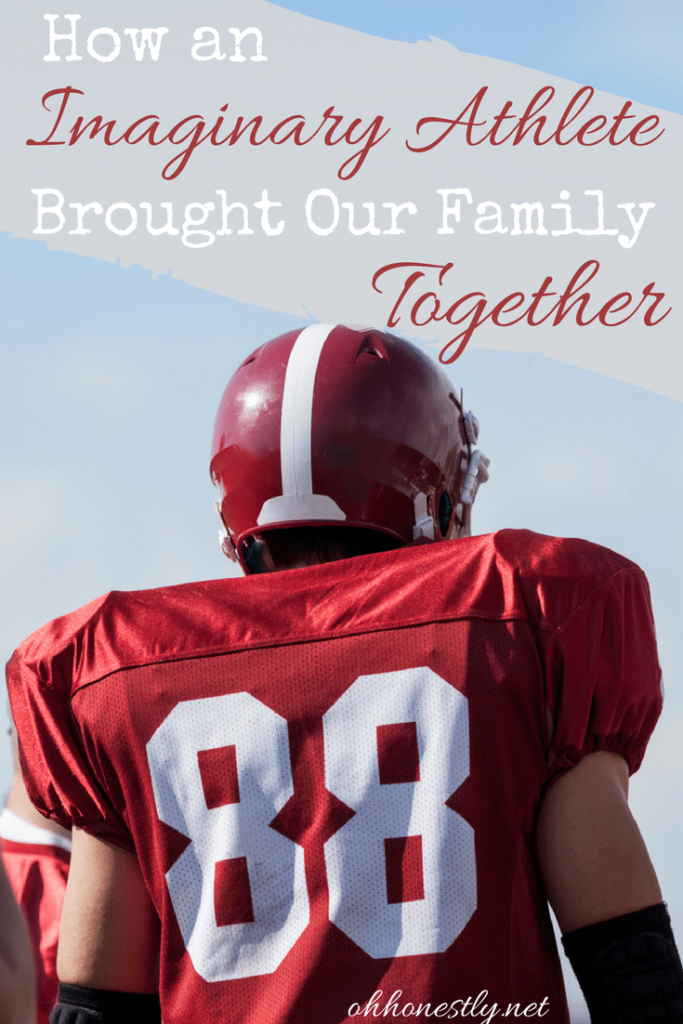 I agree, and Eli adds the caveat that it has to be an athlete. This will put Samuel, our non-sports lover, at a severe disadvantage, but before I can protest, Samuel declares to my surprise, ""I'll go first!"
Once we ensure that he has someone in mind, we begin asking questions.
"Is it a basketball player?"
"No."
"Baseball player?"
"No."
"Hockey player?"
"Yes!"
"Does he play for the Bruins?"
This is an obvious one because we are New England sports fans through and through, and I'm pretty sure the boy who couldn't care less about sports will only know the names of Boston players.
Sure enough, he confirms, and Eli and I start listing names. All are met with a quick, "No."
Finally I cry, "We give up!"
I can't see his face in the dark, but I imagine a triumphant smile on his lips as he proudly proclaims, "Lucas Kettleman!"
Eli and I glance at each other in confusion. There is no one by that name who plays for the Boston Bruins. In fact, we don't know of anyone by that name anywhere.
"You made that up!" Eli cries.
"No I didn't!!"
"Are you sure he plays for the Bruins?" I probe.
"Yeah, football!"
Eli shrieks in annoyance. "The Bruins don't play football! They play hockey! And there's no football player named Lucas Kettleman anyway."
"Are you thinking of Tom Brady?" I ask, hoping to ward off a fight before it begins.
"Nooo, I know who he is."
"Huh. Are you sure it's a football pla… oh! Julian Edelman??"
"YES!"
I start laughing and can't stop. Eli is in stitches beside me and even Samuel gets the giggles.
"Lucas Kettleman, Julian Edelman… You were pretty close," I choke out between laughs.
Clearly, my boys are as different as night and day.
One has brown hair. The other is blond.
One loves to socialize. The other is a homebody.
One enjoys reading. The other relishes science.
And of course, one is a sports fan and the other is not.
Ask Eli about any team in any sport and I guarantee he can name at least one player. He knows positions and stats, which team won the World Series five years ago, and who last year's NBA MVP was. He has grand aspirations of becoming a pro athlete, although he's still not sure which sport to settle on.
And then there's Samuel.
When a game is on, he disappears to the playroom to build with Legos. Occasionally he'll stick around and root for the team in the opposing jersey just to get on his brother's nerves. And actually playing sports? Well, he likes the idea in theory, but is less than enthusiastic when it comes to putting the time in.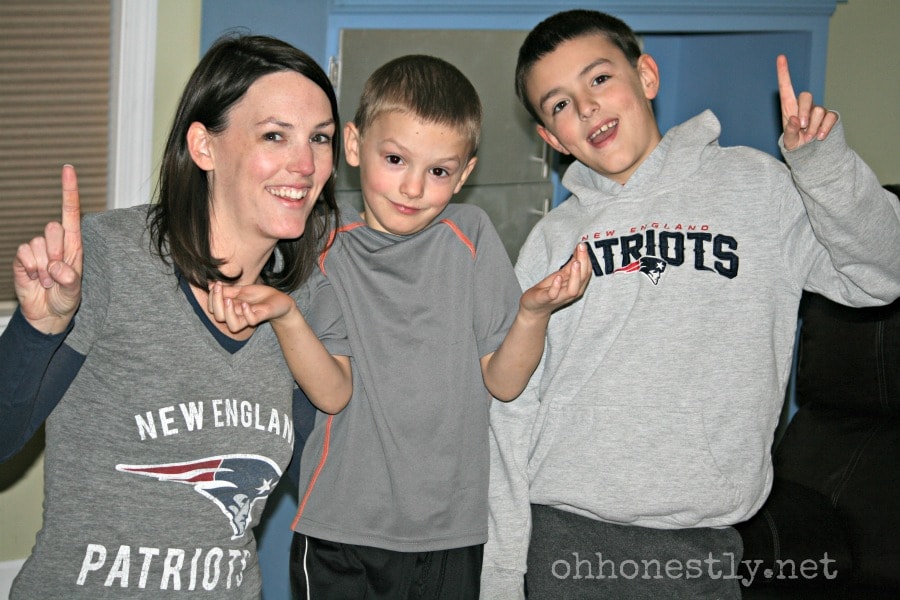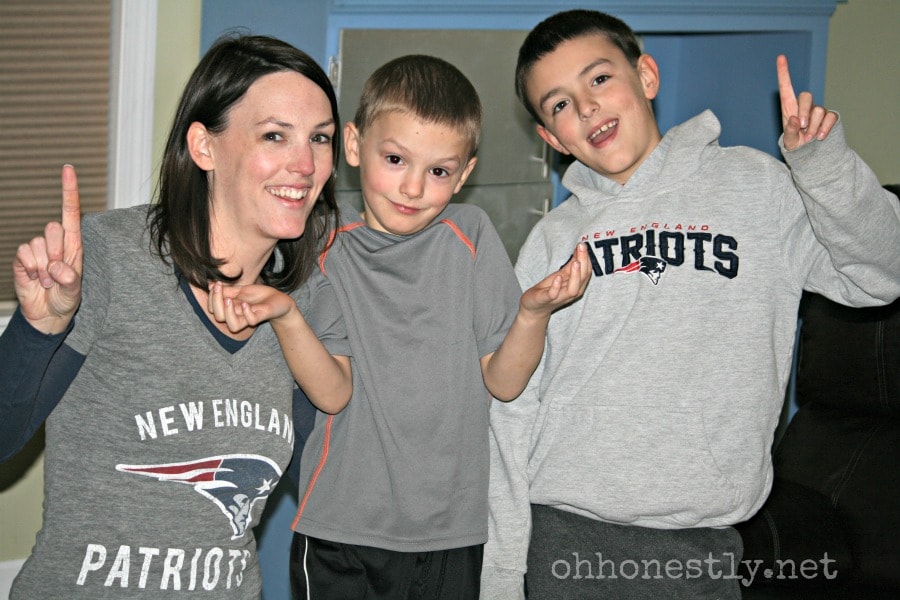 But a funny thing happened with the birth of Lucas Kettleman.
Lucas became the family joke and Samuel began to take an interest in football.
Now, instead of disappearing to the playroom on Sunday afternoons, he's started to hang out in the living room for a while, half watching the game while playing with toys or sitting on my husband's lap asking questions. He's even become a Patriots fan instead of cheering for the opposing team!
Oh sure, he isn't calling plays or yelling at the refs, but it's a change that this football-loving mama is happy to see. Instead of being spread throughout the house on Sunday afternoons, now we're all in the same place, spending quality football family time together.
So naturally when we heard about the Jersey Report from DICK'S Sporting Goods, we had to check it out. Eli has been asking for a Patriots jersey for a while, but has never been able to settle on whose number he wants to wear.
Being the stats lover that he is, I knew he'd love the idea behind the Jersey Report. Each week DICK'S totals up the sales of their latest NFL jerseys and puts out a report that you can search by week, month, or season, as well as by offense, defense, or even rookies.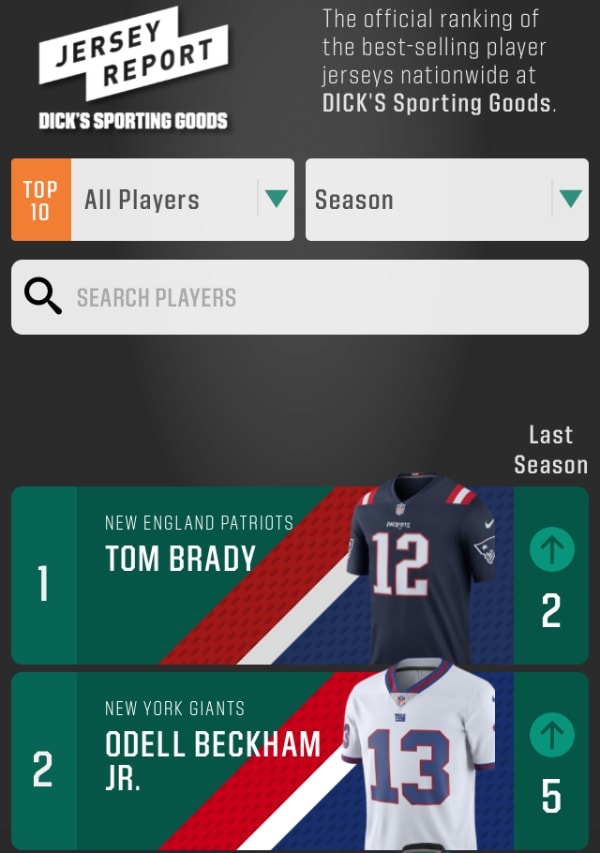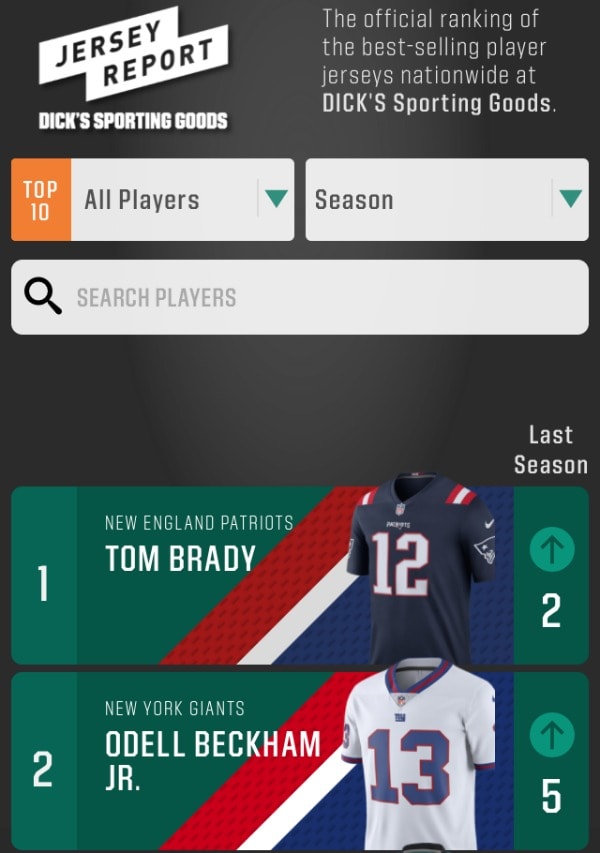 I wasn't surprised to see Brady in the overall top three, but I did find it interesting that Gronkowski (who's out for the season after having surgery) is still in the top ten.
Unfortunately, after searching the report high and low, our family's favorite player, Lucas Kettleman, is nowhere to be found.
It's okay though. Kettleman may never rise in the ranks of the Jersey Report (or in anything anywhere… since he's imaginary and all), but to me, he'll always be the guy who turned a simple game of "Guess the Person" into family time I'll treasure forever, no matter who's on the field.
Want to stay up-to-date on what's happening with DICK'S Sporting Goods? Follow them on Facebook and Instagram!