Disclosure: This post contains affiliate links. If you make a purchase through my link,  I will receive a small commission at no cost to you. Thanks for your support!
We moved into our home over five years ago. In that time we've done absolutely nothing to decorate our master bedroom. Wait, that's not entirely true. We did paint the walls when we first moved in. It was a color I immediately disliked, but was too lazy to do anything about.
Fast forward to about a year ago. I suddenly got it into my head that I should surprise my hubby by redoing (or I guess the appropriate word would be doing since there was nothing to redo) our bedroom. I immediately began to gather ideas on Pinterest, and over the course of a year, my plan took shape.
Our Master Bedroom Redesign
Since Eric was planning to take the boys on a bird hunting trip for a weekend at the beginning of October, I knew that would be my chance. I also knew I'd only have two days to get everything done, so I immediately decided that repainting was out of the question. Like I mentioned earlier, I didn't love our paint color, but I had a feeling that paired with the right colors, it would be okay.
Eric's favorite color is orange, so I bravely began to hunt for fabric in that hue to make curtains. As soon as I found Braemore Sakura Kumquat, I knew it was perfect for us.
Once my color palate was set, it was easy to choose the various components of the room. I wanted plenty of texture and lots of personal touches.
Before: We only had one nightstand to go with our set and it drove Eric crazy. Unfortunately, as much as we hunted, we could never find the matching one.
After: Although the new nightstands aren't a perfect match to our set, they're pretty close. They actually look darker in this picture than they are in real life.

Items Purchased: Nightstands- Ashley Furniture
Orange Button Pillows- TJ Maxx
Comforter- LL Bean
Shelf above bed- Maple Hill Artisans
Items Made: Pillow cases
Pillow Shams (There's a reason you won't see any close-ups of those 😉 )
Knit pillow cover in front (I got the pattern from Chelsey over at Budget Girl and as long as you can knit and perl, you can do it!)
Brown vase with flowers
Map with location of where we met
Before: This fan was here when we moved in. I've never been able to decide if I think it's cool or weird. Maybe a little bit of both. One thing is for certain; it didn't match my design.
After: I was nervous about getting rid of the fan. It was the one thing I thought Eric might be annoyed about. But I fell in love with this light and am so happy I decided to go with it. (And he likes it too!)
Item Purchased: Light- Lighting Direct
Before: Bare walls, no curtains, router wires all over the floor, a bunch of crap on top of the dresser… you get the picture.
After: Pictures on walls, beautiful (handmade) curtains, router wires sneakily hidden in a basket (all I had to do was drill a little hole in the back of the black cabinet), a clean dresser top… you get the picture.
Items Purchased: Black cabinet- TJ Maxx
Items Made: Frame with song lyrics
Painted ball jar
Before: Just another view of the bare messiness.
After: It's unbelievable to me how much cozier it is in our room now. It feels warm instead of barren.
See what I mean? So cozy. Plus, these 'candles' are battery operated and run on a timer. They're on each night when we go to bed and turn themselves off after we're asleep. Ahh, how romantic!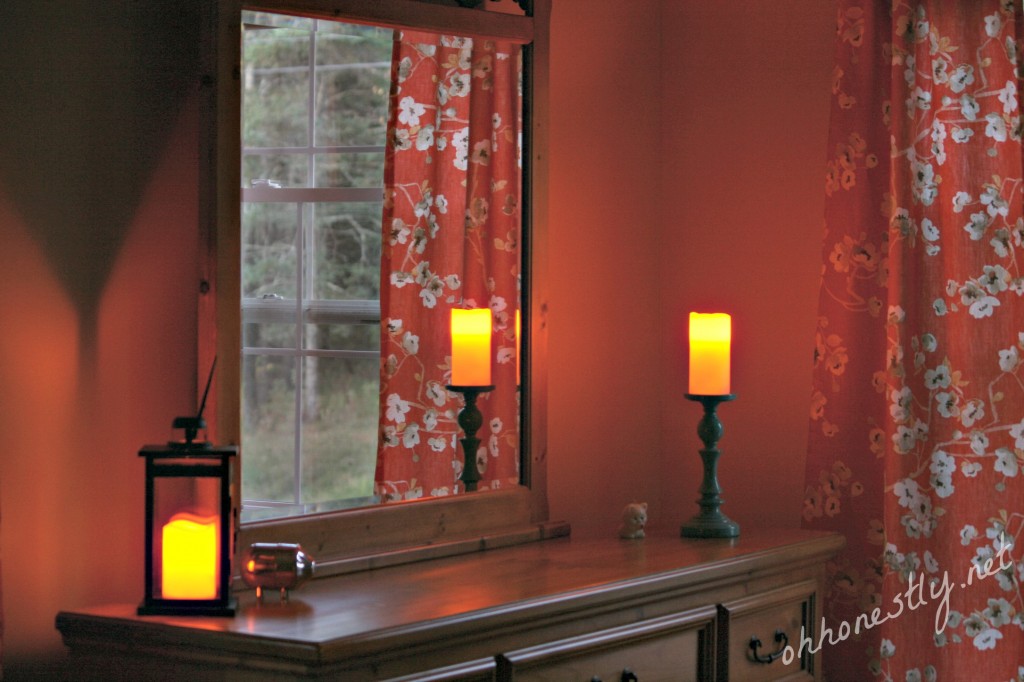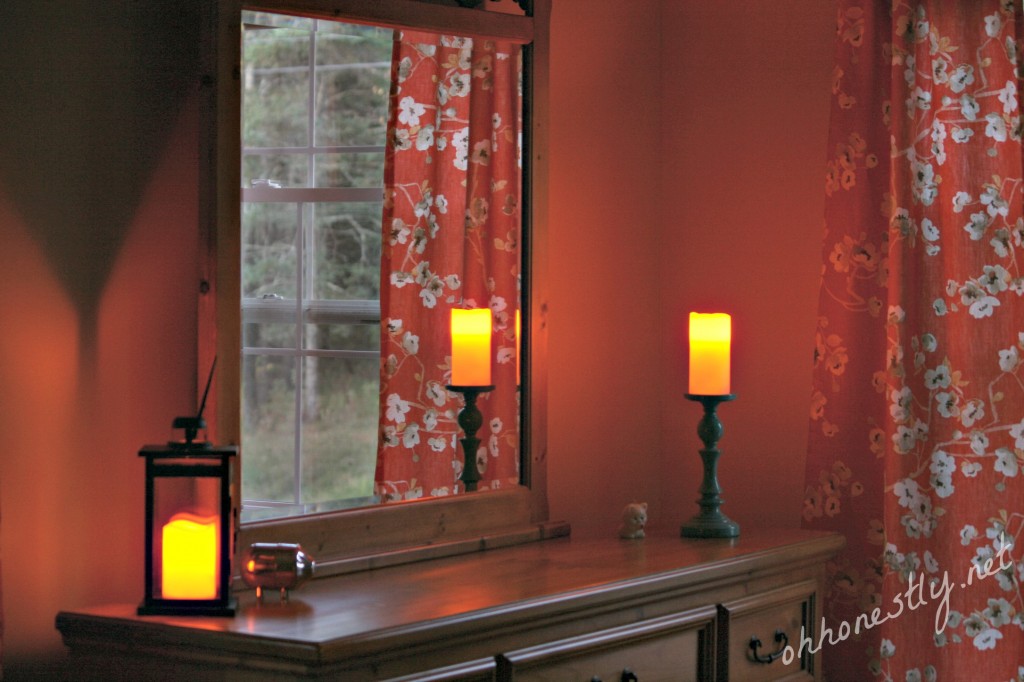 Items Purchased: Lantern- Christmas Tree Shoppes
Candle stick and candle- Hobby Lobby
Personal Touches
I wanted the room to be full of personal touches and handmade items and I am so pleased with how it turned out. (You may notice the pig and the cat in the picture above. Those are both items Eric and I have had since we were very young.)
Both Eric and I said the same thing when we each saw it for the first time: "It's like we're real grown-ups!"
The framed sign says, 'Happiness is Being Married to Your Best Friend'. It holds very special meaning to me, as it belonged to my grandparents and was given to me after my grandfather died last year. The other sign is a map of the place where Eric and I met. It says, 'Where It All Began'.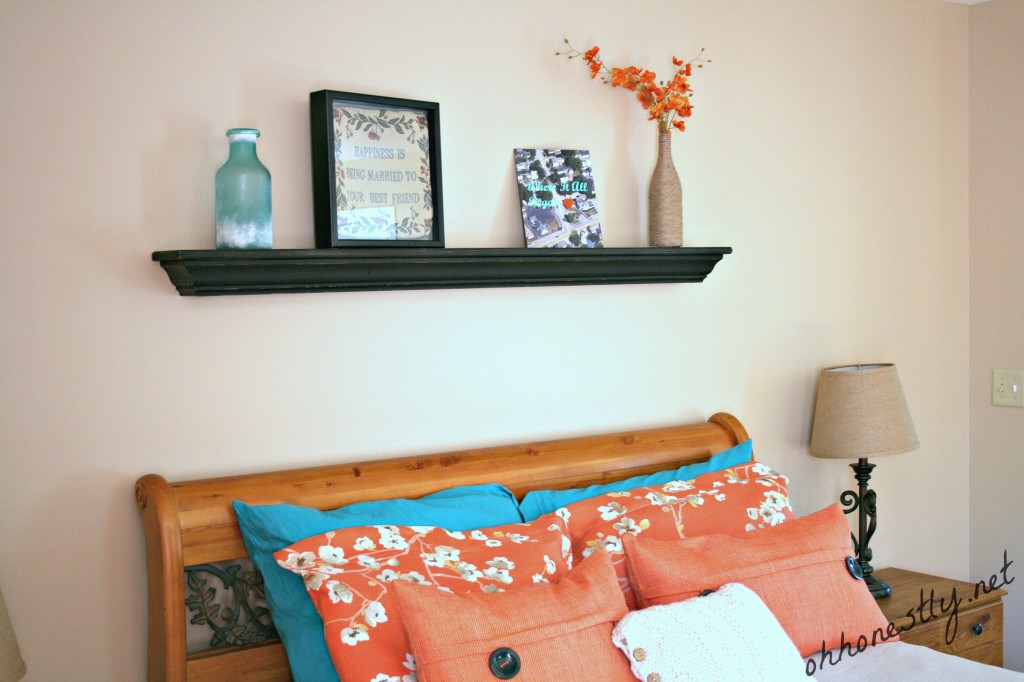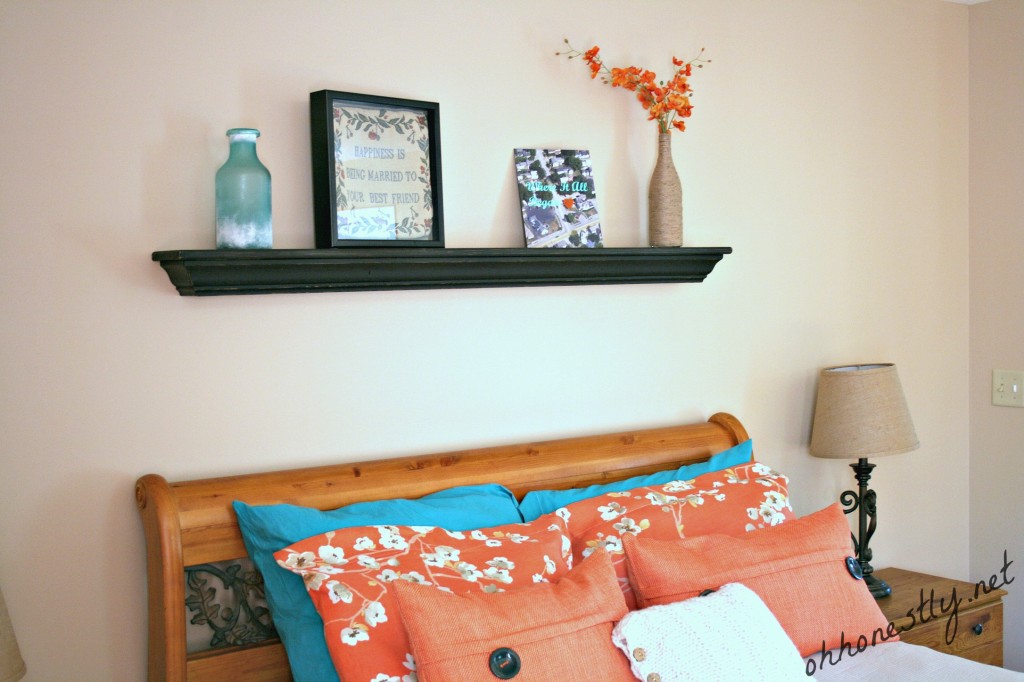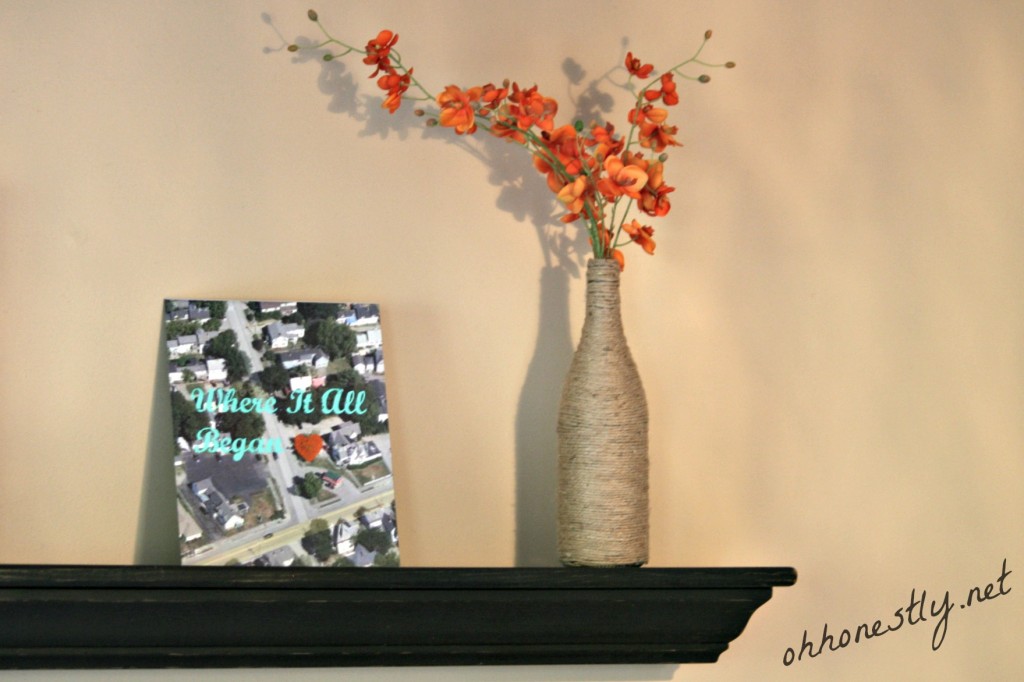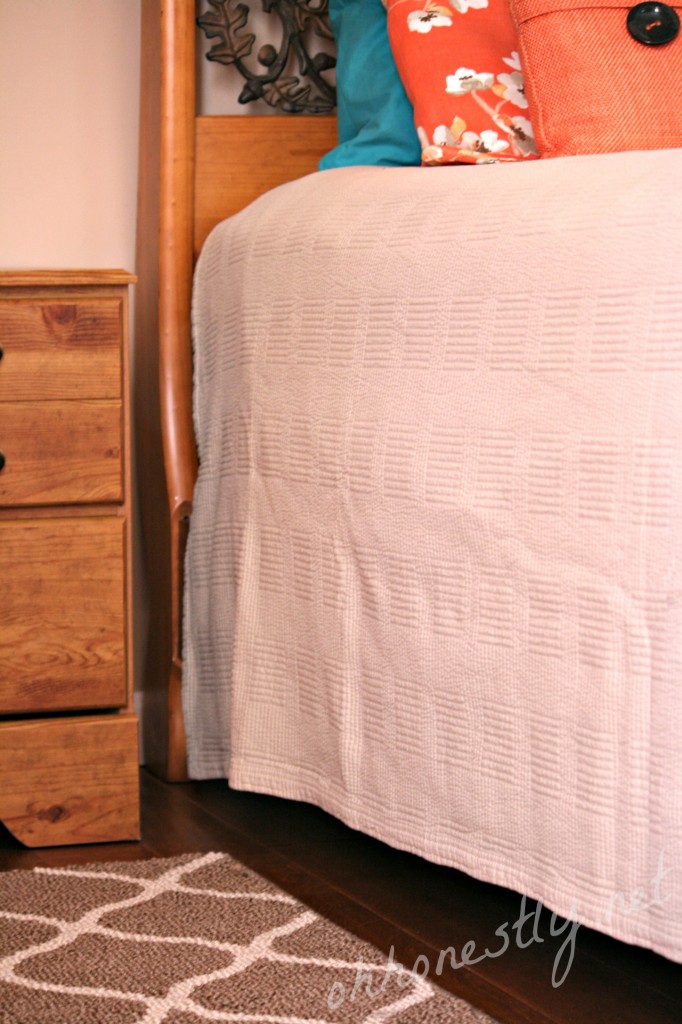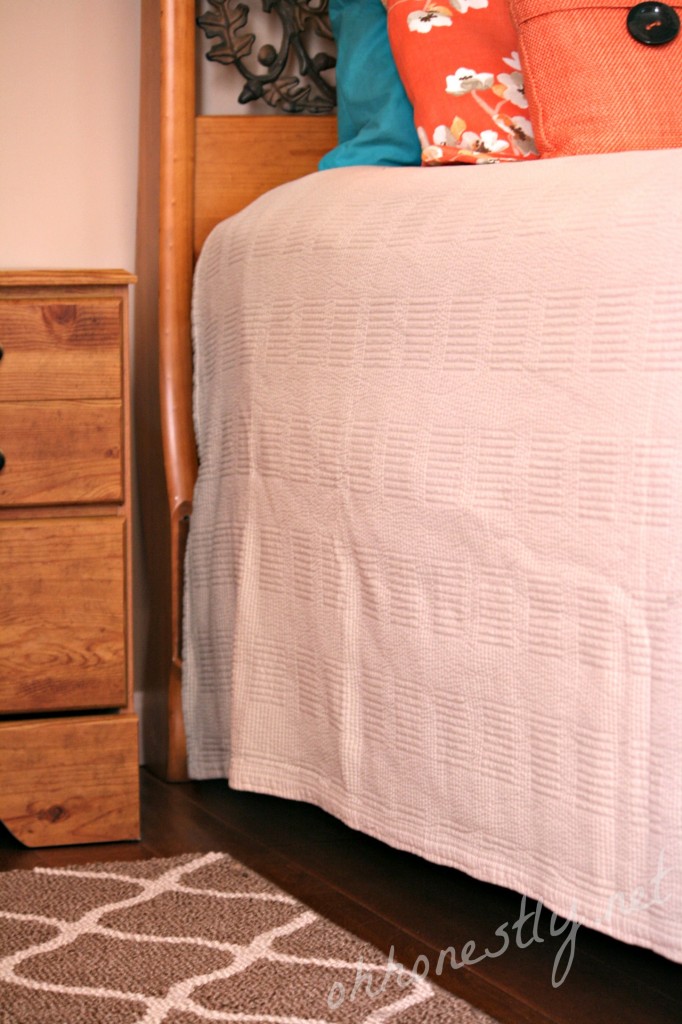 After seeing this idea from Alicia at Adventures at Naptime, I knew I had to do it. The words are lyrics from the song Eric and I danced to at our wedding (Someone Like You, by Van Morrison).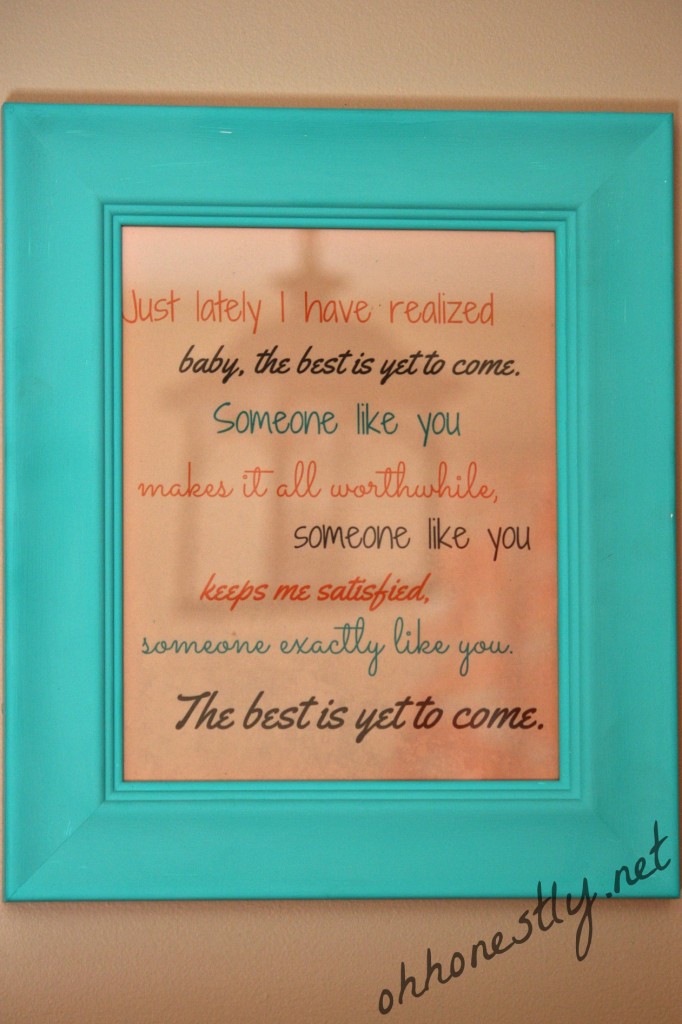 There you have it: Our master bedroom redesign. I couldn't be happier with how it turned out.
If you're interested in learning how I did any of the homemade items, let me know and I'll consider writing a separate post. The handmade parts really lend a personal touch, they're not too difficult to do, and they definitely cut down on costs!
If there's any element of the design that you'd like more information about that I didn't include, let me know in the comments below and I'll be happy to share!