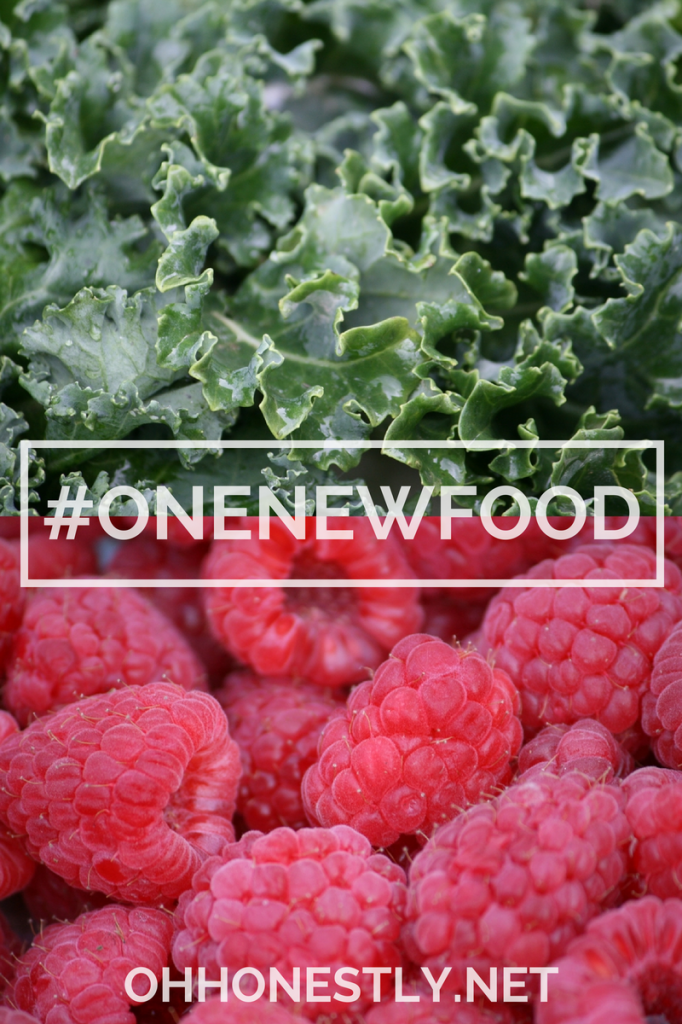 #ONENEWFOOD with Mommy in Sports and Oh, Honestly!
Kale Chips and Raspberries
Last week, several people said their kids love kale chips, so of course we had to try them. As soon as I pulled them out of the oven, the only thing I could think was, "There's no freaking way." I was right. The entire family agreed that they were gross, even the grown-ups.
"No problem," I thought, "we'll just do something different." So I bought raspberries at the store. This was kind of cheating because my kids have tried raspberries before, but we don't eat them on a regular basis. We have a bush that produces a few berries and Annelise loves them, but she's the only one who eats them.
Anyway, I pulled them out at breakfast. Eli willingly ate his two, even though he complained that one was too mushy. Annelise refused to eat hers (Are you kidding me, kid?! You love the ones we grow!). Samuel wouldn't eat his because they were too sour, so I mashed them up in his oatmeal. Que the freak out session.
Seriously, it was ridiculous.
Screaming, crying, banging chairs together. Into timeout he went. He wanted new oatmeal with no berries. I refused.
"You won't even taste them!!" I cried in frustration.
Finally, finally he ate it.
"Can you taste the raspberries?" I asked.
"Yes."
"Do they taste bad?"
"No."
"So Mommy was right?"
"No, I was right."
"You said it would be gross."
"Serious?! I tricked you!"
"So the fit you just threw was all to trick me?"
"Yes."
That night at dinner Annelise wasn't eating (typical) and I was telling Eric about the morning. He asked her if she wanted him to get her a raspberry because she likes them. She said yes (I'm assuming she thought he'd give her the ones from outside). He handed her one and she devoured it and asked for more. He put the bowl in front of her. She began to toss them in her mouth like candy.
Eli, who also was refusing to eat his supper, asked for one, then decided the tip of it was too mushy. I told him, "Tough. You asked for it; you're going to eat it." He refused. I provided him with a choice. Eat it or go to bed.
He chose bed. It was 6 pm.
He went upstairs, put on his PJs, brushed his teeth, went to the bathroom, and went to bed. No arguments. Until later when I wouldn't let him get up. Que the freak out session.
So that was my #ONENEWFOOD week. They all tried their two bites. Two of them threw fits. One ate more than required. Is that a success? I'm not really sure. I think next week I need to do something different; make healthy muffins or something. I need a definitive win and so far I haven't had one. Well, unless you count the Graham Bunnies…
My favorite photo this week was…
Echo at Domain of the Mad Mommy posted this one of her son trying cabbage. Honestly, it was nice to know someone else struggled too.
[inlinkz_linkup id=438525 mode=1]