Don't you love getting hit with inspiration?
This morning I came upon a post from the blogger behind the Imagination Tree. She's not in love with the Elf on the Shelf (can I get an amen?) and has come up with an alternative: The Kindness Elves. You should go read what her plan is because it's awesome (and her elves are ADORABLE), but in a nutshell, each day the elves will suggest a way for the family to show kindness to others.
I love the idea of making Christmas about something other than GETTING. Of course our kids know that the real reason we celebrate Christmas is the birth of Jesus, but in the busyness of the season, it's easy to get caught up in all the 'stuff' (both that we get and that we have to do) and forget to look beyond ourselves.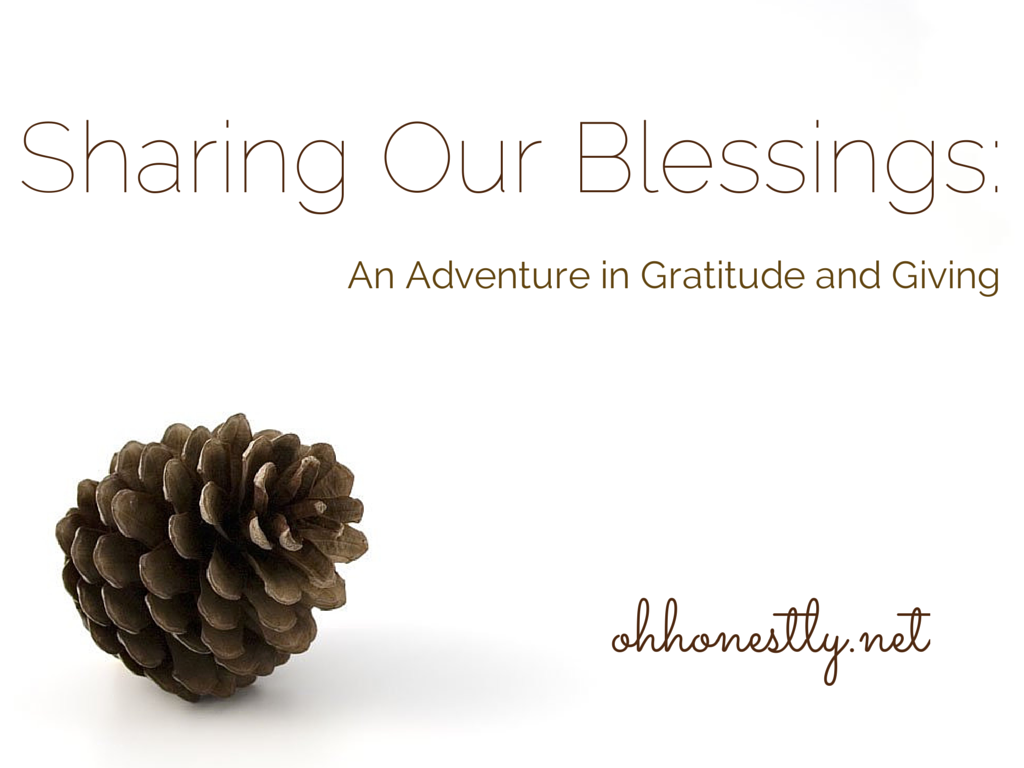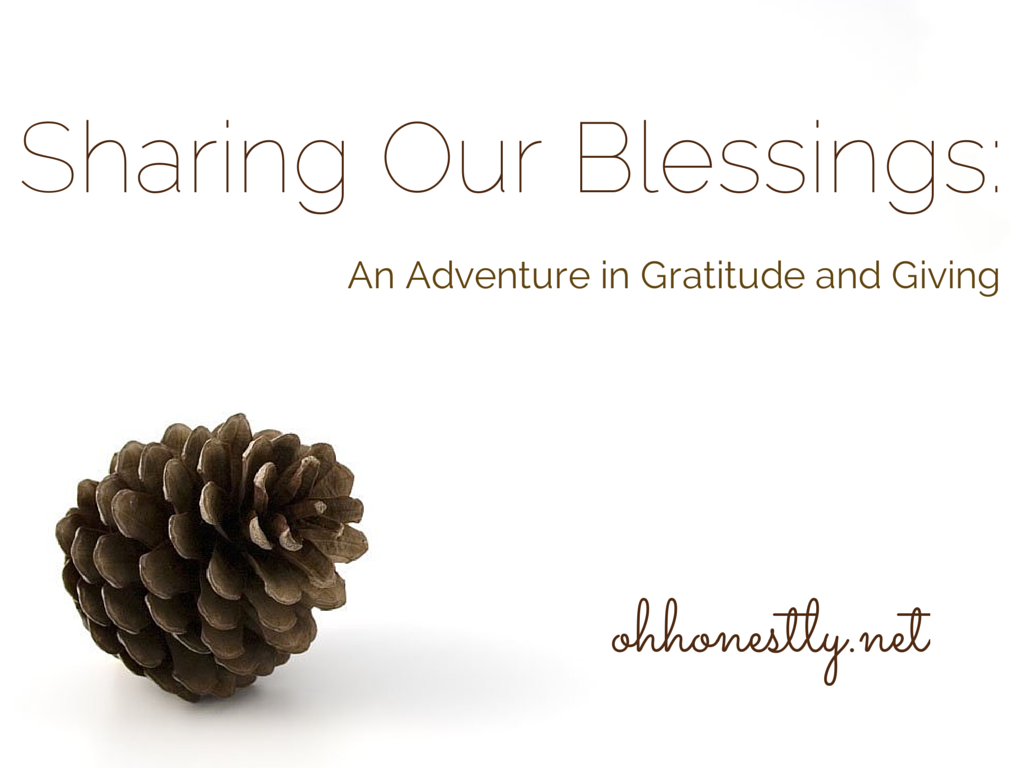 Sharing Our Blessings: An Adventure in Gratitude and Giving
As I considered if the Kindness Elves were something I wanted our family to do, I knew I needed to modify that plan. As fun as it must be to make inanimate objects look like they come to life at night, I know I would quickly tire of it. Once a week? Doable. Every night? No thanks.
I ruminated over how to tweak the Kindness Elves to fit our family and then it hit me: Why not extend this project beyond Christmas and begin in November, the month when everyone starts listing all the things they're thankful for?
My plan is simple (and doesn't include an elf. If that makes you sad, re-modify the plan and use one. You've gotta do what works!). Each day in November, our family will name something we're thankful for. We'll then brainstorm ways to share that blessing with others.
By the end of the month, we'll have a long list. It will probably look something like this:
We're thankful for our toys- We can give a less fortunate child a toy.
We're thankful for our house-  We can invite a family to our house for dinner.
We're thankful we have food to eat- We can make cookies for our neighbors.
We're thankful for our friends- We can write a note to a friend telling them why we're thankful for them.
Etc.
I love the idea of my kids coming up with the acts of kindness themselves. I think it will hold a lot more meaning for them if they take an active role in the planning process.
Once December rolls around we'll put our ideas into action. We may not do something every single day, but we'll do as many as we can.
Would you like to join us? Each day in November, I'll post on Facebook and Twitter what we're thankful for, along with the corresponding idea for blessing others. I'll use the hashtag #sharingourblessings so everything can be found in one place. I encourage you to share your ideas too!
Then in December I'll document what we do to share our blessings with others and post it here on the blog, as well as on social media. Again, I'd love for you to join us and share your stories!
Hopefully this will be the start of a new tradition: One that cultivates kindness, gratitude, selflessness, and giving hearts. We could all use a little (or a lot!) more of those attributes in our lives and this will be a fun way to put them into practice.
[Tweet "We're #sharingourblessings this holiday season. Will you join us? @Oh_Honestly_LC"]